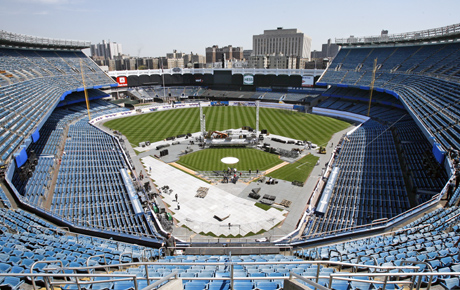 This photo — originated with the Yankees — is making the e-mail forwarding rounds right now. It's the Stadium, mid-Papal setup. As you can see — click to enlarge — all of the Yankee Stadium advertising will be covered up before this weekend's Mass at the Stadium. I wonder what song the Cardinals will all pick during the Yankee Jukebox segment after the top of the first inning.
Perusing the Internet this afternoon while waiting for my chance to head outside to enjoy this 75-degree weather we're having, I came across that clip from last night's Baseball Tonight via The Big Lead. As I watched Peter Gammons offer up his holier-than-thou take on Kyle Farnsworth's seventh-inning pitch to Manny, I couldn't believe how biased Gammons was being.
In the clip, he laughs off Kyle Farnsworth as "AAA pitchers … I mean, please." Please, Peter. Please.
Please go back and watch the clip of Farnsworth throwing behind Manny. Please note that Farnsworth's pitch, had it hit Manny, would have hit him in the exact same spot as A-Rod's hit-by-pitch the night before. And please spare us the faux-outrage. You're better than that.
Kyle Farnsworth shouldn't throw at Manny's head, and he didn't last night. He threw Manny an exaggerated brushback pitch after Manny had spent five of the last seven days taking batting practice off the Yankees' starting pitchers. Biased TV commentators…I mean, please.
By

I bet most young Yankee fans would be hard-pressed to identify Ed Barrow, one of the greatest Yankees executives of the early 20th Century. To that end, Daniel Levitt's new book, Ed Barrow: The Bulldog Who Built the Yankees' First Dynasty, soon to be reviewed here by me, is required reading for all Yankee historians. Levitt sat down for an interview with David Laurila for Baseball Prospectus' Unfiltered blog. Check it out. · (1) ·
By

SG at RLYW wonders if Moose is cooked, and it's hard to disagree with him. While SG notes that Mussina was two bad pitches to Manny away from throwing a decent game, to me, the more telling sign came in the first inning.

With Jacoby Ellsbury off second, Dustin Pedroia came to bat, and Mussina threw a 1-2 85-mph that Pedroia lined hard to a leaping Robinson Cano. The ball was tattooed, and the Yanks escaped unharmed. But it was clear that Mussina had nothing last night. How many more starts will he be allowed to make? · (39) ·
For days and days and days, we've debated the LaTroy Hawkins Number Fiasco. It seems clear to me that Yankee fan opinion is firmly divided on the fate of Paul O'Neill's 21. So submitted for your approval — and since we haven't done one of these in a while — a poll. Play nicely with each other in the comments if you wish to continue the debate.
Should the Yankees retire Paul O'Neill's number 21?
Fat lot of good Joba would have done in the eighth inning tonight. No, elite setup men tend not to enter the eighth inning when their team is down 7-3. The only thing that could have helped us at that point was an offensive surge. No pitcher — not Koufax, nor Gibson, nor Maddux, nor Mo — can take runs off the board. But they can prevent them from getting there in the first place.
You can see where I'm going with this. Joba the starter would have been nice tonight (in theory, of course). As is often the case, the innings before the eighth were more important than that one singular inning. This is why good starters are so valuable — and so overpaid on the free agent market. If you can find a guy who keeps runs off the board early in the game, the need for an elite setup corps is diminished.
This is why you have to give Joba every shot to succeed as a starter. Yes, I understand the idea of deploying him in the 7th and 8th innings, thereby making it a "six-inning game." But to illustrate the benefits of having Joba in the rotation, you need to look no further than our opponent last night.
Joba has the potential to be every bit as good, if not better than Josh Beckett. There's no guarantee that he reaches that level, but why not give him every chance to do so? Imagine if that was Joba instead of Moose tonight. Wouldn't you rather have a guy like that going every five days, rather than every couple of days for an inning or two from the bullpen?
You can't take runs off the board. That's why every inning matters. When you have a guy with the potential to be a frontline starter, you want him out there preventing runs for as many innings as possible. And if he reaches his potential, I'm sure there will be plenty of times where he does pitch in the eighth inning…of his own start.
(I apologize to anyone who is sick of hearing this debate. This is what I was thinking about during the game, and I doubt anyone wants to read a recap. Hence, it is the game story.)
Triple-A Scranton (10-2 loss to Charlotte)
Brett Gardner: 2 for 4, 1 R, 1 K
Juan Miranda, Jason Lane & Nick Green: all 1 for 4 – Miranda drove a run in … Green committed a fielding error
Shelley: 0 for 3, 1 BB, 1 K – 3 for his last 17 after his torrid start
Greg Porter: 3 for 4, 1 2B, 1 RBI, 1 K, 1 SB, 1 CS
Jeff Marquez: 5.1 IP, 8 H, 5 R, 5 ER, 2 BB, 6 K, 1 HB, 6-3 GB/FB – picked a runner off first … 28 baserunners and 16 ER allowed in 14.2 IP
Chris Britton: 1.1 IP, 2 H, 0 R, 0 ER, 1 BB, 2 K, 2-0 GB/FB – needed 48 pitches to record 4 outs
Scott Strickland: 1.1 IP, 6 H, 5 R, 5 ER, 0 BB, 2 K – let it get away in the 8th
By

If anyone's having problems accessing the site or if you're receiving a pop-up message asking if you want to download something, please e-mail me at ben (a) riveraveblues dot com or leave a comment on this post. · (12) ·
In the recent past, there was no Red Sox pitcher more fun to rough up than Curt Schilling. Every time that loud mouth took the hill, all I'd think was, "Please, A-Rod, take him deep." (This in light of Schilling's comments three and a half years ago.)
But with Schilling on the DL for at least half — and possibly all of — the season, we need a new whipping boy. Enter Josh Beckett. If we're going to pick on a Red Sox pitcher, it might as well be their best one. We did get to him for 13 runs in 26.2 innings last year, and 21 runs in 20 innings in 2006. He wasn't exactly at his best last time out, either, giving up 3 runs in 6.2 IP just five days ago.
One can only pray that Moose pitches like he did on Saturday. The last thing we need right now is another long performance from the bullpen. You figure Albaladejo, Traber, and Farnsworth could each go an inning (maybe two for Alb), plus Mo — though I wonder what kind of shape his arm is in after appearing in two straight games and warming up for a third. I guess we'll see in the later innings.
No Matsui today. Looks like Girardi has set his rotation and is sticking with it. Matsui doesn't have great career numbers against Beckett, though I doubt that was a consideration in this decision.
Your lineup:
1. Johnny Damon, LF
2. Derek Jeter, SS
3. Bobby Abreu, RF
4. Alex Rodriguez, 3B
5. Jason Giambi, 1B
6. Jorge Posada, DH
7. Robinson Cano, 2B
8. Melky Cabrera, CF
9. Chad Moeller, C
And on the mound, number thirty-five, Mike Mussina.
And those damn Red Sox:
Ellsbury
Pedroia
Ortiz
ManRam
Youkilis
Drew
Varitek
Casey
Lugo
By

At the risk of inciting a numbers-based riot, I direct your attention to Tyler Kepner's latest notebook in The Times with a quote from Number 21 himself:


"I've always been blown away by the way the fans have treated me there," O'Neill said in a telephone interview. "I have absolutely nothing against LaTroy Hawkins, but it's unbelievable what the fans have done. It makes you feel good as a player, obviously, because that tells you they appreciate what we did as a team."


To me, it sounds like Paul would love to see his number retired. That is a rather pregnant "but" after the LaTroy Hawkins mention. Either way, perhaps we should put this story to rest for now. · (17) ·