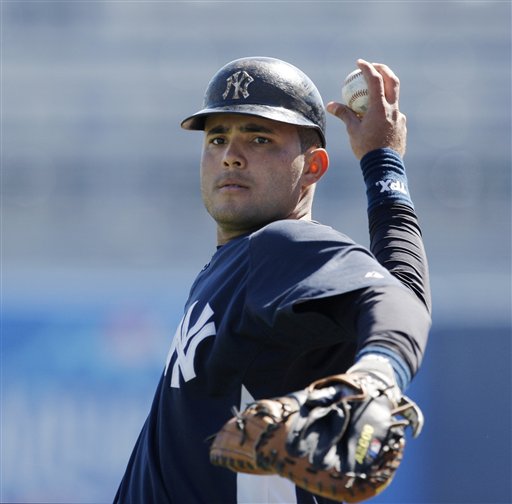 Oh yes, we're going big this year.
If you're a new relatively new reader, then let me explain. Every season we select one prospect to follow as the season progresses, tracking their stats in the sidebar for all to revel in. Past "watch" subjects include players like Phil Hughes, Joba Chamberlain, Mark Melancon, and Andrew Brackman, but for the first time ever, this year's subject will be a position player, and there really wasn't much of a debate.
Catcher Jesus Montero is not just the Yanks' top prospect, but he's arguably the best prospect at the position in all of baseball. Last year he hit a studly .337-.389-.562 with 25 doubles and 17 homers in 92 games split between High-A Tampa and Double-A Trenton. Now that he's reached his 20th birthday, the Yankees will finally unleash his fury on the unsuspecting Triple-A International League.
The Scranton/Wilkes-Barre Yankees start their season next Thursday, April 8th, against the Buffalo Bisons at home. As if Montero needed any more help, he'll get to kick off his season by pounding on some Mets' minor leaguers. Hide the women and children folks, it might get ugly in a hurry if you live upstate.
Once the actual "watch" goes up on the sidebar, probably Sunday or Monday in place of the Opening Day Countdown, you'll see two rows of stats. The top one will be Montero's performance form his most recent game, and the bottom one will be his season performance. It's pretty simple, but it's always worth typing out.
Anyway, I hope you all enjoy this year's choice. I suspect there won't be any objections.