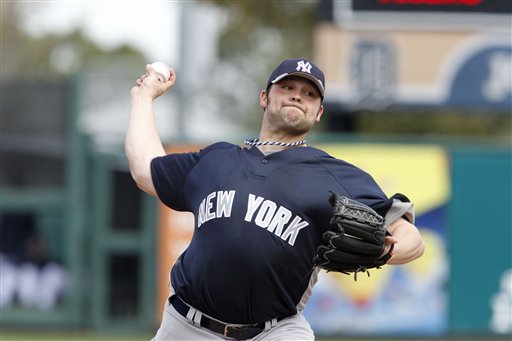 Well look at that, today's game is on TV. It wasn't originally scheduled to be, but apparently YES picked it up after all those rain outs in the past few weeks. Color me surprised, especially since it's a road game. But then again Lakeland's not really that long of a haul.
About the only exciting thing to look for in today's game is Joba Chamberlain's one inning relief appearance following starter A.J. Burnett. Let's see if he breathes fire and snorts and grunts and farts and all that other manly stuff great relievers are required to do. It's all about looking scary, amirite?
I guess the other thing to watch for today are Marcus Thames' at-bats against lefty Nate Robertson. He picked up a knock off famed flamethrowing southpaw Jamie Moyer last night, which I guess we should consider progress. Anyway, here's the lineup…
Gardner, LF
Johnson, 1B
Posada, C
Thames, DH
Granderson, CF
Winn, RF
Pena, SS
Russo, 2B
Laird, 3B
Scheduled Pitchers: A.J. Burnett and Joba Chamberlain. Chan Ho Park, David Robertson, Boone Logan, and Al Aceves are also available.
Available off the bench: Abe Almonte, Neall French, Austin Krum, P.J. Pilittere, Justin Snyder, David Winfree, and Jon Weber.
First pitch is scheduled for 1:05pm ET, and as I said, YES will have it live. Enjoy the game.
Photo Credit: Gene J. Puskar, AP