For any of you who are new here recently either from our guest post at Lo Hud or elsewhere, help us spread the River Ave. Blues word by showing your love through our Facebook page. You know you want to be friends with a blog.
I know a few readers here have grown tired of my new stadium posts, but I have my reasons for following this story. I'm a firm believer in good government (as is evidenced by my other blog focusing on the MTA), and I don't think the stadium financing and the land deals represent anything close to good government. So bear with me, and if you don't like it, read about Huston Street.
The latest news comes in the form of land deal that Bronx activists say will turn former park land into commercial developments. That wasn't supposed to be part of the original deal. Bill Sanderson has more from the Post:
A sneaky city land "giveaway" will turn over former Parks Department property to real-estate developers – and further infuriate activists in the park-starved South Bronx neighborhood near Yankee Stadium, The Post has learned.

When the city gave up plans for a parking garage on East 151st Street between River and Gerard avenues last fall, the property was set aside for "neighborhood-oriented mixed use, retail or parking," according to documents…

What's unclear, said Geoffrey Croft, of NYC Park Advocates, is whether a state law allowing South Bronx parkland to be used for the stadium project permits commercial development on the site, south of the stadium and adjacent to the Bronx Terminal Market shopping mall now under construction.
In the grand scheme of problems with the stadium deal, this little trade-off isn't nearly as sneaky as the Post would have believe, and the Parks Department didn't consider their former holdings at E. 151st St. as green parkland. However, with parkland at such a premium in the South Bronx, the city's surrendered land shouldn't be going to real estate developers.
The Stadium project came with real estate development plans and a new mall has spurred on talk of a Bronx boom. With concerns over increased traffic due to increased parking spots around the Stadium, the city should be pressing for more parkland in the Bronx. Those parks were part of the original deal, and so far, no one – not the Yankees, not the city – has delivered on that front.
We've got less than a month until pitchers and catchers report, and with all the crap that's gone on this winter, I couldn't be more psyched. Maybe when they start playing some games, we can put the winter of Santana and PEDs behind us. You might have heard that there's a congressional hearing going on now about steroids, but let's forget about that and talk some baseball.
Yesterday, a Mark Kotsay for Joey Devine trade was finalized, furthering Oakland's reconstruction. Remember back in 2005, when we needed a CFer, and the A's wanted Phil Hughes for Kotsay? Yeah. Glad we didn't pull the trigger on that one.
This leaves the A's younger and less experienced, as have all of their moves this winter. My first question: How far-reaching is this rebuilding going to be? One might figure that Joe Blanton will be on the move, but new reports suggest that he'll be around to make the Opening Day start for the A's. Another big name is Huston Street, Oakland's stud closer who spent much of 2007 on the DL. That's the name that attracts — or should attract — the Yankees.
With such a compelling case to keep Joba in the rotation, the Yanks are still short a solid 8th inning guy. Barring a surprise turnaround from Kyle Farnsworth (hey, he's had three completely dominant seasons), there's going to be a lot of nail-biting going on late in close games. A proven reliever — a rare commodity for sure — would help alleviate those woes. Street is ideal not only because he's proven he can pitch, but because he's not eligible for free agency until after the 2010 season.
If he is available, the next question is, how much? Billy Beane clearly isn't going to give Street away. He's gotten a huge haul this winter by trading Dan Haren, Nick Swisher, and now Mark Kotsay. He's not going to, for instance, trade Street straight-up for, say, Jeff Marquez. He's going to ask for the sky at first, likely Hughes. And then he might back down to Kennedy, but I can't see him going below that. And that's not a move the Yankees should be making. At that point, I'd rather just stick Kennedy in the 8th inning.
(For the record, I do not advocate sticking Kennedy in the 8th inning role. I'm just saying that if the Yankees felt they needed an 8th inning guy so badly that they'd trade Kennedy for Street, they'd be better off just putting Kennedy in that role.)
The only slight on Street is that he's a one-inning pitcher. In 2006, he never pitched two innings in an outing. Of course, that is the purpose of an 8th inning man. But what I'm asking is, what's that worth to you? The 8th inning is critical, and it's one the Yanks could stand to improve, as we said in our pinch-hit post today. But at what cost? Would you trade Ajax? Tabata? Horne?
It's not an easy question to answer. We're talking unproven prospects here in exchange for a proven reliever. That stacks the deck in Beane's favor. And when he's got the advantage, my suggestion would be to avoid doing business with him. While he fails some of the time (see: Tim Hudson), he often gets the better of teams (see: Mark Mulder). Why play with him when he's at an advantage?
This all might be a moot point, though. Street does have injury concerns, which likely deflate his value. Beane would be smart to hang onto him until July. If he's healthy, some contending team is going to overpay for him. I just hope that team isn't the Yankees.
By

Our guest post on PeteAbe's blog is live. Click your way over to here to read it. Eschewing steroids, Johan Santana or Brian Cashman's inability to accurately predict the future, we wrote instead on Joba Chamberlain and his perceived role on the Yankees. Check it out. · (17) ·
By

Sigh. For a non-story, this thing sure gets a lot of press, huh? · (14) ·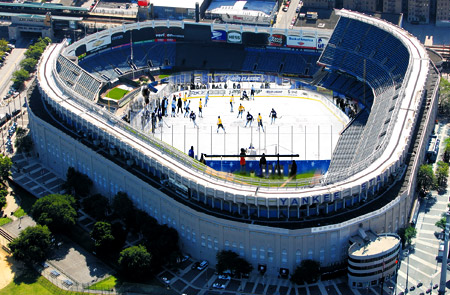 Not very much effort went into creating this photo illustration. (Courtesy of the Daily News)
In a perfect world, the last game at Yankee Stadium would be late in October this year. It would be Game 7 of the World Series, and the Yankees would of course emerge victorious. An ending like that would be an utter lovefest for the Stadiums; fans just wouldn't leave, and Frank Sinatra on repeat would be the Yankee Stadium swam song.
If my fantasy can't come true, no one other than the Yankees should be allowed to play the last live sporting event at Yankee Stadium. But if the Yankees and the NHL have their way, the New York Rangers may be the last local team to play in the House that Ruth Built, according to a report in the Daily News. John Dellapina has more:
The NHL is working with the Yankees' high command and representatives of the city to try to play a game at Yankee Stadium next winter. While there are plenty of logistical hurdles to clear, the principals are interested. "We'd love to do it," said Rangers GM Glen Sather, who is always up for a new hockey adventure.

Obviously, the NHL feels the same way. The Yankees might figure to be a bit hesitant about having the final pro sporting event at the old Stadium be a hockey game. But sources familiar with the discussions insist that the Bombers' brass is into it, with COO Lonn Trost serving as the Yankees' point man in discussions with the NHL.
The NHL has been inspired to search for other outdoor venues for games after a successful New Year's Day contest in the snow in Buffalo. Someone should probably tell the NHL that temperatures in New York in early January these days routinely reach into the lower- to mid-50s. That's hardly ideal weather for outdoor ice hockey.
While the Islanders and Devils now seem to be competing over who gets to play the Rangers in a hypothetical outdoor match-up at Yankee Stadium, I can't endorse this game. Yankee Stadium should go out with the Yankees. It shouldn't go out with a crowd watching an outdoor hockey game that's as much a marketing tool for the NHL as it is another regular season hockey game.
Hat tip to BBTF for this one.
Over at his blog today, Steve recalls a Ken Rosenthal radio interview from this morning where he says that the Blue Jays could to finish above the Yankees in 2008. This, before even pitchers and catchers have reported. So Ben and I got to thinking: There are tons of things that could happen to the Yanks in 2008. Here's our list of 10 things that could happen to the Yanks in '08.
Brian Cashman develops the ability to foretell the future. The Yankees never lose again.
Oil is discovered under new Yankee Stadium. Hal and Hank pack up their trucks and move to Beverly Hills.
Derek Jeter volunteers to move to first base, "for the good of the team."
The truth of why the Yankees never bean David Ortiz is revealed. After Joba Chamberlain beans him in the seventh inning of a tie game, Ortiz reveals his true form, Godzilla, and devours the City of New York.
In a change of heart, George says, "Ah, screw this," and orders new Yankee Stadium to be torn down, mid-construction.
Hank Steinbrenner contracts laryngitis, causing Kat O'Brien to lose her job.
Josh Beckett's arm falls off on April 1st. Marc Melancon, joining the Yankees in May, infects the entire clubhouse with a Staph infection. Devil Rays win the AL East.
Johan Santana goes 34-0 with a 1.09 ERA.
Melky hits .280/.354/.406, the exact same line put up by Bernie Williams in his age 23 season.
George Mitchell uncovers evidence of rampant steroid abuse in clubhouses around the league. "I thought this incident was limited to New York," he says. "We'll need another $4 million for a thorough investigation. Except for Boston. I can vouch for them."
By

Reiterating what The Daily News reported on Friday, ESPN notes that a Yankee source says Johan Santana trade talks are dead unless one of the Steinbrenners changes his mind. Interestingly enough, ESPN notes that the Yanks had an offer centered around Phil Hughes on the table until last week. It was my impression that the offer had been pulled in December, but the Twins knew the Yanks were willing to trade Hughes for Santana. Now, it seems that we have indeed saved the Big Three. · (18) ·
By

Orlando Hernandez and other Cuban baseball defectors were on the air in Cuba for the first time since feeling the country. In a sign of loosening policies, officials allowed a baseball documentary on the air in Cuba. The 68-minute documentary, made in 2004, looks at how players who left the island nation view their Cuban heritage. · (8) ·