By

Haven't seen any confirmation, but Karl Ravech just said on Baseball Tonight that IPK will make Moose's next start. More as I find it…

Update by Ben (11:14 p.m.): Dan Graziano and Ed Price of The Star-Ledger have your confirmation right here. No word on the corresponding 40-man move yet. · (27) ·
When last they met, the Yankees were 24-30, 12.5 games behind the Boston Red Sox in fourth place. The Yanks now find themselves 13 games over .500 and in second place, but that 8-game deficit still looms large.
Today, the Yanks face the Red Sox for the first time since A-Rod hit a bomb off of Jonathan Papelbon to deliver the Yanks to a 6-5 win. Today, the Yanks need another win like that.
After a disastrous 2-5 West Coast road trip, they remain 2 games behind the Mariners and have fallen 8 behind the Red Sox. If the Yanks want to make a last-ditch run for the crown, a sweep is in order. If they want to get that Wild Card, wins are needed.
It's never really a good time for these two teams to face off. The hype and attention paid to these series has gotten well out of control, but here we are again. Andy Pettitte will try yet again to be the stopper as Daisuke Matusaka goes for the Red Sox. And finally, with Chris Britton arriving, I miss Sean Henn already. Don't you?
Lineup:
1. Johnny Damon LF
2. Derek Jeter SS
3. Bob Abreu RF
4. Alexander Rodriguez 3B
5. Hideki Matsui DH
6. Jorge Posada C
7. Robinson Cano 2B
8. George A. Phillips 1B – I kid you not. His name is George.
9. Melky Cabrera CF
Discuss away.
I'm surprised we didn't find this earlier. Buried at the bottom of Tyler Kepner's game story:
The Yankees recalled the right-hander Chris Britton after the game. They needed a fresh pitcher after Sean Henn allowed nine runs on Monday.
Congratulations, Chris. You've overcome all the odds. Now languish in the bullpen like all of the other pitchers not in the circle of trust.
Ain't much to say tonight. That was ugly all around, the Yanks lost a chance to gain ground as the Mariners fell to the Angels. But let's chat about two pitchers not long for their current roles.
A few weeks ago, I noted that Mike Mussina was thriving because his strike out totals were up. I also wondered if that success was a mirage. I wondered if his good July was more a product of the crappy teams against which the Yanks had played rather than some sort of Fountain of Youth that Mussina had developed. When I said that his next few starts against the Tigers and Angels would go a long way toward tell us about the real Mike Mussina, I didn't expect this debacle.
In his last three starts — two against Detroit, one against The O.C. Angels — Mussina has lasted a total of 9.2 innings. His up 25 hits allowed and 5 walks have led to 19 earned runs, and he's mustered just 3 strike outs. His fastball is sitting in the low 80s, and his breaking pitches aren't doing much of anything.
That being said, to whom do the Yankees turn? Matt DeSalvo was great tonight, but was 1-3 with a 6.18 in 7 Big League appearances earlier this year. I would always rather take my chances with Mike Mussina than Kei Igawa, and Ian Kennedy just isn't coming up. Maybe the Yanks go with Steven White, but in reality, their best bet has been turned into their 8th inning set-up guy. Joba won't be starting this season, but maybe he should be.
As the Yanks look past next week to next year, they're going to have to address the Mike Mussina issue. Maybe they'll buy out the last year of his contract, but I doubt Mussina would go for that. He's due $12 million, and he wants to pitch. The question becomes can he pitch?
On the other side of things is Sean Henn. Henn, 26, has gone 6.1 IP over his last three appearances. His 15 hits and 8 walks have led to 15 runs (and two losses). At this point, I truly believe something is going on between the Yankees and Chris Britton that has kept this pitcher in the minors. Maybe he's going through some personal issues. Maybe there's some odd beef between him and Torre. Maybe the Yanks wanted to closely monitor his innings after watching two other relievers (Chris Ray, B.J. Ryan) blow out their arms after getting overworked by the Baltimore Orioles. But any way you slice it, Henn's gotta go.
The Yanks could call up Britton. They could call up Ben Kozlowski. Just please, end the Sean Henn Era.
Ouch.  
Triple-A Scranton (11-2 win over Ottawa)
Brett Gardner: 0 for 4, 1 R, 1 BB, 1 K
Jose Cruz Jr.: 4 for 5, 2 R, 3 2B, 2 RBI, 1 K – 6 for 9 with 3 doubles & a homer since moving to the 2nd spot in the lineup
Mink: 1 for 5, 1 R, 1 RBI
Angel Chavez: 2 for 4, 3 R, 1 2B, 2 RBI, 1 BB, 1 SB
Bronson Sardinha: 1 for 3, 2 R, 1 2B, 1 RBI, 2 BB – still 4 for his last 30
Alberto Gonzalez: 3 for 5, 1 R, 1 2B, 1 RBI, 1 K – guess we can't call him The Attorney General anymore
Eric Duncan: 2 for 5, 2 RBI, 1 K – 12 of his 55 RBI have come in his last 11 games
Mighty Matt: 8 IP, 7 H, 1 R, 1 ER, 3 BB, 9 K, 9-5 GB/FB – 81 of 116 pitches were strikes (69.8%)…picked a runner off first…made a great case for himself in that "who takes over for Moose" debate
Ben Kozlowski: 1 IP, 2 H, 1 R, 1 ER, 0 BB, 0 K – allowed the inherited runner to score to put a blemish on Matty's gem
So we have this threaded comments thing working, so we're going to see what we can do with it. Other sites, like Pinstripe Alley and Pete Abraham's blog, have game threads. Not to play the role of copycat (though by all appearances we are), we're going to see how that would work 'round these parts. So comment, argue, debate, what have you during the game if you want. Should be a good ol' time.
P.S. We'll try to have the thread posted earlier than this on most days.
Yankees
1. Johnny Damon, LF
2. Derek Jeter, SS
3. Bobby Abreu, RF
4. Alex Rodriguez, 3B
5. Hideki Matsui, DH
6. Jorge Posada, C
7. Jason Giambi, 1B
8. Robinson Cano, 2B
9. Melky Cabrera, CF
And on the mound, No. 35, Mike Mussina.
As you've surely already heard, the Yanks' top pick is going to go ahead and have Tommy John surgery. That's fine, it is what it is, nothing anyone can do about it. I wanted see how well Brackman was pitching before the elbow started acting up, so I went through NC State's schedule from earlier in the year and came up with the following pitching lines (the box score links work only intermittently after April 1st, so I'm missing 4 games worth of data):
Feb 9 vs William & Mary: 5 IP, 3 H, 2 ER, 1 BB, 3 K, 82 pitches (9-4 W)
Feb 17 vs Gardner-Webb: 5 IP, 3 H, 0 R, 0 ER, 2 BB, 8 K, 81 pitches (8-0 W)
Feb 24 vs Coastal Carolina: 7.1 IP, 6 H, 0 R, 0 ER, 1 BB, 7 K, 113 pitches (4-0 W)
March 3 vs East Carolina: 5 IP, 6 H, 4 R, 4 ER, 5 BB, 6 K, 111 pitches (5-4 W in 10)
March 9 vs Maryland: 9 IP, 6 H, 6 R, 5 ER, 1 BB, 9 K, 122 pitches (6-3 L)
March 24 vs Wake Forest: 4 IP, 9 H, 6 R, 5 ER, 3 BB, 2 K, 96 pitches (16-3 L)
March 31 vs Boston College: 7 IP, 4 H, 1 R, 1 ER, 3 BB, 7 K, 111 pitches (10-1 W)
April 28 vs CWS runner-up UNC: 7 IP, 3 H, 2 R, 1 ER, 4 BB, 7 K, 97 pitches (9-3 W)
May 12 vs Virgina: 4 IP, 5 H, 3 R, 3 ER, 5 BB, 5 K, 101 pitches (10-7 W)
Hmmm . . .doesn't that seem like an awful lot of pitches for a guy who had thrown only 71.1 IP combined in his freshman & sophomore years? How likely is it that this heavy workload contributed to the elbow troubles?
Now before everyone goes apeshit in the comments, remember that NC State coach Elliot Avent does not work for the Yankees. His job is to win baseball games for NC State, not worry about developing Brackman for some ML team. Just ask Billy Beane how he feels about Cal State Fullerton coach George Horton after he ran Jason Windsor into the ground during Fullerton's run to the CWS Title in '04.
Update: Game scores added by request.
By

There is justice in the world: the Astros fired GM Tim Purpura this afternoon. No, this is not Yankees related. But as a baseball fan, it's frustrating that the man held his job for so long. How a man can keep his job after failing to sign his top two draft picks — when the team didn't even pick until the third round — I don't know. Apparently Astros owner Drayton McLane, who also owns one of the best names in sports, doesn't know either. And remember, the teams' first few picks were lost because they just had to sign Carlos Lee and Mark Loretta. In addition to that, they didn't pick up any additional picks by failing to offer arbitration to Andy Pettitte and Roger Clemens. Oh yeah, and Purpura and Garner continued to trot out Craig Biggio while he pursued a personal record, which was to the detriment of the team. Now, if we can just get Dave Littlefield out of Pittsburgh… · (0) ·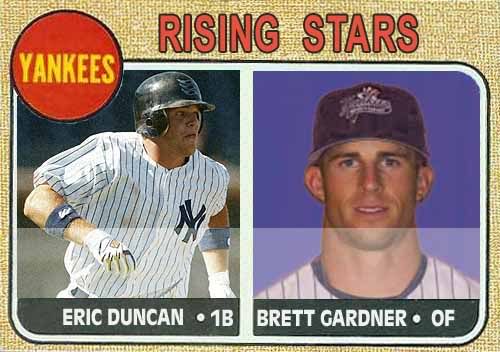 The highest profile winter league out there, the Arizona Fall League, has released it's 2007 rosters. Each club sends 7 players to the hitter's haven, a league were small ballparks, favorable weather and inexperienced pitchers leads to lots and lots of offense. Heck, Eric Duncan won the AzFL MVP 2 years ago, and Brett Gardner hit a homer there last year, so that should tell you just how offensive the league is.
Gardner will be making return trip this year, and joins Steven Jackson, Ross Ohlendorf, Kevin Whelan, Steven White, Reegie Corona & some guy named Juan Miranca on the Peoria Javelinas. Double-A Trenton manager Tony Franklin will also make the trip and call the shots for the Javelinas. Here's a rundown on some of other top prospects heading to the Desert.
I originally thought that the Yanks would send the biggest bust in team history, aka Phil Hughes, to the AzFL to catch up on some innings, but it doesn't look like it'll happen. Hawaii is still a possibility; I just hope they send him somewhere to pitch this winter after missing so much time.