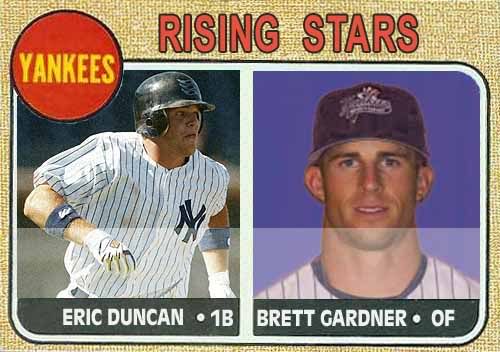 The highest profile winter league out there, the Arizona Fall League, has released it's 2007 rosters. Each club sends 7 players to the hitter's haven, a league were small ballparks, favorable weather and inexperienced pitchers leads to lots and lots of offense. Heck, Eric Duncan won the AzFL MVP 2 years ago, and Brett Gardner hit a homer there last year, so that should tell you just how offensive the league is.
Gardner will be making return trip this year, and joins Steven Jackson, Ross Ohlendorf, Kevin Whelan, Steven White, Reegie Corona & some guy named Juan Miranca on the Peoria Javelinas. Double-A Trenton manager Tony Franklin will also make the trip and call the shots for the Javelinas. Here's a rundown on some of other top prospects heading to the Desert.
I originally thought that the Yanks would send the biggest bust in team history, aka Phil Hughes, to the AzFL to catch up on some innings, but it doesn't look like it'll happen. Hawaii is still a possibility; I just hope they send him somewhere to pitch this winter after missing so much time.
I say semi-official because the word comes from The Post:
Andrew Brackman, the Yankees' first-round pick in the June draft, has decided his right elbow will be better served by undergoing Tommy John surgery, according to agent Scott Boras.

Brackman, who signed a four-year deal worth $4.5 million that includes a $3.3 million signing bonus and could escalate to $13.8 million if incentives are met, has chosen Dr. James Andrews to do the procedure, which normally takes 12 to 18 months to come back from.

The Yankees knew of the 6-foot-10 Brackman's elbow problems long before taking him with the final pick in the first round. A recent visit to Andrews' office confirmed a problem and Brackman decided to have the surgery, which, according to Boras, has a 97-percent success rate.

Brackman, who didn't pitch in the ACC or NCAA tournament because of elbow trouble, was 6-4 with a 3.81 ERA in 78 innings for N.C. State this past season.
Not much of a surprise, and fixin' elbows is easier than fixin' shoulders, so it's not all that bad. The only sucky part is that we have to wait until 2009 to see our top draft pick in action.
Triple-A Scranton (4-3 loss to Buffalo)
Brett Gardner: 0 for 5, 3 K, 1 SB
Jose Cruz Jr.: 2 for 4, 2 R, 1 HR, 1 RBI, 1 BB, 2 SB - maybe he just doesn't like hitting in the cleanup spot
Alberto Gonzalez: 2 for 5, 1 R, 1 2B, 1 K – 7 for his last 17 with 2 doubles
Eric Duncan: 1 for 3, 1 2B, 2 RBI, 1 HBP - don't look now, but 8 of his last 10 hits have gone for extras (6 doubles, 1 triple, 1 homer)
Kevin Thompson: 1 for 2, 2 BB
Andy Cannizaro: 2 for 4, 1 2B, 1 K
The Ghost of Kei Igawa's Ghost: 6.2 IP, 5 H, 3 R, 3 ER, 1 BB, 3 K – only 2 homers allowed, giving him 24 allowed in 132.2 IP this year
TJ Beam: 1.1 IP, 2 H, 1 R, 1 ER, 0 BB, 1 K – 15 of 17 pitches were strikes
By

Jason Giambi just hit a ball so hard he hurt the pitcher's shoulder. That's his 5th homer in 13 games since returning from the DL. Please quit the shit and put him in the lineup everyday. </rant> · (24) ·
By

From the Official Site:

The manager said he planned to speak with Henn, who has had two games end on this road trip while he has been on the mound. Henn is expecting the birth of his first child in the near future and has "a lot of things going on," Torre said. … General manager Brian Cashman inquired about stocking the Yankees with another pitcher from the Minor Leagues, Torre said, but the early-morning telephone offer was rejected.

Isn't this what the bereavement list is for? To let guys take a short leave to deal with personal stuff while allowing the team to call someone up in his place? Get used to this Chris Britton (140 career OPS+), this is your life. Ridiculous. (hat tip to NoMaas) · (7) ·
It's funny how when the Yanks win, I don't really have much to say. Chien-Ming Wang looked as good as he's looked all season, and the offense did it's job. I have to wonder what's going on with Jason Giambi and his playing time, and I'm beginning to wonder if something did actually happen between Chris Britton and the Yanks. But we'll get to that in due time.
I wanted to, instead, attract your attention to a very interesting blog post. Over at ESPN.com, Tigers centerfielder Curtis Granderson has kept up a blog during the season. Yesterday afternoon, after recovering from Friday's marathon, he posted about starting a game at 11:05 p.m. Other than effusively thanking all of the fans (like me) who stayed up to watch the game, Granderson opined on playing baseball past the witching hour:
That was something I had never really been a part of before, and it was weird how your body and mind react. The start time of 11:05 p.m. wasn't that bad because we have played extra-inning games that have gone later than that. The problem came once we hit the 2-a.m. mark. That is when I started looking at guys and seeing the sleepiness start to set in for everyone. I think the toughest thing about last night involved the guys who had to enter the game late (Bobby Abreu, 1:50 a.m.; Sean Casey, 2:00; Jose Molina, 2:05; and all the bullpen pitchers) and try to produce.

When Carlos Guillen hit the walk-off home run, the first thing out of my mouth was, "We finally get to go home." I was so just ready for the game so we could finally leave the park. After leaving the ballpark and eating, I made it to bed around 5. Now I have to be back and ready to do it again tonight.
To me, this is fascinating. It really shows a more human side of these baseball players. They aren't animatronic baseball machines. Just like you and me, when 1 a.m. rolls around, they're actually tired. So as much of a chore it was for us to stay up watching baseball until nearly 4 a.m. on Friday night/Saturday morning, it was even harder for those playing the game.
And, hey, it was definitely past Joe Torre's bedtime. Sixty-seven-year-olds just shouldn't be staying up that late.
By

Haven't seen this on the good ol' idiot box yet, but I'm sure it's out there. · (6) ·
Triple-A Scranton (6-1 loss Buffalo) 
Brett Gardner: 2 for 5, 1 R, 1 3B, 1 K, 1 CS, 1 E (throwing)
Eric Duncan: 0 for 5, 1 RBI, 1 K
Alberto Gonzalez: 2 for 3, 1 BB, 1 K- only 57 K in 128 games this year
Jose Cruz Jr., Angel Chavez, Kevin Thompson, Wil Nieves & Juan Francia: combined 0 for 16, 4 BB, 7 K – 3 of those K's came courtesy of Crap Jr.
Raul Chavez: 2 for 4, 2 K
IPK: 5.2 IP, 4 H, 2 R, 2 ER, 2 BB, 7 K – took the loss after being outpitched by a former 18-game winner
The guy would should be in the bigs: 1.1 IP, 2 H, 1 R, 1 ER, 0 BB, 1 K, 3-0 GB/FB – 16 of 22 pitches were strikes 
Jim Brower: 1 IP, 3 H, 3 R, 3 ER, 0 BB, 2 K