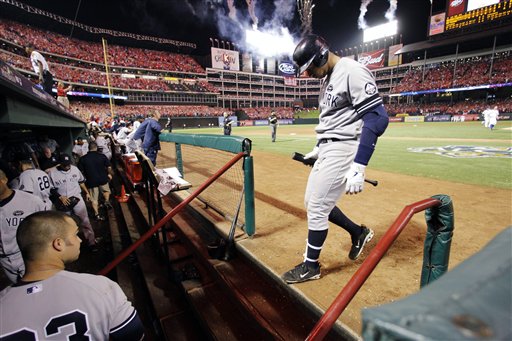 The Yankees' season ended with disappointment last night, but Ben, Joe, and myself want to take a second to thank everyone for another great year at RAB. The readers and commentors are what makes the site go, and we're thankful for you guys. A big league season features far too many ups-and-downs to count, but having such a kick-ass readership makes it easier to tolerate. So thank you, and here's to 2011.
Oh, and don't forget, RAB doesn't go anywhere in the winter. We'll still be around to cover the hot stove action, winter meetings, trade rumors, and free agent talk, as well as offer speculation, analysis, dumb ideas and the like. The Yankees are a 12-months a year kind of team, and we'll be around for all of it. Hopefully you all will be as well.
Anyway, here is your open thread for this fine evening. The Giants and Phillies resume the NLCS at 8pm ET on FOX (Jonathan Sanchez vs. Roy Oswalt), plus all of the hockey locals are in action. Talk about whatever you want here, just be cool.