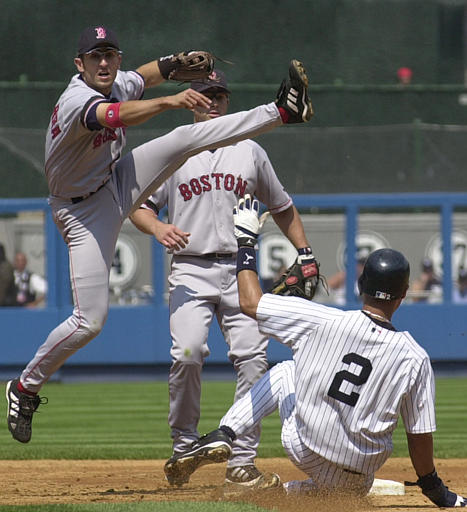 Nomar Garciaparra officially announced his retirement yesterday, although it caught no one off guard considering the non-exist market for older players. It seems like just yesterday that Nomar, along with Derek Jeter and Alex Rodriguez, had effectively taken the shortstop torch from Cal Ripken Jr. and Barry Larkin, and represented the new wave of offensive shortstops.
Despite being the youngest of the trio, A-Rod made his big league debut first, racking up 11 hits in a 17 game cameo during the summer of '94. An extended look in 1995 resulted in a 72 OPS+, though Alex certainly made his mark in 1996, when he began the season as a 20-year-old. He led the league with a .358 batting average, 379 total bases, 141 runs scored, and 54 doubles. Overall, his .358-.414-.631 batting line with 36 homers earned him an All Star selection, a Silver Slugger Award, and a second place finish in the MVP voting. At 9.4 WAR, it remains one of his three best individual seasons to date.
A-Rod would go on to spend another seven years at shortstop, winning an MVP and a bunch of Gold Gloves and other stuff along the way. As you know, he slid over to third base in the prime of his career, at age-28, to join the Yankees. Had he remained at short, he would have hit more homers than anyone else at the position in history by now, and we'd be talking about him as one of the two or three best players ever given his positional value.
The current Yankee captain was the next to debut, getting into 15 games during the 1995 season before his Rookie of the Year campaign in 1996. He's unquestionably the most decorated of great shortstop trio, with his five World Series rings and all. A career .317-.388-.459 hitter, the Yankee icon is within striking distance of 3,000 hits and will soon hold several of the franchise's all-time records. Well, more than he does now, anyway.
And then there's Nomar. The oldest of the group, he was also the last the debut, getting a September call-up in 1996 before becoming Boston's full-time shortstop in 1997. His first four full seasons were nothing short of epic, as he piled up a .337-.386-.577 batting line while averaging over 28 homers per year. Fans in Boston claimed their young shortstop was better the Yankees' young shortstop, and up until the 2000 season they were right. Of course, Jeter had the rings, so none of us were complaining.
But unlike Jeter and A-Rod, Nomar's career just didn't have the longevity. Wrist issues would sabotage his 2001 season, when he appeared in just 21 games and his OPS dropped from 1.033 to .822. He was never really the same after that, hitting .305-.349-.523 while battling the ailment through the 2003 season. Obviously, that's still outstanding production from a shortstop, but a far cry from his glory days.
Nomar reportedly turned down a four-year, $60M contract extension following the 2003 season, which led to his name appearing in trade rumors. The Red Sox were slated to acquire another Next Generation shortstop – A-Rod – from the Rangers for Manny Ramirez, and in a sister move they would have shipped Garciaparra to the White Sox for Magglio Ordonez. The deal(s) fell apart and a few weeks later the Yankees boasted two Next Generation shortstops compared to Boston's one.
In his final 38 games as a Red Sox in 2004, Nomar hit .321-.367-.500 with five homers. He was famously shipped to the Cubs at the trade deadline in a four team megadeal that netted Boston Doug Mientkiewicz and Orlando Cabrera. Nomar would play just 99 more games at shortstop the rest of his career, as injuries reduced him to a corner infielder and eventually a part-time player.
Garciaparra retired as a .313-.361-.521 career hitter on Wednesday, the first of the Next Generation of shortstops to call it quits. Always a Yankee killer, he hit .326-.360-.556 with 14 homers in 95 games against the Bombers, including .298-.342-.528 in the Old Stadium. Garciaparra missed 633 of 1,647 possible days due to injury after the 2000 season (38.4%), which was ultimately his last hurrah. More than 13 years after the Next Generation of shortstops took the game by storm, just one of the three players remains at the position, and the player who looked most destined for Cooperstown in the early going called it quits after failing to find so much as a minor league deal on the open market.
Just as Joe Nathan's injury allows us to appreciate Mariano Rivera's longevity, Nomar Garciaparra's retirement reminds us just how amazing Derek Jeter's career has been, especially as he has remained at such a tough position.
Photo Credit: Mark Lennihan, AP