By

While today is just the third day of Joe Girardi's managerial tenure with the Yankees, we already see that he's managing by the book. As Tyler Kepner tells us, that book just happens to be Baseball Prospectus 2008. That is one book Joe Torre was not wont to consult. · (5) ·
A friend of mine — one of those midwest transplants who move to New York — finally made the trip to Yankee Stadium after a few years spent living in the city. As I was reading his account of the trip, I came across the typical beer rant. Beer is too much at Yankee Stadium, he opines.
But the accompanying picture got me thinking: Is beer really that expensive in the Bronx?
That's the sign from the Stadium. A 24-ounce Heineken costs $12.50. That's expensive, right? Who wants to pay $12.50 for a beer? Well, in reality, you're paying $12.50 for two beers. A bottle of Heineken contains 12 ounces of beer. So one giant Yankee Stadium beer contains two bottles of beer.
I know I've been to bars in New York City where bottles of Heikenen can run $5 or $6. Sure, that's expensive, but that means Yankee Stadium's $6.25 bottles of beer aren't that outrageously priced.
Walking around the streets of New York, you'd be hard-pressed to find $4.50 hot dogs. You can't buy Cracker Jacks at Yankee Stadium prices anywhere else, and the peanuts you can find in the city are better and cheaper than the ones they sell at the Stadium. But the beer, well, that's not that much more expensive than other places that sell Heikenen at marked-up prices.
By

Via Chad Jennings, the Yanks having inked 26-yr old catcher Chris Stewart and assigned him to Triple-A Scranton. Stewart has a little bit of big league experience, grabbing 45 at-bats with the ChiSox and Texas over the last two years. His numbers – majors or minors – aren't exactly impressive, but the Yanks needed another catcher in the upper levels after Frankie Cervelli's injury. · (2) ·
When A.J. Burnett throws six innings and makes one mistake, the only thing to do is tip your cap to him. The Yankees were simply outpitched last night, and as the old baseball adage goes, good pitching will beat good hitting nearly all the time.
But there are some takeaways from last year's night, and most of them concern Mike Mussina. Submitted for your approval is a rather basic pitch graph of Mike Mussina's night. It tracks the velocity of his pitches along the X-axis vs. the break of his pitches according to MLB's Advanced Gameday application along the Y-axis.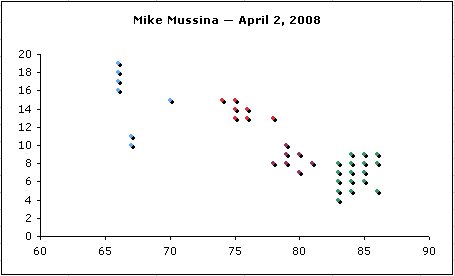 The colors represent Mussina's pitch repertoire. The green are his fastballs; the two shades of red are his breaking pitches; and the blue dots at the slow end of the slow spectrum are his knucklecurves. To really get a sense of how slow Mussina was throwing, Gameday kept calling his low-80s fastballs change-ups. Those, my friends, were not changeups.
And therein lies the problem. Mike Mussina threw fastballs for nearly 60 percent of his pitches. He threw about 10 each of his breaking pitches. While the break on his fastballs is encouraging, he doesn't have enough gas to throw so many fastballs. He hit 86 mph five times but mainly sat around 83 and 84 with his fastball. Major League hitters are going to tee off against him.
Meanwhile, Mussina again seemed to pull his routine on the mound when Giambi made an error and Moose didn't cover first base in time early in the game.
In the end, Moose's results are serviceable. He gave up 3 earned runs in5.2 innings, but he put 10 runners on base and struck out only 2. While relying on his low-80s fastballs, Mussina will not be so lucky in the future.
Game Notes: Alex Rodriguez is very good at hitting baseballs. I'm very happy to see him back on this team for the long haul…Derek Jeter's fourth inning effort in turning an error into an out changed the dynamic of the game. That was sloppy baserunning by a usually reliable baserunner…A few commenters in the game thread bemoaned Joe Girardi's decision to keep Giambi in the game to face Brian Tallet in the 7th. When Giambi's blast in the 9th fell a few feet short of tying the game, no one was complaining, and had it been warmer or windier in the right direction, the game heads into the 10th a tie. I understand the ideas behind playing the matchups, but in a close game, losing Giambi's bat isn't an option. He'll always be more of a threat at the plate than Shelley Duncan or Morgan Ensberg.
By

Don't loot Yankee Stadium, folks. On Opening Day, the Yankees security crew caught two fans attempting to steal stadium bunting. They will be charged with larceny and criminal mischief. But worse: They had their season tickets revoked by the Yankees. This probably isn't the last we'll hear of Yankee Stadium looting efforts, but the price of getting caught just isn't worth it. · (15) ·
One of our more popular features in the early days of RAB was the Hughes Watch, which will be forever immortalized on the left sidebar of the now defunct IGWT. After Hughes graduated to the bigs we debuted the wildly popular Joba Watch, which chronicled the right-hander's voyage from A-ball to our hearts in five short months. With Joba now firmly entrenched in the Bronx, it's time to move on to the next Watch subject, although there's no obvious candidate.
Ideally, the Watch would cover a guy who will spend most of the year in the minors, but will also make his big league debut at some point. Guys like Alan Horne, Jeff Marquez, Juan Miranda, Brett Gardner and Scott Patterson fit the bill, but none of them really seemed Watch worthy to me. Austin Jackson, Jose Tabata, Jesus Montero and Dellin Betances are really talented, but too far away. Then along came an email from longtime reader Greg G., suggesting that the new Watch should follow JB Cox, Mark Melancon, Humberto Sanchez and Chris Garcia on the road to recovery from Tommy John surgery. He hit the nail on the head.
Not only is their recovery from TJ the biggest story of the minor league year, it also fits the ideal Watch mold. Sanchez and Cox should be knocking on the door by July, and Melancon has a chance to join them come September. Chris Garcia is a ways off, but he'll add that wow factor if he manages to stay healthy. So with that, the TJ Rehab Watch is born. Four Watches for the price of one, everyone wins.
So here's how it's going to work: Just like last year the top table will contain the stats for the last game pitched, reagrdless of who was on the mound, and the bottom table will contained combined stats for all four guys. If more than one guy throws on a given night, I'll add another "last game" table accordingly. I didn't want to do a separate table for each guy, or one table for each guy and one combined table, or some sort of wacky business like that because a) HTML tables are the fugliest thing imaginable, and b) it would take up too much real estate. The whole point of the Watch is simplicity, a quick and easy way to track the progress of your favorite (okay, my favorite) prospects. Adding more tables ruins the vibe.
I decided on using a pic of Melancon for a few reasons: It was the best action shot of one of the four guys in a Yankee uni I could find, fans generally seem to love the guy (and with good reason), and also because Robert of Baby Bombers was kind enough to supply it. I considered Photoshopping a little montage off all four guys, but again, it's all about simplicity. The pic can always be changed, in fact we went through quite a few last year on the Joba Watch.
The minor league season kicks off in full force tomorrow, as every team in every full season league, except the High-A California League, takes to the field (the Cal League season starts on Friday). I find it mildly hilarious that two pitchers on completely opposite ends of the talent spectrum – Rick Porcello and Kei Igawa – grace milb.com's Opening Day graphic. Talk about odd combinations.
Triple-A Scranton looks to end it's eight-game Opening Day losing streak against Lehigh Valley, the Phillies' Triple-A affiliate. The Kei-man will take the hill for SWB, so yeah, good luck with ending that losing streak. Double-A Trenton starts the year off against the Binghamton Mets, while Low-A Charleston will look to conquer the Rome Braves. The highlight of Opening Day is the aforementioned Mr. Porcello making his pro debut against the High-A Tampa Yanks. Couldn't ask for a better way to kick off the year.
Mike Mussina is, whether we like it or not, a key cog to the Yankees' success this season. Until the team is ready to move Joba Chamberlain out of that 8th inning role — and if he keeps doing what he did last night, that won't be anytime soon — Mussina will be starting every fifth day. He needs to give the Yankees innings, and he needs to keep them in the game.
2007 will not be one for the ages for Mike Mussina. He hurled a career, full-season low of 152 innings while turning in a 5.15 ERA, a mark 1.40 runs above his career average. He failed to reach 100 strike outs for just the second time since 1992 and gave up 36 more hits than innings pitched.
If Mussina can keep his ERA around 4.50 this season, the Yankees will win his games. This a team that will score a lot of runs in many different ways, and if Moose can go 5-6 innings and allow 3-4 runs a start, the Yanks can find a way to win. Mussina is optimistic about his season. He knows that he needs to turn in a solid 2008 if he wants a contract somewhere in 2009. Let's see if he's true to his word.
The Yankees will go with the same lineup as last night. The Blue Jays have some changes.
Yankees
Damon LF
Jeter SS
Abreu RF
Rodriguez SS
Giambi 1B
Cano 2B
Posada C Matsui DH
Matsui DH Molina C
Cabrera CF
Mussina RHP
Blue Jays
Eckstein SS
Stewart LF
Rios RF
Wells CF
Thomas DH
Overbay 1B
Hill 2B
Scutaro 3B
Barajas C
Burnett RHP
Notes: A.J. Burnett is 3-2 with a 3.20 ERA in six career starts against the Yanks. In 39.1 innings, he's given up just 27 hits while striking out 35…Please consider donating to the Big Three Ks Craniosynostosis fund drive…Last night, we had over 200 posts on the game thread. That's a RAB record.
Update 6:30 p.m.: Jorge Posada out; Jose Molina in. Jorge reportedly is day-to-day with a stiff right shoulder. He tweaked it yesterday and could not get loose enough to play in today's cold weather. With 160 games left, there's no point in running Jorge out there this early if he's not feeling up to it.
As many of you know, I love charting the progress of the new Yankee Stadium through photos. While my first trip up to the Bronx this spring isn't until Sunday and I haven't made it up in person since late December, we live in a Web 2.0 world. So let's head to flickr for some peaks inside the new stadium.
We begin our journey looking east down 161st St. as the new stadium rises above the subway tracks. As we've seen before, the new stadium will be a stone's toss away from the downtown platform of the 4 train, but that first shot really captures of the effect of the stadium rising above everything else.
From inside the current Yankee Stadium, it's hard to miss construction going on just beyond the outfield walls. But the best views are from that downtown 4 train. Ride the train south from 167th St., and spy the inside of the new stadium and all the construction inside the seating bowl. The field itself won't be completed until shortly before Opening Day 2009.
Next week, I'll probably have a whole slew of new photos to toss up for you. While some of us bemoan the new stadium and others await it with eager anticipation, it's pretty neat watching this thing go up.
The photo above by flickr user 94Aug.
By

I somehow missed this one the other week, but the Yanks signed RHP Chase Vacek out of the independent United League. He had a good year serving as the San Angelo Colts' closer (he spent some time in the Royals' system previously), going 48 IP, 46 H, 23 R, 12 ER, 10 BB, 48 K with 9 saves and 20 games finished. Judging by the number of unearned runs, it's safe to say he had a less than stellar defense behind him, so those stats are probably a little skewed. The big thing is the K/BB ratio. The Yanks have been stockpiling relievers with very good K/BB recently (Chris Britton, Dan Giese, Jon Albaladejo), and I can't say I see a problem with that. No risk, mediocre reward move. · (18) ·