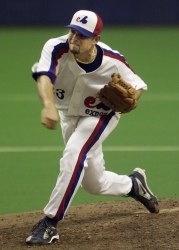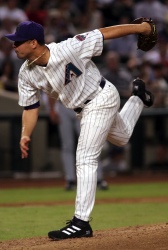 Whether by Expo or by D-Back, Javy knows dominating the Mets. Photo credits: Ryan Remlorz/AP, Roy Dabner/AP
Tonight starts the pitching rematch of the May series between the Yanks and the Mets. We covered a lot of this in the series preview. The Mets are rolling after beating up on the Orioles and Indians. The Yanks are just a few games removed from such domination, but have since met the Phillies, who took two of three. The Yanks look to recover against their crosstown rivals. I don't know about you guys, but I'm not sure if I can stomach losses to the Phillies and the Mets back to back.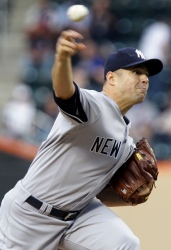 Oh, and he can beat them by Brave or by Yank, too. Photo credits: John Bazemore/AP, Frank Franklin II/AP
The Yanks had trouble last time off Hansori Takahashi, but we know the anecdotal history of the Yanks facing lefties they've never before seen. They'll look to reverse that (again, anecdotal) trend.
I looks like Girardi's giving Granderson a day off against the lefty. That's fine, but I just hope Granderson plays against Santana on Sunday. If the Yanks want him to ever hit lefties he's going to actually have to stand in against them.
Lineup:
1. Derek Jeter, SS
2. Nick Swisher, RF
3. Mark Teixeira, 1B
4. Alex Rodriguez, 3B
5. Robinson Cano, 2B
6. Jorge Posada, DH
7. Francisco Cervelli, C
8. Chad Huffman, LF
9. Brett Gardner, CF
And on the mound, number thirty-one, Javier Vazquez.