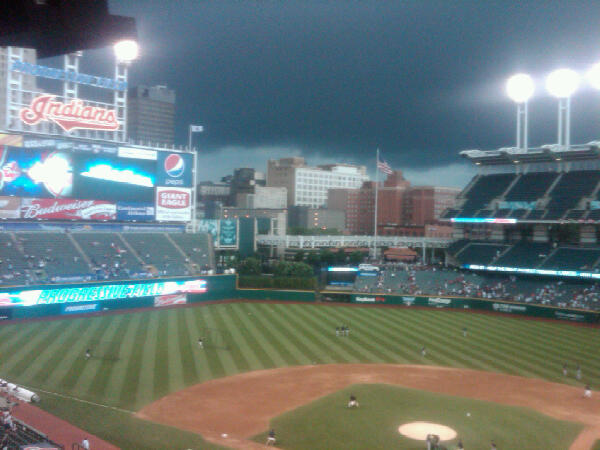 That photo came courtesy of Mark Feinsand about 20 minutes ago, and you can see the Yankees scattering off the field after batting practice while the grounds crew runs out to get the tarp on the field. The AccuWeather guy said during the pregame show that the game is likely to be delayed for an hour so, but there's enough of a window to play tonight.
It also rained during A.J. Burnett's last start, when he held the Royals scoreless through five innings before getting washed out. Both Sergio Mitre and Chad Gaudin are available at length tonight, though I'm sure Joe Girardi doesn't want to use both guys tonight with Dustin Moseley starting tomorrow. Thankfully the Indians are throwing Fausto Carmona tonight and not some rookie no one's ever heard of. The Yanks have actually seen this guy before.
Here's the lineup, which features a somewhat less-achy Jorge Posada…
Jeter, SS
Swisher, RF
Teixeira, 1B
A-Rod, 3B
Cano, 2B
Posada, DH
Granderson, CF
Cervelli, C
Gardner, LF
And on the bump, it's A.J. Burnett.
In case you haven't heard, the Indians traded Jhonny Peralta to the Tigers within the last few minutes, so he won't be around to make four outs on six pitches tonight. For shame. Whenever the game starts, you can watch on YES. In the interim, the Mets and Cardinals are on ESPN (and SNY, of course). Enjoy the game, hopefully it starts soon enough.
Update 7:10 p.m.: The Indians say first pitch is now schedule for 7:40 p.m.