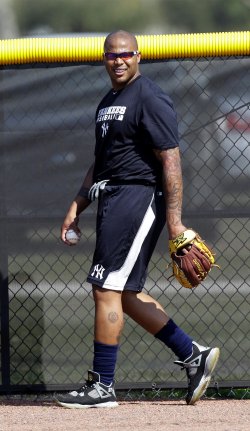 In terms of core improvements on offense, the Yankees don't have much wiggle room. Their entire infield and outfield is essentially set in stone, all returning from last year. The only changes come at catcher, where Jorge Posada simply moves to DH and Russell Martin takes over. That was about the best the Yanks could do this winter to improve their starting lineup. Where there is real opportunity to improve is on the bench, and the Yanks took to that task this off-season as well.
Last year's bench didn't quite dazzle. There were some highlights, specifically Marcus Thames, who produced a .365 wOBA through 237 PA. But other than that, the bench was either poor or misused (though not intentionally). Here's the breakdown of all the players who spent time on the Yanks in a non-starting role last year:
The only standout there is Thames, and he managed just 237 PA last season. I'd imagine that Andruw Jones will get more than that, since he can actually play the field. He actually matched Thames's wOBA last year, which isn't to say that he'll repeat that this year, but rather to say that if he's even close that he can provide more value by 1) racking up more plate appearances and 2) actually playing defense.
Francisco Cervelli will almost certainly drop from that 1.1 WAR last season, but for good reason. The idea is that the starter — whether it be Martin, Montero, or Posada — will pick up a good chunk of those PA and, therefore, that value over replacement. Therefore, the bench will be strengthened by the lack of reliance on it. The more PA the starters pick up the better, and it appears there's no better opportunity for improvement in that regard than at catcher.
After those two, the rest of the bench accumulated -0.8 WAR. Surely the new group can do better than that. Including Cervelli as a full-time bench player is a good start. Employing one of Ronnie Belliard or Eric Chavez, strange as it might sound, should help further. That will be in place of the Golsons and the Curtises and the Huffmans that littered the 2010 bench.
A weak bench has been a signature of the mid- to late-2000s Yankees teams, but that appears to have changed this year. We'll still see guys such as Golson and Curtis make appearances. Injuries do happen. But the Yankees will have to rely on them a bit less, because they've built up a group of bench players who can hit and field their positions. It might only make a one-win difference. But in 2011, one win could be the difference between the playoffs and third place.