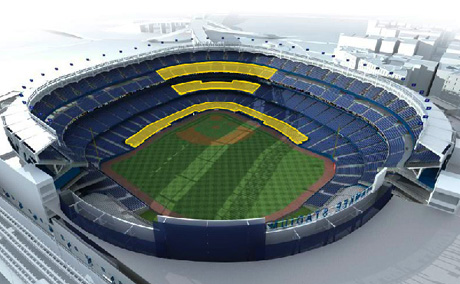 Premium seats, marked in yellow, will sell for a pretty penny at the New Yankee Stadium.
Earlier this week, the Yankees launched a new Web site detailing seating options at the New Yankee Stadium. Welcome to Yankees Premium, the Web site says. The pages within hold "an exclusive experience for those with discerning tastes who seek the very best that life has to offer."
What this flashy flash introduction neglects to tell the unsuspecting viewer is that this an exclusive experience for those with very deep pockets as well. But is anyone really surprised?
For the Yankees, this new stadium isn't about necessity, and it sure wasn't about history. Say what you will about the renovations in the 1970s, but Yankee Stadium, man, it has some history. It had Gehrig and Ruth and DiMaggio and Mantle and Reggie and Mattingly and the late 1990s. Sure, the concourses were a bit narrow, but if the Red Sox can eke our more seats in Fenway, the Yanks could have found a way to make their current stadium more hospitable for the 4.2 million fans who made the pilgrimage up the Bronx last year. They could have improved the food offerings and renovated the bathrooms.
But that would have left the Yankees right where they are now: with too few options to sell premium seats and too few options to milk money out of the luxury-box cash cows that ring more modern stadiums. They could have made Yankee Stadium nicer, but they couldn't retrofit it with the proper money-making amenities.
Now, at this point, regular readers may just roll their eyes. "There goes Ben. He's off on one of his anti-new Yankee Stadium rants," the thinking goes. But wait. That flashy Web site the Yankees have put together is a treasure trove of information that proves my point, and the ones who are going to lose out when this new stadium opens are you and me, the obsessed fan who isn't backed by Corporate America.
Last week, when I posted on the recently-spiking top ticket prices at Yankee Stadium, the unspoken conclusion was "watch out." If you think ticket prices at Yankee Stadium are bad this year, wait until next year when the action moves across the street.
Now, draw your attention to the diagram at the top of this post. Those yellow bands are all a part of the new Yankee Stadium premium seating experience. I am dismayed to note that those yellow bands include my Tier Reserve seats right behind home plate. At the old Stadium, those are the best seats in the house. The seats hang low behind the plate, and the view from foul pole to foul pole is expansive.
At the new Yankee Stadium, those seats are a part of the Terrace Level Outdoor Suite, and prices are going to start at $100 per seat per game. Remember when those used to cost $30 in the late 1990s? Those were the days.
For that $100 price tag, guests of the Yankees will enjoy myriad services during their "seating experience" (the Yanks' words; not mine). Fans will have access to a climate-controlled indoor lounge with private restrooms, HD TVs, food and a four-sided bar. Need I mention that there are 1300 of those seats? You do the math.
Meanwhile, on the lower levels, the Main Level Outdoor Suite, designated by the middle yellow band above, will occupy 1200 of the choicest seats. This time, guests who shell out at least $350 per seat per game will get access to their own lounge with the same amenities as the Terrace Level folks plus an espresso bar. Also available will be "a generous menu selection, featuring savory ethnic cuisine, traditional ballpark fare and made-to-order brick oven pizza, continues to underscore this world-class experience."
Finally, we arrive at the field level boxes, now known as the Legends Suite. For a starting price of $500 per seat per game, you can enjoy field-level views from one of 1800 seats — with teak arms — that ring the field and dugouts. And what else do you get for the money? "You will delight in the premium amenities, including cushioned seats with teak arms, in-seat wait service, concierge services, private restrooms and a delectable selection of all-inclusive food and beverages. Exclusive access to the bi-level Legends Suite Club and two Legends Suite Dugout Lounges, helps make the Legends Suite the most coveted ticket in sports," the Yanks say.
So outside of the new 74-seat, $700-per seat per game Club Suite section, now we know how the Yankees are going to repurpose and remarket some of the best seats in the house. And unsurprisingly, this new Stadium really is all about the money.
I hate to ring bells of doom and gloom, but I fear for the ability to go to games. There's nothing better than heading up to a Yankee game on a warm summer afternoon to watch the Bombers play. But when the new Stadium opens in little more than a year, it will turn from a game to "an experience." While these premium seats account for 4300 seats, that still leaves around 48,000 more for the rest of us, but the ticket prices, if these early warning signs are any indication, will be astronomical. The bleacher seats will sell for $20 or more, and the prices for the good seats — those not snatched up by season-ticket holders and the corporate accounts the Yankees will court — will make it next to impossible for anyone on a budget to go to more than a few per season.
The Yankees will get their $1.2 billion stadium. It will be fancy and luxurious. But at what cost to the rest of us?
By

Over at Bronx Banter, Emma Span takes a look at one of baseball's age-old questions: If you were a Major Leaguer,what would your at-bat music be? I'd probably go with some old-school Pearl Jam myself. The beginning of "Animal" gets the adrenaline flowing. · (43) ·
This afternoon, the Yankees will face off against the Virginia Tech baseball team in a seven-inning game. The game is part of a community-building event memorializing those who died during the campus shooting almost a year ago. As others have detailed, this game and the Yanks' presence on campus means a lot to the Virginia Tech community.
Baseball-wise, the Yanks are bringing their A lineup but their B pitchers. Mike Mussina stayed back in Tampa to get in some work against the Blue Jays' AAA team. The game today will feature Jeff Karstens as the starting pitcher. It's available for free on MLB.tv, and it's airing on YES. I would guess this to be the Yanks' Opening Day lineup had the suspensions not come down.
Damon LF
Jeter SS
Abreu RF
Rodriguez 3B
Giambi DH
Posada C
Cano 2B
Duncan 1B
Cabrera CF
Karstens
Britton
Ramirez
Patterson
We've spent a lot of time and energy talking about the bullpen this spring. And with three spots realistically up for grabs, it's been quite an interesting conversation. We know that Mo, Farnsworth, and LaTroy will be making the team, as they have guaranteed deals. It's also assumed that Joba will break camp in the pen — or at least that's what he believes right now. That's four out of the seven, leaving three spots warm for the likes of Darrell Rasner, Jeff Karstens, Ross Ohlendorf, Brian Bruney, Chris Britton, Jon Albaladejo, Edwar Ramirez, Heath Phillips, Billy Traber, Scott Patterson, and (sigh) Sean Henn.
Complicating the issue a bit is Joe Girardi's desire to see a long man in that bullpen mix. That would indicate Karstens or Rasner, though Ross Ohlendorf was a starter for his entire career until the middle of last year. But if we're still considering Ohlendorf a one- or two-inning guy, that means we're now looking at about nine guys for two spots. So things get tougher.
As if that wasn't enough, it's pretty much assumed that the team will head into the season with a lefty in the pen. Back in December, we debated the merits of having a lefty in the pen for the sake of having a lefty. We didn't reach a consensus, but I still believe it wasteful to carry a lefty just because of the arm with which he throws. It's becoming clear that the Yankees do not share this sentiment.
So that means one spot will be decided among three guys, four if you count Igawa. And that's a topic I want to revisit. If we're going to carry a lefty for the sake of carrying a lefty, we might as well discuss it.
Late last week, Billy Traber was added to the 40-man roster, which signaled to many that the spot is all but his. This, though, I have to disagree with. While he very well may get the job out of Spring Training, I'm not sold that he's the right man for the job.
The thing is, Traber has proved little on the major league level. Yes, he was good against lefties last year in his brief major league stint, but is that enough to justify giving him a spot? And yeah, he's a former No. 1 pick, but he really hasn't been the same since he had Tommy John surgery in 2003.
My hope is that he was added to the 40-man so that he can be optioned down to AAA to start the season. This way, we can spend those last two bullpen spots on Patterson and Ohlendorf to see how they can do. Surely, a need in the bullpen will arise as the season progresses.
Then again, I seem to be talking out both sides of my mouth here, as Patterson has no major league experience, and Ohlendorf has just the few innings he tossed last September. Still, I'd rather see Traber, who has had a shot in the majors in each of the last two seasons, start in AAA so we can see what the other guys can do. And if Traber is getting the job done at AAA, then yeah, I'd fully advocate his call-up.
So at this point, let's just say that I'm not sold at all on Traber as a viable bullpen option out of the gate.
By

Don't tell the Virginia Tech baseball team that Spring Training doesn't count. For a few hours today, the VT campus, still healing after last year's tragic shooting, will play host to the Yankees and both the VT players, as Sam Borden writes, and the Yankees, as Anthony McCarron notes, understand and appreciate the emotional impact of this seven-inning exhibition game. The Yanks' presence at VT today is one of the more generous acts I've seen from the team in all my years as a fan. · (3) ·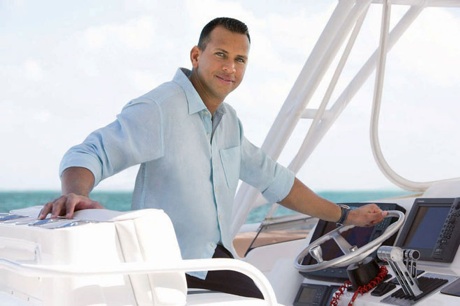 Nice boat. (Photo by Patrick Demarchelier/Men's Vogue)
Stop the presses! It's another tell-all A-Rod magazine piece. This time, it's written by self-professeed Red Sox fan and blogger Seth Mnoookin, and it appears in next month's issue of Men's Vogue.
Setting aside issues of objectivity — it's only a little fishy that a Red Sox blogger gets tabbed to write a cover story on Yankee poster boy Alex Rodriguez — Mnookin's piece is mind-numbingly the same for anyone who's followed the A-Rod Saga at all over the last few years. It starts out in October and rehashes the whole opt-out/falling-out triangle between A-Rod, Scott Boras and the Yanks. It backtracks to the early 1990s and follows A-Rod to Seattle, to Texas, to the Yanks, to the post-season where he struggled in 2007 and still managed to out-hit the rest of his teammates.
As the pieces drags on, it's obviously heading to the same place: A-Rod is a great baseball player, but he doesn't allow the public to see the Real Alex Rodriguez. Heaven forbid the man wants a little bit of privacy. A-Rod poses for photos; he answers questions by e-mail. But no one else wants to comment. While Mnookin tries to hint that this is some shortcoming of A-Rod's, I'd like to think it's a bunch of people attempting to respect the guy. The need to tear him down is overwhelmingly ridiculous.
Where Men's Vogue gets it right is in a sidebar piece about A-Rod's workout. I'm sore just pondering his routine.
But in the end, it's all the same. Maybe one day, we'll hear something new about A-Rod. We know Boras was a father figure; we know they don't talk; we know A-Rod and Derek Jeter had to bury the hatchet on some seven-year-old comments. Until someone finds something new on A-Rod, do we really need to keep reading this?
"He's a great hitter," said Pettitte. "No doubt I backed him off. You just can't lay it in over the plate for him. Got to move the ball in and out. Got to hopefully make a hitter feel uncomfortable. He's a great hitter and you have to hopefully pitch him inside."
See what I did there? I took an innocent little quote from Pettitte about keeping a hitter honest, and turned it into a blatantly untrue and ridiculous headline in an effort to draw attention. Murray Chass and Sir George Alfredson King III, Esquire, eat your hearts out. I'm not sure where I'm going with this, but it's nice to see at least one pitcher on the staff not afraid to challenge Ortiz. I'm sick of the guy just leaning his big ugly mug out over the plate and feasting on 2-0 and 3-1 pitches because everyone is afraid to make him move his feet.
By

Chad Jennings is the man. Need proof? He's got a makeshift box score for today's Triple-A Scranton vs. Syracuse (Toronto) game. Well done, sir.

Glad to see Eric Duncan is starting the season off on the right foot, ditto Wady Rufino and Jason Jones. The season's gettin' close… · (1) ·
By

This afternoon, we were all impressed by the velocity on the YES gun. Bartolo Colon was hitting 94 regularly with a few pitches at 96, and Brian Bruney cracked 100 twice. Not so fast, says Peter Abraham. The Yanks' own guns had Bruney topping out at 96. So if Colon as throwing 90 with no control, he doesn't look nearly as good as he does if he's throwing 94 with no control. Remember: The gun on TV lies. It just looks better that way. · (8) ·