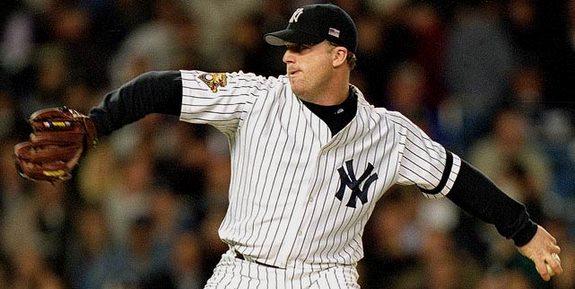 The Yankees have been looking for reliable left-handed relief for about a decade now, ever since the end of Mike Stanton's first tenure in pinstripes. The Yankees signed Stanton as a free agent on this date in 1996, giving him a three-year deal worth $5.55M. He was brought in to provide left-handed bullpen help as well as give the team some protection for Mariano Rivera. Stanton had closing experience with the Braves and Mo was still unproven in the ninth inning role. It sounds silly, but that's what happened.
Stanton was more than a lefty specialist during his time in New York, especially during the dynasty years. He pitched to a 3.67 ERA with 8.2 K/9 and 3.3 BB/9 in 434.1 IP in 428 appearances from 1997-2002, performing better against righties (.246/.322/.351 against) than lefties (.263/.319/.396). Stanton was also one of Joe Torre's biggest weapons in postseason play, posting a 3.38 ERA in 32 innings in 34 games. The team never needed him in the ninth inning thanks to Rivera's other-worldliness, instead using him and Jeff Nelson as a devastating lefty-righty setup tandem.
The Yankees unceremoniously cut ties with Stanton after the 2002 season, when he was 35 years old. They made the same two-year, $4.6M offer to Stanton and fellow lefties Chris Hammond and Mark Guthrie, and the first one to take it got the contract. Hammond took the offer and Stanton didn't even bother to reply after feeling disrespected, instead joining the Mets on the three-year pact. He bounced from the Mets back to the Yankees to the Nats to the Red Sox back to the Nats to the Giants and then to the Reds before calling it a career after the 2007 season.
Stanton pitched in the second most games in baseball history (1,178), behind only Jesse Orosco (1,252). The new Mike Stanton is a lot more fun to watch because he can do things like this and this and this, but the old Stanton enjoyed a 19-year career and was a reliable performer during the latest Yankees dynasty.
* * *
Here is tonight's open thread. The late football game is the Giants at the Cowboys (8:20pm ET on NBC), which should be pretty fun. The Rangers are also playing as well. You folks know what to do, so have at it. Anything goes.