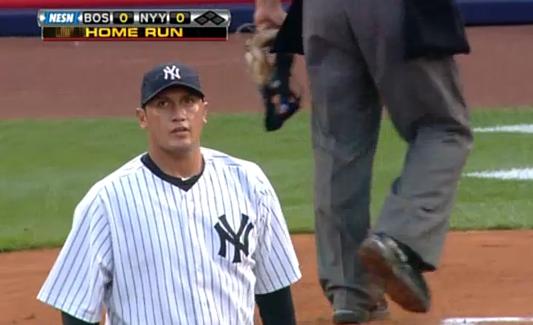 This game was pretty much over in the first inning. Freddy Garcia came out of his pre-game warm-ups with nothing, and I mean even less than usual. When he's not commanding his slop to the corners, he's a batting practice pitcher, and the Red Sox treated him as such in the series opener Tuesday night. I'm still a little pooped from the marathon draft liveblog, so let's recap with bullet points…
Star of the Game

: Hector Noesi. Dude tossed a quality start in relief, allowing just a pair of runs (on a David Ortiz homer) in six innings, and needing just 71 pitches to do so. Another great job by Noesi, who's been nothing but impressive since coming up (the second time). Give Luis Ayala props for getting out of Garcia's second inning mess and throwing a scoreless third inning as well.

Honorable Mention

: Jorge Posada. How about that? He didn't even start the game, he came off the bench to replace Mark Teixeira after he had to leave the game with a bone bruise on his knee due to a Jon Lester fastball. Jorge went 3-for-3 with a walk, including his first two hits of the year off a left-handed pitcher. Go figure.

Blown Chances

: After Garcia put the Yankees in a three-run hole before they came to bat, Lester tried to give it all right back. He really did. Nick Swisher had the bases loaded with two outs in the bottom half (one run was already in), but he grounded out to third on a nice play by Kevin Youkilis. The Yankees also left a pair of men on base in the fourth, a man on second in the fifth, and of course two men in the bottom of the ninth.
Alex Rodriguez's 0-for-5 was particularly ugly, especially his game ending swing, as was Andruw Jones' 0-for-4. Otherwise they got two hits from Derek Jeter (one should have been an error), two hits from Swisher (including a two run double), a hit from Russell Martin, a hit from Robinson Cano, and walks out of Curtis Granderson and Brett Gardner. The Yankees did have a dozen baserunners in nine innings, so they certainly had their chances.
Garcia's utterly ineffective 1.2 IP were the fewest by a non-injured Yankees' starter since the Orioles smacked Phil Hughes around in May of 2009. I guess they were due for a true stinker. Here's the box score, here's the WPA graph. Go get 'em tomorrow.
Game two of the series is on tap for Wednesday night, when A.J. Burnett gets the ball against Tim Wakefield. Perhaps the Yankees will decide to beat their division rivals this time.