The Yanks face off against the Indians today in Tampa. Hopefully, midges won't attack the field.
On the mound, the Yanks' ace Chien-Ming Wang hopes for another solid start while the Indians are countering with C.C. Sabathia. If this sounds familiar, well, just think back to October. And think ahead to 2009 because I fully expect the Yanks to put on the full-court press for Sabathia come the off-season.
The game is on YES and MLB.tv. You an follow along here via Gameday. As the lineups show, the Yanks are going with something of a mixed squad today.
Cabrera CF
Lane LF
Ensberg DH
Rodriguez 3B
Giambi 1B
Duncan RF
Cano 2B
Betemit SS
Molina C
Pitchers
Wang
Rasner
Patterson
Britton
Ramirez
By

While Hank Steinbrenner and Jonathan Papelbon engage in their shouting contest, Hank is taking on another opponent too. This time, he's after the entire Tampa Bay Rays organization. As the feud between the two teams simmers, Hank urged the Rays to get back at the Yanks in another fashion.

"I don't want these teams in general to forget who subsidizes a lot of them, and it's the Yankees, the Red Sox, Dodgers, Mets," he said. "I would prefer if teams want to target the Yankees that they at least start giving some of that revenue sharing and luxury tax money back. From an owner's point of view, that's my point." While he probably shouldn't be saying this, the man has something of a point. · (13) ·
By

Via PeteAbe comes word that the Yanks have placed Andrew Brackman on the 60-day DL as he rehabs from TJ, and added Billy Traber to the 40-man roster in his place. This doesn't necessarily mean Traber will be with the big league squad come Opening Day, but his chances just went up exponentially. Let's just hope the Billy Traber Era goes better than the Wedsel Gary Groom Jr. Era. The Organizational Depth Chart has been updated accordingly. · (13) ·
Jonathan Papelbon should probably keep his mouth shut.
After Hank Steinbrenner criticized Red Sox Nation in The Times' Play magazine a few weeks ago, Papelbon railed into Hank. "I don't know if he's trying to stir things up or not," the Bosox closer said. "I sure as hell don't care, because he sure as hell hasn't stepped on a baseball field. He needs to just stick to pencil-pushing, I guess."
Hank fired back in a Post article.
"Being insulted by Papelbon is like being attacked by a mouse," Steinbrenner said. "John Henry and I traded a couple of jabs good-naturedly. So now, all of a sudden, this player, this 20-something kid who really doesn't know his way in the world, comes out with a personal insult. There's no excuse for that."
I have a feeling that if you were to ask the Red Sox their thoughts on this, they'd probably tell Papelbon to stay out of this. Let the big boys argue; you play the game on the field.
The Yankees and Rays — new BFFs — face off against each other in the televised afternoon game. It's on YES and MLB.tv. The Yanks and Tigers play this afternoon as well, but the game is not televised. Melky Cabrera says he wasn't involved in the fight and plans to appeal his suspension.
Meanwhile, the lineups. Discuss away.
Vs. Tampa Bay
Gardner CF
Jeter SS
Abreu RF
Rodriguez 3B
Matsui LF
Posada C
Duncan 1B
Betemit 2B
Porter RF
Pitching
Kennedy
Rivera
Igawa
Traber
Vs. Detroit – Gameday should be here once the game starts.
Damon LF
Cabrera CF
Cano 2B
Giambi DH
Molina C
Ensberg 3B
Lane RF
Ransom 1B
Gonzalez SS
Pitching
Chamberlain
Farnsworth
Bruney
Ohlendorf
Veras
Strickland
A contextless table of Yankee ticket prices by year has elicited a small reaction from a few bloggers. WasWatching tossed up a brief post on the subject and iYankees noted the cost of going to the game.
The AP presented in the information in a way that suggests that Yankee ticket prices have, by and large, gone up for over forty consecutive seasons now. The tickets for field boxes were $3.50 in 1967 and now cost $250. Except for consecutive years in which the prices were held steady, then, the cost to attend games has been on the rise since the days of Lyndon Johnson, right?
Well, note quite. Take a look at this chart with a third column I added using inflation data. A graph put together by Tommy follows the table.
| Year | Ticket Price | 2008 Dollars |
| --- | --- | --- |
| 1967 | $3.50 | $22.18 |
| 1968 | $4.00 | $24.33 |
| 1969 | $4.00 | $23.07 |
| 1970 | $4.00 | $21.82 |
| 1971 | $4.00 | $20.91 |
| 1972 | $4.00 | $20.26 |
| 1973 | $4.00 | $19.07 |
| 1974 | $4.00 | $17.18 |
| 1975 | $5.00 | $19.67 |
| 1976 | $5.50 | $20.46 |
| 1977 | $6.00 | $20.96 |
| 1978 | $6.50 | $21.10 |
| 1979 | $7.00 | $20.41 |
| 1980 | $7.50 | $19.27 |
| 1981 | $7.50 | $17.47 |
| 1982 | $8.50 | $18.65 |
| 1983 | $9.00 | $19.13 |
| 1984 | $9.00 | $18.34 |
| 1985 | $9.75 | $19.18 |
| 1986 | $9.75 | $18.83 |
| 1987 | $10.00 | $18.63 |
| 1988 | $11.00 | $19.68 |
| 1989 | $12.00 | $20.49 |
| 1990 | $12.00 | $19.44 |
| 1991 | $12.50 | $19.43 |
| 1992 | $14.50 | $21.88 |
| 1993 | $16.00 | $23.44 |
| 1994 | $17.00 | $24.28 |
| 1995 | $25.00 | $34.73 |
| 1996 | $25.00 | $33.73 |
| 1997 | $35.00 | $46.16 |
| 1998 | $45.00 | $58.44 |
| 1999 | $50.00 | $65.53 |
| 2000 | $55.00 | $67.61 |
| 2001 | $62.00 | $74.11 |
| 2002 | $62.00 | $72.96 |
| 2003 | $72.00 | $82.84 |
| 2004 | $80.00 | $89.65 |
| 2005 | $90.00 | $97.55 |
| 2006 | $110.00 | $115.51 |
| 2007 | $150.00 | $153.15 |
| 2008 | $250.00 | $250.00 |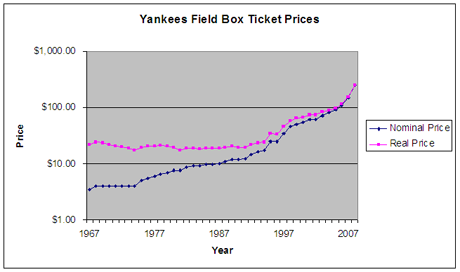 A funny thing happens on the way to 2008. It now appears as though ticket prices for the Yankees remained steady, in 2008 dollars, for nearly thirty seasons. In 1967, it cost $3.50 to purchase a Yankee field box seat. That's $22.18 in 2008 dollars. Twenty four years later, in 1994, it cost $17 to purchase the same ticket or $24.28 in 2008 dollars. In 1994, $3.50 from 1967 would get you $15.53. Ticket prices, in other words, were tracking inflation.
The spike — and we seem to still be in the middle of it — occurred following the 1994 season when ticket prices went through the roof. All of a sudden, the Yankees were good, the Yankees were popular, and the Yankees were very, very expensive. In 14 years, Yankee ticket prices have increased by a factor of 10 from a 2008 value of $24.28 in 1994 to $250 in 2008. That's crazy.
Meanwhile, some bloggers and fans always ask why, and for that, we turn to the market. The Yankees are selling tickets at a face value of $250 per, and they're selling out the stadium. Tickets for premium games sell on StubHub for well over that value. The market, in other words, can afford it, and the Yankees are just trying to capture their revenues.
If you can sell out a stadium at $150 a ticket and at $250 a ticket, what owner wouldn't charge the higher amount? The fans, of course, are the ones who lose out, and it times like these when we remember that baseball is a business. It's all about the bottom line.
Via a press release:
Shelley Duncan of the Yankees has been suspended for three games and fined an undisclosed amount for his violent and reckless actions, which incited the bench-clearing incident. Unless appealed, Duncan's suspension is scheduled to begin on Monday, March 31st, when the Yankees host the Toronto Blue Jays in their first game of the 2008 Championship Season.

Jonny Gomes of the Rays has been suspended for two games and fined an undisclosed amount for his violent actions, which escalated the bench-clearing incident. Unless appealed, the suspension of Gomes is scheduled to begin on Monday, March 31st, when the Rays play at Oriole Park at Camden Yards in Baltimore in their first game of the 2008 Championship Season.

Melky Cabrera of the Yankees has been suspended for three games and fined an undisclosed amount for his violent and aggressive actions during the incident. Unless appealed, Cabrera's suspension is scheduled to begin on Monday, March 31st.
So Jonny Gomes gets two games for sprinting in from right field and escalating the incident while Duncan and Melky get three. That seems wrong to me.
In related news, Shelley Duncan says he will continue his aggressive play even while the Yankee veterans have asked him to tone it down. This could become an issue over the course of the season, and it will test Joe Girardi's abilities to keep his players in line.
Speculation is that the Yanks will go with an outfield of Matsui in left and Damon in center with Giambi DHing on Opening Day. I have a feeling the Yanks may figure out a way to work Brett Gardner into that lineup instead, but we'll see. Melky, have you ever heard of Wally Pipp? Careful out there with those punches.
By

No. 5 starter for the Yankees, and No. 1 man in the New York political hierarchy. Yep, 2008 seems to be a good year for Ian Patrick Kennedy. Apparently, the state has decided to invoke the "Best Kennedy available clause, a law allows for the "citizens of New York, at any time, [to] install any person with the last name of Kennedy into any public office, without any sort of vote or any clear inclination that said Kennedy is prepared to hold office." Kennedy himself was elated. "I have now realized my two dreams in life," he said. "I am a starting pitcher for the New York Yankees, and I am fighting on behalf of the American working citizen in the hallowed halls of Albany." Fictitious democratic consultant James Michener — no relation to the author, apparently — puts it best: "Who better to bring us all together with boyish charm and perceived integrity than a Kennedy? Nobody, that's who."

(Yes, this is satire. I actually liked the idea of the article more than the article itself.) · (4) ·
By

New Yankee manager Joe Girardi may end up missing the season opener, Mark Feinsand of the Daily News reports. The reason: a suspension, of course. Baseball sources say that Bob Watson may give Girardi and Rays manager Joe Maddon time outs for their roles in this past week's events. I hope Watson allows Girardi to helm the team on Opening Day. He can serve the suspension on day two of the season, and it will have the same impact.

Update 12:00 p.m.: PeteAbe notes that Girardi will be fined and not suspended. The Yanks' new manager gets to make his debut on Opening Day as he should. Shelley Duncan will receive a short suspension. · (9) ·
After telling you about some of the top overall prospects and top left-handed pitchers available in this year's draft, it's time to bring you up to speed on how they're doing. The draft order is close to being finalized, with Mike Piazza being the only unsigned compensation free agent (Type-B) remaining. Even though he signed a minor league deal, the A's will get a sandwich pick for Shannon Stewart if, and only if, he sticks on Toronto's 25-man roster out of Spring Training. Right now the Yanks are picking at #28 overall, followed by #44, #77, #107, #142 and then every thirty picks thereafter. Not too shabby.
I had trouble finding stats for the high schoolers; most of the info on MaxPreps was team W-L records and individual game results only, not box scores or player stats. The schools' websites were also useless, so I'll have to update you on the prepsters in the future. Fun starts after the jump.