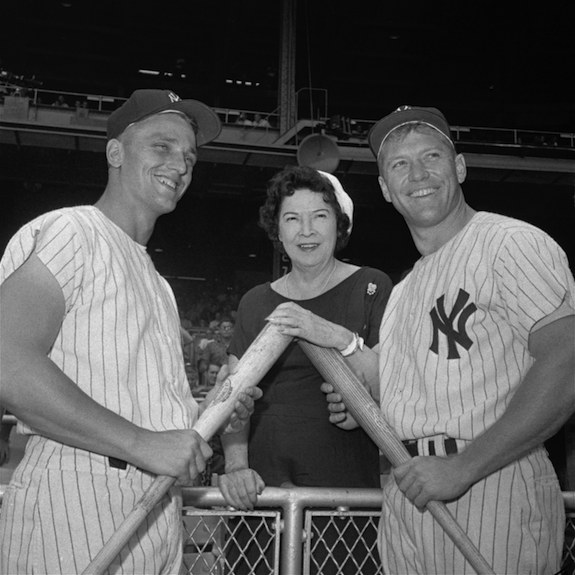 In the mail last week, I received Phil Pepe's latest book. The long-time sportswriter has penned a memoir entitled 1961* about the Mickey Mantle/Roger Maris home run race and his experiences covering it. Although the Yanks are going to host a Roger Maris night in September, Pepe's book is one of the few pieces noting the 50th anniversary of that historic season.
For the Yankees and their fans at the time, it was a magical year. The Yanks were coming off of their crushing seven-game World Series loss to the Pirates and were still the Big Apple's only team. Yet, changes were afoot. The league expanded and added eight games to the schedule. The AP called the "unique" 162-game slate a new era in baseball.
So on this day in 1961, the Yankees opened up their season in the Bronx by hosting the brand-spankin'-new Minnesota Twins. The franchise had just jetted from Washington to take up shop in Minneapolis, and while they would go 70-90 that year, it didn't show on Opening Day. Pedro Ramos, a Cuban hurler who had led the AL in losses in 1960, pitched a three-hit shut out as Whitey Ford gave up three runs in 6.1 innings to draw the loss. (Of course, trade rumors swirled after the loss.)
Mantle and Maris did absolutely nothing that day, and just 14,607 fans were on hand in the Bronx to see it. The M&M Boys went a combined 0 for 7 with 3 strike outs, and few would have predicted the epic season that would follow. We're going to commemorate the 50th anniversary of that season with a Mantle/Maris home run tracker that follows their progress in 1961. We'll often glimpses back into the past as well. The Yankees won 109 games that year, a fact often overshadowed by the home run race, and emerged as World Series champions. It was a very good year.
Sports Night: While the Yankees are off, the Mets are not. The New York's representative to the National League play host to the Colorado Rockies tonight. Since Mike Pelfrey is facing a good team, this one could be a high-scoring affair. In New Jersey, the Bobcats are visiting the Nets in a game for die-hards only while on ESPN, the 1-8 Rays are facing the 2-7 Red Sox.
Site Notes: Please consider participating in our 2011 Pledge Drive … Also, please take our completely anonymous reader demographic survey if you haven't already … Lastly, please vote for Alex Kresovich's "The Reader" track for the NBA2K12 by clicking "Like" on Facebook. Alex put together the intro music for our podcast.