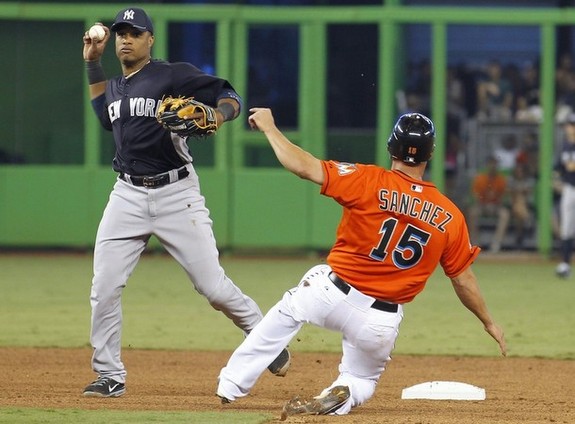 The Yankees beat the Marlins 10-8 today in the first game between two big league clubs at the new ballpark in Miami. Of course it was still an exhibition game, so who cares. The place seems to play pretty small based on this one look; a lot of balls that looked routine off the bat just kept on carrying. Also, the lime green walls are just awful. Makes the grass look dead and just doesn't work. Anyway, here's the box score. There's no other news to report from Florida other than Joe Girardi saying the Opening Day roster will be announced sometime before the off-day on Thursday. The minor league season starts that day, so … duh.
Here's the open thread for the night. The Rangers are the only local team in action, and a win tonight will clinch the best record in the conference. Apparently Wrestlemania is on as well, and I know 12-year-old me would have been thrilled. Talk about whatever, go nuts.
Last Reminder: Remember to vote for the 2012 Prospect Watch if you haven't already. I'm going to close the poll a little later this evening. Mason Williams has opened a sizable lead over second place Manny Banuelos, so all you Manny fans better get on it.