There's really only one way to describe Sunday afternoon's game: bonkers. I just don't know how else to put it. Power from unexpected sources, fundamental mistakes, good pitching, bad pitching, more homers from unexpected sources, this game was unbelievable. The Yankees needed a win in a bad way, and they got it in a most bonkers way.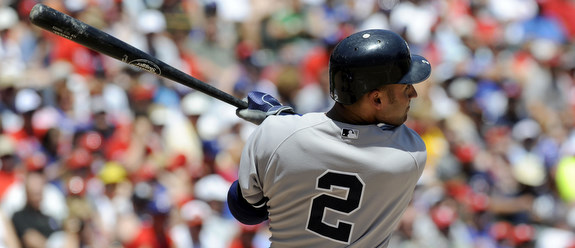 The Captain Returns
When this game started, there were 194 players that had enough plate appearances to qualify for the batting title. Derek Jeter ranked 193rd out of the guys with a .026 ISO. Only Jason Bartlett (.019) was worse. This shouldn't be news, Jeter has been beating the ball into the ground at an absurd rate for a year and a month now, and ground balls are not conducive to extra base hits. The idea that Jeter could hit two homeruns in a game this year seemed preposterous 24 hours ago, but here we are.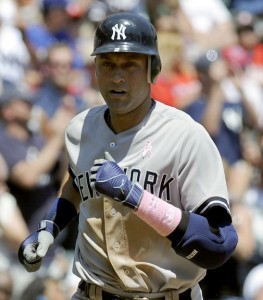 The first of Derek's two homers led off the fifth inning, when the Yankees were down 4-2. After consecutive sliders down, Dave Bush left a 87 mph fastball right out over the plate and Jeter drove it out to right-center, one of the deepest parts of the park. It looked like it had a chance off the bat, but I think we were all conditioned to expect less, so a double into the gap would have been a perfectly awesome outcome. Instead out in went, and there was much rejoicing.
The second homer led off the seventh inning, when the score was tied at four. Lefty Arthur Rhodes caught a little too much of the plate with an 89 mph heater, and Derek hit it out to almost the exact same spot as his first long ball, into the Texas bullpen in right-center. This one was a little bit more of a no-doubter than the first homer, but still, I don't think many of us expected the ball to get out. I mean, two big flies in one game for Jeter? No one expected that, probably not even Jeter. It was great to see him turn back the clock even for just a day, but it was even better that both homers came in big spots; we're not talking about cheapie garbage time shots.

Eppley Gets Cerv'd
Where's Russell Martin?!? That was me, moments before Francisco Cervelli drove a dagger through the heart of Rangers, clubbing a grand slam (!!!) to dead center field (!!!). There were no outs in the eighth inning and the Yankees were up by just one when Frankie came to the plate, so it seemed like an obvious spot for a pinch-hitter. When Martin didn't trot out of the dugout, I was praying for Cervelli to get a run in. Even if he grounded into a double play, I didn't care, just get that one important insurance run in. He did that and them some.
The ball going over the fence will certainly get all of the attention, but holy cow was that a beast of an at-bat by Frankie. Cody Eppley, a sidearming sinker-slider guy, has been death on righties throughout his career, but the Yankees' backup backstop worked the count full and battled for eight pitches before hitting the four-run homer. He fouled off two pitches that darted back over the plate at the last second, taking three others just off the plate for balls. This Gameday screen cap doesn't do Cervelli justice, it was a great at-bat in a huge spot. Bravo kid, bravo.
Building The Rally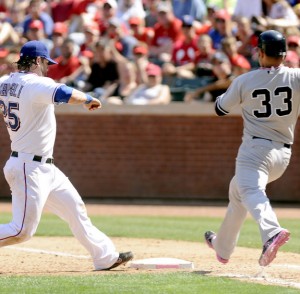 Grand slams have to start somewhere, and that eighth inning rally certainly had interesting moments leading up to the big hit. Nick Swisher kicked things off by beating out an infield single when first base ump Andy Fletcher ruled that Mike Napoli missed the bag. Slow motion replays showed that Swisher might have missed the bag as well, but the call went the Yankees' way and they were in business. Jorge Posada followed that up with a single through the right side, setting up the perfect bunting opportunity for Brett Gardner.
Except something strange happened: the Yankees didn't bunt. Gardner was allowed to swing away, and sure enough he dunked a single into center on the first pitch to load the bases and bring Cervelli to the plate. Given the sheer volume of words I've wasted in this space bitching about all the ill-timed sacrifice bunts they've attempted this season, the grand slam and six-run inning makes me feel slightly vindicated. Swing away boys, good things happen.
The Unsung Hero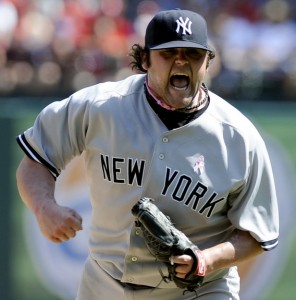 Considering the lopsided score and eventful last few innings, it's easy to forget that this game was very much in doubt as late as the seventh inning. CC Sabathia grinded (ground?) his way through six-plus innings (more on that later), giving way to Joba Chamberlain with a man on first, nine outs to go and the heart of the Rangers' order due up. The leverage index was flirted with 3.0 at the time of the pitching change, so yeah, it was absolutely a huge moment in the game.
Michael Young, who had been killing the Yankees all series, was retired on a fly ball to deep center before the inherited runner (Elvis Andrus) moved over to third on a steal and a wild pitch. Joba got Adrian Beltre to hit a rather routine ground ball to third, but a rare mental mistake by Alex Rodriguez led to the run scoring and Beltre being safe at first. He was simply indecisive, looking home to see if he could get Andrus before firing to first, too late to get his third base counterpart. Napoli flew out to center for out number two, then Chamberlain struck out David Murphy on a 96 mph heater on the outside black. Just a gorgeous pitch. Joba gave us a well-deserved fist pump, and although it wasn't the prettiest of innings, he navigated the most dangerous part of Texas' lineup and got out of the inning with the lead intact. With a WPA of +.034, he helped the Yankees more than any other pitcher.

Sabathia Does Sabathia Things
It was a second straight subpar start for the Yankees' ace, as Sabathia battled command and his own defense early on as Texas built a four-zip lead just five outs in to the game. CC was pretty wild early on, walking three of the first eight men he faced, and defensive miscues did him no favors as well (more on that later). And yet, there was the big guy on the mound to face the first batter in the seventh.
Sabathia settled down after the second inning, throwing just 59 pitches in his final four-plus innings of work after needing 50 to get through the first two. He struck out just two and walked four, getting just eight ground balls to seven fly balls, and just 57% of his offerings were strikes. It was an ugly outing, but then against Sabathia still managed to work into the seventh inning and give his team a chance to win. Lesser pitchers collapse and turn games like this into a true blowouts, aces stop the bleeding. CC straightened himself out and kept the Yankees in the game, which is all you could have asked from the guy following the ugly start.
Sloppy Sloppy Sloppy
Maybe the Yankees need to taking some infield practice before their next game, because their defense was just brutal in the finale against Texas. We're talking both physical and mental mistakes. Ian Kinsler reached base to open the bottom of first inning when A-Rod threw a ball over Mark Teixeira at first, then four batters later Brett Gardner mishandled a ground ball in left, allowing Napoli to take second when he should have been held to a single. Sabathia mishandled a Julio Borbon infield hit in the fifth, simply dropping the ball when he rushed to make the play. He then forgot to (or was too lazy to) cover first on a ground ball to Tex, and Cervelli nearly threw away a third consecutive infield grounder. There were wild pitches, A-Rod's brain fart in the seventh, and much, much more. The Yankees have been brutal on the simple plays like this, and it's cost them several times already this year. Did everyone miss that day in camp or something? Tighten it up, fellas.

Leftovers
Another underrated moment: how about Borbon getting throwing out trying to steal third in the sixth? He was the go-ahead run and was already in scoring position, but he got thrown out for the final out of the inning. Seriously, I would have wanted to kill him if he pulled that in a Yankees uniform. At -.053 WPA, it was the fourth most damning out made by the Rangers in the game.
The defensive misplays weren't limited to just the Yankees; Beltre made two offline throws to first, pulling Napoli off the bag. By all accounts, Beltre is one of, if not the very best defensive third baseman in the league. Very rare misplays by him, though only one of those two runners came around to score.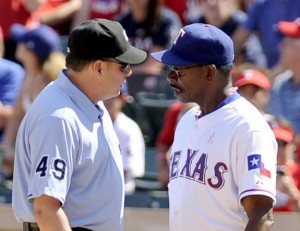 Jeter and Cervelli weren't the only ones to get in on the long ball action, Curtis Granderson hit his league-leading 11th homer and Teixeira also went deep in the eighth. That was his ninth, the third most in the American League. The top three hitters in the lineup went a combined 9-for-15 with a double, four homers, six runs scored, seven runs driven in, and a walk. That's beastly. Let's not forget that Gardner and Cervelli went 4-for-10 with four runs scored and four driven in from the 8-9 spots. That five consecutive lineup spots of domination.
The game was capped off by a scoreless inning from Lance Pendleton, who was pitching in front of friends and family as a big leaguer for the very first time. Hard not to be happy for the Houston native. Rafael Soriano, meanwhile, allowed his contractually mandated baserunner in an otherwise uneventful inning of work.
How about David Cone with the WAR reference? It was actually just more than a reference, he briefly explained the concept of replacement level and what WAR actually tells you. Good times, good times. We need more of him in the booth.
WPA Graph & Box Score
Bonkers dude, bonkers. MLB.com has your box score and multitude of video highlights, FanGraphs the other stuff.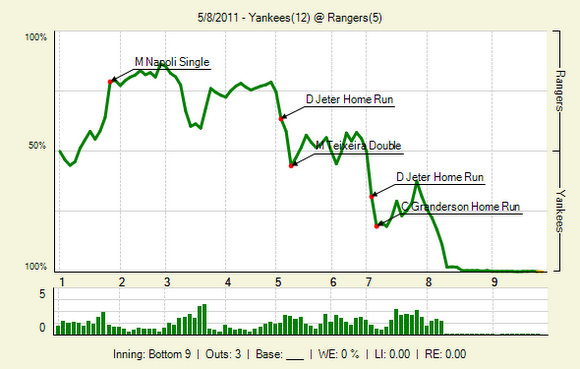 Up Next
The Yankees get a much needed off day on Monday, then will reconvene in the Bronx to face the Royals on Tuesday night. Freddy Garcia gets the ball against Kyle Davies. If you want to head up to the Stadium this week, RAB Tickets can get you there dirt cheap.