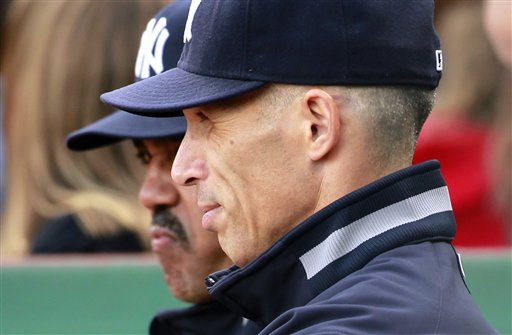 There's no denying that the Yankees' regular season did not end the way we all wanted. They lost Games 161 and 162 to the Red Sox, effectively costing New York their tenth division crown in the last dozen seasons, and they limped to the finish line with an 8-17 record in their last 25 games. The Yanks won just one of their final eight series, and that win came against a team that finished the year 30 games under-.500. They got unfathomably bad starting pitching down the stretch (5.22 ERA since August 1st, 6.05 if you take out CC Sabathia) and became frustratingly prone to stranding runners on base, especially if they were in scoring position. It was an ugly end to a season that started so wonderfully, but here's the thing: none of it matters now.
All that stuff, all the ugly losses and stranded baserunners and two out rallies by the opposition are gone now. It's in the past. It's a new season now, one where the remaining eight teams are all 0-0 with shiny 0.00 ERA's. Every team is fully capable of beating the other seven in the short series, so it'll come down to who gets the best bounces, who has players step up in big spots, who gets the favorable call. We can turn the page, forget about everything's that's happened in the last few weeks and start anew.
The Yanks come into the postseason with one rather considerable advantage over the rest of the playoff field. It's not talent or payroll, it's experience. They've all been here before. Everyone from Derek Jeter to Joe Girardi to Ramiro Pena, they've all been to the promised land and back. It's not just the players from the 2009 team either, even the new guys have played in big games. Both Curtis Granderson and Lance Berkman know what it's like to lose the World Series. As a rookie Boone Logan had to sit and watch while his teammates collected their World Series rings in 2006. Kerry Wood's suffered the biggest heartbreak of them all, standing five outs away from the Fall Classic before Steve Bartman interfered.
Talent wins out, almost always, but in today's MLB the top tier clubs are so evenly matched that something intangible like experience can make an impact. It could be the difference between Mariano Rivera retiring the next three batters after a leadoff baserunner while Neftali Feliz allows the run to score. Or J.J. Hardy throwing a booted ball away that Derek Jeter would just eat. That ability to slow everything down and treat it as just another game is something younger clubs can lack, but the Yankees are well-versed in that routine by now.
Am I nervous about the playoffs? Hell yeah I'm nervous about the playoffs, but that's because I always am, year after year. Not because of what happened in August or September, not because the Yanks don't have homefield advantage, but because it's beyond my control. Everyone has a clean slate starting Wednesday, and no teams needs it more than the Yankees. Given the fact that they were here just last season, I suspect they know exactly what to do to prepare themselves.
"You have to play well obviously, but the regular season means nothing," said Jeter after yesterday's game. "Absolutely nothing." Truer words have never been spoken.