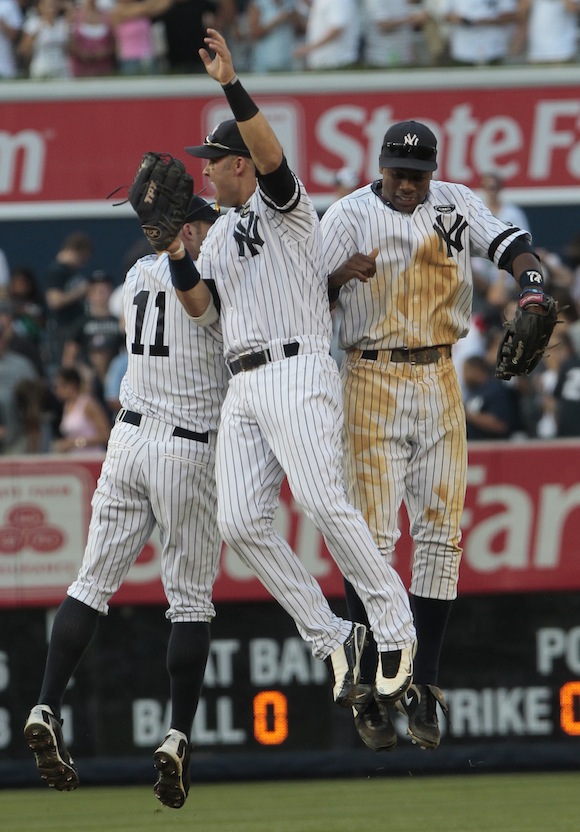 Despite two second-inning runs from the Red Sox, CC Sabathia and the Yankees cruised to an easy 5-2 win over Boston on Saturday evening. Filling in for the injured Alex Rodriguez, Ramiro Peña drove in two runs, and Curtis Granderson went 2 for 4 with a pair of runs scored. Sabathia pitched eight strong innings, and Mariano Rivera got the save. As the Rays lost to the Blue Jays 17-11, the Yanks' AL East lead now stands at 1.5 games.
Things I Liked
Curtis Granderson was on base twice and scored twice. The biggest knock against Granderson this season is his .312 OBP. With a triple, he showed yesterday that he can hit for gap power, and with the stolen base, he showed that, if he can get on base, he can make something happen. He hasn't done enough of either this year but has shown signs of snapping out of it.
As much as I criticize Ramiro Peña for waving a wet noodle at the plate, he got the job done twice on Saturday. He knocked in a run on a ground ball after Brett Gardner struck out with a runner on third and later singled with the infield in to extend the Yanks' lead. He might be hitting .208 but has a respectable 13 RBI in 96 ABs.
CC Sabathia hadn't given up a home run since June 3 when Victor Martinez took him deep to lead off the second inning. After back-to-back doubles made it 2-0 Boston, the big man seemed to be in trouble. He bore down though and stymied the Sox for seven more innings. He's now 14-5 on the season and is every bit the stopper the Yankees had hoped he would be. This victory was the 150th of his career.
Things I Did Not Like
Brett Gardner is 1 for his last 22 with 10 strike outs. He's gotten on base just three times in his last 24 plate appearances. Perhaps a day off would be in order.
Lance Berkman should take his frustration out on the baseball, not the Yanks' All Star third baseman's calf. X-Rays were negative, but A-Rod isn't sure if he'll be able to play on Sunday.
Box Score
Take a gander at the ESPN box. Get your info from Fangraphs.
Up Next
A.J. Burnett and Josh Beckett face off in a rematch of last year's 15-inning classic at 8 p.m. on ESPN.