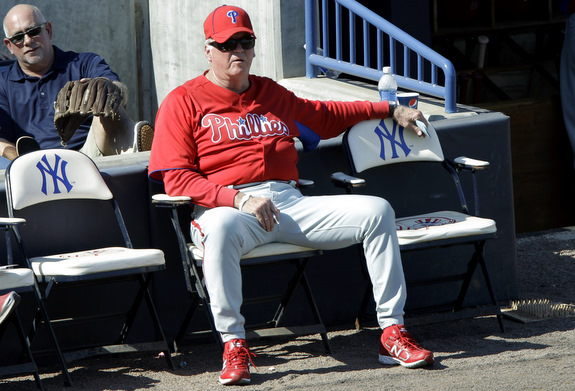 The Yankees dropped their Grapefruit League opener to the Phillies yesterday, but they've got a chance to exact revenge today. Far more important than that is the starting pitcher though, as Ivan Nova gets his first crack at winning a spot at the back of the rotation. Bartolo Colon was okay yesterday but definitely needs work, so Nova's got a chance to take a bit of a lead early in camp. What do I want to see out of him today? I dunno, I guess throwing his fastball to both sides of the plate. There's not much you can expect out of guys in February.
Aside from that, we've got some big-time prospects playing today. Jesus Montero is starting behind the dish and batting sixth, and Dellin Betances is scheduled to come out of the bullpen at some point. I'm guessing he's slated for two innings, but don't hold me to that. Both guys are among the 50 best prospects in the game, and there's a very real chance we'll see both in the big leagues at some point this year. Adam Warren, a personal fave who has a bit of a cult following, will pitch after Betances. Otherwise, none of the regular infielders are in Clearwater this afternoon, and I suspect the regular outfielders will only be around for about five innings, maybe less. Here's the starting nine…
Brett Gardner, LF
Nick Swisher, RF
Curtis Granderson, CF
Jorge Posada, DH
Eric Chavez, 1B
Jesus Montero, C
Eduardo Nunez, 2B
Ronnie Belliard Brandon Laird, 3B
Ramiro Pena, SS
Scheduled to Pitch: Ivan Nova, Sergio Mitre, Boone Logan, Dellin Betances, and Adam Warren.
Belliard was supposed to start at third base, but he was scratched with a calf issue. Getting injured before Chavez won't help him win a job. YES will carry the game live at 1:05pm ET, and MLB Network will have it on tape delay starting at 8pm ET. Enjoy.