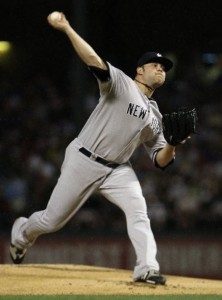 Last night's game was absolutely heartbreaking when you forget that realistically, few thought the team would pull out a win with the quality of bottom of the order and opposing pitcher, Felix Hernandez, being, well, Felix Hernandez. By now, those who have stood by Joba despite his inconsistency are likely starting to question their commitment. If anything, the game may have crystalized some of the issues we'd seen with Joba Chamberlain this year.
After the game — in which Joba gave up a grand slam to steal Javy's outdeuling of King Felix — Girardi said he'd continue to stick with Joba. "As we go forward, I would like to have an 8th-inning guy…I'd like to stay with one guy. I'm going to send him back out there," he told reporters. He also said that Joba's been "largely good" when they've had leads and he's still re-adjusting to the 8th inning role.
In reality, some of what Joe said is true — he has been largely good (no, really) all things considered, but when he's been bad, he's been Ramiro Pena-in-an-0-2-count-against-Strasburg bad. But unfortunately for Joe and the rest of the team, the excuses aren't really assuaging anyone's fears. He's still blowing up in too many games and he's the primary reason the bullpen is one of the team's biggest question marks. For an "8th inning guy," consistency must be greater.
The starter-turned-reliever-turned starter-turned reliever has had some very impressive peripherals on the year and yet they haven't turned into positive results. Chamberlain, prior to last night's game, had a K/9 of 9.91, a BB/9 of 3.22, a microscopic HR rate (which will certainly go up), a festive 2.68 tERA and an FIP of 2.35. Yet somehow he also featured an ERA of 4.95 and a BABip of .378, far higher than anything he's thrown up in his career. So what could possibly explain the drastic divide in what we know statistically should happen, and what has happened?
Undoubtedly, as the BABip and other peripherals indicate, Joba has had quite a bit of pure bad luck. The reason the results have manifested to such proportions, I suspect, is largely what's happened after the poor luck. In all, there are ten appearances (not including the most recent game with Seattle) in which he's given up runs. Maybe he just can't handle the pressure after never quite regaining that plus-plus-plus stuff he had in 2007?
A quick look at those appearances:
Joba enters April 4th game against Sox. Starts with a weak groundout to third then gives up seeing-eye single, walk and a deep flyball and then a game-killing single to RF. Leverage Index was .79 (1.0 is considered high leverage).
April 11th against Rays, Chamberlain enters and gives up a sharp single then a triple. He settles down then issues a walk before getting a flyball out. Leverage index was again .79
Later in April, against the Angels, Joba enters and gives up a LD single then a home run and then recovers to retire three in a row on flyballs. Leverage index was .95
In mid-May, against the Twins, Joba had a wild time. He gave up a cheap single to start, then came back with a groundout, a walk, a strikeout, a single, another walk and finally, a home run. Leverage index was 2.47
The next game was against the Sox. Chamberlain saw runners reach on grounball single and an error before getting clobbered with doubles and singles. Leverage is 1.90
To close out May, in the infamous Cleveland game, Joba watched a seeing-eye single get through. Then was singled and doubled to death. Miserable. Leverage was 1.99. The previous low point of the season.
Sandwiched between some nice outings against Baltimore and Houston was a rough spot against the Jays. He threw 6 pitches; Jose Molina hits a double, Fred Lewis hits a GB single, scoring Molina (!) from 2nd. Leverage was 2.79
Squaring off against the Phillies, Chamberlain gave up doubles, singles, walks, steals — it was bad from beginning to end. Leverage was .25
Against the Bigelow Torre Tea's in L.A., Chamberlain started off with a walk, got a double play, then saw a single, a stolen base and a double to allow the run to score. Only Torre's remarkable incompetance saved him from being the goat again. Leverage was .14
Last week against Toronto was the previous mishap with Chamberlain. He gave up a scary out in LF (Gardner made a great catch), then saw a walk, a flyout and two singles. He was actually worse than his line looks. Leverage was 2.76