Following a down stretch in May, everyone associated with the team was looking forward to this 16-game stretch that just ended today. All but three of those 16 games were played against teams with sub-.500 records, and the Yanks capitalized by going 12-4. They started that stretch with a 4.5 game deficit in the AL East, and ended it Sunday tied for first with the Rays. Sweeping the Astros was merely the second best part of the win.
Ain't Life Grand?
Prior to yesterday's game, Jorge Posada had just four singles in 37 plate appearances since returning from the disabled list, but Wandy Rodriguez was able to cure what ailed him. He reached base three times in four plate appearances, including a 3rd inning grand slam that seemed to lift the weight of Posada's struggles off everyone's shoulders. Starting behind the plate for the first time in just about a month, Posada put on an encore performance every bit as grand as the day before.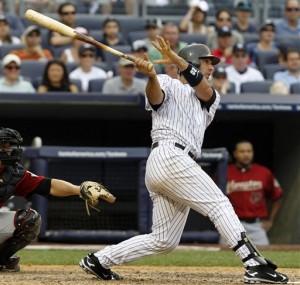 The Yankees had already staked themselves to a two run lead with a Robbie Cano solo shot and a Ramiro Pena (Ramiro Pena!) two run single in the 4th, erasing Carlos Lee's 1st inning sac fly that temporarily gave the Astros the lead. Houston starter Brian Moehler looked very much deserving of the 6.12 ERA he started the day with, walking the second batter of the 5th inning before giving way to Gustavo Chacin, who walked two more guys to load the bases. Posada stepped to the plate with a chance to break things open, and new pitcher Casey Daigle  promptly started him off with two straight balls.
It's easy to see why the Astros have the third worst record and run differential in baseball; their pitchers just keep working themselves into trouble. After putting nine men on base via a walk or hit by pitch in the first two games of the series, Houston's pitchers walked ten Yankees on Sunday and hit another, and that doesn't include the non-call on Mark Teixeira's hit by pitch in the 1st inning. When you give anyone – but especially good teams – free baserunners, you're going to lose. End of story.
Daigle's third pitch to Posada was an absolute meatball, an 87 mph fastball right out over the plate in a 2-0 count. It was such a terrible pitch, I decided to screen cap it: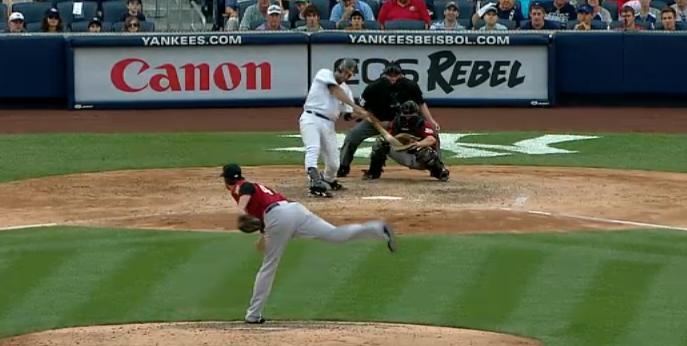 They might as well have put the ball on a tee. Daigle had last appeared in the big leagues back in 2006 before the Astros summoned him from the minors a few weeks ago, and it's no surprise why. It was a terrible pitch in a terrible location to a great hitter in a terrible situation. Posada put the ball into the people for his second salami in as many days, making him just the third player in franchise history to hit four run homers in back-to-back games. Babe Ruth did it twice, Bill Dickey once. It's been that long.
A single or even another walk would have sufficed, but a grand slam is always appreciated. It put the Yankees up by six, and showed everyone that the demise of Jorge Posada has been greatly exaggerated. He again reached base three times in four plate appearances today, and his season batting line is an amazing .288-.395-.544.
Hughes Can't Finish The 6th
With a steady rain coming down, Phil Hughes stood on the mound with two outs in the 6th with a man on first and his pitch count at a very manageable 92. Geoff Blum, he of the 56 OPS+, represented the final out of the frame, but Hughes fell behind in the count before Blum doubled to center. He had battled back to even the count at 2-2, but the Astros' first baseman (of the day) spoiled a 92 mph high fastball before picking up the hit. Granderson dove for the ball and made a valiant effort, but it was just off the end of his glove and the inning continued.
That's okay, the ground was wet and Granderson probably catches that standing up in friendlier conditions. It happens. The next batter was shortstop Tommy Manzella and his 47 OPS+, so Hughes was hardly in trouble. Manzella managed to foul off five fastballs as part of a ten pitch at-bat before slapping a ground ball off Derek Jeter's glove in the 5.5 hole for a single. Two runs came across to score, cutting the lead to a still comfortable four.
Former Yankee Kevin Cash, another guy with a terrible OPS+ (39) was up next, and he jumped all over a hanging 0-1 cutter and sent it into the leftfield corner for a two run homer to bring the Astros into two. Three below average hitters, each progressively worse than the guy before him, but Hughes couldn't get any of them out and for all intents and purposes let Houston back in the game. Yes, the homer was the only ball more well-struck than well-placed, but it's shouldn't take ten pitches to put away guys Tommy Manzella.
Hughes threw just 18 curveballs today, only seven for strikes, so it's clear the pitch wasn't cooperating. If he manages to put either Blum or Manzella away, we're talking about a stellar 6 IP, 1 R outing as opposed to a mediocre 5.2 IP, 5 R outing, but such is the life of a young starter. The Yanks' phenom has now allowed 40 baserunners and 20 runs (4.95 ERA) in his last six starts (36.1 IP), with four of those starts coming against sub-.500 teams.
Phil Hughes probably wasn't going to maintain a sub-3.00 ERA in the AL East all season, we understand that, but he's noticeably had trouble putting guys away lately. The season is old enough for the book to get out, and throwing fastballs and cutters 85% of the time doesn't seem to be as effective as it was a month or so ago.
Miscellany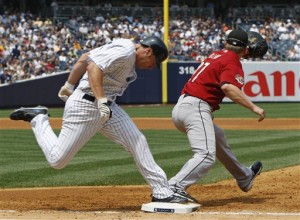 Big ups to Chad Huffman (right) on many career firsts. With his family in the stands, he recorded his first hit (a pure hustle infield single after working the count from 0-2 to 3-2), his first walk (again with the count full), and his first strikeout (but he reached when the ball got away from the catcher) in his first start in his first game. Huffman saw 23 pitches on the day, more than Derek Jeter, Curtis Granderson, Mark Teixeira, or Nick Swisher. Congrats, yo.
Cano's homer was the 100th of his career, but I'm more impressed by his two walks. They were his 18th and 19th free passes this year, putting him on pace for 49. His career high is 39 (back in 2007), and last year he drew just 30 walks. Maturation is a wonderful thing.
How about Ramiro Pena's bases loaded, two out single? It's a line drive in the box score, but it was simply a well-placed blooper between the charging rightfielder and the retreating second baseman. The kid is now six-for-nine with the bases juiced in his career, and if you've learned anything from this site, it's that there's no such thing as too small a sample size (I may or may not be kidding).
Home plate ump Ted Barrett was simply atrocious in this game. First there was Teixeira's hit by pitch non-call in the first, then there was this sorry excuse for a strike zone. Swisher struck out on pitches in the other batter's box twice. Robots, people. Robots.
Tex committed his first error of the season on a hard hit ground ball by Michael Bourn, and his first since last October. It was a play we've seen Tex make literally hundreds of times, but I thought he rushed it a bit, perhaps trying to turn two with the speedy Bourn running.
Damaso Marte struck out the only batter he faced to end the 6th. Bet you didn't know that since April 25th, Marte's allowed a grand total of two singles and two doubles. Six total bases allowed in the last 49 days. Six.
Remember when it looked like Mariano Rivera was toast last month? Me neither.
WPA Graph & Box Score
It's been an entire series of these, which I approve of. MLB.com has the box, FanGraphs the nerd.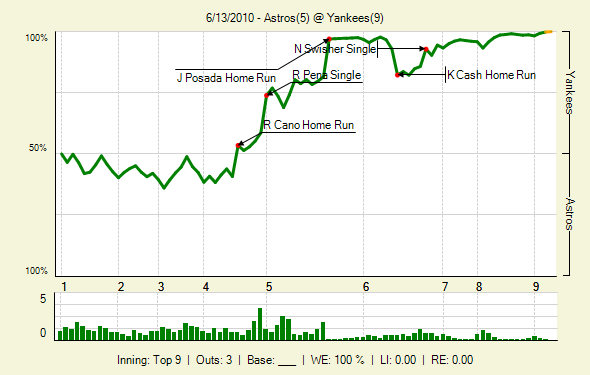 Up Next
The first place Yankees will enjoy a scheduled off day tomorrow before welcoming the team they beat in the 2009 World Series to the Bronx for a three game set starting Tuesday. The Phillies are sending Roy Halladay to the mound (just can't get away from that guy, huh?), the Yanks CC Sabathia. That should be a blast.