With Thanksgiving upon us, blog traffic dies down, and I wanted to get all of this news to you before everyone jets from their computers for the long weekend. So a few hits from Yankeeland:
Shelley Duncan was hospitalized a few days ago with what The Post is calling a blood clot in his arm. While this is the first I've heard of this disturbing injury, Duncan has been released from the hospital after a stay that may have included some time in the ICU. The Yankees and Duncan's family are not commenting on the issue, and there's no word on how this clot – which may have developed as a complication following hernia surgery – will affect his long-term health. We'll definitely keep an eye on this story.
The Yankees are not sure if Joba Chamberlain will be in the rotation or the bullpen come Opening Day. Basically, some in the organization see Joba as a Josh Beckett-type starter while others see him as the answer to the Yanks' recent set-up woes. We've been pretty clear where we stand: 200 innings from Joba the starter are worth a whole lot more to the team than 75 innings from Joba the reliever.
In the world of the bullpen, the Yanks are one of a handful of teams interested in Troy Percival. The righty was utterly dominant in St. Louis last year, and his signing could push Joba int the rotation. That being said, there are a lot of questions surrounding Percival. Does he want to close? What sort of deal does he want? The Yanks have simply expressed interest.
Joe Girardi himself will try to convince Andy Pettitte to return. That along with $16 million may just do the job. My bet is that Pettitte is the Yankees' Opening Day starter.
Finally, following up from yesterday, the Jets say they plan to address the Gate D problem. That's good.
By

Yes, the headline says it all. MLB plans to auction a number of items — you know, the standard jerseys and balls — plus the bug spray used in Game 2 of the ALDS. I'll betcha 50 bucks a Red Sox fan wins the auction. · (2) ·
For reasons unknown to me, MLB.com keeps official depth charts updated constantly throughout the season. As players leave via free agency and sign with new teams, those charts are updated for all your fantasy needs.
Of course, these charts — works in progress, if you will — also make for some humor and a few nightmares. Take, for example, the current Yankee depth chart: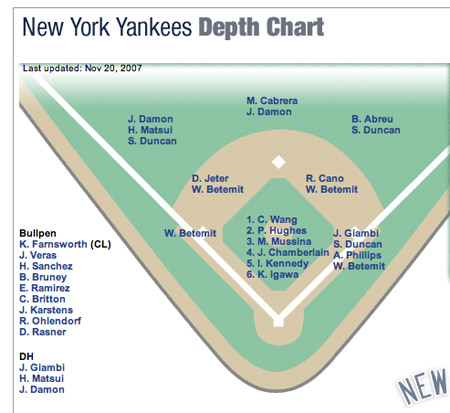 That, my friends, is a nightmare. Because Mariano Rivera, Jorge Posada and Jose Molina haven't officially re-upped, the Yankees have no one catching their supposed closer Kyle Farnsworth. I'm already breaking out in a cold sweat just thinking about it.
Meanwhile, with the A-Rod deal still pending, Wilson Betemit will be the starting third baseman. Naturally.
The bullpen behind Kloser Kyle — Humberto Sanchez, Jose Veras, Brian Bruney, Edwar Ramirez, Chris Britton, Jeff Krastens, Ross Ohlendorf, Darrell Rasner — is incredibly disturbing. Can you imagine Bruney as the third option out of the pen? Run away.
Luckily, Opening Day is a long way away. By then Mo, Jorge, Molina and A-Rod will have assumed their rightful places on the chart, and I wouldn't be surprised to see Andy Pettitte's name penciled in that number one spot on the mound either.
So as the Yanks' free agent spree has largely come to a close, we can sit back and be thankful that this isn't going to be our depth chart. Had the chips fallen the other way, we very well could have been looking at this situation. And we would have been panicking.
By

Thrillingly enough, the Yanks made a move today. They signed 28-year-old Scott Patterson to a Major League contract and added him and three others to the 40-man roster. Those others are Francisco Cervelli, Jeff Marquez and Steven White. How exciting.

Update by Mike: Because they were not added to the 40-man yesterday, Justin Christian, Mike Gardner, Steven Jackson, PJ Pilittere and Marcos Vechionacci are all eligible for the Rule V draft. There are quite a few other players eligible, but these are the guys that actually have a chance of being selected. I can realistically see the first 4 being selected, but it would be tough for a team to keep Vech on the 25 man ML roster all season.

Another Update by Mike: Eric Duncan is also eligible for the Rule V draft. For some reason I thought he was only 17 when he was drafted, which would make him ineligible this year, but he was in fact 18, so he's eligible. I can see a club like the Astros, Orioles or Marlins taking a chance on him.   · (15) ·
By

The Yankees today announced their 2008 coaching staff. No surprises here as Joe had this info in October: Kevin Long – hitting, Tony Pena – 1B, Bobby Meacham – 3B, Rob Thomson – bench, Dave Eiland – pitching, Mike Harkey – bullpen. This is indeed the beginning of a new era in the Bronx. · (15) ·
Ed Price, in an article for the Staten Island Advance, notes that the Yankees have asked the White Sox about Bobby Jenks:
According to a Yankees official, who asked not to be identified because he is not directly involved in the decision, the Yankees have inquired about Chicago White Sox closer Bobby Jenks to set up Rivera.

Jenks had a strong season (2.77 ERA, 40 saves in 46 chances and a record-tying streak of 41 consecutive batters retired), but a deal is considered a long shot. The Yankees' best hope is that the White Sox fail to sign free-agent centerfielder Torii Hunter and thus ask the Yankees for Melky Cabrera or Johnny Damon in a trade.
The good news is that you won't hear Joba, IPK, or Hughes involved in these potential trade talks. It also appears unlikely that Chicago would trade their closer, since he's their only good reliever. With the recent Orlando Cabrera trade, it would appear that the team is still looking to contend. However, their team is full of fragilities and mediocrities. I would be surprised to see them contend in '08 unless they make some kind of huge splash, though that would be tough, considering they have little talent on the farm.
Still, it's nice to envision a Jenks-Rivera tandem.
By

Allow me to opine – albeit briefly – on the behavior of Jets fans at the Meadowlands. That article from today's Times details the how drunk men exude an undercurrent of hostility as they encourage women to flash the crowd during halftime. The Jets had no comment. In this age of Isiah in New York, this dispatch from the Meadlowlands sure makes for one unpleasant story. · (37) ·
Now that the Yanks have nearly wrapped up their internal unfinished business this off-season, they can turn their attention to the team's other holes. Right now, those holes begin and end with pitching. While the Johan Santana sweepstakes have yet to heat up, the Yanks are looking at Ron Mahay as a potential lefty arm.
Mahay, a well-traveled 36-year-old, has played 11 seasons of a decent enough career for a lefty. He's spent time on six different teams, compiling a 3.87 ERA but a 1.40 WHIP. He doesn't give up too many run, but he puts a lot of guys on base. In other words, he's a perfect fit for a Yankee pen that perennially cannot locate the strike zone. Let's sign him.
Last season, Mahay made $1.25 million and split his time between Texas and Atlanta. He finished the year with a 2.55 ERA despite pitching to a whip of 1.33. He certainly enjoyed his fair share of luck. Looking at his splits, we see a pitcher who was quite effective against lefties. They hit just .189/.250/.292 against him last year, and Mahay struck out 27 lefties while working just 8. On the other side, righties hit .242/.377/.379 with 28 strike outs and 29 walks. I'd say this guy's a lefty specialist.
Considering the recent southpaws the Yanks have trotted out — Ron Villone, Mike Myers, Sean Henn, Felix Heredia — the Yanks could do a lot worse than Mahay. I'd probably offer him a $1.5-$2 million, one-year deal and hope he lands in the Bronx. He's among the best of what's around really.
By

After numerous reports that Rivera was going to sign the three-year, $45-million offer from the Yanks, ESPN is reporting that Mariano has accepted his deal. So that's all over. Now, if the Yanks can just convince Andy Pettitte to return, they'll have landed nearly all of the best free agents out there this off-season. Not bad considering where things were just a few weeks ago. · (15) ·