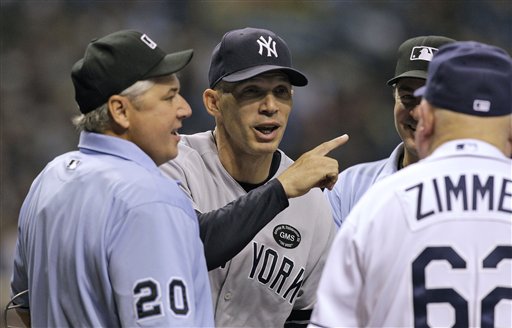 I don't think I'm alone in saying that the Yankees need a win tonight. Not just to reclaim first place or anything like that, just for their friggin' sanity. Losing can wear on people, and getting back in that win column is pretty much the only cure. I know we fans need it as well, because losing freaking sucks, especially so close to the end of the season when everything's magnified.
What more is there to say, really? The Yanks need the offense to get its collective head out of its ass, they could use a starter not named CC Sabathia to step up with a big performance, and a fully rested bullpen wouldn't hurt either. I'm getting tired of saying the same thing day after day, so please Yankees, do me a favor and win the freaking game tonight.
Here's the starting nine…
Jeter, SS
Granderson, CF
Teixeira, 1B
A-Rod, 3B
Cano, 2B
Berkman, DH
Kearns, LF
Curtis, RF
Cervelli, C
And on the bump, it's the rookie Ivan Nova.
The game starts a little after 7pm ET, and can be seen on My9 locally and MLB Network nationally. Try to enjoy it.