As a follow up on my post from Friday about the shifting organizational structure in the Yankees Front Office, Yanks GM Brian Cashman has confirmed what we've known for a while. The Steinbrenner brothers are taking a more active role in running the team, and Cashman's autonomy, granted to him by George in 2005, is waning.
Speaking at a Boston fundraising on Saturday, Cashman gave the media some insight into his current role in the organization. MLB.com's PeteAbe has the word from Cash:
"The dynamics are changing with us. When I signed up with this current three-year deal, and this is the last year of it, it was with full authority to run the entire program. George had given me that. But things have changed in this third year now with the emergence of Hal and Hank Steinbrenner and that started this winter," he said, "I'm learning as I go along, too. But it is different. But one thing is that I've been with this family, the Steinbrenner family, for well over 20 years. So I'm focused fully on doing everything I possibly can to assist them in their emergence now as decision makers."
Meanwhile, an article on MLB.com has a bit more from Cash and his relationship with the Steinbrenners. "Everybody has their own style," Cashman said. "And Hank has obviously taken charge on behalf of his father, along with his brother, Hal. They have different styles. Hal is more quiet and Hank is very available, but my job is to continue to line up the structure of the organization that can find the amateur talent."
On Friday, I wrote about how the new relationships affect the Santana deal. Today, we can extend that look to the entire organization. Right now, Hank talks a lot — maybe too much — and Hal is the quiet, behind-the-scenes guys. While Brian Cashman knows and understand that he doesn't have the same unilateral power that he had during the waning days of George Steinbrenner's reign, he stills has a very influential position of power within the Yankee organization.
From his comments, it's clear that he is the de facto leader of any sort of transitional organizational team in place ensuring that the Yankees continue down the solid path they've built up of developing young players and making smart free agent signings to fill in the holes. While George got away from that plan earlier this decade, the younger Steinbrenners are seemingly much more willing to let this plan unfold.
Sure, they may be in on Santana, but right now, Hank has listened to Cashman and Hal, the two anti-trade forces in the organization. Because of that, Phil Hughes, Ian Kennedy and Melky Cabrera are both still on the Yankees and slated for pinstripes in 2008. While some of Hank's more outspoken critics may not like what Cashman is saying, the Yanks haven't made any off-season mistakes yet this year, and I'm willing to believe that the Steinbrenners are letting Cashman do his job. He did say after all that his job is to "assist them in their emergence now as decision makers."
Make as much of that as you will, but in the end, that's the General Manager's job. Every signing, every contract, every trade in baseball will always have the seal of the team's owner's approval. The Yankees — even with Cashman's so-called autonomy — were no different the last few years, and they will be no different going forward. The difference instead lies in the mental health and acuity of the men at the top, and the younger Steinbrenners seem prepared to build up a fiscally strong and talented Yankee team with the help of a top-notch General Manager. I can't argue with that one.
Via friend of RAB Mischa and Sean McNally comes the news that the Yankees — or at least those named in the Mitchell Report — are heading down to Washington in a few weeks. Or as Sean put it, "The circus is coming to town!"
Rep. Henry Waxman (D-Calif.), head of the House Oversight Committee, has asked some of the folks currently involved in the media pissing contest to come down and testify under oath in front of the Committee on January 16. According to the press release, the committee has invited — but not subpoenaed — Brian McNamee, Kirk Radomski, Andy Pettitte, Chuck Knoblauch and Roger Clemens to testify. Apparently, only Yankees used steroids and were named in the Mitchell Report. Fair and balanced indeed.
Meanwhile, The Times reports that Clemens and McNamee have both accepted the invitation. The others have not yet been reached for comment. With McNamee, Clemens and lawyers in tow, it might actually be worth it to turn on CSPAN the Wednesday after next.
This committee hearing is set for the day after leading baseball figures sit before Waxman and Co. to testify on the findings in the Mitchell Report. Part me wants something — Bud Selig's resignation, perhaps — to come out of these sessions; the other part of me wants Congress to focus on the future and not something that no one can change.
By

Quick note from the Daily News. Apparently, Jose Canseco handed over some of his material for his new book, Vindicated, to former Sports Illustrated associate editor Don Yeager, who was supposed to work on the book with him. After reviewing what Canseco has, though, Yeager passed, saying: "There's no meat on the bones." Specifically, he said that Canseco doesn't have enough on A-Rod to make the case he's been blabbing about.

Hat tip to My Baseball Bias. · (6) ·
Mighty Matt DeSalvo, the Yanks' 2005 Minor League Pitcher of the Year, signed with the Braves. This is a sad, sad day in Mike A. land. Almost as sad as when Mike Richter announced his retirement.
Andy Phillips inked a deal with the Reds. Kinda shocked it wasn't the Dodgers.
The Yanks signed RHP Scott Strickland, LHP Heath Phillips, LHP Billy Traber, C Jason Brown and IF Nick Green to minor league deals.
Brown and Green have spent time with the organization before. Strickland is a career journeyman, last pitching in the bigs with Houston back in 2005. The Padres released him in Spring Training last year just before his $550k salary was to be guaranteed. Traber was a first round pick way back in 2000, but has bounced from club to club and got pounded with the Nats last year (39.2 IP, 50 H, 21 ER, 13 BB, 27 K). I figure he'll at least get a look-see in Spring Training to see if he can be an effective lefty specialist.
Heath Phillips is actually a halfway decent arm, and part of me was hoping the Yanks would take a flier on him after the ChiSox choose not to tender him a contract in December. He's a barrel chested soon-to-be 26 year old workhorse with a high-80's sinker and a rainbow curve. He can get into trouble by leaving pitches up in the zone, but he limits the damage because he keeps his walks down. This, ladies and gentlemen, is your LOOGY sleeper.
Update: Here's a clip of Phillips (not Andy, obviously):
By

Next week, Alex Rodriguez will receive four Legacy Awards from the Negro Leagues Museum, a fine institution in Kansas City. But will he join his fellow award recipients in attending the show? With no response yet from the A-Rod camp, that's the question Steve Penn asked in The Kansas City Star earlier this week. This will be the fifth year that A-Rod receives a Legacy Award, and he has yet to attend a ceremony. I hope A-Rod can find the time for this event next week. · (3) ·
Perusing through The Times this morning while eating breakfast, I left their coverage of the Iowa caucuses for a quick glimpse at the Sports pages. What did I find but yet another article on Johan Santana.
Today, Tyler Kepner reinforces the rumors we've heard of a debate between Hank and Hal over the money Santana will command. Both Steinbrenner brothers, Kepner reports, are as hellbent on winning as their father is, but Hal is concerned that the financial outlay for Santana doesn't justify a trade.
Interesting in the Kepner article – besides, of course, the Santana question – are the descriptions of the chain of command. While Hank has become the de facto spokesperson for the Yankees ownership, Hal considered an equal in the organization and is responsible for the money. As Kepner writes, Hank, for all his bluster, "cannot and has not acted unilaterally."
So how do the Santana economics play into this? Well, Hank is willing to sign on to GM Brian Cashman's player development deal but wants to avoid a possible scenario where Santana ends up on the Red Sox. Hal wants to keep the payroll at $200 million, an amount that, if spent wisely, should keep the Yankees competitive forever. Santana and his contract would add substantially to the Yanks' payroll. Kepner writes:
If the teams agreed on players, the Yankees would have to negotiate a contract extension with Santana, who would probably ask for seven years and $140 million.

For the Yankees, the $140 million figure would be compounded by an additional $56 million they would owe in luxury taxes, because they are still charged an extra 40 cents for every dollar they spend. Investing almost $200 million in Santana for seven years — and the prospects — is clearly too steep a price for General Manager Brian Cashman.
Shelling out $200 million plus prospects for the services of Johan Santana is indeed a price that is too high. As long as Hal and Cashman are on the same side, it seems like the Yanks won't trade for the Twins' lefty. As the Santana shenanigans continue, it's interesting to watch the Yanks' new organizational structure take place.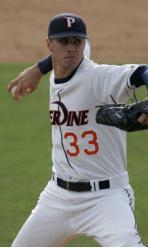 Adam Olbrychowski | RHP
Background
Olbrychowski was born and raised in Los Angeles, and lettered in baseball all four years at Grover Cleveland High, the same school that produced two-time Cy Young Award winner Brett Saberhagen. He was the starting right fielder as a freshman, when he helped lead the Cavaliers to the California Interscholastic Federation City Championship over four-time defending champs Chatsworth High (the same school that produced 2007 first rounders Mike Moustakas and Matt Dominguez). He was a two-way player as a sophomore and junior (he earned All-City honors as a junior), but he didn't develop into a legit prospect until he was a senior, when he focused on pitching and went 5-0 with a 0.21 ERA and 61 K in 32.2 IP. The LA Times named him a "Player to Watch" in 2004, but Major League teams shied away from the righty and he went undrafted.
Last night, Gelf Magazine hosted its monthly Varsity Letters reading series. With Will Leitch's reading from his new book and Dan Shanoff and David Zirin on the roster, I ventured down to Happy Endings in Chinatown for the readings.
Good times were had, but that's besides the point. The point is that Will Leitch does not like Yankee Stadium, and I have to wonder if, despite the history of the stadium, he's tapped into something about the whole experience that speaks to everyone. In the new book, one of the chapters is a running diary surrounding a trip up to Yankee Stadium. It's a narrative familiar to many.
In a nutshell: Ride the overstuffed subways up to Yankee Stadium after buying tickets at way above face value; find a sketchy place to check your bag for too much money; spend 20 minutes waiting in a pointless security line; shell out the most money at any MLB ballpark for food and beer; get inundated with loud between-innings promos; get serenaded yet again with "God Bless America"; hear Cotton-Eyed Joe for the one billionth time; inch down the ramps after the game; retrieve your checked bag; get home.
As Leitch puts it, that doesn't sound like fun. From the money to the crowds to the incessant noise emanating from the scoreboard, Leitch doesn't understand why Yankee fans are so attached to the House that Ruth Built. And I'm not even mentioning his critique of our inexplicable love for Paul O'Neill because, hey, that's just a New York thing. My answer to that question: We love Paul O'Neill because he's Paul O'Neill. You just had to be there.
But on a lot of the other points, I found myself laughing in agreement with Leicht. I know you're shocked; me, the most outspoken blogger on the new stadium thinking bad thoughts about Yankee Stadium.
Well, in my opinion, going to Yankee Stadium has become something of a burden when you break it down like that because the Yankees have not tried to make the stadium more welcome and because of an odd sense of short-term tradition that no one really likes. How many people fly into a murderous rage whenever the grounds crew come out to the YMCA? How many people dread hearing John Sterling scream "Theeeee Yankees win" at the end of the game? We came to the game to escape John Sterling! And really, does anyone like Cotton Eyed Joe or the other music clips thrown at us at maximum value?
Inside the stadium, the Yankees haven't made the concession stands easy to negotiate. Serpentining lines could have solved this problem years ago. Admittedly, "God Bless America" is a sensitive subject and one I'd rather not get into here, but the security lines outside have gotten ridiculous. Sometimes, the guards check cellphones; sometimes, they don't. Sometimes, they check cameras; sometimes, they don't. It's very easy to fold up a backup and take it into the stadium in a clear plastic bag, and it's incredibly easy to take a camera in without anyone noticing. Considering that the Yankees seem more concerned with opaque plastic bags rather than true security measures, can we really just ditch the charade already?
At the end of his segment, Leitch said he won't miss Yankee Stadium when it's gone, and that's where he and I differ. To me, Yankee Stadium is where I grew up. Some of my earliest memories are night games in the late 1980s and early 1990s when the Yankees just weren't that good and the team drew about 26,000 to night games. I remember ditching high school to get to the 1 p.m. mid-week day games and just buying Tier Reserve tickets at the game for $14, the cost of a 2008 bleacher ticket. I remember watching Game 6 of the 2000 ALCS from the Upper Deck, and I remember the crowd's energy during Game 3 of the 2001 World Series.
After this year, nothing will be left but memories. I can forgive the high prices and obnoxious music because it's still Yankee Stadium. What I learned from Leitch is that fans of other teams just don't get it. Maybe that's why I find Fenway Park to be an insufferably small stadium with poor sight lines, no leg room and rather disgusting facilities. It's all about your team's memories, and that's what fills up Yankee Stadium every night.
By

So how about those Knicks, huh? A few days after passing his own self-imposed test by coaching the Knicks to a 1-4 record over the course of two weeks, Isiah Thomas has not said that he won't resign as Knicks coach until he brings home a title and creates a legacy for future generations of Knicks. Or until the men in white coats come to take him away. Needless to say, the Knicks are 8-22 this year and 41-71 under Thomas. They haven't won a playoff game since 2001, and for some unknown reason the Dolan's just won't fire this guy. Oh, well. · (17) ·