AzFL Peoria (6-3 loss to Phoenix)
Juan Miranda: 1 for 4, 1 K
Reegie Corona: 0 for 3 – 4 for 18 with 6 K
Eric Wordekemper: 1 IP, zeroes – stranded 2 inherited runners, throwing only 9 pitches in the process (6 for strikes)
By

The Yankees have not reached any sort of decision, GM Brian Cashman said after today's meeting. Apparently, they are trying to solve the Israeli-Palestinian problem. I thought they were just trying to decide whether or not to offer their Hall of Fame manager a contract extension.

Update by Joe: PeteAbe is saying that Cashman has the backing of ownership with his A-Rod decree. That's good news, I suppose. Now let's see what kind of offer they make him. · (11) ·
By

According to reports from Tampa, something happened today. The Yankees offices received its delivery of water coolers. I kid you not. This is what the stalkers reporters are sending our way. What a farce. · (1) ·
I have no idea.
Hat tip to It's a Fly World. This is the last Red Sox picture I'll post today. I promise. Someone just tell the Yanks to hurry up and do something down in Tampa today…
AzFL Peoria (9-1 win over Mesa)
Brett Gardner: 1 for 4, 1 BB – 10 hits & 4 walks in only 6 games (.483 OBP)
HWB Honolulu (2-0 win over North Shore)
Austin Jackson: 0 for 1, 1 R, 3 BB, 1 SB - wow, a game like this was unthinkable for him a year ago
Bradley Suttle: 0 for 4, 1 K – hitting .086
Venezuela Winter League box scores haven't been posted yet. I'll try to get an update posted later today (assuming the box scores get posted at some point), but no promises.
VWL Update: (thanks to commentor Yanks26 for the heads up)
Justin Pope: 2 IP, 0 H, 0 R, 0 ER, 1 BB, 3 K, 0-3 GB/FB
Marcos Vechionacci: 1 for 3, 1 R, 1 HR, 4 RBI, 2 BB – both walks were intentional…fear the Vech (.455-.618-.818 in his homeland)
Edwar Gonzalez: 0 for 4, 1 K
If you're bored at work, take a quick scroll through the rosters for some of the VWL teams, some of those names are big time blasts from the pasts.
Your wish is our command. Submitted for your approval, it's Shorty McSlappy, the Red Sox second baseman. This photo comes to us courtesy of The Boston Globe. The Red Sox and their fans should never complain about A-Rod's 2004 ALCS play again.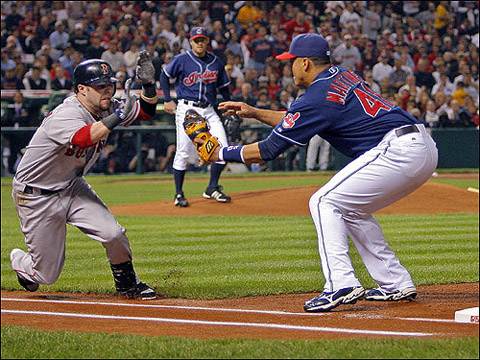 By

Dustin Pedroia just tried to slap the ball out of Victor Martinez's hand as he went by on the first play of the game. I kid you not, rewind it on your DVR and check that shit out. It's a good play though, because he's a "gamer" and "gritty" and a "Red Sox" and "not A-Rod."

And for those of you who witnessed Kevin Youkilis reading the lineup, tell me he doesn't look and sound like someone you'd meet online at 3am. · (38) ·