No team has ever paid more for a World Series championship trophy than the 2007 Boston Red Sox did. They had an opening day payroll of over $143 million, nearly $30 million more than the Mets. The Red Sox broke their own record in this department that they sent in 2004. So the next time should Sox fan whines about the rich Yankees and claims the Sox are scrappy underdogs who don't buy trophies, punch them. Or direct them here.
By

That's the word from ESPN. Nothing big, though it qualified as "breaking" for them. Minus the ink on parchment, it's a done deal.

Update from Ben K.: I'm hearing unconfirmed rumors that Kevin Long will join Torre and Mattingly in Los Angeles. While I'd love to see Long stay in New York, coaches are always replaceable. · (22) ·
Gotta love it when Scott Boras feigns naivete:
"Intellectually, Alex is tying to understand the difference between his free agency and that of Mariano and Posada," Boras said by phone yesterday. "Alex Rodriguez has never said he does not want to be a Yankee. Filing for free agency doesn't mean that. Because Rivera and Posada are free agents doesn't mean they don't want to be Yankees."
Just a guess here, but it could be the $30 million the Yankees lost when A-Rod opted out. That will be equal to about one year of his salary, which is pretty freakin' significant.
Someone needs to tell Boras that it's over. Why the posturing with the New York media? Clearly he can get better than eight years, $224 million from another club, so go and freakin' get it. It's becoming more and more clear that A-Rod didn't want to come back, anyway.
By

Joe Torre is heading west; Pete Abraham breaks the news. Scott Proctor's reaction is here.

In all seriousness, I wish Joe the best of luck and I truly hope he gets to come back to The Stadium as a coach for the All-Star Game. · (8) ·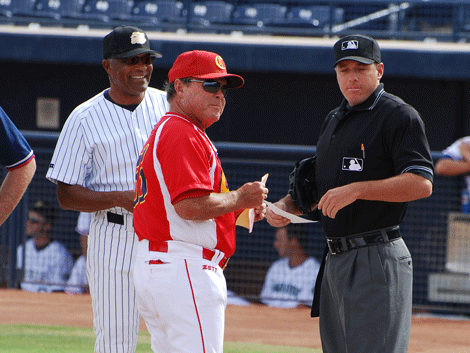 AFL Peoria Javelinas (20-4 Win over Team China in 7 innings)
Brett Gardner: 3-5, 4 R's, 2 RBI, 2 SB. All three hits were line drives – two were up the middle and one over 1B. Now has 11 SB's / 0 CS
Juan Miranda: 0-2, 1 R, 1 RBI, 1 BB, 1 K. Had trouble slowing the bat down – He SO on what looked like a 60mph change-up in the 1st inning. Now hitting an even .250. Replaced in the 4th inning.
Reegie Corona: 0-3, 1 K. Hitting .176 overall. Replaced in the 5th inning.
Steven White: 2 IP, 2 H, 1 ER, 1 BB. Lowered ERA to 10.29
The Chinese Olympic team was a late addition to the AFL schedule. The stats count but these are really just scrimmage games while they prepare for the Olympic tournament. Things didn't look good for them even before the game started. They instituted something I've only seen in beer league softball – they announced the game would be stopped if theres a 10 run lead after the 7th inning. The hitting wasn't bad but the pitching was terrible. It looked like they were topping out in the low-to-mid 80′s at best.
The only thing that slowed down the Javelinas today was a swarm of killer bees (seriously) in the bottom of the 4th inning. It was a strange scene – some of the Chinese players started laying flat on the ground during a pitching change and no one seemed to know what was going on because of the language barrier. So then everyone sees them looking up at a black cloud of sorts that was hovering in across the right field foul line. Now I'm originally from NJ and have never seen killer bees in my life so I almost did a full stop-drop-and-roll technique as they passed over home plate. The bees didn't bother anyone and they eventually just flew over the media suites and left the stadium. I've been watching for foul balls and bats and such but killer bees was never a thought. I'll have to file that one away.
The photo's are on the other side Read More→
By

Christening our new Joe Girardi category, let me present to you news from Dan Shanoff's Quickie. Shanoff, a Northwestern alum like Girardi, shares an interesting story:


In the football weight room, where all athletes worked out … there are lists of weightlifting records, and the only non-football player ANYWHERE was in the squat, where Girardi was the all-time king.



So there you have it; all five feet, eleven inches of Joe Girardi, the new Yankee manager, could out-bench NU football players. Look out, Jason Giambi. · (12) ·
By

Top one sign that your agent is a class act: When the future Hall of Famer making obscene amounts of money decides to void the rest of his contract without responding to your more-than-generous extension offer, you alert said player's former employers via text message. · (6) ·
By

That's what A-Rod will have to top to beat the Yankees *initial* offer. Chances are, they would have upped that a bit in negotiations, since Boras was starting at 10 years, $300 million. · (8) ·
By

ESPN is finally officially reporting that the Yankees are offering the managerial job to Joe Girardi and that Girardi will accept the position. We've held off on reporting too much of the rampant speculation up until now because there were simply too many conflicting reports flying around. Don Mattingly is not expected to join the coaching staff. · (29) ·