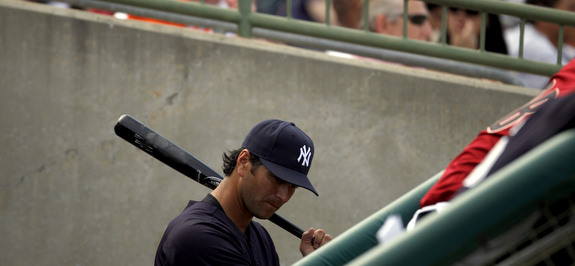 Not long before Spring Training began, I ran down the list of options the Yankees have for the fourth and final spot on their bench, brilliantly concluding that Ronnie Belliard was "probably the front-runner for [the] job given his versatility and occasionally productive bat." Three weeks into camp, Belliard's played in exactly zero games because of a calf injury, though another veteran has emerged as the favorite for a bench spot: Eric Chavez.
Chavez is the same guy that has played in a total of 154 games since the start of the 2007 season because of neck, elbow, back, and shoulder injuries. The Yankees gave him a minor league contract and figured they had nothing to lose by giving him a look in Spring Training, which of course is true. His 3-or-3 effort in yesterday's game bumped his admitted small (18 PA) spring line to .471/.500/.529, and based on the radio broadcasts, many of his outs have been hard hit as well. If that's not enough to tell you that he's the favorite for the job, then just look at his jersey; Chavez is wearing number 12, not a number that better resembles a year some of us were born (I'm D.J. Mitchell). It sounds kinda dumb, but a low in camp does speak to a player's job security.
Anyway, as good as the early camp stats are, the bat really isn't the question with Chavez. I mean yeah, it kinda is since he's hit just .233/.290/.399 in 628 plate appearances spread out over the last four seasons, but the biggest challenge he has to overcome is his health. So far he hasn't had any medical hiccups in camp, meaning he's doing better than Nick Johnson did last year. That can all change with one swing, one step, one throw, so all we can do is keep our fingers crossed.
Assuming he does in fact make the team, the Yankees figure to use Chavez as their primary backup at first and third base, maybe as a spot-starter at designated hitter and occasional pinch-hitter, but so far this spring he's spend the majority of his time at first. With 1,233 career starts and a +28.6 UZR at the hot corner, the guy knows what he's doing at the position, so there's no real concerns there. Chavez has just played just two games at first base as a big leaguer though, and both of those came in relief. I know the perception is that first is the easiest position to play, but it's not easy if you're just learning it. Chavez booted a ground ball yesterday, and although he recovered in time to flip the ball to the pitcher for the out, it still showed how green he is at the position.
That last bench spot is Chavez's to lose right now, but only if he stays healthy enough to actually break camp with the team. Between him and Andruw Jones, Joe Girardi will have a veteran bat from each side of the plate to deploy as he sees fit, and frankly those two will be the best bench player tandem the team has had on Opening Day in some time. It's entirely possible (if not likely) that Chavez won't work out in pinstripes, but the early returns are positive and that's pretty much all we can ask for.