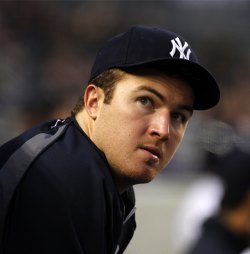 Lately we've gotten tons of questions about Phil Hughes's eventual return. They all vary in the specifics, but they all come back to a few main questions. Here's a general answer to all of them.
In the past few days we've learned a bit about Phil Hughes's immediate future, and his past. Two weeks ago he received a cortisone injection in his arm, not an uncommon procedure for injured pitchers, and that apparently got the ball rolling. He took some time off while he went to physical therapy, and is now apparently back into his full workout routine. The most encouraging news is that this week he starts a throwing program, which could put him on track to return at the low end of Brian Cashman's six-to-eight-week timeframe.
The recurring question appearing in our mailbag involves Hughes's role upon his expected return. The rotation is turning well now. CC Sabathia still mans the helm, and A.J. Burnett has turned in a quality start to the season. The back end of the rotation has pleasantly surprised, with stellar performances by Bartolo Colon and Freddy Garcia, and a quick turnaround from Ivan Nova after a rough beginning. Who, then, would Hughes replace? Might he be better off in the bullpen, for both his arm and the team's sake?
I don't think it would be wise to assume Hughes's return at a day sooner than the upper end, eight weeks, of Cashman's timeframe. This isn't because Hughes is necessarily slow to recover, or that he has suffered setbacks in the past. It is because pitchers in general often suffer setbacks when rehabbing. What starts as an aggressive timetable gets stalled somewhere in the middle, and the pitcher ends up missing more time than expected. I expect the Yankees to keep this in mind and progress with Hughes slowly. The better the guys in the rotation pitch, the slower they can afford to take Hughes's rehab.
As for the pitcher he replaces, that's something that will work itself out. The Yankees have already gotten more than they could have expected from both Colon and Garcia. If either of them isn't pitching in two weeks, I don't think anyone would be surprised. Even Nova, even though he has pitched well lately, could fall into another hole and require a minor league assignment. The chances are high that by the time Hughes is ready to pitch again, the Yankees will have a spot for him. Rotations change throughout the course of the season, and in six or eight weeks the Yankees will be different, too. Finding a spot for him shouldn't prove too difficult. And if it does, well, then that's a good problem to have.
If the Yankees do have five effective starters, Hughes could go to the bullpen. He called that place home in 2009, and experienced stellar results. His performance out there is the real reason he earned a rotation spot in 2010. Might it be a bit easier on his arm, even, if he returns there in June or July? I'm reluctant to say yes, because I've seen no study that demonstrates the stress on a starter's arm vs. the stress on a reliever's. Sure, a reliever pitches fewer innings, but they are also typically higher leverage innings, and relievers tend to empty the tank quicker (i.e., they unload on pitches rather than pace themselves). That might actually make it more stressful. Perhaps putting him in the bullpen is a way to have him on the team if there are already five starters, but that should be the only reason. And even then, if the Yankees still value Hughes for the future they should keep him in the rotation at this point.
There has been plenty of frustration with Phil Hughes in 2011. But with a clean bill of health and a rehab plan, it appears things are getting back on track. It's natural to get excited about the prospect of his return, even if it is more than a month away. The one thing we know is that by the time he is ready to pitch in the majors, things will have changed with the Yankees rotation. There's a decent chance they'll legitimately need him by that point. If they don't, they'll have plenty of options. For now, at least, there's some room for optimism with Hughes. He's ready and throwing. That's further along I thought he'd be after his most recent setback.