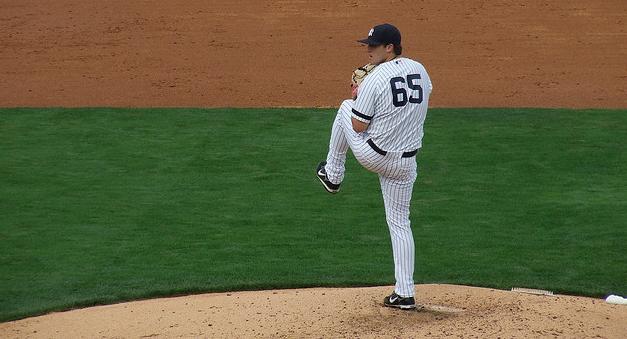 In about 90 minutes Phil Hughes will deliver his first pitch of the afternoon to the A's. It will be an important pitch; so will every pitch he throws for the rest of the season. Given the current state of the rotation, the Yankees absolutely need Hughes to step up down the stretch and play a prominent role in the playoff rotation.
As Ben wrote yesterday, Bartolo Colon has faded of late. He hasn't been bad, per se, but he hasn't been the model of efficiency that we saw from April through June. Who knows how much he has left in the tank at this point. Maybe the Yankees can get him some rest in the next month and have him ready again for the playoffs, but that's no guarantee. Knowing what we do about his age and history, it's tough to pencil him in at this point for a playoff rotation spot.
Then there's A.J. Burnett, who needs no further description. He'll have to pitch impeccable ball in the next month in order to even sniff the playoff rotation. The Yankees appear to be in the same position as last year, where they simply can't afford to start him in the postseason unless absolutely necessary. If, in fact, they can't start Colon, that would necessarily move Burnett up in the pecking order. This is why Hughes is so important.
Since his return from the DL Hughes has been generally effective, though not entirely convincing. He's had one serious clunker, which coincidentally came against the A's at home. He also looked shaky in his next start against Seattle, though due to their horrible offense he escaped relatively unharmed. All told he's produced a 3.70 ERA in 41.1 innings since his July 6th return. The only issue is that in that time he has a 25:14 K/BB ratio, which is pretty terrible. The walks are OK, but the strikeouts are way down from the level we've come to expect from Hughes.
Things have gotten a bit better in August. Hughes has started three games and has thrown 19.2 innings, allowing just three runs while striking out 12 and walking four. Again, the strikeouts are a bit low, 5.49 per nine, though he's kept his walk rate low enough to help mask that. He's also allowed only two homers. This is important for Hughes, because he's still recovering from his early season — I'm not even sure what to call it. But he had just a short rehab stint, and really had to spend his July starts getting back into shape. It doesn't excuse his poor performances, but it does put them into better perspective.
Today he needs to build on what he's been doing and continue to progress towards being the pitcher he was in the first half of 2010. It's crucial for the Yankees now, as they need a few healthy and effective pitchers to help mask the foibles of Colon and the ineffectiveness of Burnett. But more importantly, they need Hughes to work his way into the playoff rotation. They need four men for that, and right now he's on the brink. Making progress in his next few starts, which will include missing more bats, is crucial to the Yankees chances when they reach the postseason.
This brings up the all-important question: what will it take for the Yankees to fully trust Hughes? Clearly the results have been there lately, so that provides one level of assurance. But what else will it take? Will they be satisfied if he continues to produce results without missing bats? How many bad starts can he afford before they lose confidence? What will it take for him to solidify a spot in the postseason rotation? These are all big questions that he will have to answer down the stretch. It all starts today at 1 p.m.*
*Weather permitting.