By

When Eric Duncan was left off the 40-man roster last week in advance of the Rule V draft, no one blinked. No one, that is, except Eric Duncan himself. As Pete Caldera writes, better players within the Yankee organization have simply passed by Duncan, and while the 23-year-old still wants to make it as a Yankee, he understand the reality of his situation. I guess hitting .234 with an OBP hovering around .300 in your first 500 AAA plate appearances does that to a player. · (4) ·
Now, this comes from the same newspaper that printed this laughable article, so take it with the largest grain of salt you can find. But this writer has a "source," which may or may not be his own broken imagination, that says the Sox are in the lead for Santana. The potential winning bid: Jon Lester, Justin Masterson, Coco Crisp, Jed Lowrie. Not only do I think the Yanks can top that, I think they can top that without Hughes or Joba.
Dear Pioneer Press,
If you pay me, I'll make up more believable rumors than your current staff. Promise.
-Joe
Hat tip to Steve.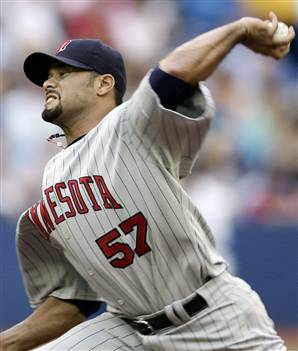 Yesterday, we made our position clear: Save The Big Three. This was met with varying responses, most of which disagreed to one extent or another. It seems that most Yanks fans — surprise surprise — would like to see Johan Santana in pinstripes. Hell, count me among 'em. My problem is that I don't want to see the Yankees dish any of the Big Three to get him, in which case a deal wouldn't happen.
Now, before anyone else says, "You'd be an idiot not to trade IPK for Santana," let's be clear about something. A package centered around Ian Patrick Kennedy will not land Johan Santana. Period. Maybe before yesterday, when Matt Garza was still a Twin, there was an inkling of a chance the Yanks could pull off such a deal. Any chance that existed (probably none) is now gone. If the Yanks want Santana, it's going to cost Joba or Hughes. If IPK is in the deal, it will be in addition to one of those two. This is why we need to save IPK.
When asked to choose which of the other two to dish, it appears the consensus is Hughes. I get that. The only knock on Joba before the season was his injury risk, but after he showed up to camp a bit lighter and after having a relatively healthy season (except when he caught the hamstring strain bug from Wang), he has quelled some of those concerns. At least relatively speaking, as we found out that Hughes, the invincible No. 1 pitching prospect in the game headed into the season (I'm not counting Dice-K), is also susceptible to injuries. Who knew?
So we're talking Hughes and more for Santana. Jutting off on a tangent for a second, I would think that the Twins, given their recent transaction, would be looking for Horne and Austin Jackson, at least. With the acquisition of Jason Pridie, the immediate need for a center fielder is lessened. He's not a world beater, but he can fill in adequately while the Twins wait on someone like Ajax. The Twins could still have interest in Melky, but I think that given the situation, we can leave him out of the conversation until we hear otherwise. And who knows: Maybe they want Tabata in the deal, too, instead of Horne — or on top of Horne. That changes the story, but for now let's stick to Phil and Johan.
Okay, I lied. One more Santana post tonight. I'll do it up bullet-point style. We've got a few hits on the stories dissecting the deal.
Are we really entering a new era of Yankee spending?
While the recent contracts for Alex Rodriguez, Jorge Posada and Mariano Rivera show that the Yanks are willing to spend money for established players, recent word from the Bronx is that the Yankees are not going to overspend on bullpen pitchers. In his latest notes column, FoxSports' Ken Rosenthal speaks on the Yanks' efforts to shore up the bullpen:
The Yankees will not go beyond a certain financial threshold with free-agent relievers when they can fill certain roles from within, sources say. The team, for example, could pass on left-hander Ron Mahay, if his price — as expected — rises above $12 million over three years, the amount the Phillies awarded J.C. Romero.
Rosenthal notes that the Yankees are more than willing to look internally for bullpen options. Without delving into the slew of arms coming back from Tommy John surgeries, he mentions Sean Henn, Kei Igawa and Chase Wright from the left and Ross Ohlendorf, Jose Veras, Britton, Bruney and Edwar from the right.
Now, few of those names inspire much confidence in Yankee-land. Kei Igawa? Chase Wright? Brian Bruney? Yikes.
But the reality of the situation is that this shift in philosophy is a long time coming. How often have the Yankees gotten burned on high-priced bullpen flops? Steve Karsay, Paul Quantrill, Kyle Farnsworth, Felix Heredia. The list is endless.
For the all the pain that Bruney puts us through, his numbers are no worse than the guys getting four-year, $19-million contracts this winter. While the savings represent pennies compared to the overall Yankee payroll, I'd much rather see the Yanks use cost-efficient options instead.
By

Rudy Giuliani, during the Republican debates tonight, just admitted to rooting for the Red Sox in 2004. He also just took credit for the four Yankee World Series championships during his mayoralty. So does that mean the Yanks are suffering through the Curse of Giuliani or the Curse of Bloomberg, our current Boston-born mayor? · (7) ·
The Twins and Devil Rays are set to swap Matt Garza and Delmon Young, according to ESPN's Keith Law. This move immediately impacts the Santana trade because the Twins don't really need that center fielder anymore and certainly need some Major League-ready starting pitcher. Clearly, the Twins will be asking for pitching, pitching and more pitching. MLB Trade Rumors thinks that the Twins now need a third baseman, and the Yanks certainly don't have any of those in their organization anymore. The plot thickens.
Update by Mike: Rays Anatomy isn't a fan of the deal. I wouldn't be totally thrilled either if I was a Rays fan, but they really shouldn't complain; they did get Kazmir for Zambrano after all.
BA posted their Rule V draft preview, which is far more informative than mine. I've always been a Jamie D'Antona fan, but he's really just a useful bench guy for an NL club. If Fernando Hernandez is a Matt Guerrier-type, how do you not give him a shot? Ya gotta love the scrap heap pickups.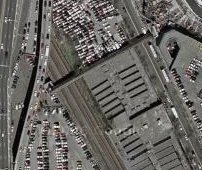 On and off for the past few months, I've assumed the Neil deMause mantle when it comes to the new Yankee Stadium. DeMause, the author of Field of Schemes, an influential book (and blog) detailing sports stadium economics – with a new edition featuring a chapter on New York coming out in April – has long called for an end to taxpayer subsidies for every little detail of sports stadium construction.
I'm on his side. I completely buy into the argument that the economic returns on a stadium do not justify the few-hundred-million-dollar layouts by the cities. Look no further than the Twins. The richest owner in the game is getting a taxpayer-funded stadium when he and the team could easily afford to fit some, if not most, of the bill.
In New York, there are plenty of things that need the taxpayer money, from our infrastructure-challenged subways to our subpar public schools. Two baseball franchies – two of the richest baseball franchises in the sport – don't need the payouts and tax breaks they're getting.
All of which brings me to a recent Village Voice story.
Click here to continue this tale of corruption and taxpayer fleecing.