By

In the same piece in which he notes that the Red Sox may include Jacoby Ellsbury in a deal with the Twins, Buster Olney reports that the Yanks may set a Tuesday deadline for their current trade offer. So it seems that, one way or another, this drama will play itself out over the next 48 hours. · (71) ·
Three stories of note appearing online or in Sunday's papers:
Kat O'Brien at Newsday writes that the Yankees are feelin' pretty good about their chances of landing Johan Santana. The deal, she says, would include Phil Hughes, Melky Cabrera and a third, lesser prospect.
Tyler Kepner of The Times notes that the Yanks and Twins are stuck on that third prospect. The Yanks are not willing to part with Dellin Betances, Alan Horne, Austin Jackson, Ian Kennedy or José Tabata, and it seems that the Twins are not so high on Melky Cabrera.
Jon Heyman of Sports Illustrated notes that the Twins have asked specifically for Alan Horne or Austin Jackson. The Yanks will not budget on that issue, and it may become the deal-breaker. Boston does not seem willing to include Clay Buccholz or Jacoby Ellsbury so the Twins will have to decide what they want to do.
Earlier on Saturday, when I was talking about this with my dad, he raised an interesting point. For all of the conversations we've been having about this trade, Melky Cabrera has always seemed like a given. But why?
If the Yankees are willing to give up all of Phil Hughes' pre-free agency years for just one year of Johan Santana — and, really, they're only getting one year of the lefty from the Twins — why should they then give up Cabrera and another player? We here might not be so high on Melky; the Twins aren't that high on Melky, it seems. But for now, while Austin Jackson develops, he has a clear role on the team.
With Melky in the trade, the Yankees are simply giving up too much. They shouldn't need Melky in this deal to complete, and if the Yanks realize that they're getting one year of Santana and the distinct privilege of a negotiating window in order to pay the lefty too much, they would be wise to pull Melky out of the deal.
Update by Ben: Adam, in this comment, points us to a story by La Velle E. Neal III in Sunday's Star-Tribune. The Twins, Neal writes, are prefectly willing to hang out to Santana if the price isn't right. Fine. Keep him. We'll keep Phil Hughes and Melky. I like that idea better than Santana in pinstripes right now.
By

From good ol' Kenny Rosenthal:

The Twins reportedly informed the Yankees they were prepared to deal Santana to the Red Sox unless the 21-year-old Hughes was part of the deal. Fearing Santana would join Josh Beckett to give their rivals two aces, the Yankees decided to put Hughes on the table. … "The only way to keep (Santana) from the Red Sox is to get him," a Yankees official told the Post. "You can't hope some other team does it for you."


Basing your transactions around what the Red Sox will do is foolish. It's exactly the kind of thing that moves you to sign, say, Kei Igawa.

The worst part is that I'm pretty sure the Twins are bluffing here.

Update: This line makes me happier: "The Yankees are adamant that they do not want to include another top prospect." That is, if they won't cave on this one like they caved on Hughes. · (133) ·
There are a lot of great points from both sides of the Hughes/Santana issue, and I expect the conversation will continue through the weekend (might we have to start a third overflow post??). Anyway, just to steer the conversation in a slightly different direction, I'm going to pose a hypothetical.
Stick, Cash, Opp, and Hank are sitting in the Tampa offices. They've already traded Melky and Hughes for Santana, and have signed Santana to an enormous extension. As a bonus, Andy Pettitte has announced that he will return, so the Yankees rotation looks as formidable on paper as any other in the league. The only problem that remains is a center fielder.
Two of the guys in the room want to stick with internal options. Damon can start the year there with Matsui in left, which would have the added benefit of allowing Jason Giambi to play as the everyday DH. That, according to Buster Olney, is the current thinking from a confident Yankee front office. However, as we all know, this plan might not fly. Damon still has plenty of range in center (personally, I trust him more than Melky for tracking flyballs), but he throws like a girl. Matsui's arm isn't as bad, but he's not gunning out Curtis Granderson going from first to third on a single to left.
The other two guys in the room want to sign a free agent. They say that both Jones and Rowand have good range in center (don't believe the hype regarding Jones's supposed defensive decline; if he is declining, it's not significant enough to fret over).
Somehow, the "sign a free agent" couple convinces one of the "internal options" guys to sign either Jones or Rowand. In fairness, the majority says to the sole "internal options" guy: "It's your choice. Rowand or Jones?"
Which do you choose? Remember, this is inevitable. Carved in stone. Either Andruw or Aaron is guaranteed to be the Opening Day center fielder.
Me? I'm going Jones, and it isn't even close. Jones is just four months older than Rowand, and has a far better track record. Jones has had two below-average years, and he socked 34 and 26 homers in those years, which is tremendous for a center fielder.
Rowand, on the other hand, has has only three years of over 500 plate appearances. Over the past four seasons, when he has been a regular, he has had two good seasons and two well below average seasons. He doesn't draw a lot of walks, and he strikes out his share — once every 5.84 plate appearances, as opposed to once every 5.21 PA for Jones.
Now, Rowand isn't going to get the five years and $90 million that the Angels gave to Torii Hunter. But he's looking for somewhere between five years and $60 million and six years and $84 million. Jones is likely seeking six years and $108 million…same deal as Hunter, just with an added year, which makes sense considering Jones is nearly two years Hunter's junior.
The overarching idea is that if you're trading Hughes and Melky for Santana, you might as well go all in. Why half-ass a 2008 championship run?
By

Okay, that last thread is taking forever to load, so let's move our conversation this way. · (51) ·
John Harper and Bill Madden are reporting that the Yanks are going to offer Phil Hughes in a package with Melky Cabrera and one other player to the Twins for Johan Santana.
After two days of internal discussions among front-office executives, the Yankees swallowed hard Friday and decided to offer Phil Hughes to the Twins as part of the trade package they hope will land them Johan Santana.

"We're going for it," was the way one club source put it…According to the club source, there was spirited internal debate in the organization via conference calls about whether to make Hughes available.

Among the prominent people on the calls were GM Brian Cashman in New York, and owner Hank Steinbrenner and superscout Gene Michael in Tampa. Though the club source wouldn't say who needed to be convinced, it is no secret that Cashman has wanted to build the team around young, homegrown players, and saw the three pitchers as the centerpiece.
So if Cashman wanted to keep Hughes and Gene Michael as we knew wanted to trade him, I guess Hank could have been the deciding voice. My first reaction: Meet the new Boss, same as the old Boss.
At first glance, I'm not a huge fan of this deal, but the Yanks aren't giving up anything else. Gene Michael was instrumental in building up the Yankee dynasty in the late 1990s. So maybe we should trust him. Or maybe we should all just jump off the nearest bridge. I'll leave that one up to you.
We'll find out over the next few hours, I'm sure, how this story progresses.
Update by Joe: Maybe Harper and Madden are hearing things, but mum's the word from Hank:
"Anything said at this point, and I expect the other people in the organization to follow suit, you never know how it affects whatever, especially with other teams we're dealing with," Steinbrenner said. "It's just no comment for now. At this point, until we get something done or don't get something done on whatever we're looking to do, it's kind of as far as I'm concerned a lockdown now."
I'm a psychiatrist. Believe me, I can be vague.
The title says it all. In the name of all that is holy, please say no. If you could see me, I'm actually down on my knees typing this. Please, I'm begging you. Don't do it.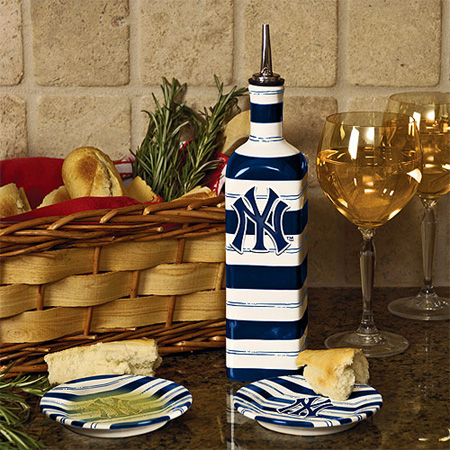 Available for sale at the MLB.com shop.
It does go nicely with the fresh rosemary and white wine. But seriously, is anyone going to buy that? Can you break that out at a dinner party with a straight face?
MiLB.com finished up its Minor League prospect rankings today, and Joba took the 5th spot. The Yanks ended up with three of the top 50 prospects, and Jose Tabata didn't even make the list. Not bad for a team that didn't have much of a farm system a few years ago.
To be honest, this Johan Santana talk has gotten a little bit out of hand. Names and crazy deals are flying left and right, and the papers in Boston and New York are feeding this media frenzy like no other.
Luckily, a voice of reason is trying to speak out through this riotous din. For that glimpse of sanity, we turn to the Twins beat writer for [name of paper], LaVelle E. Neal III. In a piece on the Santana trade discussions , Neal urges everyone to take a step back. Not only is a trade still not even all that close, but more teams are involved than just the Yanks and Red Sox.
Blasphemy, I know, but take a look:
Several teams — including the Red Sox, Yankees, Mets, Angels and Dodgers — have expressed interest. And it was learned on Thursday that the Mariners are in the running, too…

Smith said the Twins could be one of the busier teams next week at the winter meetings in Nashville.

"We're just looking for the best players we can get," he said. "Obviously, we'd like to continue add core players at any position. We'll see what the winter meetings bring, and what's in the following months."
So calm yourselves. As you can see, no one's getting traded yet, and the Yanks aren't about to do something stupidly drastic such as trading Robinson Cano with a package of players for a guy who's going to pitch once every five days.
We should all really take a deep breath, back off the trade talk and keep things in perspective. The Yanks are not alone in the hunt for Santana; things are a long way from being settled; and nothing foolish is going down. (At least, nothing more foolish than trading Lastings Milledge for Brian Schneider and Ryan Church.)