For a player who spends half the game squatting, any kind of leg injury can be devastating. After recovering from a shoulder injury he sustained in 2008, Jorge Posada has suffered a few leg injuries, the latest a microfracture on his right toe that could keep him out for a month. The Yankees say that the three to four week timeframe is when they'll once again have Posada available, though the man himself says he'll be back before that. In any case, it could be a rough transition back to catcher.
As Will Carroll of Baseball Prospectus (sub. required) says in his latest Under The Knife, the toe problem "tends to heal pretty cleanly," so the Yanks needn't worry about a prolonged recovery period. The problem they might encounter relates to Posada's ability to catch right away. While a catcher's squat is most readily associated with knee problems, it also puts tremendous pressure on the foot, especially the toes. That could push back Jorge's timeline a little bit.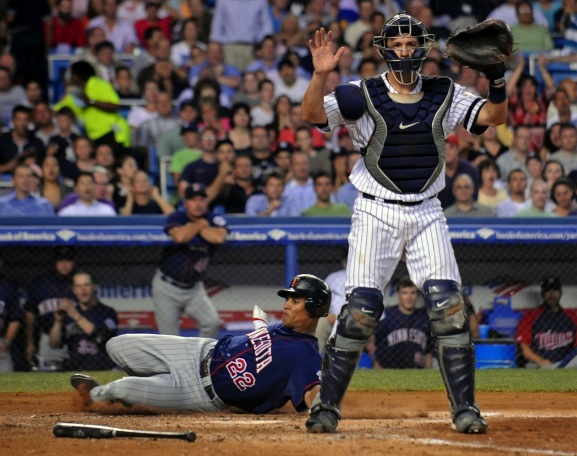 As we learned this afternoon, the Yankees will recall Chad Moeller to fill in as backup catcher. While some clamored for Jesus Montero to fill the spot, that just isn't in the cards. Donnie Collins makes that case very well, though it takes little more than common sense to know that the Yankees won't promote a 20-year-old who has struggled at AAA, who was recently benched for not hustling, and who is not ready to play defense at the major league level. The Yankees signed Moeller to play an emergency role, and that emergency has occurred. Yet his presence might help the lineup even after Posada's return.
When Nick Johnson hit the DL with wrist troubles, the Yankees had a few options. They could have recalled Juan Miranda from AAA to platoon with Marcus Thames at DH. That's what they ultimately did, but it was not the only option. The other was to add Moeller to the 40-man roster and use him as the backup catcher while Posada takes reps at DH against right-handed pitchers. At the time Posada was nursing a calf injury, so time at DH would have afforded him time to heal fully and move back behind the plate, where is bat is of more value, when he was completely ready.
The Yankees could use Moeller in a similar capacity once Posada returns from the disabled list. Since, as Carroll notes, Posada could still have trouble hitting right-handed, he would still serve as a DH against right-handed pitching, while Marcus Thames would still get reps against lefties. Posada would still be putting pressure on the toe when he runs the bases, but that won't be nearly the level of pressure he'd place on it by hitting right-handed and catching.
The only downside is that it means Chad Moeller has to play at least once a week, and that the Yankees become more dependent on Francisco Cervelli's maintenance of otherworldly numbers. The alternatives, though, aren't attractive either. They cannot afford to rush back Posada, but they also can't live for very long without his bat in the lineup. Keeping Moeller around would help solve both problems simultaneously. It's not efficient to carry two no-field DHs (just ask the Mariners), but it might be all the Yankees can do at this point.