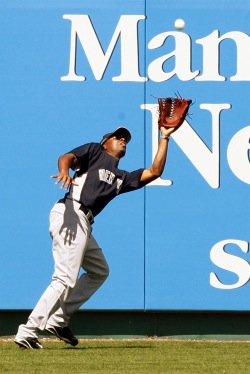 In Curtis Granderson, the Yankees acquired a young, talented center fielder with a track record of major league success. For him they traded Austin Jackson, a young, talented center fielder who has yet to record a major league at bat. The Yankees, in their attempts to contend now and contend in the future, thought the exchange a worthy one, though they didn't particularly like trading Jackson. Drafting him in the eighth round of the 2005 draft, the Yankees saw plenty of potential in the former two-sport star. Now it's the Tigers who will see how he ultimately develops.
Granderson's age, talent, and experience made him an attractive target for the Yankees. Since Jackson's ceiling approaches what Granderson has become, the trade made sense. Again, the Yankees need to balance winning now and winning later, and acquiring a 29-year-old center fielder who has OPS'd above .850 twice in his career fits that bill. They could have remained patient with Jackson, hoping he'd catch on as the club's center fielder in 2010, but there were enough concerns with his game to make them think that might be an unrealistic expectation.
Lynn Henning of The Detroit News spoke to Yankees' AAA hitting coach Butch Wynegar, who spent all season working with Jackson. While Wynegar heaped praise on the center fielder, he also noted that Jackson might not be ready for the bigs in 2010.
"He still is raw, still has a lot to learn, but he's an intelligent kid and a good athlete — and he wants to learn," Wynegar said. "I basically told the Yankees at the end of the year, if they were thinking about him being their center fielder this coming year (2010), I didn't know if he was ready yet."
The concern with Jackson, Henning notes, lies in his swing. Just after the trade, Steve Carter of Project Prospect laid out the concerns, noting issues with Jackson's stride and shoulders. These contribute to his lack of power and his struggles with off-speed pitches. But both Wynegar and Tigers' hitting coach Lloyd McClendon think Jackson can adapt his swing and find success at the major league level. He might struggle if the Tigers move forward with plans to make him the every day center fielder, but eventually most parties think he'll become a solid major league regular.
For the Yankees, the trade ultimately came down to timing. It sounds like they wanted to remain patient with Jackson, giving him another year in AAA, at least to start, to continue developing his game. But with a vacant outfield spot and nothing that attracted the Yankees on the free agent market, they explored trades. If Johnny Damon were under contract for one more year, Jackson would likely remain in the Yankees system. Even without Damon, perhaps the Yankees would even have pursued a trade for a corner outfielder if Wynegar and others thought Jackson would be ready for action in 2010.
The mandate to win now and win in the future means making tough decisions on promising young players. Other organizations might have attempted a different tactic to remain competitive in 2010 while allowing Jackson more time to develop. But when offered a 29-year-old All-Star center fielder, the Yankees felt they had to pounce. Jackson was an unfortunate casualty.
Photo credit: AP Photo/Keith Srakocic