By

So says Alex Rodriguez. The line strikes me as Eastwood-eque, though I don't think he's ever uttered those exact words (minus the "in New York" part) on screen.

Our $275 million dollar man says he'll reveal all…"when the time is right and I have a proper forum….It's important for my fans, for the New York Yankee fans, to realize exactly what happened from A to Z." · (7) ·
By

Well after all that bitching and moaning negotiating and stalling, The New York Post is reporting that Mariano Rivera will sign that overly generous three-year, $45 million contract. The 38 year old closer was upset that the Yanks wouldn't give him a fourth year, and he took offense when Hank Steinbrenner noted that pitchers Rivera's age aren't the wisest of investments. With this deal, the Yankees will have re-signed all of their own Type A free agents except for Andy Pettitte. These signings do not count against the Yanks' limit of three Type A free agents as teams are not penalized for keeping their own players. · (18) ·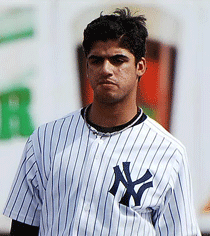 Reegie Corona
Pos: SS, 2B
Bats: Switch Throws: Right
Age, DOB: 21, 11/07/1986
AFL Stats: AVG .188 OBP .291 SLG .313
Background: The Yankees signed Reegie Corona (pronounced "Ree-Gee") as a 16 year old project during the July 2nd signing day back 2003. He was generously listed at 160 pounds and didn't have the strength that was needed to be a starting player in the minors so he spent the next year and a half getting ready for the full season leagues. He made the most of his time and started filling into his frame and in 2005 he made his debut with the Staten Island Yankees. He didn't hit much that year and was barely a blip on the prospect radars. However, in 2006 he was given an opportunity to fill in for an injured CJ Henry and he made the most of it by belting his first two home runs and had an average that hovered close to .400 during a 16 game stretch. From that day forward the Yankees haven't been able to take Corona out of the line-up. He's continued his hard work in the weight room and has added an extra 35 pounds of muscle to his frame. The Yankees took a risk with his projection as a 16 year old and that gamble seems to be paying off. Read More→
By

In what can only be described as a good sign, the Yankees, contrary to rumor, have not offered Mike Lowell a four-year deal to play first base in the Bronx. The Daily News has the story at the bottom of an article. The same article says Mariano Rivera will probably accept an overly-generous three-year, $45 million deal. That's awfully swell of him. · (8) ·
Just figured I'd drop a line that I'm filling in over at MLB Trade Rumors today. Come check it out.
Scott Patterson, he of the 77.1 IP, 45 H, 9 ER, 15 BB, 92 K line in 2007, was added to the Yanks 40-man roster yesterday. The chances of seeing the 28-yr old, 6′-7″, 250 lb former Indy baller in the Bronx next year just went up exponentially. Quick skinny: he's all fastball with a straight over-the-top delivery – the ball looks like it's dropping out of the sky. Not much of a breaking ball, so he'll have to be good with his fastball command. Sits at 91-92 with sink, but the downward plane makes it look like 97.
The 40-man roster has to be set Tuesday in regards to the Rule V draft. The biggest names the Yankees have to protect are Steven White, Marcos Vechionacci and Mike Gardner, but guys like Grant Duff, Matt Carson, Eric Hacker and Phil Coke are also eligible, just unlikely to be picked. Once the rosters are set, I'll look around and see if I can dig up a couple of guys the Yankees might target.
There are currently 4 spots open on the 40-man, although the Yanks need 2 spots if they plan on bringing Mo back and having Pettitte return. They could fill the roster up now and DFA someone in January or February to bring Pettitte back (later Sean Henn!), and/or  released Carl Pavano to free up another spot. They can't stick Pavano or Andrew Brackman on the 60-day DL until the season starts. I think they'll protect White and Gardner and risk it with Vech, but I never thought they'd protect Jeff Kennard like they did last year, so what do I know.
(hat tip to Chad Jennings)
Brett Gardner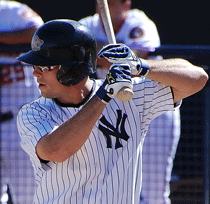 Pos: CF
Bats: Left Throws: Left
Age, DOB: 24, 8/24/1983
AFL Stats: AVG 343 OBP 433 SLG 380
Background: The book on Gardner would have you believe that he's a one dimensional slap-hitter that needs to outrun ground balls in order to get on base. That is simply not the case. According to Firstinning, he bunted in only 2% of his AAA appearances last season and his line drive rate was 18%. However, one area he needs to improve is being more aggressive early in the count. In the past, it seemed like his first objective was to draw a walk and if he got two strikes against him he would fight pitches off and hope that he gets another good pitch to hit. So his main goal heading into the AFL was to become a more aggressive hitter by looking for his pitch earlier in the count. This was very important for him to learn because most pitchers at the major league level will make him earn his way on base.
Offense: Gardner is the type of player that won't blow you away with his stats but when you watch him on a daily basis he can look like one of the most dominant players on the field. Read More→
Via The Big Lead – required sports reading, really – comes a tale of intrigue involving the Yankees Entertainment and Sports Network. According to Neil Best, Newsday's sports media commentator, the Yanks have banned SI.com's Tom Verducci from the YES Network because of his close ties to estranged former manager Joe Torre.
Last month, Verducci penned a very critical piece on the Yanks' treatment of Torre that was published just days before word came long that the two are working on a book. While I think YES should stomach the criticism, the ties between Torre and Verducci here blur the lines of journalist integrity. The relationship between sports writers and their subjects has always been cozy, and these co-writer situations like this always make me raise in eyebrow.
To replace Verducci, YES has turned to Jon Heyman for Sports Illustrated commentary instead.
By

From PeteAbe:

Karstens tossed seven innings in the World Cup quarter finals, striking out seven, walking none, and throwing 66 of 82 pitches for strikes.

So it's USA vs. Netherlands in one semi, and Japan vs. Cuba in the other. I'm not sure of the schedule. Maybe Karstens will have enough rest to pitch the finals? · (28) ·