By

According to reports from Tampa, something happened today. The Yankees offices received its delivery of water coolers. I kid you not. This is what the stalkers reporters are sending our way. What a farce. · (1) ·
I have no idea.
Hat tip to It's a Fly World. This is the last Red Sox picture I'll post today. I promise. Someone just tell the Yanks to hurry up and do something down in Tampa today…
AzFL Peoria (9-1 win over Mesa)
Brett Gardner: 1 for 4, 1 BB – 10 hits & 4 walks in only 6 games (.483 OBP)
HWB Honolulu (2-0 win over North Shore)
Austin Jackson: 0 for 1, 1 R, 3 BB, 1 SB – wow, a game like this was unthinkable for him a year ago
Bradley Suttle: 0 for 4, 1 K – hitting .086
Venezuela Winter League box scores haven't been posted yet. I'll try to get an update posted later today (assuming the box scores get posted at some point), but no promises.
VWL Update: (thanks to commentor Yanks26 for the heads up)
Justin Pope: 2 IP, 0 H, 0 R, 0 ER, 1 BB, 3 K, 0-3 GB/FB
Marcos Vechionacci: 1 for 3, 1 R, 1 HR, 4 RBI, 2 BB – both walks were intentional…fear the Vech (.455-.618-.818 in his homeland)
Edwar Gonzalez: 0 for 4, 1 K
If you're bored at work, take a quick scroll through the rosters for some of the VWL teams, some of those names are big time blasts from the pasts.
Your wish is our command. Submitted for your approval, it's Shorty McSlappy, the Red Sox second baseman. This photo comes to us courtesy of The Boston Globe. The Red Sox and their fans should never complain about A-Rod's 2004 ALCS play again.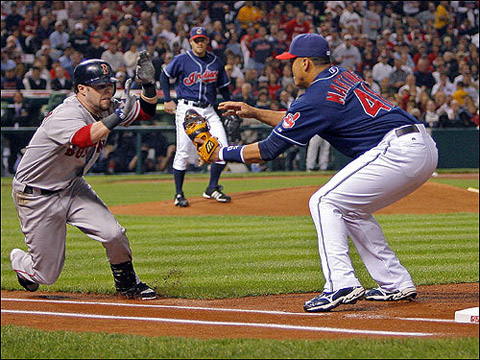 By

Dustin Pedroia just tried to slap the ball out of Victor Martinez's hand as he went by on the first play of the game. I kid you not, rewind it on your DVR and check that shit out. It's a good play though, because he's a "gamer" and "gritty" and a "Red Sox" and "not A-Rod."

And for those of you who witnessed Kevin Youkilis reading the lineup, tell me he doesn't look and sound like someone you'd meet online at 3am. · (38) ·
So it took Yankees beat reporters until 1 p.m. to figure out that the organizational meetings wouldn't be at Legends Field. It goes hand in hand with what Max Kellerman said about baseball writers today (and I'm paraphrasing): They're bringing in people with IQs in the 90s, which for them are geniuses. What did the reporters do after they finally figured out that they were in the wrong place? Started stalking, of course. Ed Price on what ensued:
"We're seeking out all of owner George Steinbrenner's usual haunts in the Tampa Bay area, including restaurants and hotels."
Hey, Ed. If you do that to your ex-girlfriend you'll end up with a paper requiring you stay 500 feet away at all times.
Anyway, Howard Rubenstein announced the outcome of today's proceedings, and it's a doozy. So what's in the box?
NOTHING! ABSOLUTELY NOTHING! STUPID! YOU'RE SO STOO-PID!
Hopefully at least one of you gets that.
By

While the report about Don Mattingly's supposedly not being ready to manage makes the rounds, Mattingly's agent sees things a bit differently. Aware that such an equivocal statement from a potential managerial candidate could be career-threatening, Ed Schulte, Mattingly's agent, said that The Star-Ledger's report is completely false. Don Mattingly is ready and willing to manage the Yankees. I guess. · (5) ·
AzFL Peoria Javelinas (9-3 los to Mesa) don't worry, JP will be back soon…
Brett Gardner: 1 for 4, 1 R, 1 K, 1 SB – hit in every game he's played so far…on base 12 times in 5 games
Juan Miranda: 1 for 4, 1 R, 1 HR, 1 RBI, 2 K – 6 hits (including a double & 2 jacks) & 6 RBI in his last 3 games
Reegie Corona: 0 for 4, 1 K
Steven White: 1.1 IP, 1 H, 4 R, 4 ER, 2 BB, 2 K, 1 WP, 1 HBP – oi
Steven Jackson: 2 IP, 3 H, 2 R, 2 ER, 0 BB, 2 K – 21 of 29 pitches were strikes (72.4%)
Kevin Whelan: 1 IP, 2 H, 2 R, 2 ER, 2 BB, 1 K – despite all his control issues this year, dude had 96 K & a .159 BAA in 82.1 IP
HWB Honolulu (4-3 loss to North Shore)
Austin Jackson: 1 for 4, 1 R, 1 2B, 1 RBI, 1 K
Bradley Suttle: 1 for 4, 1 2B, 1 K, 1 E (throwing) – third straight game with a double after going hitless in his first 8 games
Anthony Claggett: 2 IP, 1 H, 0 R, 0 ER, 1 BB, 1 K
Venezuela Winter League had no games scheduled. The Dominican Winter League season kicks off Wednesday, but the rosters haven't been announced. I never really followed the league, so I don't have any idea of what kind of players typically play there. I'm gonna guess that you'll see names like Jesus Montero, Kelvin DeLeon, Abe Almonte & Jairo Heredia, but again, this is nothing more than a guess.
Update: Now that I think about it, I remember hearing that Robbie Cano hit like, .380 in the DWL last year, so I guess the league does feature both big leaguers and prospects. We'll find out in 24-hours anywho.
By

In a piece about the imminent Yankee meetings in Tampa, Ed Price of The Star-Ledger dropped in an interesting tidbit about the recently-fired pitching coach Leo Mazzone. According to a source inside the Yankees' camp, this week's discussions will include a bit about Leo Mazzone. The Yanks were interested in Mazzone two years ago, and Mazzone's manager has indicated that Leo is again interested in working for the Bombers. With a few young pitchers on the horizon, this is a match made in baseball heaven. · (18) ·