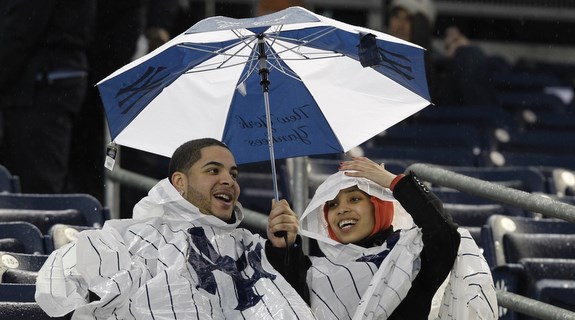 It's raining in New York, on and off like it has been pretty much all day, and already the Yankee game has been delayed. It's expected to stay that way well into the night as well. Whether or not they're able to get this game in remains to be seen, but it'll be interesting to see how quickly they call it (if they do). They had a quick hook against the Twins last week (maybe 45 minutes), which was odd since they don't come back to New York again this season. The Orioles will be back numerous times, so there will be plenty of chances to make this game up if it does get called.
Here's the lineup, Joe Girardi's standard arrangement…
Brett Gardner, LF
Derek Jeter, SS
Mark Teixeira, 1B
Alex Rodriguez, 3B
Robinson Cano, 2B
Nick Swisher, RF
Jorge Posada, DH
Curtis Granderson, CF
Russell Martin, C
A.J. Burnett, SP
It's the first My9 game of the season, and first pitch had been scheduled for 7:07pm ET. The Yankees, though, have already announced a delay. We'll update this post as we receive more information. Enjoy the game, if and when it happens.
Pedro Feliciano Update: For the first time since being shut down with a strained rotator cuff, Feliciano played catch today, an obvious step forward in his rehab. Hopefully he's no more than two weeks away from rejoining the big league team.
Site Notes: Please consider participating in our 2011 Pledge Drive … Also, please take our completely anonymous reader demographic survey if you haven't already … Lastly, please vote for Alex Kresovich's "The Return" track for the NBA2K12 by clicking "Like" on Facebook. Alex put together the intro music for our podcast.
UPDATE: The game has been called. That was quick. No word on a makeup date just yet, but I'm sure we'll find out eventually. Go ahead and use this sucker as your open thread instead.