Besides having the coolest name in baseball, dude's got the sickest stuff I've seen in a long time. He just struck out Dustin Pedroia on a 98 mph sinker that bounced a foot in front of the plate. Wowza.
Little known factoid about the guy: when the Indians signed him for $25,000 out of the Dominican, he was a 6'2″, 120 lb 16-yr old with no teeth – they'd all rotted out from eating sugar canes his whole life. Not all aces come as prepackaged hype machines, you know.
This guy's just ridiculous, and it's so much fun to watch. Comment on the game here if you please.
By

Tip o' the hat to commenter yankz for pointing this story out. It appears that Joba Chamberlain will, in fact, be a starter in 2008:

Speaking with a reporter from The Associated Press, owner George Steinbrenner's son, Hank, confirmed the news on Chamberlain — who allowed just one earned run during 24 innings in the regular season as a setup man for Mariano Rivera. This decision is independent of Rivera's status as a potential free agent.

That's always good to hear. · (15) ·
After reading the comments on the fork in the road post, I thought I'd follow up a bit. I enjoyed the discussion, and thought some good ideas came out of it. I really believe that the more we talk about these issues, the more we'll all learn. Remember, I'm no expert. I'm some dude who thinks about baseball a lot and posts his thoughts for public viewing. You guys are the crux of it all. You call me out when I say something stupid, and you lend different ideas to the ones I present. That's why this site works so well.
Honestly, my biggest problem with what I wrote is how I presented it. It was written over the course of a couple of days, and as I progressed the ideas kind of shifted. In essence, the beginning didn't mesh with the end, and the middle didn't do a good job of transitioning. What follows is what I think I should have written — only better, because it takes the discussion we had into consideration. And I'm sorry, but it's going to be another long one. I'll leave out the pictures this time.
As I mentioned in my disclaimer, the Yankees would never take the more radical path. They have the resources to stay in contention, so they're going to continue along that path…if they can. This is where I'll defend the "gut the team" notion. The essence is simple: The Yanks might not have much of a choice in the matter.
By

Long opposed to instant replay, Commissioner Bud Selig said today that he is open to the idea of fielding a recommendation from the General Managers on whether or not to implement the technology in the sport. I've been on the record in favor of instant replay in certain situations. Like many issues, people on both sides of the coin here feel very strongly about it, and it'll be interesting to see if this goes anywhere. · (4) ·
HWB Honolulu (10-4 win over Waikiki)
Ajax: 2 for 4, 1 R, 1 3B, 1 RBI, 1 K – 10 hits & 6 RBI in his last 6 games
Bradley Suttle: 1 for 4, 1 R, 1 2B, 1 K – sighs of relief all around…he's now 1 for 25 in Hawaii
George Kontos: 5 IP, 4 H, 1 R, 1 ER, 1 BB, 5 K, 3-6 GB/FB – knocks that ERA down to 4.50
JP's AzFL update is here.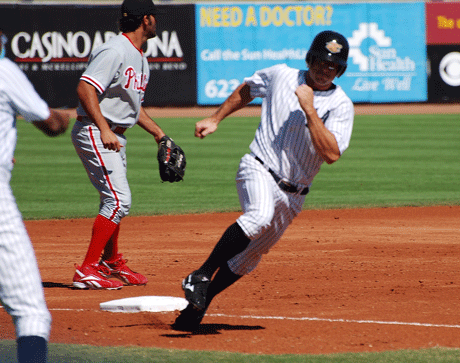 The Javelinas beat the Saguaros 8-3
Brett Gardner: 1-3, 1 Triple, 2 BB, 1 K, 1 R
Reegie Corona: 1-3, 1 Double, 1 BB, 1 K, 1 R
The Javelinas are now 3-1 on the season after another convincing victory. They're batting .328 as a team and are led by the top two hitters in the league, coming into today's game. After today's results, Gardner is hitting a cool .500 through the first four games of the season.
By

A-Rod, according to The Post, may drop somewhere between $39 and $41 million on a seven-room townhouse on East 80th St. between Fifth and Madison Aves. If he's spending that much money on an Upper East Side pad, does he really plan to leave New York? · (16) ·
By

This one comes from Tuesday. Don't know how we missed it. Peter Gammons reports that the Yanks have already had talks regarding Johan Santana (subscription required). The conversation was based around Chien-Ming Wang. Gammons reports no conclusions, but if I'm the Twins GM, the first letter of my response would have started with "F," and the second word would have been "off." · (24) ·