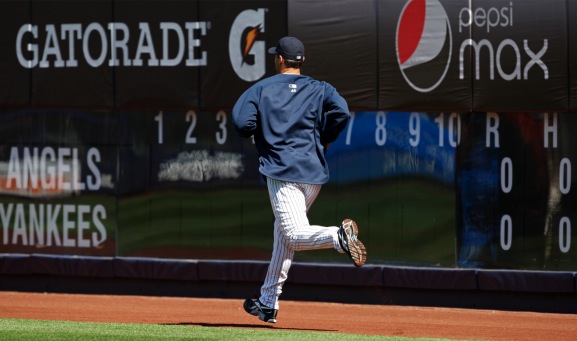 With their loss last night the Yankees have dropped two in a row for the first time in this young season. They'll get a chance to recover today with Andy Pettitte. It seems fitting that his turn in the rotation happens to fall today. The Yankees announcers usually mention this, noting how good Andy has been during his career in these situations.
The offense could use a bit of a jump start today. Through their first 12 games they scored 66 runs, or 5.5 runs per game. In their past four they've managed 16. They'll have to do it against Joel Pineiro, who held them to three runs last time out. That time they sent out the A lineup and managed just seven hits and two walks. This time they'll put out a variation of the B lineup. Maybe even C, since not only is Ramiro Pena getting the start at third, but Francisco Cervelli gets the start behind the plate. Maybe their collective scrappiness can rub off on the rest of the lineup.
Lineup:
1. Derek Jeter, SS
2. Brett Gardner, LF
3. Mark Teixeira, 1B
4. Alex Rodriguez, DH
5. Robinson Cano, 2B
6. Nick Swisher, RF
7. Curtis Granderson, CF
8. Ramiro Pena, 3B
9. Francisco Cervelli, C
And on the mound, number forty-six, Andy Pettitte.
Injury Note: Nick Johnson is out of the lineup today because he's suffering from a stiff back. Joe Girardi told reporters Johnson may have aggravated the injury yesterday when he took too much batting practice. The Yanks' skipper expects the slumping DH back tomorrow but didn't commit to keeping him in the two hole going forward.