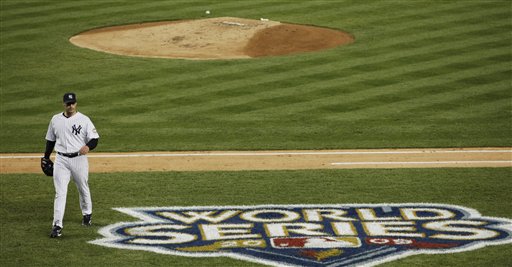 The opening series of the season naturally brings plenty of firsts, and the Yankees and Red Sox were able to beat everyone else to punch for a lot of things because they played Sunday night. Jorge Posada picked up the 2010's first hit, homerun, and run all on one play, then one batter later he and Curtis Granderson became the first teammates of the year to go back-to-back. Nick Swisher, of all people, hit the season's first single, impressive since he had more extra base hits (65) than singles (59) last year. Nick Johnson (who else) drew the first walk. David Robertson blew the season's first save, and an inning later Chan Ho Park blew the second. Getting to the point, tonight will the season's first rubber game, as these bitter rivals will both try to win the series tonight.
Andy Pettitte will take to the mound after a Spring Training filled with rainouts and simulated games, making his first start that counts since the day he won the World Series clincher. The 37-year-old is no stranger to Fenway or the Red Sox hitters, so there's no surprises on his end. He'll be opposed by Boston's latest bargain bin pickup, former Angel John Lackey. The Yankees are certainly familiar with the righty, having hung seven runs on him in 12.1 innings (two starts) in the ALCS last year. Mark Teixeira (.388-.464-.551) and Jorge Posada (.414-.469-.586) completely own Lackey, and you've got two other players with .900+ career OPS's against him in Derek Jeter and Nick Johnson.
As much as we bemoan Joe Girardi's non-stop bullpen tinkering, the advantage is that everyone is fresh and ready to go tonight. That includes Al Aceves, who threw just 23 pitches in his two innings last night. If push comes to shove in the late innings, I'm all but certain we'll see Joba Chamberlain out there again.
Anyway, here's tonight's lineup…
The Cap'n, SS
OBP Jesus, DH
Robo-Tex, 1B
A-Rod, 3B
Can't hit with RISP, 2B
Old catcher who can't block a pitch to save his life, C
The new guy who can't hit lefties, CF
He's just a fourth outfielder, RF
The fastest white guy in America, LF
And on the mound, the Demon from Deer Park, Andrew Eugene Pettitte.
First pitch is scheduled for 7:10pm ET, and can be seen nationally on ESPN2. In the NY area, it'll be on YES. Enjoy.