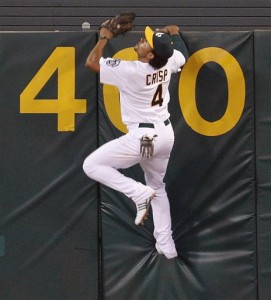 With the exception of next week's All Star Game, the only way the Yankees are going back to California this year is in the playoffs. You gotta love getting this games over for selfish reasons, meaning no more of these damn 10pm ET start times. By this time next week, it'll all be over with.
The Yanks already have this series in the bag and are essentially playing with house money tonight, but that doesn't mean it's not a big start for A.J. Burnett. The enigmatic righthander started to right the ship last time out following a dreadful June, but he's not out of the woods yet. The A's hardly have a powerhouse offense, so tonight gives A.J. a chance to build some confidence and hopefully start a mid-summer streak like the one that saw him go 8-2 with a 2.08 ERA and .209/.316/.308 batting line against last year.
Here's tonight's starting nine, which gets really ugly after the top five…
Jeter, SS
Swisher, RF
Teixeira, 1B
A-Rod, 3B
Posada, DH
Thames, LF
Cervelli, C
Gardner, CF
Pena, 2B
And on the mound, it's A.J. Burnett.
Another 10:05pm ET start, with YES carrying to broadcast. Enjoy.