By

You know how the Yankees are supposedly paying for their own stadium. Not quite, says Neil deMause in one of the few articles worth reading in the Village Voice these days. According to tax documents, among those items the Yanks asked for reimbursement from the city were crystal baseballs and bar tabs. And that's just scratching the surface. Read the article. If you care about this obviously ridiculous situation, it's pretty outrageous. · (2) ·
Today really sucks. Everywhere else, the playoffs begin. The Red Sox face the Angels; the Rockies and Phillies square off; and the Diamondbacks and Cubs begin their battle. But the Yankees – the only playoff team in 2006 to make it in 2007 – have to wait another 24 hours before they begin a thrilling set against the Indians.
I'm going to do a two-part playoff preview post. The first post – today's installment – focuses around why the Yankees won't beat the Indians. The next part – tomorrow's bit – will discuss why the Yankees will beat the Indians. I can make compelling cases for both, and that, folks, is what makes October grand.
So powered by a pretentious sentence right here, on to the predictions:
If you're looking to purchase tickets for this weekend's ALDS games at Yankee Stadium and plan on using StubHub, go through this link (or click the ad at right). You get your tickets, and we get a small commission that allows us to cover some costs of hosting and maintaining this site.
HWB Honolulu (3-1 loss to North Shore)
Austin Jackson: 1 for 4, 1 K, 1 SB – great to see him playing everday
Anthony Claggett: 1.1 IP, 0 H, 0 R, 1 BB, 2 K, 1 WP, 1 E (throwing) – allowed an inherited runner to score, so he gets stuck with the blown save
No other Yankee farmhands played.
I got the latest issue of BA's magazine in the mail yesterday, and it contains this season's All-Star Team for the entire minors leagues. That means all of the minors. As in all 6 affiliates of all 30 teams. On the team you'll find five pitchers (4 starters & a reliever), and of those five, THREE are Yankees (Joba, IPK & Edwar). Redonkulus.
But the Yankees have no farm system.
Mets first baseman Carlos Delgado, avowed uniform collector, was spotted in the Shea clubhouse carrying the uniform of the good New York team today. Needless to say, Mets fans are not too happy with Delgado right now.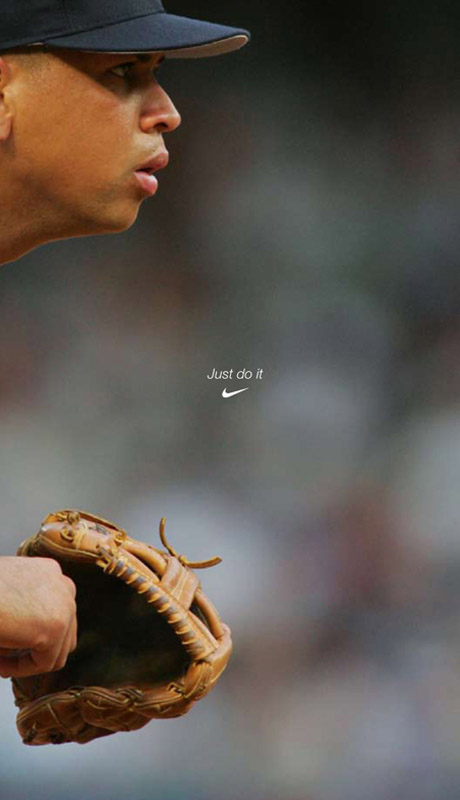 Yesterday evening, I received an e-mail from an assistant account executive working on a Nike campaign. In an attempt to drum free advertising – it worked here and here and, of course, right here – Brandon wrote to me about the 80-foot-tall billboard of Alex Rodriguez going up today at the corner of 34th St. and 7th Ave.
Now, that billboard, shown above, is pretty huge. And it's pretty much Alex Rodriguez in your face just in case New York needed a reminder that A-Rod is playing in October again. The billboard exhorts the Yankees "Just Do It" this October. But is that encouragement for the team or a disgusted plea of a fed-up fan base? Really, just do it already, A-Rod.
Meanwhile, in The Times, Tyler Kepner looks at the expectations resting on A-Rod's shoulders this postseason. A-Rod, we all know, hit .314 this year with 54 home runs and 156 RBI (or one every 9.1 innings this season).
Kepner's piece runs over familiar ground. The rest of the team has to put A-Rod in a position to succeed; he's working harder this year and ignoring the criticism; he's laughing off mistakes and not letting every little thing get under his skin; he's not going to change his hitting approach in October; etc., etc., etc. It's something we've heard ad nauseum this year.
If that's not enough for you, then scoot on over to ESPN.com where the Worldwide Leader has just unveiled a Howard Bryant-penned missive on Alex Rodriguez. Entitled The King of Gotham? the piece is a challenge to Alex Rodriguez. Rise to the occasion, Bryant says, and bring home the gold to New York. The world will be yours.
So here are again in October, and the attention is squarely on A-Rod. Like or not, A-Rod has to follow up his 54-home run season with a stellar October. The Yanks could lose in the first round, but if A-Rod hits, he will bear no weight for another early exit from the postseason.
Is this fair to A-Rod? Of course not, but that's the price he has to pay for a $25-million annual salary. You can bet this year that A-Rod won't get dropped from the four-hole. It's been his slot all year, and Joe Torre isn't about to mess with success.
But that whole opt-out business will come into play too. The Yankees need A-Rod. They need him this week; they need him next week; they need him next year. In the current state of baseball in New York, anything short of a stellar postseason against some of the best pitchers in the game will be a disappointment for A-Rod and the Yanks. Let's hope it doesn't happen.
Carmen Angelini   |   SS
Background
Born and raised in Lake Charles, LA, Angelini attended budding baseball powerhouse Barbe High School. Even though he's a natural shortstop, Angelini played third base for the Buccaneers his junior year in deference to the incumbent Josh Prince. Once Prince graduated (he went on to play sparingly for Texas before transferring to Tulane) it paved the way for Angelini to take over full-time shortstop duties.