Coming off Friday's thrilling come-from-behind win, the Yankees had every reason to feel good about themselves when they showed up to the park for Game Two on Saturday. The Rangers, on the other hand, had every reason to doubt themselves, but to their credit they put it all in the rear-view mirror and jumped all over the Yanks to tie the ALCS at one in blowout fashion.
A Hughes Disappointment
Two games, two terrible performances by Yankee starting pitchers. The bullpen and offense was able to bail CC Sabathia out in Game One, but no such luck for Phil Hughes in Game Two. Texas forced the issue in the very first inning, with Josh Hamilton and Elvis Andrus combining to literally steal a run (more on that in a bit) while Hughes struck out the side. He looked strong in the first inning, very strong in fact, but boy were we wrong.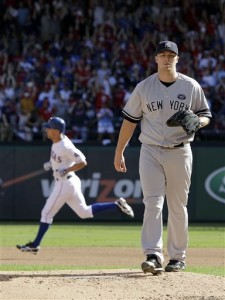 The Rangers scored another two runs in the second, the first on a David Murphy solo homer, the other on a Michael Young double down the rightfield line following singles by Mitch Moreland and Andrus. The two runs were actually the two largest WPA swings of the game, with Murphy's homer coming in at +.092 for Texas, Young's double +.083. A three run deficit in the second inning isn't the end of the world, the Yanks proved that in Game One, but Hughes' pitch count was already over 40 and the Rangers' batters were making nothing but solid contact.
Texas added another pair of runs in the third when three of the first four batters of the inning – Nelson Cruz, Murphy, and Bengie Molina – doubled. Hughes managed to escape that inning and throw a scoreless fourth, but Joe Girardi curiously sent him back out for the fifth with his pitch count approaching 90. Cruz led off the inning with a double and Ian Kinsler followed with a triple, and that was it for young Mr. Hughes.
The final line is ugly (4 IP, 10 H, 7 R, 7 ER, 3 BB, 3 K, 1 WP) but even more infuriating was Hughes' inability to put batters away with two strikes. Seven (seven!) of Texas' ten hits off Phil came with two strikes, and he allowed runners to reach scoring position in every inning but the fourth. The Rangers fouled off more than a quarter of his 88 pitches, unsurprising when 68 of those pitches were fastballs. Hughes was absolutely dreadful, worse than Sabathia was the day before. He gave his team basically no chance to win.
Stranded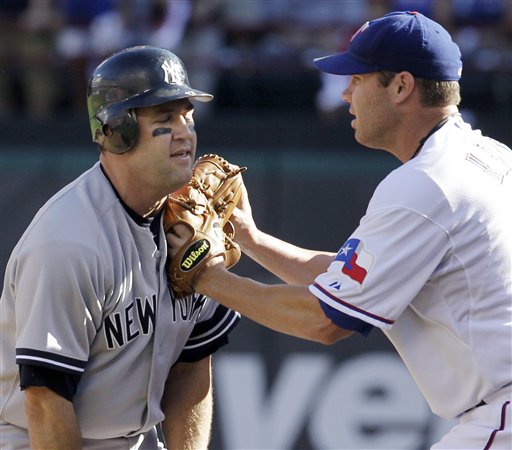 It didn't feel like it when the game was in progress, but the Yankees had a few opportunities to push some runs and just didn't get it done. They left two runners on in the second, third, sixth, seventh, and ninth, plus one runner in both the fifth and eighth innings. Of the seven (!!!) walks issued by Rangers' pitchers, zero came around to score. All told, the Yanks left a dozen runners on base and had just one hit in eleven at-bats with runners in scoring position, a single by Lance Berkman who got thrown out foolishly trying to stretch it into a double. They had opportunities, but just couldn't cash them in.
Robbie Cano Is BOOM!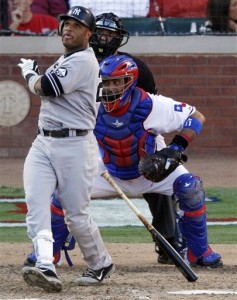 It wasn't all bad for the Yanks' offense; Robbie Cano was a one man wrecking crew all afternoon. He ripped a line drive in his first at-bat that Nelson Cruz against the wall, then doubled over Josh Hamilton's head his next time up (he came around to score the Yanks' first run of the game), then capped it off solo homer into the second deck in his third trip to the plate (the only other run they'd score). Cano also made the final out of the game, a rocket to the opposite field that Cruz somehow managed to catch on the run on the warning track. I tweeted that if the game was played at Yankee Stadium, Cano would have had three homers, and that was only semi-hyperbolic. Those first three balls were just crushed.
Leftovers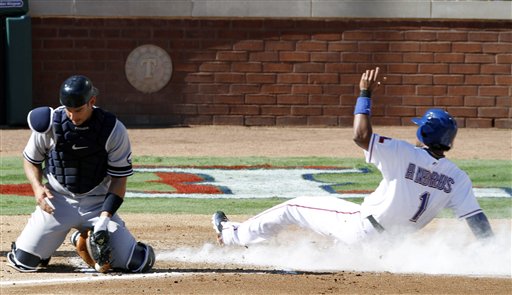 Two stupid mistakes on the Rangers' first run, when Andrus stole home on Hamilton's attempted steal of second: Jorge Posada actually throwing through to second with the speedy runner on third, then Cano not tagging Hamilton for the out. The run probably would have scored anyway, but at the least inning would have been over. Hamilton was intentionally trying to get in a run down, take the free out. Still, that's a Little League play. Posada has to get his head out of his ass.
No excuses, but I'm not sure why Hughes was sent back out for the fifth. Yes he had just thrown a very good fourth inning, but he was clearly laboring and the bullpen was full of rested relievers with the day off tomorrow. He allowed the double and triple before giving way to Joba Chamberlain, who nearly escaped the jam with a pair of strikeouts before Moreland slapped a grounder through the left side. I thought Joba looked extremely good, with a fastball that bumped 96 and a slider that garnered two swings-and-misses for strikeouts.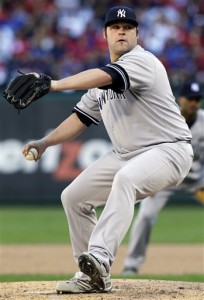 In fact, the entire bullpen as a whole was strong yet again. They combined to throw four innings, allowed just two hits, walked three (one on purpose), and struck out six. Sergio Mitre even made an appearance, his first in 13 days. If nothing else, Joba, David Robertson, and Boone Logan were able to get some tune-up work in after the long layoff.
Every Yankee in the starting lineup reached base at least once except for Brett Gardner, who went 0-for-2 before being lifted for a pinch hitter. Curtis Granderson saw 27 pitches in just four trips to the plate. They also forced rookie closer Neftali Feliz to throw 30 pitches in the ninth (just 16 strikes), which has to put a little doubt in every Rangers' fan mind should he pitch in an actual high leverage situation this series.
I'm not going to make a big deal out of it because it's a cop out, but Tony Randazzo's strike zone was awful. Here's the scatter plot if you don't believe me. The green markers are balls, the red called strikes.
One last thing to remember: splitting the first two games on the road is generally considered a success. Things seem worse than they really are because Sabathia and Hughes were awful, but those kinds of efforts are the exception for those two, not the norm. The Yanks grabbed homefield advantage from Texas and now head home to play the next three in Yankee Stadium. Short of winning both games in Arlington, this is the best situation they could have hoped for.
WPA Graph & Box Score
No comeback this time. MLB.com has the box score and video, FanGraphs all that other stuff.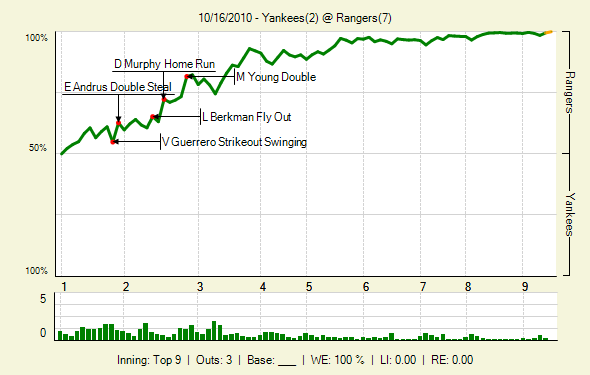 Up Next
It's a best-of-five series now, but the two teams will take Sunday off before resuming play at 8:00pm ET on Monday. Andy Pettitte goes against Cliff Lee in a matchup of lefties.