Yesterday's game was an almost complete pleasure. The Yankees received their World Series rings with Hideki Matsui in the park. They hit around Ervin Santana and by the ninth inning had put seven runs on the board. All that remained were the final three outs. Joe Girardi tasked David Robertson with the assignment, and given what we've seen of Robertson so far in his young career I doubt anyone expected what came next.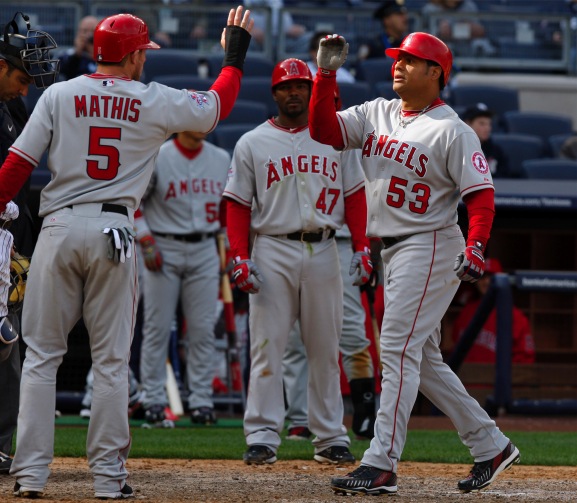 Robertson allowed three straight singles to load the bases with none out. The first two were a bit questionable, a weak grounder that neither A-Rod nor Jeter could field in time to get Howie Kendrick. The next batter, Jeff Mathis, laid down a bunt that Robertson hesitated in fielding, resulting in another single. Brandon Wood, batting under .100 at that point, singled to right in the next at-bat. Luckily, Kendrick did not score on the play. After a strikeout of Erick Aybar, though, I thought Robertson would get out of the inning with minimal damage.
That, of course, did not happen. Bobby Abreu crushed a fastball over the right field fence, plating four runs and putting his team within two. With the save situation in effect the Angels had little chance. They had just two outs remaining and had to face Mariano Rivera. He made quick work of Torii Hunter and Matsui, capping the Yankee victory, but the bit about Robertson still stung a bit. How did he let the game get away from him so quickly?
Instead of focusing on the why, though, after the game I wondered more about the what. Namely, the sequence of events that led to the Angels' four runs. Robertson had allowed three singles and a home run in succession. How many pitchers had actually done that before? I thought it rare, since a runner on second will score on a good percentage of singles. Thankfully, there's a rough way to check on that. I headed over to Play Index and ran the linked query. To recount:
I set hits to equal four, runs to equal four, and home runs to equal one, with the IP being a third of an inning or less. I also set extra base hits to equal 1*HR. That way I ensured that the three other hits were singles, meaning it was most likely that the home run scored all of the hitters who had singled. The only thing I couldn't set, due to Play Index's limited input fields, was limit walks to none. I accomplished that by sorting the results, though.
Since 1920, only 34 pitchers had experienced such a sequence of events. Thirteen of those failed to record an out. The other 21 got through a third of an inning, though only five of them accomplished that with a strikeout, as Robertson did. This information, while interesting, does not represent the oddest item I found on the list. What really stuck out was one name: Mariano Rivera.
On September 4, 2004, the Orioles visited the Stadium, sending Sidney Ponson to the mound to face Mike Mussina. The Yanks, for whatever reason, could not hit Ponson. He pitched a complete game two-hitter, walking just one. Mussina didn't fare so poorly himself, finishing seven innings while striking out eight. He allowed just two runs, but when the other pitcher is going as well as Ponson it's not good enough for the W. In any case, Torre wanted to keep the game close. He brought in Tom Gordon, who pitched a scoreless eighth. Then, in order to preserve the comeback possibility in the bottom of the ninth, he brought on Mo.
Here's why I think Robertson's sequence was a bit rarer than Play Index indicates. Mo actually gave up the home run to lead off the inning, to Rafael Palmeiro. Javy Lopez and David Segui followed with singles, and then Jay Gibbons sacrificed them to second and third. Larry Bigbie singled home Lopez, and that brought Torre out of the dugout. He sent in Bret Prinz to clean up the mess, but Brian Roberts immediately homered, bringing home Segui and Bigby and leaving Mo charged with four runs.
If anyone knows of a better way to check on the single-single-single-home run sequence, please let me know. We know that, at most, it has happened 33 times since 1920. I have a feeling that the actual number falls a bit below that.