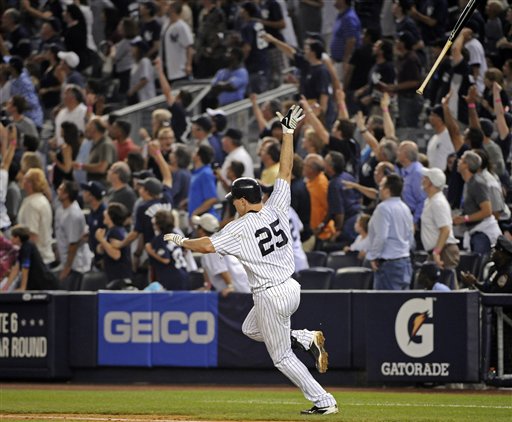 It's been what, two and a half months since the Yankees last played the Red Sox, and obviously a lot has changed since then. Javy Vazquez, tonight's starter, has done a complete 180 and been the team's best and most consistent starter since that series. The Yanks have added a few pieces, most notably Lance Berkman and Kerry Wood, and both Jorge Posada and Curtis Granderson have returned from the disabled list. Mark Teixeira is back from the dead, ditto the bullpen.
The Red Sox, meanwhile, have lost Dustin Pedroia, Kevin Youkilis, and Jason Varitek to injury. Jacoby Ellsbury is back though, same with Josh Beckett. Most importantly, the Yanks were three games back in the division at that time. Now they're on top by half-a-game. A slim margin indeed, but I'll take it. Boston, meanwhile, is six full games back in the division and in need of a huge surge this month if they want to make some noise in a playoff race.
On this very date last season, these same two teams kicked off a four game series in Bronx, and I'm sure you remember what happened. The Yanks won all four games, including that epic 15-inning scoreless game, effectively burying the Sox and claiming the top spot in the division for good. I'll happily take a repeat of that, and that starts with a win tonight.
Here's the lineup…
Jete, SS
Swish, RF
Tex, 1B
A-Rod, 3B
Robbie, 2B
Berk, DH
Grandy, CF
Cerv, C
Gardy, CF
And on the bump, it's Javy Vazquez.
First pitch is scheduled for a little after 7pm ET, and you can watch on either My9 locally of MLB Network national. Enjoy the game folks.