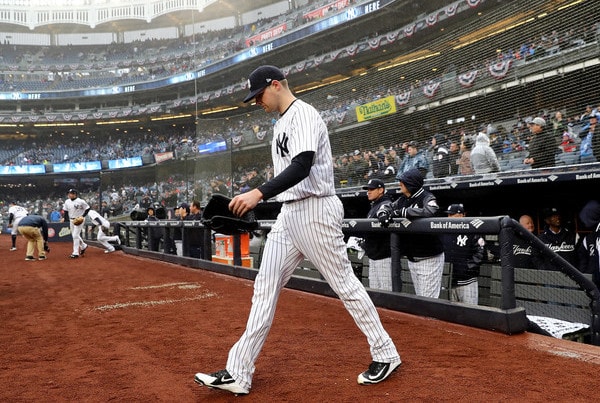 Once again, the Yankees are looking to climb back over the .500 mark. They have been no more than one game above or one game below .500 since they were 4-2 on April 4th, after the quick two-game sweep of the Rays. The Yankees come into today at 9-9 with a +1 run differential. They've performed like a .500 team through and through.
Now, to be fair, the offense has not been a problem even with Giancarlo Stanton and Gary Sanchez starting slow. The Yankees are averaging 5.50 runs per game, fifth most in baseball. They've also allowed 5.44 runs per game, fifth most in baseball. It's 6.89 runs allowed per game over the last nine games. I feel like a broken record. The Yankees have been terrible at preventing runs. The pitching and defense must improve. Today's a good day to start. Here are the lineups:
New York Yankees
1. LF Brett Gardner
2. RF Aaron Judge
3. SS Didi Gregorius
4. DH Giancarlo Stanton
5. CF Aaron Hicks
6. 1B Neil Walker
7. 3B Miguel Andujar
8. C Austin Romine
9. 2B Ronald Torreyes
LHP Jordan Montgomery
Toronto Blue Jays
1. 1B Steve Pearce
2. LF Teoscar Hernandez
3. 3B Yangervis Solarte
4. DH Kendrys Morales
5. CF Kevin Pillar
6. C Luke Maile
7. SS Aledmys Diaz
8. RF Randall Grichuk
9. 2B Lourdes Gurriel Jr.
RHP Marcus Stroman
For the first time in a long time, the Yankees will play under the sun today. It's still on the chilly side and windy, but upper-50s is better than mid-30s. Today's game will begin shortly after 1pm ET. YES and MLB Network will have the broadcast. Enjoy the game.
Roster Move: In case you missed it earlier, the Yankees have placed Adam Warren on the 10-day DL with a right back strain. Jonathan Holder has been called up.