When I said Aroldis Chapman could use the weekend off to rest, I didn't mean like this! The Rays shut the Yankees out 4-0 on Saturday afternoon. First set of back-to-back losses since May 22nd and 23rd against the Rangers, and their first series loss since that same Rangers series. The Yankees are still 15-2-3 in their last 20 series. I'll take it.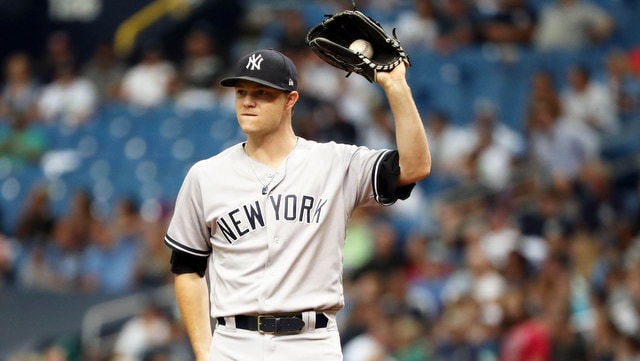 Sonny Settles Down
Two innings into Saturday's game, it looked it like was going to be another one of those Sonny Gray starts. He was falling behind in the count, leaving pitches out of the plate, and giving up loud contact. The result: The Rays went 5-for-8 (.625) with three doubles and a sacrifice bunt — Gray made a nice play to get the out when Mallex Smith tried to bunt for a hit — the first time through the lineup, which led to three runs. Three runs before the fifth out was recorded.
It was trending toward a disaster start and then … Gray settled down? Didn't really see that coming. After walking Matt Duffy with one out in the second inning, Gray retired the next 15 batters he faced and was sharp. Good fastballs in the on hands, empty swings on breaking balls darting out of the zone, lots of soft contact. Only four of those 15 batters managed to hit the ball out of the infield. Something clicked and Gray was able to pitch in the seventh.
Sonny's final line: 6.2 IP, 6 H, 4 R, 4 ER, 1 BB, 7 K on 101 pitches. His afternoon — and the run of 15 straight batters retired — ended when Willy Adames poked a solo home run juuust inside the right field foul pole. That solo homer is the difference between a solid start and a bad start. Alas. The 15 straight retired was nice. I'm at the point where I need to see Gray to turn it around to believe it'll happen. One step forward, one step back all season.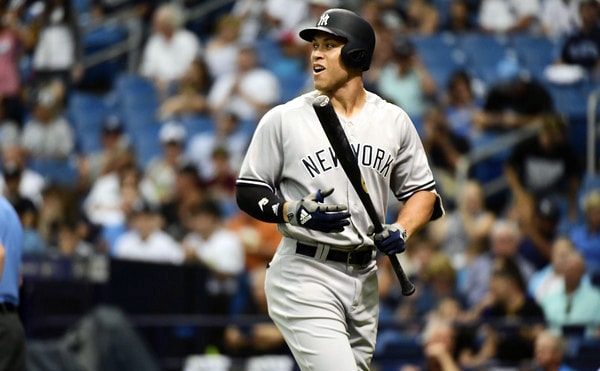 Offensive Skid
The Yankees have had a good month offensively, not a great month, but these last few days the bats have slipped into probably their worst slump of the season. The Yankees were shut out for the second time this year Saturday — the Mets got them in the Seth Lugo game a few weeks ago — and they've scored one run in their last 25 offensive innings. That dates back to their two-homer (really three-homer since Giancarlo Stanton was robbed) first inning against James Paxton on Thursday.
Stanton provided a leadoff double in the second and Austin Romine did the same in the third. Both were stranded. Didi Gregorius blooped a check swing single to left to start the fourth, then Stanton grounded into a double play two pitches later. Greg Bird walked with one out in the seventh inning, then Miguel Andujar grounded into a double play two pitches later. That kinda game, man.
The Yankees went 1-for-8 with runners in scoring position Saturday — they are 2-for-22 in those spots since the Paxton inning — and, naturally, the one hit didn't even score a run. Gregorius beat out an infield single with two outs in the sixth inning. Had the grounder snuck by Daniel Robertson at second base, Aaron Judge would've scored with ease. Alas. Stanton, representing the tying run, struck out to end the inning as the next batter. C'est la vie.
Leftovers
Aaron Boone is still using Chasen Shreve as a left-on-left guy. Do not like. He went to Boone against Kevin Kiermaier with two outs in the seventh and Shreve needed 25 pitches to get the out. Walk (lefty Kiermaier), single (righty Duffy), walk (left Jake Bauers), strikeout (righty Wilson Ramos). Lefties are 4-for-12 (.333) with two walks (.429) against Shreve this month. Small sample, yeah, but he's not doing the things he needs to do to stay on the roster.
Chad Green threw the eight inning — I'm going to pretend Shreve against the top of the lineup and Green against the bottom of the lineup is Boone's way of telling Brian Cashman to get Shreve off the roster — and struck out two to pitch around two hits. Green has been both excellent and not as good as last year this season. He's got a legitimate All-Star case. Maybe he'll take the spot usually reserved for Dellin Betances.
Only four hits for the Yankees. The leadoff doubles by Stanton and Romine, and two singles by Gregorius. One was a check swing blooper and the other was an infield hit. Judge and Bird drew the only walks. The Yankees did have some hard-hit balls go for outs — Andujar (two), Brett Gardner, Aaron Hicks, and Neil Walker all had 100+ mph batted balls find gloves — but yeah, the offense is in a funk. They'll snap out of it soon enough.
Box Score, WPA Graph & Standings
For the box score and updated standings, go to ESPN. MLB has the video highlights. Here is our Bullpen Workload page and here's the loss probability graph:

Source: FanGraphs
Up Next
This three-game series concludes Sunday afternoon with a 1pm ET game. Domingo German and Matt Andriese are the scheduled starters. The Rays are pushing Blake Snell back a day to give him extra rest, so Andriese is getting the ball instead.