Got eleven questions for you in the mailbag this week. Send us any questions using the "For The Mailbag" form in the sidebar. If you have any specific questions seeking a direct reply from us — guest post submission, etc. — email me at mike (at) riveraveblues (dot) com. I can't reply through the mailbag form.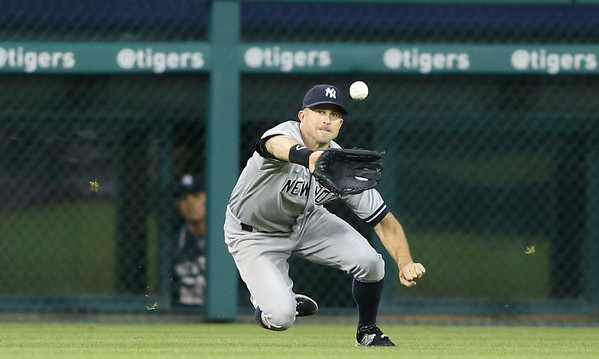 Eric asks: Any idea why Joe Girardi seems so hesitant to use Brett Gardner in center field this year?
I actually think the best defensive alignment has Gardner in left field, even with Jacoby Ellsbury out injured. Chris Young and Slade Heathcott are both really good defensive center fielders, as is Gardner, but Gardner is the best of the bunch in left field, in part because he's the most familiar with the position. Young has only played left sparingly in his career (79 games) and Heathcott hasn't played much at all the last few seasons in general. Basically, Gardner in left and Young/Heathcott in center is a stronger overall defense than the relatively inexperienced Young/Heathcott in left and Gardner in center. I suspect Girardi sees it the same way as well, and that's why Gardner's stayed in left.
Neaks asks: Should the Yankees have sent a catcher to the Mariners for Yoervis Medina (or for someone else the M's were willing to give up)?
The Yankees don't have a Welington Castillo-esque catcher to send them. Brian McCann's not going anywhere, the Mariners probably don't want Austin Romine (they could have claimed him off waivers last month), and there's no reason to trade John Ryan Murphy for a reliever right now. The Yankees made a Castillo-for-Medina trade already. It was Francisco Cervelli for Justin Wilson in the offseason. Medina throws hard but can't throw strikes consistently and the Yankees already have a few of those guys in Danny Burawa and Jose Ramirez. I don't see this as a missed opportunity or anything like that.
Donnie asks: Would it be a good move to give up Luis Severino and Aaron Judge for Troy Tulowitzki? Would that be enough? Who else could you see the Yanks making a trade for at the deadline?
I don't think Judge and Severino would be enough — I'd want at least two more players if I was the Rockies, including one I could stick on my MLB roster tomorrow — and I'm not sure that means the Yankees should make the trade either. As good as Tulo is (and he's awesome), the Yankees need to steer clear of those big money long-term contracts that seemingly never end for a little while. Tulowitzki's injury history is ugly — he got hurt (quad) a day or two after saying he wasn't going to request a trade — and I have no reason to think it'll improve with age. If the Yankees were a no-doubt contender this year, yeah, it would make more sense to go all in. But they're not, they're a fringe contender, and trading their two top prospects for another guy on the wrong side of 30 making a ton of money doesn't seem smart at the moment. They're going to look for rentals at the deadline again. That's their thing nowadays.
Stan asks: Be the tiebreaker for my Dodger fan friend and I. We were arguing about bullpens … I said that holds and save conversion rate are a much better indicator of a good bullpen than ERA. What are your thoughts?
Sorry, but ERA is better. Holds and saves depend as much (if not more) on the rest of the team as the bullpen itself. The offense and starting pitcher create the save situation by getting the game to a very specific point — up by no more than three runs, etc. Also, setup men can blow saves but not earn them. If Dellin Betances comes in with a one-run lead in the eighth and gives up a solo homer, he gets a blown save even though Andrew Miller would have come on the ninth for the actual save. ERA is not perfect either but it's better than save conversion rate because at least ERA is telling you how many runs they allow. A closer with a 100% save conversion rate but a 6.00 ERA isn't good.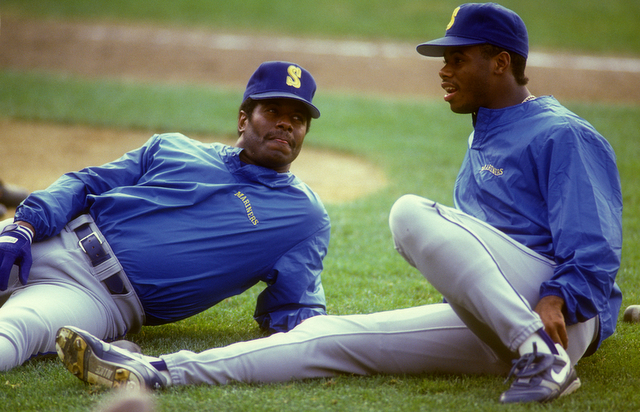 Kevin asks: Not Yankee related, but do you think we'll see another father-son combo in the Majors again anytime soon? Torii Hunter and his son?
I think it's going to be a very, very long time before we see another father-son combination. It's only happened twice in history: Ken Griffey Sr. and Jr. (1990-91 Mariners), and Tim Raines Sr. and Jr. (2001 Orioles). That's it. Hunter has already said he is considering retirement after the season, and his son Torii Jr. (draft-eligible this year) isn't much of a prospect, so they seem like an unlikely pair. I suppose the Twins could draft Torii Jr. and call him up in September as a gimmick, but I don't think it'll happen. That would be kinda lame too. I do think the father/son thing will happen again at some point but not anytime soon. You need someone old and good and someone young and really good. Hard to do.
Aaron asks: Aaron Judge to 1B? It seems like he has the "body" for it, and it might make sense if he's not going to come up this season anyway, with Mark Teixeira in clear decline years. Does a move to 1B raise or lower his value? I don't think Judge is "blocked" at the MLB level by anyone in RF, but it seems like capable corner outfielders are easier to find than would be a 6'7″ 1B.
It absolutely lowers his value. Judge is a big dude but he's a really good athlete and he's an asset in right field, with range and a strong arm. Is he going to be a Gold Glover? No. But he's a solid defender who is more than capable of playing right field on an everyday basis. Chances are Judge will have to move to first base at some point down the line like many other corner outfielders, but there's zero reason to do it now. That move to first might be 10-12 years away. Even with the Yankees having a decent number of outfielders at the upper levels of the minors, Judge is clearly the best and should stay there as long as possible. He's way more valuable there.
George asks: Anything on how much time the new rules have saved per game? Seems like the batters are stepping out of the box, maybe a little less than before.
I researched it during the very first week of the season and found that games were, on average, about eight minutes shorter this year than last. MLB officially reported the average time of game was down 8.5 minutes in April according to Travis Sawchik, so the rule modifications are working. Now, 8.5 minutes doesn't sound like much, and it really isn't, but it is an improvement, especially since offense has ticked up ever so slightly this year (about 4% in terms of runs per game league-wide). That means there's more action condensed into a shorter amount of time. Part of the problem in recent years was that games were taking longer yet fewer runs were being scored, so there wasn't a whole lot happening. MLB has been able to cut down on (some) of the standing around during at-bats. I didn't think pace of play was a critical issue but there was definitely room for improvement, and it has indeed improved.
Al asks: Do all players on the 40 man roster get at least the league minimum salary, or does that require being on the 25 man roster?
It depends on the contract but generally no, players on the 40-man don't get the MLB minimum in the minors. Players in their pre-arbitration years (and sometimes arbitration years) sign split contracts that pay them one salary in MLB (league minimum usually) and another in the minors that is substantially lower. The Yankees signed Jose DePaula to a split contract this offseason — he gets $510,000 in the show and $175,000 in the minors. Players with guaranteed contracts, like, say, Allen Craig still get their full salary in the minors, but it's rare a player with a guaranteed contract winds up in the minors in the first place. That means something when wrong somewhere along the line. Pre-arbitration and arbitration contracts typically aren't guaranteed.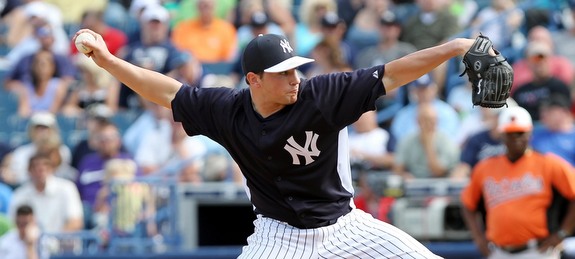 Dan asks: Could Mark Montgomery be an option to reinforce the bullpen at some point this season?
I think it's unlikely. Montgomery's had a nice bounceback year in Double-A and now Triple-A, but there are a lot of bullpen arms ahead of him on the depth chart. Guys on the 40-man roster too, who are easier to call-up. And, among the non-40-man guys, Montgomery won't get called up before Jacob Lindgren or Nick Rumbelow. They're simply better pitchers at this point. Hopefully these last few weeks are an indication Montgomery is close to regaining his 2011-12 form and this is a question we have to revisit down the line.
James asks: Serious question: Is Stephen Drew the worst Yankee starter in the modern era?
Well, to be fair, Didi Gregorius has been worse this year, at least offensively because he's hit for zero power. Drew has a 69 OPS+ and 0.2 bWAR through 41 games, putting him on pace for 0.8 WAR through 162 games. We can't really extrapolate bWAR like that, but this is just for fun, so bear with me. Anyway, Didi has a 51 OPS+ and 0.0 bWAR so far. Here's a table with various measures of Yankees awfulness:
| | All-Time | Expansion Era (1961-Present) |
| --- | --- | --- |
| Lowest AVG | .168 – Red Kleinow in 1908 | .195 – Tom Tresh in 1968 |
| Lowest OPS+ | 43 – Pee Wee Wanniger in 1925 | 58 – Clete Boyer in 1964 |
| Lowest WAR | -2.0 – Johnny Sturm in 1941 | -1.6 – Bernie Williams in 2005 |
That's among players who qualified for the batting title only, because we're focusing on regulars. The guys who played every day despite an utter lack of production. (Hensley Muelens had -2.4 bWAR in 1991, lowest in team history regardless of playing time.) Drew is hitting .182 and is on pace to have the lowest average since Kleinow while Gregorius is on pace to have the lowest OPS+ since Wanniger, conveniently. So I guess his means the answer is no, Drew isn't the worst regular in modern team history. His defense counts for something.
Joe asks: As a potential trade target, what do you think of Dallas Keuchel of the Astros?
I would love it but that is definitely not happening. The Astros are good now (wtf?) and Keuchel's emerging as a bonafide ace. I buy him too. I don't think it's a fluke. He has three elite ground ball pitches in his sinker, changeup, and slider — he has a 64.3 GB% this year and had a 63.5 GB% last year, the highest in MLB by a qualified starter in five years — and is basically the most dominant ground ball starter since peak Derek Lowe/Tim Hudson. No way would the Astros trade their ace — their ace who is under team control through 2018, remember — this season. If anything, they're going to add pitching and make a run following their hot start. I'd love Keuchel on the Yankees. But file this under "not happening."