By

Michael Pineda was ejected from tonight's game for having a foreign substance (pine tar) on his neck. Red Sox manager John Farrell brought it to the home plate umpire's attention, they checked him out, and he was ejected. Pineda is facing an automatic ten-game suspension now, per the rulebook. (Ten games is for the minors, MLB can suspend whatever they want.)

As you know, Pineda was seen with a substance on his hand against the Red Sox two weeks ago. It was played off as "everyone does it, just be more discreet about it," but apparently Pineda never got the message. The ejection is well deserved. I mean, seriously. Couldn't hide it better than that? Dumb. Dumb dumb dumb. · (74) ·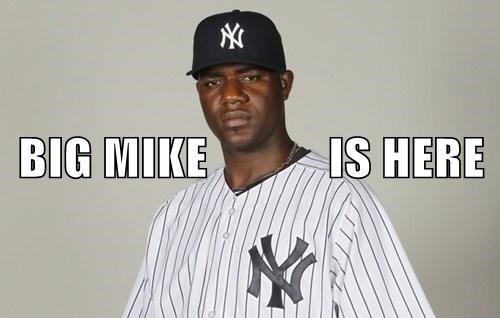 Masahiro Tanaka and the offense set the tone last night. Tonight, Michael Pineda is charged with keeping it going and helping the Yankees to a third straight win. He is facing the Red Sox for the second time in less than two weeks, the first time a team will get a second look at him this year. How much will that matter? The element of surprise is a very real thing, but it's not like Pineda relies on tricking hitters to succeed. The element of surprise means a little less to him, I think.
Anyway, Brett Gardner returns to the starting lineup tonight at a new position: right field. He has never played the position in his career (minors or Majors) aside from a handful of innings in Spring Training. This allows the Yankees to play their weakest outfield defender in tiny left field while their two strongest cover the bigger parts of the park. I like it. Given all the shifts the Yankees have employed this year, I guess we shouldn't be surprised the team is thinking outside the box defensively. Here is the Red Sox lineup and here is the Yankees lineup:
SS Derek Jeter
RF Brett Gardner
3B Kelly Johnson
RHP Michael Pineda
Remember all that talk about rain last night? Forget it. It's not raining in Boston but it is chilly and very windy. The balls might be flying out of the park tonight. Either that or being held in. We'll find out soon enough. Tonight's game will start at 7pm ET and will be broadcast on YES locally and ESPN nationally. Enjoy the game.
By

Ivan Nova has requested another opinion on the partially torn ulnar collateral ligament in his right elbow, according to Chad Jennings. The Collective Bargaining Agreement allows plays to get another opinion from the doctor of their choice. The test results are being sent to Dr. James Andrews and it is unclear if he will look at Nova himself. Yankees team doctor Dr. Ahmad confirmed the original diagnosis during yesterday's exam, but I guess Ivan wants to make sure he can not avoid Tommy John surgery before going under the knife. No big deal. Few days won't make a difference. · (28) ·
The Yankees dismantled the Red Sox last night, and you could argue their two most exciting pitchers were on the mound for the win. Masahiro Tanaka navigated the first 7.1 innings before Dellin Betances mopped things up and recorded the final five outs. The duo combined for nine strikeouts and no walks, improving the team's league-leading K/BB ratio to 3.44. The Red Sox are a distance second at 3.12.
Tanaka has been everything we could have possibly expected (and more!) this season while Betances is … still a middle reliever despite only allowing one run on three hits in 9.2 innings of work. He's also struck out 16 of 38 batters faced and 56.3% of his balls in play are on the ground. Plus he can do this (via Pitcher GIFs):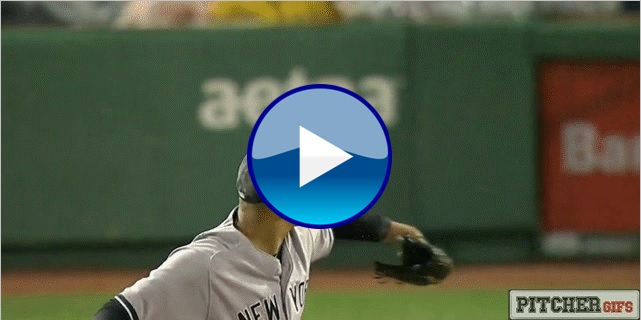 That's a pretty neat trick.
And yet, despite all of his early season success, Betances is no higher than sixth on Joe Girardi's bullpen pecking order. There are two reasons for that. One, he's walked six guys in those 9.2 innings. Betances has a history of control problems and we've seen him come completely unhinged once or two already this season. He just loses the ability to throw strikes — I'm not even talking about painting the corners here, just basic strike-throwing ability — without warning and that can be scary.
Two, Betances is just a kid, at least in terms of experience. He did turn 26 a few weeks ago after spending eight years in the minors, but he has still only thrown 17.1 innings in the big leagues. That's nothing. Girardi has used him as a low-leverage reliever and his 0.43 gmLI (Leverage Index when entering the game) bears that out. Only eleven out of 177 qualified relievers have a lower gmLI right now and they're last guy out of the 'pen types. There's no doubt Girardi has been keeping Betances away from important situations if at all possible.
Is that wrong? I don't think so. Not at all. There's a level of trust that has to be built and it hasn't yet. There hasn't been enough time. David Robertson went through a similar situation early in his career — remember he had walk problems early on — sporting a 0.66 gmLI in his rookie year in 2008. Heck, it was a 0.77 gmLI in 2009. Robertson didn't graduate from exciting young arm to bonafide high-leverage reliever until 2011, his fourth year in the show. Shawn Kelley went through the same thing last year (0.69 gmLI in April and May). So did Boone Logan a few years ago and Phil Hughes when he first moved into the bullpen in 2009.
As good as he was last year and in Spring Training and during these first few weeks, Betances still has a lot to learn about being a reliever in the Major Leagues. Girardi is very good with his bullpen and he's shown he will be patient and not unnecessarily push new faces into primo bullpen roles (veteran free agents like Matt Thornton and Rafael Soriano are the obvious exceptions). With more experienced guys like Robertson, Kelley, Adam Warren, and David Phelps around to handle the important innings, the Yankees and Girardi have the luxury of breaking Betances in slowly. His opportunity for high-leverage work will come, but he has to put in some time in a lesser role first.
Through the first three weeks of the season, the starting rotation has been the clear strength of the Yankees' roster. The lineup and bullpen have been solid overall too, don't get me wrong, but the starting staff has really stood out to me. That rotation took a hit yesterday when it became all but official that Ivan Nova will have Tommy John surgery, ending his season. He was not particularly good before getting hurt but those are still some big shoes to fill. Nova has shown he can be excellent for weeks at a time.
The first opportunity to fill those shoes is going to Vidal Nuno, almost by default. The southpaw made a rainout/doubleheader necessitated spot start on Sunday and he lines up perfectly to fill Nova's spot thanks to Monday's off-day. Nuno pitched well on Sunday (five shutout innings against the Rays) and I'm sure the rotation outlook would look much different if he got bombed. It might be David Phelps or heck, even Al Aceves making the start if Sunday didn't go well.
Nuno was part of the four-headed fifth starter competition in Spring Training but I felt he was the long shot. That he pitched so well in camp and was still the first one eliminated from the competition makes me think I wasn't wrong. And yet, he somehow he is the first loser of that competition to land in the rotation during the regular season. Things just fell into place for him. Adam Warren has taken over as a key setup man and Phelps was needed in middle relief, leaving Nuno for the spot start. He took advantage on Sunday.
Joe Girardi didn't mince words when announcing the 26-year-old Nuno would remain in the rotation — "He is our fifth starter now," he said to reporters prior to last night's game — and we all know Nova isn't coming back anytime soon. That rotation spot is wide open and it'll go to whoever performs the best. Nuno gets a head start on the in-house competition and that's big. He has a chance to not give the other guys chances. If he pitches well, he'll keep the job no questions asked. It's the opportunity of a baseball lifetime.
Remember, Nuno is a former 48th round pick who was toiling away in an independent league before hooking on with New York a few years ago. He's had to overcome some seriously long odds to get where he is — starting pitcher for the New York frickin' Yankees! — and I doubt the magnitude of this opportunity is lost on him. Can his soft-ish tossing ways allow him to turn over a lineup multiple times every fifth day in the AL East? Maybe, maybe not. He's going to get a chance to show everyone if it does despite looking like little more than the team's eighth starter just three weeks ago.
That win was much easier than the last one. The Yankees jumped out to early lead against the Red Sox on Tuesday night before piling on in the middle innings and walking away with a 9-3 win in the series opener.
Early Runs
This game started almost exactly like I hoped it would: with a Jacoby Ellsbury ground-rule triple. Well, kinda. He ripped a two-strike pitch from Jon Lester to dead center field that some idiot reached over the wall and tried the grab. The guy almost fell onto the field. He was reaching out pretty far. Anyway, the ball hit the guy's hands and Ellsbury ran all the way around the bases, but the umpires sent him back to third on the interference. They could have sent him to second but determined he would have been at third on the play. Short of a leadoff homer, I'm not sure Ellsbury could have started his first game back at Fenway Park any better.
Derek Jeter and Carlos Beltran followed the triple with well-struck singles to plate two quick runs. (Jeter moved to second on a passed ball before scoring on Beltran's single.) It was clear early on that Lester was not as sharp as he's been the last few weeks, struggling to locate to the corners of the plate in particular. When he missed, he missed way off the plate. Nine pitches into the game, the Yankees had three hits and two runs. Boston was playing catch-up before the anthem ended.
Tanaka You Out
I thought this was Masahiro Tanaka's worst start so far, which tells you how good he's been. He held the Red Sox to two run on seven hits in 7.1 innings of work — the two runs came on back-to-back homers and the first was a monster blast from David Ortiz over the bullpen in center-ish field. I remember seeing Alex Rodriguez hit a ball there once, but can't remember any others — throwing 73 of his 105 pitches for strikes. Tanaka generated a season-low 12 swings and misses, which is still pretty good. Here is the PitchFX breakdown from Brooks Baseball. Remember, the data may change overnight.
Obviously he was effective, but I didn't think Tanaka was as sharp in this game as he was in his last three. It seemed like his splitter was too far down for a lot of easy takes, and Brian McCann sure had to move his glove a lot. Lots of missed locations. It wasn't a disaster outing but Tanaka wasn't fully on either. It's okay, it happens. That it happened and he still put together a pretty great start shows you just how special Tanaka is. Nothing seems to bother the guy — it was raining for most of the game — and he found a way to succeed even when he didn't have it all working. It's pretty clear Tanaka is the staff ace right now. What a stud.
All With Two Outs
For a little while it looked like the Yankees would regret failing to score after having the bases loaded with one out in both the second and third innings. (Ellsbury and Beltran grounded into double plays.) They were nursing a 4-2 lead when Mark Teixeira (walk) and McCann (single) reached base to lead off the top of the fifth. Yangervis Solarte and Ichiro Suzuki followed with strikeouts, and it looked like another rally was about to die far too young.
Instead, the Yankees put on a situational hitting clinic. And they got lucky too — Brian Roberts laced a line drive off Mike Napoli's glove to score a run and extend the inning. It should have been the third out. A big league first baseman's gotta make that play. Ellsbury ended Lester's night with an eight-pitch at-bat, lining a single to left-center to score two runs. Derek Jeter capped the rally off with a single back up the middle to score the fourth and final run of the inning. Both Roberts and Ellsbury reached base in two-strike counts and, as you can tell, all four runs scored with two outs. Two-out runs are backbreakers.
Leftovers
Beltran tacked on a garbage time solo homer in the eighth to give the Yankees their ninth run. The wrap-around 8-9-1-2-3 portion of the lineup went a combined 10-for-23 with two doubles, one triple, and one homer. All five guys had exactly two hits. McCann went 3-for-4 with a walk and three singles, and all three hits were to the opposite field. He even hit some foul balls the other way. What's that about?
Solarte went 0-for-5 with three strikeouts and is now in an 0-for-15 slump. Anecdotally, it seems like he's seeing way more breaking balls than he did earlier in the season. Solarte did make two excellent barehand plays, one to get Jackie Bradley Jr. on a bunt and another to get Napoli on a slow tapper. Teixeira came off the bag to snap the throw and tag Bradley.
Dellin Betances was the only reliever used and he allowed his first run of the season. It was bound to happen at some point. Otherwise he retired five of seven batters faced, including two via strikeout. He now has 16 strikeouts in 9.2 innings this year. Is that good? That seems good.
Box Score, WPA Graph & Standings
MLB.com has the box score and video highlights while some nerdier stats are at FanGraphs. ESPN has the up to the minute standings.

Source: FanGraphs
Up Next
Same two teams on Wednesday night, when Michael Pineda is scheduled to start against John Lackey. The forecast isn't looking so good right now, but that can change over the next 20 hours or so. Hopefully it does. Big Mike day is one of my favorite days of the week.
Got some notes to pass along:
RHP Ty Hensley threw a bullpen session today, according to his Twitter feed. He missed all of last year after having surgery on both hips, and he's been slowed by a hernia early this year. Not sure how long he's been throwing off a mound.
RHP Shane Greene will make his first start of the season with Triple-A Scranton on Thursday. He's been up and down a few times and hasn't pitched much. Also, IF Zelous Wheeler (back) is close to returning. [Donnie Collins]
And finally, here is Keith Law's write-up on last night's Low-A Charleston game. It's behind the Insider paywall, but here's the short version: RHP Luis Severino and OF Aaron Judge were very impressive, SS Abi Avelino and 2B Gosuke Katoh not so much.
Triple-A Scranton (6-5 win over Buffalo, walk-off style)
LF Ramon Flores: 2-5, 1 R, 1 2B, 1 RBI, 2 K
3B Scott Sizemore: 2-5, 2 R, 1 RBI, 1 K
RF Zoilo Almonte: 1-5, 1 2B, 1 RBI, 2 K — walk-off double
CF Adonis Garcia: 2-4, 1 R, 1 2B, 1 RBI — 15 hits in his last 41 at-bats (.366)
DH Ronnie Mustelier: 2-4, 1 2B, 1 K
C Francisco Arcia: 1-4, 1 2B, 1 K, 1 E (throwing) — C Austin Romine was supposed to start but did not play according to Donnie Collins … he was not on the bench or lined up for the anthem either … not sure what's up there, but he could be sick or something
RHP Brian Gordon: 5.1 IP, 7 H, 5 R, 2 ER, 3 BB, 4 K, 1 WP, 4/8 GB/FB — 59 of 94 pitches were strikes (63%)
This game is a Very Big Deal. Or at least that's what we'll hear all night (and all series, really) because it is Masahiro Tanaka's first career start in Fenway Park. Everything is bigger when it comes to the Yankees-Red Sox rivalry and acting like mid-April games are more meaningful than they really are is part of it. It's kind of annoying but whatever. Annoying if the Yankees lose, anyway.
David Robertson is back off the 15-day DL and he will be a huge boost to a bullpen that was started to get a little exposed late last week. Shawn Kelley and Adam Warren did fine jobs as the interim closer and setup man, respectively, but now they'll be pitching one inning earlier. It's not necessarily the ninth inning that improves with Robertson back, it's the middle innings, the sixth and seventh. Re-adding an elite reliever the roster has a trickle-down effect. Here is the Red Sox lineup and here is the Yankees lineup:
It is cloudy and warm in Boston, plus it's supposed to start raining later tonight and continue right through to tomorrow night. Doesn't looking like it will be a problem for tonight's game unless it goes to extra innings. Tomorrow is another matter, but we'll deal with that when the time comes. First pitch is scheduled for a little after 7pm ET, and you can watch the game on My9 and MLB Network. Enjoy.
Rotation Update: As expected, Joe Girardi announced Vidal Nuno will get another start following Ivan Nova's elbow injury. He's scheduled to start Saturday against the Angels.
By

After being re-evaluated by team doctor Dr. Ahmad on Monday, surgery has been recommended for Ivan Nova's partially torn ulnar collateral ligament, the Yankees announced. An MRI arthrogram confirmed the original diagnosis.

Nova, 27, left Saturday's start with a sore elbow and initial tests revealed the partial UCL tear. Rest and rehab never seems to work, and once the ligament starts tearing, Tommy John surgery becomes inevitable. Now that it has been officially recommended by the team doctor, it's just a matter of setting a date and going under the knife. The procedure will sideline Nova for 12-18 months. Sucks. · (47) ·
For the second time in a little more than a week, the Yankees and Red Sox meet for what is sure to be a tense, time-consuming, over-hyped, and over-analyzed series. This time the scene shifts to Boston and Fenway Park. The Yankees won three of four from their rivals in the Bronx the weekend before last. This will be Jacoby Ellsbury's first trip back to Boston since signing with New York.
What Have They Done Lately?
Since these two teams last met, the Red Sox took two of three from the White Sox and split a four-game series with the Orioles. They are 9-11 with a -6 run differential overall, which currently has them in the AL East cellar. Little too early to start worrying about division standings, but that's just me.
Offense
The BoSox were really struggling to score runs when they were in town a week and a half ago, but they scored six runs in each of their last two games and appear to be coming around offensively. They currently average 3.8 runs per game with a team 92 wRC+, both below-average marks. The Red Sox are currently without OF Shane Victorino (hamstring) and 3B Will Middlebrooks (calf), neither of whom is expected to return this series even though they are out on minor league rehab assignments.
As usual, manager John Farrell's lineup is anchored by 2B Dustin Pedroia (95 wRC+) and DH David Ortiz (100 wRC+), both of whom are off to slow starts compared to their usual levels of production. 1B Mike Napoli (140 wRC+) has been the team's best hitter, and the recently called up Brock Holt (173 wRC+) has taken over at third base and the leadoff spot. SS Xander Bogaerts is having a strong rookie campaign (123 wRC+) as well.
Platoon OF Jonny Gomes (98 wRC+) is seeing more playing time than he should, mostly because OF Daniel Nava (38 wRC+) has been awful. OF Jackie Bradley Jr. (82 wRC+) is starting to take playing time away from OF Grady Sizemore (80 wRC+). The catching platoon of C A.J. Pierzynski (61 wRC+) and C David Ross (125 wRC+) has been okay overall. IF Jonathan Herrera (55 wRC+) and 1B/OF Mike Carp (89 wRC+) fill out the bench. Obligatory it is still early and those numbers came from small samples reminder.
Pitching Matchups
Tuesday: RHP Masahiro Tanaka vs. LHP Jon Lester (Career vs. NYY) (Pitcher GIFs)
Lester, 30, has been as good as ever in 2014, just as he's getting ready to test the free agent waters this coming offseason. He has a 2.17 ERA (2.39 FIP) in four starts and 29 innings, pairing excellent strikeout (9.00 K/9 and 25.7 K%) and walk (1.24 BB/9 and 3.5 BB%) rates with a strong ground ball rate (46.1%). Lester has crushed left-handed batters (.237 wOBA) and been slightly less successful against righties (.280 wOBA). A low-90s fastball and upper-80s cutter set up his mid-80s changeup and mid-70s curveball. Lester held the Yankees to two runs in 6 2/3 innings the weekend before last.
Wednesday: RHP Michael Pineda vs. RHP John Lackey (Career vs. NYY) (Pitcher GIFs)
One reason the Red Sox won the World Series last year was Lackey going from injured and awful to a reliable workhorse starter. The 35-year-old has a 5.25 ERA (4.74 FIP) in 24 innings and four starts so far, though his strikeout (8.63 K/9 and 22.1 K%) and walk (2.63 BB/9 and 6.7 BB%) numbers remain very good. He is very air ball prone (38.0% grounders), however, and righties have just mashed him (.416 wOBA). Lefties aren't doing so bad either (.331 wOBA). Lackey throws both a low-90s fastball and a mid-80s cutter, and his upper-70s curveball remains his go-to pitch. He doesn't throw a changeup anymore. The Yankees roughed Lackey up for six runs in 5.2 innings in their last series.
Thursday: LHP CC Sabathia vs. LHP Felix Doubront (Career vs. NYY) (Pitcher GIFs)
Doubront, 26, has a 5.48 ERA (4.30 FIP) in four starts and 21.1 innings this year, making him the clear weak link in Boston's rotation. His strikeout rate (6.33 K/9 and 15.6 K%) has fallen quite a bit these last two years, but he still walks a bunch (3.80 BB/9 and 9.4 BB%) and his ground ball rate (44.3%) has remained static. Lefties has crushed him so far this year (.438 wOBA), but that's a sample size problem. Righties have gotten him for a .309 wOBA. Doubront's big breaking mid-70s curveball is his money pitch, and he'll also throw low-90s heaters, mid-80s cutters, and some low-80s changeups to righties. The Yankees scored three runs in 6.2 innings against the southpaw in their last series.
Bullpen Status
The Orioles did the Yankees a real favor yesterday. Baltimore knocked Clay Buchholz out of the game in the third inning, forcing Farrell to get 6.2 innings out of his bullpen. RHP Burke Badenhop (4.31 FIP) threw 3.2 innings and 40 pitches, so he'll be out of commission tonight. LHP Craig Breslow (2.48 FIP) threw two innings and 23 pitches, and could be limited tonight if he's even available. LHP Andrew Miller (2.39 FIP) has pitched each of the last two days. Their lefty relievers have been worked hard these last few days.
Closer RHP Koji Uehara (0.36 FIP) recently returned from a little shoulder issue. He's set up by RHP Junichi Tazawa (1.19 FIP) and occasionally RHP Edward Mujica (2.37 FIP). LHP Chris Capuano (1.48 FIP) has graduated from strict long relief work to more of a medium-to-high-leverage guy. All of them except Uehara pitched Sunday night. The Yankees had yesterday off and are in good shape bullpen-wise, especially since David Robertson was activated off the 15-day DL this morning. Check out our Bullpen Workload page for recent reliever usage details, then check out Over the Monster for the latest and greatest on the Red Sox.