A win! It's been a while. Good to remember what one of those felt like. The Yankees snapped their five-game losing streak Tuesday night with a 5-3 win in the series opener against the Rays. A nice and tidy come from behind win, that was.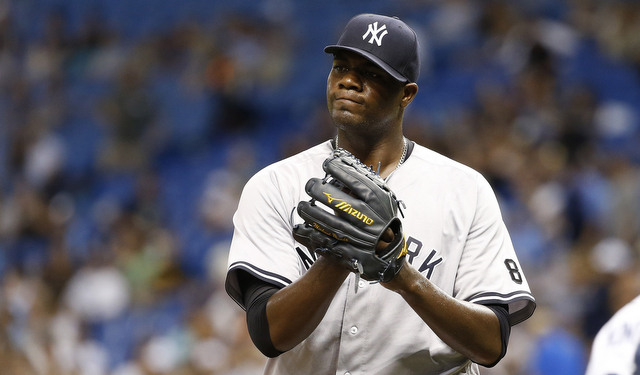 The Best (And Worst) Of Pineda
This was a classic "I want to believe!" start by Michael Pineda. He had a nasty slider, one of his best of the season, which is why he struck out eleven batters in only 5.1 innings. Pineda also generated 19 swings and misses on 98 total pitches. His stuff looked filthy. And yet, he again could not limit the damage with two outs and two strikes. All season with this.
The third inning rally by the Rays came together quickly. Logan Forsythe sliced a single to right and Evan Longoria reached on a two-out infield single to put two men on base. Donovan Solano made a nice diving play on Longoria's hard-hit grounder, but his throw pulled Mark Teixeira off the bag at first base. So it goes. Brad Miller made the Yankees pay with a two-run triple to the wall in center field. Two outs, two strikes. Of course.
Mason Williams very nearly corralled Miller's triple as he crashed into the wall, but the ball hit his glove and rolled away. The Yankees couldn't complete two tough defensive plays — Solano on Longoria, Williams on Miller — and it cost them two runs. Blah. Aside from that, Pineda kept the Rays off the board the rest of the game. He allowed two runs on five hits and a walk in those 5.1 innings.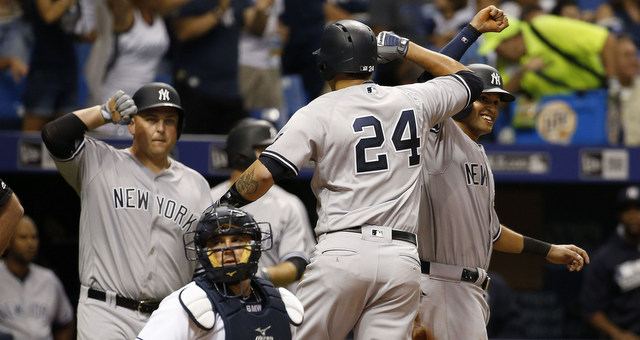 We Are All Gary
The Yankees didn't do a whole lot against Drew Smyly. They did threaten in the first inning thanks to an Aaron Hicks single and a Billy Butler double, but after that, Smyly retired 15 of the next 16 batters he faced. The one baserunner was a long Teixeira solo home run in the fourth. Cleared the stands, cleared the walkway, and landed in the little TV studio they have set up in left field. That cut the deficit to 2-1.
The sixth inning looked like a wasted opportunity. The Yankees loaded the bases with two outs on a walk (Gary Sanchez), a double (Butler), and an intentional walk (Teixeira), but Didi Gregorius flew out harmlessly to end the threat. Can't say I expected Teixeira to ever get intentionally walked again, yet here we are. The seventh inning was when they finally broke through. Brett Gardner bounced a single through the infield to tie the game 2-2 after Ronald Torreyes and Williams singled to put men on the corners with one out.
Hicks struck out as the next batter, and during his at-bat Gardner stole second, meaning first base was open. For whatever reason the Rays decided to pitch to Sanchez — maybe because Butler, who was hitting behind him, had a pair of doubles earlier in the game? — and Brad Boxberger threw a cement mixer over the plate for what would have been strike one. Instead it was a three-run home run and a 5-2 Yankees lead. To the action footage:
Seventeen homers. Seventeen homers in 42 games. It's September 20th. Sanchez hit his first homer on August 10th. That's ridiculous. This 23-year-old kid has come up and performed at an MVP level against a bunch of pitchers he's never faced before while handling all the responsibilities of catching. It makes no sense. This isn't so supposed to happen. It's happening though. It's happening and it's glorious.
Leftovers
Pretty easy night for the bullpen. Tyler Clippard allowed a run on a triple off the top of the wall in left field and a passed ball, but that's it. Tommy Layne (one out), Luis Severino (four outs), Clippard (three outs), and Dellin Betances (three outs) all did their thing. Betances looked razor sharp. Not coincidentally, he was well-rested. This was his first outing since Hanley Ramirez broke all our hearts Thursday night.
Every player in the starting lineup had a hit except Solano. Butler and Torreyes each had two hits. Hicks, Sanchez (two), and Teixeira drew the walks. The 1-for-3 with a homer and two walks raised Sanchez's batting line to .327/.399/.710 (190 wRC+). Pretty awesome. The Yankees went 2-for-9 (.222) with runners in scoring position. Did they really have that many at-bats in those spots? Huh.
And finally, the Orioles and Blue Jays came into Tuesday tied for the wild card spots, so with the Orioles on the verge of losing to the Red Sox, the Yankees will be three games back of a postseason spot with 12 to play. They're going to sweep the Rays and I'm going to start believing again, aren't I? Dammit.
Box Score, WPA Graph & Standings
ESPN is the place to go for the box score and updated standings. MLB.com has the video highlights. Don't miss our Bullpen Workload and Announcer Standings pages. Here's the win probability graph. Nice to see the other team blow a multi-run lead for once.

Source: FanGraphs
Up Next
The Yankees and Rays will continue this three-game series with the middle game Wednesday night. Splitter specialists Masahiro Tanaka and Alex Cobb will be on the mound.