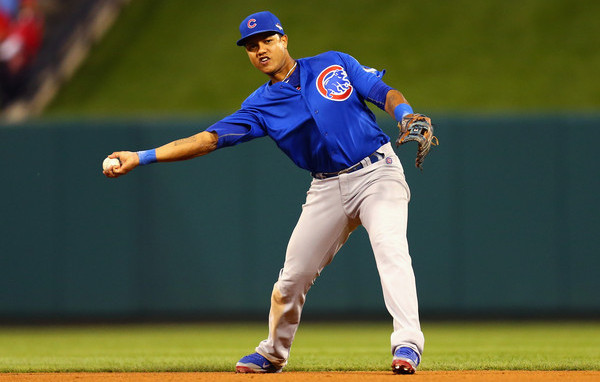 A new year is upon us. We're now in 2016, the holidays are in the rear-view mirror, and Spring Training is less than seven weeks away. There are a lot of really good free agents still available, so January figures to be busier than usual. Will the Yankees be among those who make is busy? We'll find out soon enough.
The Yankees right now are not a finished product because there is no such thing as a finished product in baseball. There are always upgrades to be made, with every roster. Even the 1998 Yankees had room for improvement. (Do you remember Mike Stanton had a 5.47 ERA that year? I totally forgot.) The 2015 Yankees are certainly no different.
So far this offseason the Yankees have upgraded at second base (Starlin Castro), on the bench (Aaron Hicks), and in the bullpen (Aroldis Chapman). They've also added some Triple-A rotation depth (Luis Cessa and Chad Green), which is not insignificant. What's left on the offseason? These four items, in no particular order.
The Last Bench Spot
Assuming the Yankees go with a normal four-man bench and don't try to get fancy with an eight-man bullpen or six-man rotation, the bench right now figures to be Hicks, Dustin Ackley, the backup catcher, and a fourth player. Gary Sanchez or Austin Romine or someone else entirely will be the backup catcher. For now we're only interested in that fourth player.
The Yankees' willingness to play Castro at third base — as well as Castro's ability to play third base — will have a big impact on that fourth bench player. Castro hasn't played third since rookie ball, and even that was only a handful of games. If he's comfortable at the hot corner, the fourth player can be pretty much anything. An infielder, an outfielder, a third catcher, whatever. Every position would be covered.
But, if Castro is not capable of playing third on occasion, the Yankees will need to use that fourth bench spot on a player capable of backing up third. (Ackley doesn't have the arm for third at all.) That player should not be limited to third — that'd be a real waste of a bench spot — but he'd have to be able to play it. Someone who can play the infield corners and maybe a little left field in a pinch would be ideal, I guess.
With any luck, Castro will be willing and able to play third whenever Chase Headley needs a day off or has to be lifted for a pinch-runner. The fourth bench spot could then be almost something of a revolving door — Rob Refsnyder when some lefty starters are coming up, Slade Heathcott when an outfielder is banged up, stuff like that. Determining the backup third baseman is pretty important.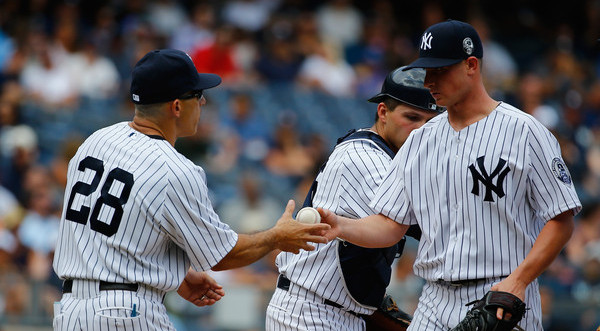 The Middle Innings
The Yankees have a great end-game bullpen (Chapman, Andrew Miller, Dellin Betances) and a few long man candidates. With any luck everyone will get through camp in one piece and Ivan Nova can assume the swingman role. Those three middle reliever spots are wide open and the Yankees have no shortage of candidates. Here's a list:
Righties: Nick Rumbelow, Branden Pinder, Nick Goody, Bryan Mitchell, Vicente Campos, Johnny Barbato, Cessa, Green
Lefties: Chasen Shreve, Jacob Lindgren, James Pazos
Every single one of those guys except Green is on the 40-man roster. Surely the Yankees can cobble together three reliable middle relievers from that group, right? You'd think so, but who knows. None of the shuttle relievers impressed last summer and Shreve seemed to wear down big time late in the season. And yet, he's the most established of this group.
The Yankees showed an awful lot of faith in their young players last year and that figures to carry over to next season, so it's entirely possible they'll stick with in-house options for that final bullpen spot. Minor league signings and waiver claims could factor into the equation, but generally speaking, that's the list of candidates. If the Yankees prefer a more established player, they could swoop in to sign a free agent.
Either way, the Chapman/Miller/Betances three-headed monster is going to cure a lot of bullpen ills next season, especially since Joe Girardi can now be a little more liberal with the way he uses Dellin. The Yankees have been very good at building bullpens in recent years and regardless of which direction they decide to go with those three open spots, I'm sure they'll find some quality arms.
Third Base Depth
This is kind of a big deal. Right now the Yankees have a Grade-A backup plan for Mark Teixeira at first base in Greg Bird, and behind Castro at second is Ackley and Refsnyder. Castro is backing up Didi Gregorius at short and Pete Kozma was signed to a minor league deal for middle infield depth. The first base, second base, and shortstop depth charts looks solid.
Third base is where it gets a little tricky. Eric Jagielo, who was slated to start the season at the hot corner for Triple-A Scranton, was included in the Chapman trade last week. That leaves Rob Segedin and Dante Bichette Jr. as third base candidates for the RailRiders, and, well, no. The Yankees don't have a true backup third baseman — maybe Castro can handle it, but that's nothing more than a maybe right now — and don't have a Triple-A third baseman.
Regardless of whether the Yankees go with Castro as their backup third baseman at the MLB level, bringing in someone to handle the position in Triple-A is almost a necessity. Cole Figueroa did the job just fine last season. It doesn't need to be a star. A minor league free agent like Conor Gillaspie would work. The Yankees have basically zero third base depth right now, not even in the minors. That has to be rectified.
A Young Starter, If They Can Find One
This isn't really an offseason item. It's an always item. Teams are always looking for young pitching and the Yankees are looking extra hard right now because of the state of their rotation. Five of their six starters can become free agents within the next two years, assuming their current injury concerns don't throw a wrench into things first.
It's much less likely now the Yankees will obtain a young starter than it was at the start of the offseason. I'd be surprised if they landed one now, but hey, you never really know. If that is indeed the case, the search for a young starter will carry over into the regular season, which means Miller and Brett Gardner aren't going anywhere for the time being, and we'll have several more weeks of rumors to deal with.