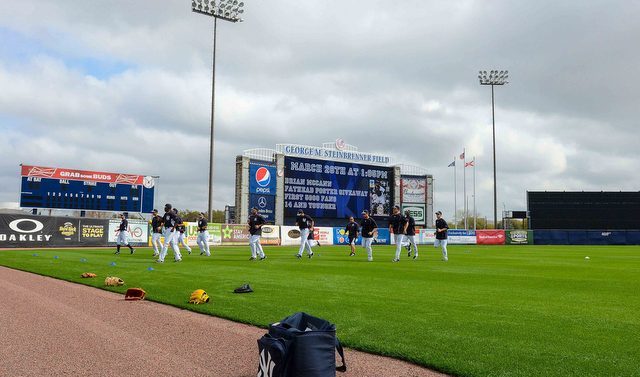 After five long months of offseason, Yankees baseball returns this afternoon. The team begins Grapefruit League play today with a quick trip over the causeway to Clearwater to play the Phillies. Yeah, I know it's only Spring Training, but it's baseball. And baseball is way better than no baseball in my book.
As always, the regulars in the starting lineup will not play the entire game. This is only the first of 34 spring games, remember. Starter Adam Warren is scheduled for two innings — or 30 pitches, based on previous springs — and the starting position players will get two or three at-bats before heading home.
Today's reason to watch: Both Luis Severino and Jacob Lindgren are scheduled to pitch. Probably just one inning each, but they are the team's top pitching prospect overall and top bullpen prospect, respectively. I'm certain we'll see Lindgren in MLB this summer. Severino … maybe. Also, the new pace of play rules are in effect, so this will be our first look at them.
Here is the lineup that will start this afternoon's Grapefruit League opener:
RF Chris Young
2B Jose Pirela
DH Kyle Roller
3B Jonathan Galvez
SS Nick Noonan
RHP Adam Warren
Available Position Players: C John Ryan Murphy, 1B Greg Bird, 2B Rob Refsnyder, SS Cito Culver, 3B Cole Figueroa, LF Slade Heathcott, CF Jake Cave, RF Aaron Judge, and DH Mason Williams will come off the bench. C Kyle Higashioka, C Francisco Arcia, and 1B/OF Tyler Austin are also available if needed.
Available Pitchers: RHP Luis Severino, LHP Jacob Lindgren, RHP Branden Pinder, RHP Nick Goody, and RHP Diego Moreno are all scheduled to pitch. RHP Danny Burawa, RHP Kyle Davies, LHP Chasen Shreve, and LHP Tyler Webb are the extra arms.
It's a perfect day for baseball in Clearwater. Temperatures in the upper-70s and low-80s, not many clouds in the sky, and no threat of rain. And humid as hell. That's Florida for you.
This afternoon's game is available on MLB.tv only — well, it's also on CSN if you're in the Philadelphia market — and traditionally there have been no MLB.tv blackouts in Spring Training, so you should be able to watch today's game online. I can't make any promises, they may have changed their policy this year, but hopefully that's not the case. Yep, no blackouts. Enjoy the game, folks.