By

Via Jerry Crasnick: MLB is investigating whether Jay-Z violated the union's regulations by giving Robinson Cano a watch valued at $33,900 during his recent birthday party in Germany. Cano hired Jay-Z back in April and any gift in excess of $500 must be disclosed in writing. Obviously agents are strictly prohibited from giving a gift to a player (or the family of a player) who is not their client, but that isn't an issue here. Jay-Z could be subject to some kind of discipline (fine?) if he is found to be in violation of the regulations, but Robbie is in the clear as far as I know. · (17) ·
The 2013 season is over and now it's time to review all aspects of the year that was, continuing today with a big name outfielder who provided small name production.
It doesn't happen often, but every once in a while a move will work out exactly the way I expected it to work out. The Ichiro Suzuki re-signing was one of those moves. It was a terrible signing at the time (two years!!!) and it looks just as terrible today. Those three great weeks at the end of last season were a total mirage — the Magic of the Pinstripes™ failed Ichiro miserably in 2013. He looked old and washed up because, well, he's old and washed up. Here is his 2013 season in three acts:
Act One: The Terrible Start
It's hard to believe Ichiro was asked to be the everyday right fielder at the outset of the season. Yet there he was, starting ten of the team's first 13 games and playing against both righties and lefties. He singled to center field in his second at-bat of the season and then went hitless in his next 14 at-bats. Ichiro went 8-for-42 with one extra-base hit (a homer) in the team's first 14 games, good for a .190/.255/.262 batting line. The Yankees were winning and an early season slump is usually nothing to worry about, so Suzuki got a free pass because hey, he's Ichiro Suzuki and he'll figure it out.
Act Two: The Inevitable Hot Streak
Naturally, Ichiro figured it out and went on a two-and-a-half month hot streak. From April 19th through July 4th, a span of 70 team games, he hit .296/.339/.408 with four homers and 12 stolen bases in 255 plate appearances. It wasn't exactly Ichiro circa 2004 or even Ichiro circa September 2012, but it was good enough. The highlight of the hot streak was a walk-off solo homer against Tanner Scheppers and the Rangers, one of four games in which New York swatted four of more homers in 2013.
That 70-game hot streak featured 18 multi-hit games and only 26 strikeouts, raising his season batting line to .280/.318/.387. Ichiro was piling up base hits and making noise on the bases, plus he was still playing solid defense. He was contributing both at the plate and in the field, exactly what the injury-riddled Yankees needed. The early slump was forgotten and any concern that he was, uh, old and washed up disappeared for a little while. A streak like this was inevitable at some point, I felt.
Act Three: The Awful Finish
Things very quickly went south for Ichiro. Following the (arbitrarily cut-off) hot streak, he went into a 6-for-27 (.222) and 17-for-73 (.233) slide. Ichiro hit .239/.272/.290 with two homers and eight steals in his final 253 plate appearances and the team's final 76 games of the season. Ichiro started only 57 of those 76 games because he hit his way out of the lineup, first losing time to Zoilo Almonte and then to Curtis Granderson before Brett Gardner got hurt late in the year. He did record his 4,000th professional hit on August 21st, which was pretty cool:
Ichiro finished the season at .262/.297/.342 (71 wRC+) with seven homers and 20 steals (in 24 attempts) in 555 plate appearances. He set new career worsts in AVG, OBP, wRC+, stolen bases, and plate appearances. It was, by a not small margin, the worst offensive season of his career. Ichiro did play strong right field defense despite developing what appeared to be a Bobby Abreu-esque fear of the wall late in the season. Maybe he was hiding an injury and didn't want to aggravate it by running into the wall, who knows. Maybe that explains the noodle bat as well, but I wouldn't get my hopes up.
* * *
Depending on your preference, Ichiro was either a 1.1-win player (fWAR) or a 1.4-win player (bWAR) in 2013, obviously on the strength of his defense. That's … okay, I guess. It's basically the bare minimum for a starting player. Suzuki's season, these three acts, is best shown in graph form: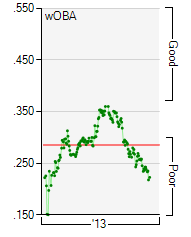 Down, then up (teetering on good!), then really down.
Unfortunately, we're all going to get a look at Act Four in 2014. Ownership signed Ichiro to a two-year contract (!!!) and pending the team's offseason moves, he is currently slated to open next season as the regular-ish right fielder. His skillset at this point is that of a fourth or fifth outfielder: some average, no on-base skills, no power, good base-running, good defense. The kind of guy you can find for maybe a million bucks in the offseason. Instead, Ichiro and his unparallelled marketability will earn $6.25M in 2014 and again provide below-average production. Old, overpaid, and on the decline. The Yankees way.
It's no secret that the Yankees have a lot of needs this offseason. A lot of needs and not many internal solutions, which is a bit of a problem. They're going be busy all winter and given their payroll situation, I'm not sure it's possible to address every single need. I don't think many teams ever get through the offseason with all of their questions answered anyway.
Like everything else in life, some of the Yankees' needs are more pressing than others. Finding someone to replace Travis Hafner at DH isn't nearly as important as say, finding someone to stick in the rotation following Andy Pettitte's retirement. Only one of those things can be placed on the back-burner and addressed in the weeks leading up to Spring Training. With that in mind, let's prioritize New York's most pressing needs over the next 15 weeks or so.
Priority #1: Re-Sign Robinson Cano
As far as I'm concerned, Cano is the key to the offseason. If the Yankees re-sign him, they have a chance to contend next season as long as they make some smart moves to improve the cast around him. If they don't re-sign him, they have close to no chance to contend and should seriously consider tearing the whole thing down and rebuilding. I don't expect that to ever happen though. That's just what I think should happen if he bolts.
Anyway, getting Cano locked up has to be the team's number one goal this offseason. Not just locked up either, locked up quickly. That's going to be close to impossible, obviously. The team should put some pressure on Robbie and his rookie representatives to get a deal done soon so they can move onto other business. He's going to sign a massive contract, the kind of contract that will determine how much they can spend on their other needs. The sooner they get this wrapped up, the better. The more it drags on, the more the list of available options for their other needs dwindles.
Priority #2: Rebuild The Rotation
With Pettitte retired, Hiroki Kuroda a free agent, and CC Sabathia having an abysmal year for whatever reason, the Yankees do not have a sure thing in their rotation. Even Ivan Nova, who impressed in the second half this past season, has yet to put together a solid year from start to finish. It would be nice if he pitched well without having to be sent to the minors for a wake-up call for once, wouldn't it?
The Yankees are expected to be all-in on Masahiro Tanaka but even he is an unknown. Everyone expects him to be very good but no one knows how much he can contribute until he actually comes over and starts facing big league hitters. Guys like David Phelps, Adam Warren, and Vidal Nuno are nice depth options but not guys the team should ask to be the numbers three through five starters come Opening Day. Tanaka is (by far) the most luxury tax friendly option but New York could use another veteran starter in addition to him as well.
Priority #3: Find Some Power
The so-called Bronx Bombers set a Major League record by hitting 101 fewer homers in 2013 than they did in 2012, the largest year-to-year drop in history. Alfonso Soriano played only 58 games with the team and managed to hit four more homers than any non-Cano hitter. Just think about that. It's mind-boggling, especially considering the hitter-friendly nature of Yankee Stadium.
A full season of Soriano and the expected return of Mark Teixeira should help the power output, but that's not enough. New York needs to find a catcher who is not a total zero at the plate and a designated hitter who can actually hit (!), first and foremost, but adding some punch to the bench and replacing the Ichiro Suzuki/Vernon Wells tag team in right with an actual MLB-caliber hitter should be priorities as well. The Yankees play in a small ballpark and in the AL East. That is a reality, not my opinion. They're going to have an extremely hard time winning if they can't hit the ball out of the park.
Priority #4: Replace Mariano Rivera
Okay, there is no replacing Mariano Rivera. The Yankees are likely to give David Robertson the closer's job and let him sink or swim, but that's not replacing Rivera. Simply sticking someone in the ninth inning isn't replacing Rivera. New York is losing an elite reliever this winter — the inning he pitches is relatively irrelevant. They had two elite guys and now they have just one, so the bullpen is weaker even if Robertson turns into another Craig Kimbrel. I don't know if adding an elite end-game arm is a realistic possibility this winter, but, at the same time, going with Shawn Kelley in the eighth, Robertson in the ninth, and a bunch of kids everywhere else isn't all that realistic either.
Priority #5: Add Depth
If you read this blog regularly, you're going to be sick of seeing the word "depth" by time this offseason is over. I'm going to be talking about it all the damn time after this past season. Pitching depth, infield depth, outfield depth … you name it and the Yankees should bring it in whenever possible. Minor league free agents, waivers, whatever. The farm system doesn't have much immediate help to offer, which, in addition to being a negative, means there are lots of roster openings in Triple-A. Even the smallest of upgrades are worth making. This isn't so much an item on a list of priorities as it is a blanket statement they should look to address whenever possible.
As of 12:01am ET today, free agents are able to negotiate and sign with any team. That means Robinson Cano could work out a deal with say, the Tigers, and ink a contract without ever giving the Yankees a courtesy call. He's under no obligation to do so. I don't think Robbie and his agent would do that, but they have the option. Here are some thoughts now that the offseason is truly underway:
1. It seems obvious the Yankees re-worked Derek Jeter's contract basically because he's Derek Jeter. They upped his salary because they seem more concerned with the PR impact (another attendance/ratings drop?) than the on-field impact. Various reports indicate the team wanted to avoid a repeat of their contentious negotiations from three years ago, which leads me to believe Jeter's camp hinted at declining the player option. The team caved even though the Cap'n had zero leverage other than "I'm Derek Jeter." Seriously, no leverage at all. Thirty-nine-year-old shortstop coming off major ankle surgery and a whole 17 games played? Sorry, no one was rushing to offer him a contract, let alone eight figures. Would be nice if the club stood their ground a little more. They were in the driver's seat in these negotiations. They just didn't seem to realize it.
2. One more Jeter point: the contract was reportedly brokered one-on-one with Hal Steinbrenner, meaning ownership again went over the baseball operations department's head to finalize a deal. This is happening more and more often these days, starting with the Rafael Soriano signing and continuing with the Ichiro Suzuki signing and Alfonso Soriano trade. That's three times in the last eleven months alone that ownership went over Brian Cashman's head for a fairly major deal. I get that no GM ever truly has autonomy, but it seems silly that ownership sets this new payroll mandate goal and continues to throw wrenches into the roster. If the baseball ops people could make the rest of the baseball moves this winter, that would be great.
3. Speaking of that new $189M payroll limit, the Yankees won't be able to sweeten any free agent offers with incentives. Any bonuses or incentives that are triggered count against the luxury tax. So, for example, if they sign Roy Halladay to a one-year contract worth $2M with another $10M in incentives based on starts, they have to treat it is as a $12M deal for luxury tax purposes. They can't go through all this trouble to position themselves to stay under the luxury tax only to have it blow up at the end of the season when some random player triggers a bonus based on plate appearances or a rogue MVP vote (remember Raul Ibanez getting a vote in 2012?). New York needs to stick to set salaries and not try to get cute with incentives. That makes their beloved one-year deals for over-the-hill veterans a bit tougher to sell.
4. This seems obvious but I can not emphasize it enough: the Yankees need to steer clear of bad players as much as possible this offseason. I really can't stress that enough. I know, it sounds so obvious, and yet guys like Ichiro Suzuki, Chris Stewart, Vernon Wells, and Eduardo Nunez are on the roster right now. They're there and they were there all season, the damage has already been done. But the club has to avoid similar players going forward. The easiest way to get good is to not have bad players. No more getting cute with old guys who might be revived thanks to the Magic of the Pinstripes™, no more "if we platoon him and get him out of the field three times a week it might work" stuff, nothing like that. Focus on adding quality players who seem like safe bets to be productive in 2014. The Yankees have met their quota of "well, I guess this could work out" moves for the decade.
5. Given what we saw last year with the all the injuries, I think the Yankees should be very aggressive signing players to minor league contracts for depth. The left side of the infield and the bullpen stand out as particular areas of need. Obviously signing these players is much easier said than done — no one wants to sign with the Yankees only to sit in Triple-A and hope Jeter's ankle gives out again, for example — so maybe that means they have to be extra aggressive on waivers, when the player has no say in the matter. The Bombers don't have much help immediate help coming from the farm system, especially on the position player side, so they need to build their depth another way. This past season was a very harsh reminder of the importance of having backup plans in the minors. The less midseason scrambling they have to do, the better.
The 2013 season is over and now it's time to review all aspects of the year that was, continuing today with a young player who failed to take advantage of a good opportunity.
After Russell Martin signed with the Pirates and the Yankees declined to bring in another catcher, it was obvious Austin Romine would get a chance to play at some point this past season. He was slated to open the year with Triple-A Scranton while Frankie Cervelli and Chris Stewart held down the fort at the big league level, but the opportunity was inevitable. Either someone would get hurt or play their way off the roster.
Sure enough, the opportunity came towards the end of April. Cervelli took a foul tip off his right hand and was expected to miss several weeks with a fracture, but a setback and a 50-game suspension eventually ended his season. For all intents and purposes, Romine was the backup catcher to Stewart this season. The opportunity came and it came early.
The first ten weeks in the show were a total disaster for Romine. He hit .132/.145/.176 with 17 strikeouts and zero walks (!) in 71 plate appearances from late-April through mid-July, a span of 23 starts and 32 games played. I get that playing sporadically — it was obvious Joe Girardi had an affinity for Stewart and would play him whenever possible — is tough to do, especially as a kid when you're used to playing everyday, but man were the first weeks ugly for Romine. He looked completely overwhelmed.
Romine spent several weeks working with hitting coaching Kevin Long while also getting input from his father Kevin, a former big league outfielder with the Red Sox. His performance started to turn around in mid-July, right before the All-Star break. Romine played in three of four games before the break and went 3-for-8 with a double and his first walk of the season, which was something to feel good about. I think that "something to feel good about" part was rather important. There's no doubt the kid needed a confidence-booster.
The playing time remained sporadic immediately after the break but Romine kept hitting, enough that Girardi started playing him a little bit more. He started ten of the first 25 games after the break and went 13-for-32 (.406) with five walks, four doubles, and his first big league homer, a monster solo shot to dead center field at spacious Petco Park. Three weeks later, he had his best at-bat of the season, working a nine-pitch bases-loaded walk against David Price.
The mini-hot steak came to an abrupt end in mid-August and Romine went only 3-for-27 (.111) with seven strikeouts the rest of the way. His season ended on September 10th against the Orioles, when he took a foul tip to the face mask and suffered a concussion. Romine was actually cleared to play late in the season but Girardi didn't take a chance. They basically shut him down for the year, which was a wise move.
All told, Romine hit an awful .207/.255/.296 (48 wRC+) with just the one homer in 148 plate appearances this season. He only threw out eight of 38 attempted base-stealers as well, a well-below-average 21%. I thought he was okay on balls in the dirt and stuff like that, but who really knows. There isn't an easy or reliable way to quantify that stuff.
What we do know is that Romine was terrible at the plate and at throwing runners out. Really terrible. The little hot streak was encouraging but who knows if it was a glimpse of what he can really do or just that, a hot streak. Either way, Romine was given a great opportunity this summer and he couldn't capitalize. The starting catching job is wide open both right now and for the foreseeable future, yet he was unable to take advantage. Romine could have cemented himself in the team's long-term plans with a strong showing this summer, but it just didn't happen.
By

George Steinbrenner, Joe Torre, and Billy Martin are part of the 12-man Hall of Fame ballot to be voted on by the 16-member Expansion Era Veterans Committee next month. Marvin Miller and former Yankee Tommy John are also on the ballot, which you can see right here. Twelve votes are required for induction. Electees will be announced on December 9th, the first day of the Winter Meetings in Orlando. The Boss should be a lock, but who really knows with this stuff. · (12) ·
By

As expected, Mariano Rivera has been named the AL Comeback Player of the Year, the league announced. Francisco Liriano took home NL honors. Rivera was a lock for the award after missing nearly all of last season with a knee injury, but he was certainly deserving based on merit as well. Congrats to Mo on what is likely the last award of his playing career. · (4) ·
Tim Dierkes at MLBTR published his annual list of the top 50 free agents with predictions last night, which are more educated guesses than super serious projections. He has the Yankees walking away with Robinson Cano (duh), Ervin Santana, Hiroki Kuroda, Carlos Beltran, Grant Balfour, and A.J. Pierzynski. Tim has Masahiro Tanaka landing with the Dodgers and Curtis Granderson moving across town to join the Mets. I would be pleasantly surprised if the Yankees brought in a haul like that this winter, but, after sifting through the team's payroll situation, I'm not sure they can afford all of that even if Alex Rodriguez is suspended for all of next season. We'll see.
Here is your open thread for the evening. The Bears and Packers are the Monday Night Football Game plus the Rangers are playing as well. Talk about either of those games, the free agent predictions, or anything else here.
By

The appeal hearing of Alex Rodriguez's record 211-game suspension does not resume until November 18th, but don't worry, there is still plenty of nonsense being leaked to the media. A trio of New York Times reporters published this ultra-juicy look into the league's investigation yesterday, which included six-figure payouts for evidence, an intimate relationship between an investigator and a witness, and an off-the-books investigative team approved by Bud Selig. Like I said, it's ultra-juicy. Check it out.

Within that article we learn A-Rod reportedly tested positive for a stimulant during the 2006 season. The test result wasn't made public and he wasn't suspended because that's what the Joint Drug Agreement says is supposed to happen. Only repeat offenders are punished for stimulants. A-Rod's legal team denied the failed test in a statement, and, according to the New York Daily News, they've filed a formal complain with arbitrator Frederic Horowitz over MLB's non-stop leaks to the media. Considering how much they've boasted about all of the evidence at their disposal, the league sure seems to be going out of its way to disparage Rodriguez publicly, no? Just let the evidence speak for itself. · (13) ·
Ever since the Red Sox won the World Series — and really, for weeks and months before that — sportswriters have praised the way the team rebuilt itself last winter. The conversation then moves to how other teams can replicate this model for their own turnaround successes.
The Yankees in particular could use an off-season like the Red Sox had last year. With CC Sabathia, Mark Teixeira, plus perhaps Alex Rodriguez and Robinson Cano, eating up huge chunks of payroll, a bargain or two is just what the Yankees need this winter. But don't expect them to approach their issues the same way the Red Sox did last winter.
Joel Sherman addressed this issue yesterday in the New York Post, and while he's on the right track, he does miss a number of reasons why the Red Sox were able to turn around in a single off-season. Rather than rehash his arguments, I'd rather tackle the issue from the start.
The Red Sox were not a true-talent 69-win team in 2012. They had a number of talented players who either underperformed or were hurt. Perhaps having Bobby Valentine at the helm did cause further underperformance due to chemistry issues. Subtract the players that went to the Dodgers in August, and it's easier to see why they finished so poorly.
When they started to reload in the off-season, they still had a quality core of players, especially on offense. In Jacoby Ellsbury, Dustin Pedroia, and David Ortiz they had the leadoff plus three and four hitters in the lineup. They retained a decent offensive option behind the plate in Jarrod Saltalamacchia, giving them starters at three of four up-the-middle positions. Combined with a superstar slugger, the Sox needed only to fill in the gaps with free agency. There were many, but they were at easier positions to fill.
In filling those positions, the Red Sox took a number of gambles. Mike Napoli was coming off a good year, but one not as impressive as his breakout 2011 season. Hip problems factored into that, which increased the risk for the Sox. Stephen Drew was coming off a major ankle injury. Shane Victorino dropped off a bit in 2012, and really started struggling from the left-handed batter's box. The Sox bet on recovery from each, and won. There's certainly a level of luck involved there.
Luck also came in the form of Mike Carp, who exceeded expectations by a mile in his nearly 250 PA, producing a 140 OPS+. (Skill came into play here as well, as the Sox limited him to just 28 PA against LHP.) Daniel Nava came through in an even bigger way, producing a 128 OPS+ in 536 PA. Add in quality platoon production from Jonny Gomes, and you have the makings of a quality team on offense. In fact, this highlights one major point of the 2013 Boston Red Sox:
They were bad at only one position.
At third base they had Will Middlebrooks, who did get sent to the minors mid-season for poor performance. His replacements weren't much better. But at every other position the Sox had a player with an OPS+ of 110 or better. Even their bench guys performed well: only three players, including Middlebrooks, got more than 100 PA with an OPS+ under 100. The Red Sox carried very few bad players on their roster throughout the 2013 season.
The 2013 Yankees, as we all know painfully well, employed many bad players. Injuries did play a role in this, so it's not completely the fault of shoddy roster construction (though that is a prominent culprit). But like the Red Sox, the Yankees do have a few core players that will play a significant role in the 2014 team.
The Yankees don't quite have a core, but they do have a number of quality players who could be back for 2014. Mark Teixeira is, hopefully, free of injury and ready to return to something between his 2009 and 2010 levels of production. Robinson Cano can be among the best in baseball. Curtis Granderson provides power, if nothing else. Maybe Derek Jeter has something left in the tank, especially after a winter in which he can work out his legs. They might be weak at basically every other position, but the Yanks do have a few players who should produce next year.
Unfortunately, the free agent class looks particularly weak, especially where the Yankees need help. They need someone to man third base, even if Alex Rodriguez faces only a 50-game suspension; if he can't stay healthy through 44 games, how is he going to play even 90 next year? They need a backstop who can hit even a little. And they need some pop from right field. If they can address one of these through trade and one through free agency, perhaps they have a shot to turn things around.
(They also need a backup plan at SS, but we all know that plan will be Eduardo Nunez for better or for worse.)
On the pitching side of the ball, the Sox saw similar results. While their staff lacked a real standout starter (Clay Buchholz was brilliant when healthy but barely cleared the 100-inning mark), no who got more than 10 starts was particularly bad, either. Put together, this no-horrible-starters scheme led to the fourth-best starters ERA in the AL.
The Sox bullpen was highly praised, and down the stretch it was unhittable. But during the course of the season it ranked just 10th in ERA, and actually behind the Yankees. There's not much sense in comparing here, since bullpens form and grow largely in reaction to conditions. Injuries happen, guys hit walls, and other guys miraculously perform as they never have before. The Yankees seem to have a sound bullpen construction strategy, which is all you can ask for.
Can the Yankees pull off a 2013 Red Sox coup this off-season? It's possible, but it's not at all probable. They have their own set of conditions, their own existing players, and a completely different market, both trade and free agency, in which to play. No, the Yankees shouldn't seek to replicate what the Red Sox did. But they can achieve similar results in their own ways.