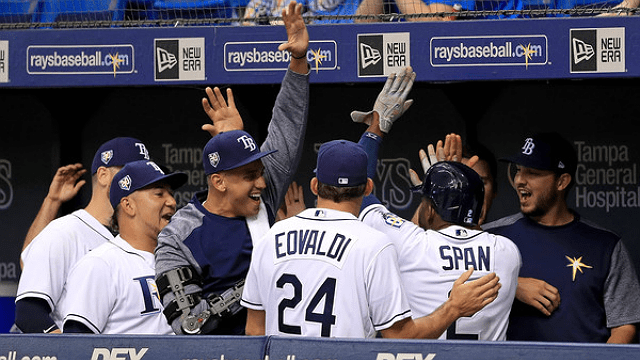 After the Blue Jays series left a disappointing taste in the Yankees' mouths, the Bombers head to the Bronx for the first time this season and will face the Rays in a two-game series, weather permitting. Tampa Bay is coming off a four-game set at home vs. the Red Sox and will have its only two best two starters going in the Bronx.
But first, let's go all the way back to September 2017.
The Last Time They Met
The Yankees took 12 of 19 from the Rays last season, including a sweep in the Yankees' home opening series. Of course, 13 of those 19 were played in New York (remember the series at Citi Field?), so the scales were off a bit.
Their last three-game set came in the Bronx from Sept. 26-28, the second-to-last series of the year.
Game 1 was, coincidentally, started by Jordan Montgomery, who immediately got into trouble. However, he was bailed out by a newly-returned Aaron Hicks, who robbed a grand slam and set the tone for a 6-1 win. Starlin Castro had three hits and a home run.
Another game, another 6-1 win. This time, Castro, Hicks and Bird each had sixth-inning homers to back up six strong innings from Luis Severino in his tuneup for the Wild Card Game.
No sweep to be had! Sonny Gray and Jonathan Holder combined to allow seven runs in the decisive fifth inning, spoiling a 4-1 Yankee lead and turning the game into a 9-6 loss. The defeat came in spite of back-to-back homers from Brett Gardner and Aaron Judge to start the bottom of the first.
For more information, check out Katie's Yankeemetrics post (which includes the makeup game with the Royals which started that week).
Injury Report
The Rays would have a plausible road to a wild card if their pitching depth didn't evaporate this spring. Brent Honeywell — Baseball America's No. 14 prospect in all of baseball — and fellow pitching prospect Jose De Leon each had to undergo Tommy John surgery. In addition, No. 2 starter (and former Yankee) Nathan Eovaldi worked all the way back from TJ himself just to suffer a new elbow injury that will keep him out for a while.
Their Story So Far
Those injuries wouldn't be so costly if the team didn't trade away a significant amount of depth this offseason, setting up a shell of the offense and pitching staff we saw a year ago. Gone are Evan Longoria, Steven Souza Jr., Corey Dickerson and Jake Odorizzi via trade as well as Alex Cobb and Logan Morrison via free agency.
The Rays lost three of four with the Red Sox to open the season despite pulling off an impressive come-from-behind win on Opening Day. All three losses were low scoring (most combined runs was 5) and all were by one run. That's gotta hurt. They initially planned on throwing out, get this, a bullpen game during the series, but Eovaldi's injury necessitated a change with Andrew Kittredge kind of starting, though his game with Ryan Yarbrough was essentially a bullpen game.
Lineup We Might See
Outside of a six-run eighth inning on Thursday, the Rays have scored just three runs in the other 35 innings this weekend. They went with two distinctly different lineups, one for RHPs and one for LHPs.
First, vs. LHPs:
1. 3B Matt Duffy
2. CF Kevin Kiermaier
3. RF Carlos Gomez
4. 1B C.J. Cron
5. C Wilson Ramos
6. LF Denard Span
7. SS Adeiny Hechavarria
8. 2B Daniel Robertson
9. DH Rob Refsnyder
And vs. RHPs:
1. DH Denard Span
2. CF Kevin Kiermaier
3. RF Carlos Gomez
4. 1B Brad Miller
5. 3B Matt Duffy
6. 2B Joey Wendle
7. C Wilson Ramos
8. LF Mallex Smith
9. SS Adeiny Hechavarria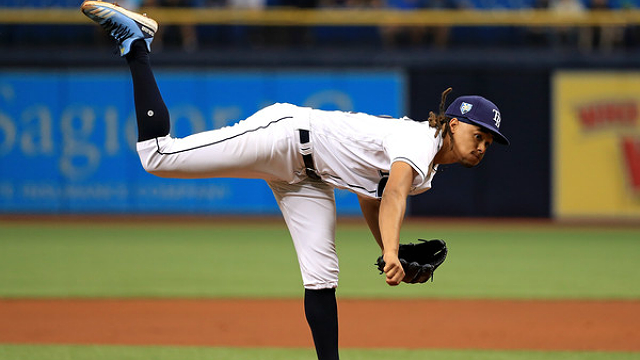 The Starting Pitchers We Will See
Tuesday (4:05 PM EST): LHP Jordan Montgomery vs. RHP Chris Archer
Archer struggled against the Red Sox as he usually does. He simply cannot seem to beat the Red Sox. His final line (four runs in six innings) is a little misleading because Denard Span and Kevin Kiermaier misplayed a routine flyball into a two-run inside-the-park homer for old friend Eduardo Nunez. He was otherwise fine in the outing.
Archer is the staff ace for Tampa, though his ERA has crept over 4.00 each of the last two seasons (as Brent Honeywell would surely tell you). Still, he's made 32+ starts each of the last four seasons and thrown 200+ innings each of the last three. He's a workhorse and can rack up strikeouts with the best of them. However, despite fanning 32 Yankees in 23 1/3 innings last year, the Rays lost three of his four starts and he had a 4.24 ERA in those games.
Last Outing (vs. BOS on March 29) – 6.0 IP, 6 H, 4 R, 1 BB, 6 K
Wednesday (1:05 PM EST): RHP Luis Severino vs. LHP Blake Snell
Snell picked up where he left off in 2017 with a strong outing in his 2018 debut. He didn't allow a run to the Red Sox over 5 2/3 innings and matched David Price pitch-for-pitch. Last season, Snell walked far too many batters in the first half, prompting a demotion to Triple-A. When he came back up to Tampa, he looked like a different pitcher, sporting better control and finding ways to work deeper into games. He struck out 13 Orioles over seven shutout innings in his season finale.
The 25-year-old southpaw uses a 95-mph four-seamer about half the time and sports three offspeed pitches: an 87-mph slider, an 88-mph changeup and a low-80s curveball. The changeup and curveball are his most effective pitches: The curve is especially filthy. Snell has been practically unhittable for LHBs, though righties have been able to get to him at a decent clip. If there's a breakout star-in-waiting for the Rays, it's Snell.
Last Outing (vs. BOS on March 30) – 5.2 IP, 3 H, 0 R, 2 BB, 2 K
The Bullpen
The Rays carry eight relievers and all eight got work this weekend. Yarbrough threw four innings of one-run ball on Saturday, so he's might be unavailable Tuesday. Ditto for Yonny Chirinos, who had four shutout innings on Sunday.
Alex Colome headlines other six relievers as the closer after leading baseball with 47 saves (in 53 chances) a year ago. He's 1-for-1 in opportunities this year. Chaz Roe, who picked up Friday's loss, is one of the primary middle relievers, as seemingly is Sergio Romo, who caught on in Tampa at the end of last year. Jose Alvarado, Sunday's loser, is one of two lefties in the bullpen alongside Yarbrough. Matt Andriese was in the rotation last season but has been demoted to a relief role this season.
Austin Pruitt was scheduled to start a bullpen game on Monday before the snow-out. That's going to be a consistent part of their rotation, taking the role of what would be the fifth starter. It seems like a great way to tire out your relievers. It probably wouldn't have been necessary for long if they weren't down five starters after trading Odorizzi, losing Cobb in free agency and then having Honeywell, De Leon and Eovaldi go down with elbow injuries. I would have liked to see it vs. the Yankees, but alas, the snow.
How Kevin Cash will deploy his bullpen with a lead in the middle innings remains to be seen as he hasn't gotten the opportunity this year. The lone win came with a late rally that simply required one inning from Colome. The middle innings will take some feeling out and future bullpen games could throw things further out of whack.
Yankees Connection
On the active roster, there are only two former Yankees: Roe and Refsnyder. Refsnyder took a circuitous route to Tampa, going from Toronto to Cleveland to the Rays since the end of last season. Roe is a journeyman with a wicked slider that he can sometimes harness.
Outside of them, Eovaldi has yet to throw a big league inning since injuring his elbow with the Yankees in 2016, ending his two-year stint in New York. Finally, Cash was a member of the 2009 Yankees for all of 10 games.
Who (Or What) to Watch?
Kiermaier is always one of my favorite outfielders to watch. Combined with Smith every other game, he can really cover some ground. There will certainly be a ball or two that they get to which other outfield duos wouldn't this series. Outside of them, I guess Archer? There isn't too much flashy or fun about this team, at least until Willy Adames gets called up this summer.
While Opening Day was pushed back a day by snow, it hopefully won't ruin the festivities. Even with the inclement weather, it's always nice to see the full roster go out for intros and get cheered on by what will hopefully be a nearly full house.