By

10:04pm: Ellsbury has a hamstring strain and is heading for an MRI. Joe Girardi said it is a "distinct possibility" his season is over. Rats.

8:29pm: Jacoby Ellsbury left tonight's game with an apparent right leg injury. He came up lame and grabbed at his hamstring after running out a potential double play ball in the fourth inning. Ellsbury was looked at by the trainer and he actually stayed in the game to run the bases, but the Yankees pulled him after the inning. Hopefully it's just a precautionary move. Check back for any updates. · (14) ·
Thanks to last night's walk-off win, the Yankees have a chance to win their third straight game tonight. That doesn't sound like anything special, but the Yankees haven't won three straight games in nearly a month now. The last time they won three straight was actually the five-game winning streak from August 21st through August 25th. Yeah, it's been a while. Here is the Blue Jays lineup and here is the Yankees lineup:
The weather is gorgeous in New York, though it is a little chilly. Summer's over, sadly. Tonight's game will begin at 7:05pm ET and you can watch on YES. Enjoy.
A guest post from our friends at TiqIQ:
The end is near, for both the 2014 Yankees and the career of The Captain. With playoff hopes dwindling, the Yankees will host their final homestand of the season over the next week, playing four games each with the Blue Jays and the recently crowned AL East champion Baltimore Orioles. Like with Mariano Rivera's retirement last season, there will be a known finality with the Yankees unlikely to claim a postseason spot. Derek Jeter has had a forgettable season statistically, but his final game at Yankee Stadium has already generated astronomical secondary market prices for New York Yankees tickets in the Bronx for Thursday's game against Baltimore.
As Jeter says goodbye to the Yankee faithful one week from yesterday, the game will serve as the most expensive regular season game in Major League Baseball this season. According to TiqIQ, the average price for Jeter's final home game on September 25 is currently $668.94 on the secondary market. The team's second most expensive remaining home game on Monday pales in price comparison to next Thursday's game. At $104.12, Monday's game against the Orioles is nearly 85% less expensive than the final game at Yankee Stadium this season. Thursday's average price is 542% above the series opener against the Orioles on Monday.
On top of its extreme secondary market average, the final regular season game at Yankee Stadium currently has a get-in price of $212, making even the minimum ticket price to the game 103% higher than the second most expensive game's average on Monday. Such high prices for the final game makes the other remaining seven home games seem like a relative steal on the secondary market. Of those games, the most expensive get-in price was $15 for last night's series opener against Toronto.
A quick thought on the whole Derek Jeter retirement media blitz and the criticism associated with it by pundits who simply want their voice heard.  Maybe all of this just isn't meant for you.  Maybe the fans are the target audience (as well as people who consume products)?  Maybe there's a time and a place for your negative voice, but for the love of baseball let some of us just enjoy it.  Take your rants about selfishness and put them aside for a few days and just let people who want to celebrate the man's career do so.
A patch, a t-shirt, a commercial … is it really all that damning?  Consider that at some point blind love for the game might have been part of your life, but you've changed your focus on drawing attention to yourself.  I understand many people want to push their agendas to increase page views, TV or radio ratings but the general negative sentiment seems so opposite to what we've seen of people in the past regarding Jeter.
Bloggers, loudmouth TV chat show hosts, you name it have spent the last few weeks jumping and stomping all over the thing some of us are simply trying to enjoy, saying goodbye.  Derek represents a lot to some of us and stomping on other's enjoyment seems just as selfish as anything these pundits complain about.  What's the point?  To have a voice louder than the fans?  You already have that, people probably pay you to have it.  But there's really no need to keep making others feel like they are lesser people because you don't gather the same joy from saying goodbye as we do.
Some of these thoughts are disorganized because by trade I am not a writer/blogger.  I am also not stating that one shouldn't speak negatively of Derek Jeter.  But to be honest I think I share many people's opinion when I say, "Shut up and let us enjoy."  This isn't for you, because you're not a fan anymore.
I've got six questions for you this week. Use the Submit A Tip box in the sidebar to send us any questions or comments throughout the week. Only one more mailbag before the end of the regular season, you know.
Dave asks: Shouldn't the Yanks prioritize going after Andrew Miller as a FA? Similar to getting Johnny Damon and Jacoby Ellsbury, to get stronger and make your competition weaker, he's a lock down lefty which they haven't had in forever, gets righties out too, strengthens the bullpen from the left side and weakens the O's?
I don't put too much stock in the "take him away from your competition" angle. I don't think that's a reason to go out and get a player. I see it as a nice fringe benefit, that's all. Worry about your own roster, not your opponent's, yadda yadda yadda. Did the Yankees really take Ellsbury away from the Red Sox anyway? It's not like Boston was going to re-sign him. He was gone no matter what.
Anyway, the 29-year-old Miller has been outstanding this year, pitching to a 1.96 ERA (1.30 FIP) with a 14.93 K/9 (42.9 K%) in 59.2 innings. Like Dave said, he's been dominating both lefties (.193 wOBA) and righties (.217 wOBA). Miller was very good from 2012-13, pitching to a 3.04 ERA (3.12 FIP) with 12.55 K/9 (32.6 K%), but he's taken off because he cut his walk rate from 4.69 BB/9 (12.2 BB%) the last two years to 2.41 BB/9 (6.9 BB%) this year. His homer rate (0.30 HR/9 and 5.9 HR/FB%) is flukishly low but he still kept the ball in the park from 2012-13 (0.76 HR/9 and 12.8 HR/FB%).
Miller scrapped his two-seamer this season and has stuck with his straight four-seam fastball, a pitch he can better locate. It seems like the light bulb went on — he realized he can throw his mid-90s heater right down the middle and hitters still can't hit it. I remember reading a Matt Thornton interview a few years in which he said that's when his career took off, when he figured out he throw fastballs over the plate and still be effective. Miller also has a devastating slider (that he uses a lot, more than 40% of the time), so he's a two out-pitch pitcher.
I consider Miller and David Roberson to be No. 1A and 1B among the crop of free agent relievers this coming winter. They're both elite, though Robertson cut his walk rate in half three years ago. Miller only has the one-year sample. I wouldn't focus so much on the left-handed aspect either, he can get both lefties and righties out. He's a one-inning, high-leverage reliever. Simple as that. Given the Boone Logan contract (three years, $16.5M), Miller is probably looking at three years and $8M or $9M annually. (He hasn't closed and saves do pay.) I think you give him that contract hoping you get the 2014 version but expecting the 2012-13 version. That's just me. Miller would be a fine addition to any bullpen, including New York's.
Mike asks: Should the Yankees consider Josh Willingham as a 4th OF or is he basically done?
I wouldn't say he's done, no. Willingham is 35 but he is also hitting .221/.353/.407 (117 wRC+) with 14 homers this year, including .258/.380/.461 (136 wRC+) against lefties. Looks like there is still some life in that bat. Willingham is not much of an outfielder at this point though, that's the only real problem. He's awful defensively needs regular turns at DH to remain in the lineup everyday. I have a pretty high tolerance for bad corner outfield defense but Willingham is Raul Ibanez level bad. I think he's more of a platoon DH than a fourth outfielder. I wouldn't say no to him, but he is a limited player.
Jon asks: Masahiro Tanaka pitched in an Instructional League game earlier this week. How does that league work? Who plays in it? Why don't we hear more about it?
Instructional League in Florida runs from mid-September through October — there are also instructs in the Dominican Republic, though I'm not sure when they run exactly — and it's basically a mini-camp for lower level prospects, players who are heading to the Arizona Fall League and need to stay sharp, guys who missed time to injury, etc. Top prospects at the upper levels usually don't go to instructs, so Gary Sanchez probably isn't there after squatting behind the plate all summer. This is mostly very young players still early in their development.
Instructs are almost like Spring Training. There are drills so players can work on specific skills and they also play intra-squad games every day. They're very informal. Players can bat out of order to get more plate appearances, innings will simply end if a pitcher is throwing too many pitches, stuff like that. Some teams will release their Instructional League roster each fall but the Yankees don't. They're secretive about everything. A mini-camp is the best way to describe it. No one keeps stats or anything (maybe the team does internally, who knows), they're just working on the basics. It's exactly what it sounds like, a league for instruction.
Griffin asks: Do you think Elvis Andrus is a realistic trade target for the Yankees?
Realistic in the sense that the Rangers would move him? Absolutely. Realistic in the sense that he would be a good pickup? I don't think so. Not without Texas eating a big chunk of his contract. Andrus is hitting a weak .264/.317/.334 (79 wRC+) this year after hitting an equally weak .271/.328/.331 (78 wRC+) last year. That's a 78 wRC+ in his last 1,344 plate appearances at age 24-25 (he just turned 26). He had an 87 wRC+ from 2009-12 and a 95 wRC+ from 2011-12. He's gone backwards at an age when he should be taking big steps forward.
The Rangers gave Andrus an eight-year contract worth $118M last April and it doesn't kick in until next season. They're going to be paying this guy roughly $15M a year every year from 2015-22. He has a 78 wRC+ in his last 1,344 plate appearances. Did I mention that? Yes, Andrus is good with the glove, but his defensive stats have been trending in the wrong direction for several years now. In fact, he's at -4.3 UZR and -15 DRS this season. So he can't hit, his defense isn't as good as it once was, and he's owed $15M a year for the better part of the next decade. I wanted Andrus as Derek Jeter's replacement a few years ago, before his bat went backwards. The blush is off this rose. I'm sure Texas would love to get out from under that contract at this point, but there will be too many good free agent shortstops on the market this winter for the Yankees to stoop this low.
(Aside: I am totally sick of defense first players. Give me hitters all day, everyday.)
Justin asks: If the Yankees could snap their fingers and rid themselves of one of these contracts, which would be the best one to unload, factoring in both $$$ freed up and ease of replacing said player: CC Sabathia, Mark Teixeira, Jacoby Ellsbury, Carlos Beltran, or Brian McCann?
Out of those five guys, I would say Sabathia because there's a good chance he will give the Yankees absolutely nothing for the remainder of his contract ($48M from 2015-16 plus a $25M vesting option for 2017 that depends on the health of his shoulder). Teixeira and Beltran will be gone in two years and Ellsbury's still a good player. He's the lesser of five evils here. McCann has been terrible this year but at least he still plays good defense at a premium position and mashes taters. I love Sabathia. He's been a great Yankee. But his body has started to break down and that's not a process you can reverse.
Mike asks: You always hear about NFL contracts being renegotiated for salary cap purposes but never in MLB. Is there a prohibition against this? Why couldn't the Yankees offer to change the remainder of Tex's contract to lower the yearly value of the remaining two years but adding an option year for 2017 which would pay the difference from the two remaining years plus a $1 million dollar premium? If the team declined the 2017 option, he would still get full value of contract, plus the premium and then have the option for a FA contract elsewhere. This would give the team some cap flexibility while still honoring the contract.
Sure, this happens in MLB, just not as often because there is no salary cap. Scott Rolen restructured his contract a few years ago to give the Reds more financial wiggle room, for example. (I only remember that because I wrote the MLBTR post.) I suppose the Yankees could restructure Teixeira's contract but they would have to give him an extra year or two to make it happen. He's not (and shouldn't) going to do it out of the kindness of his heart. Also, I think MLB would step in if it was blatant luxury tax circumvention. The Yankees have money though. They can afford to pay Teixeira his big salary these next two years. I don't think it's worth keeping him around another year or two beyond that just to save a few million in 2015 and 2016, which might be non-contention years even if they use the savings to add help elsewhere.

Source: FanGraphs
That was some start to the final homestand of the season. The Yankees scored three runs again — they scored at least three runs in back-to-back games for the first time in exactly a week — and used a walk-off error to beat the Blue Jays by the score of 3-2 on Thursday night. It was their eighth walk-off win of the season and fourth in their last eleven home games. They've been involved in five walk-offs in their last nine games overall (two wins, three losses).
I was out running around all afternoon/evening and I didn't get home until right before Derek Jeter hit his solo homer in the sixth inning. I mean right before. I walked in the door, turned on the television, changed the channel, and R.A. Dickey was in mid-windup on the homer pitch. Pretty great timing on my part. The homer was Jeter's first at Yankee Stadium this year and fourth on the season overall. It is also likely to be the final homer of his career. Bummer.
Jeter's long ball gave the Yankees a 2-0 lead — apparently Stephen Drew (!?) doubled in Chase Headley in the fifth inning, which was unexpected — but that lead evaporated in the eighth inning on Jose Bautista's entirely predictable two-out, two-strike, two-run homer. Francisco Cervelli called for and Shawn Kelley threw the same exact pitch three straight times to Bautista: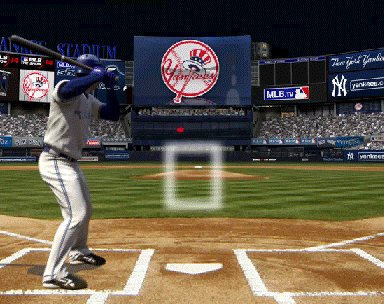 What did they think was going to happen? Bautista was visibly angry with himself after fouling off the second pitch, so maybe change it up a bit? He was sitting on the third straight high fastball and appropriately pimped the homer trot. I would have too. Can you imagine being a big leaguer? I'd pimp the hell out of it every time I hit a ball out of the park. That must be the coolest feeling in the world.
Anyway, the Yankees rallied to win the game in the bottom of the ninth on a walk-off error by Adam Lind at first base. Chris Young led the inning off with a single, pinch-runner Antoan Richardson stole second, then Brett Gardner bunted him over to third. He actually got ahead in the count 3-0, bunted foul twice, then got it down in the 3-2 count. Not textbook. Headley then hit the ground ball that Lind straight up Bucknered at first base. Right through his legs. Richardson was running on contact and I thought he had a chance to beat the throw even if Lind fielded it because he had dropped to his knees. Whatever, doesn't really matter now.
Headley now has three walk-off … batted balls? … with the Yankees. That wasn't a hit, so I guess walk-off batted balls it is. He had the walk-off single in his first game in pinstripes, the walk-off homer against Koji Uehara, and now this walk-off error ball. My brother said Headley reminds him of a late-1990s Yankee, if that makes sense. I hope they find a way to keep him after the season. David Robertson deserves some props for his perfect top of the ninth and Dellin Betances as well for getting the final out of the seventh. The Yankees are scaling back on his workload, hence the one-out appearance. Shane Greene (three singles, two walks in 6.2 shutout innings) was awesome yet again.
MLB.com has the box score and video highlights, FanGraphs some other stats, and ESPN the updated standings. The Yankees are five games back of the second wildcard spot with ten games to play. Their elimination number is six and FanGraphs has their postseason odds at 0.1%. Veterans Hiroki Kuroda and Mark Buehrle will be on the bump Friday night. RAB Tickets can get you in the door if you want to catch that or any of the other six home games left on the season/Jeter's career.
Mike's out, so I told him I'd do the game thread. And then I forgot. Oops. My bad. Here's the game thread for tonight. I don't have anything witty to add. I'd just like to see a few more wins before the season's out. Run the table on the last homestand for Jeter, maybe?
First there was the Nike "tip your cap" ad. Today, Gatorade released a new Derek Jeter tribute commercial. Check it out:
Pretty awesome.
The final homestand of the 2014 season and Derek Jeter's career is about to begin. The Yankees open the eight-game homestand with four games against the Blue Jays, starting tonight. I swear, it feels like I've had to write a Blue Jays series preview every other week this season. Anyway, the Yankees are 8-7 against Toronto this year, including 4-2 at Yankee Stadium.
What Have They Done Lately?
The Jays were just swept by the Orioles in Baltimore, allowing the O's to clinch the team's first AL East title since 1997. Toronto lost two of three to the Rays before that. Overall, the Yankees have Blue Jays are tied for second place in the division with identical 77-74 records. The Jays have the run differential edge +20 to -34, however. This weekend is a battle for second place. Feel the excitement.
Offense
With an average of 4.45 runs per game and a team 105 wRC+, manager John Gibbons watches over a solidly above-average offense. They are without ex-Yankees OF Melky Cabrera (125 wRC+), who broke a finger sliding into a base a week or two ago and is done for the season. 3B Brett Lawrie (101 wRC+) and IF Maicer Izturis (79 wRC+) are also done for the year with oblique and knee injuries, respectively. C Dioner Navarro (103 wRC+) is day-to-day after taking a foul tip to the face mask.
Even without Melky, the Blue Jays have a scary middle of the order thanks to OF Jose Bautista (155 wRC+) and 1B Edwin Encarnacion (149 wRC+). They both have 32 homers. DH Adam Lind (147 wRC+) is also having a strong year and is a nice left-handed complement to Bautista and Encarnacion. SS Jose Reyes (102 wRC+) sets the table from the leadoff spot and OF Anthony Gose (72 wRC+) has taken over as the everyday center fielder. OF Colby Rasmus (103 wRC+) is now just a bench player.
3B Danny Valencia (77 wRC+) is playing the hot corner regularly with Lawrie out. IF Juan Francisco (108 wRC+) had been platooning with him but he's been slumping hard since about June. IF Ryan Goins (26 wRC+ in limited time) is the everyday second baseman. C Josh Thole (73 wRC+) is the starting catcher while Navarro is out. OF Kevin Pillar (71 wRC+), IF Munenori Kawasaki (81 wRC+), IF Steve Tolleson (82 wRC+) ,and OF John Mayberry Jr. (117 wRC+) are the regular bench players. C George Kottaras, 1B Dan Johnson, and OF Dalton Pompey are the September additions.
Pitching Matchups
Thursday: RHP Shane Greene (vs. TOR) vs. RHP R.A. Dickey (vs. NYY)
The 39-year-old Dickey is about to wrap up his fourth straight 200+ inning season, and he was better this year than he was during his first season with the Jays. He has a 3.84 ERA (4.31 FIP) in 31 starts and 196.2 innings with good but not great peripherals: 7.41 K/9 (19.2 K%), 3.11 BB/9 (8.1 BB%), 1.10 HR/9 (11.1 HR/FB%), and 42.7% grounders. As a knuckleballer, Dickey relies on weak contact more than anything. Righties (.325 wOBA) have been better against him than lefties (.307 wOBA) and he's been better on the road (.308 wOBA) than at home (.327 wOBA). Dickey threw two knuckleballs with the Mets a few years ago, but he has since dropped the harder low-80s version and now sticks with the softer mid-70s version. He throws the knuckler roughly 80% of the time while filling in the gaps with low-80s show-me fastballs. The Yankees have only faced Dickey once this year, way back in early-April, in the second series of the season. He held them scoreless for 6.2 innings.
Friday: RHP Hiroki Kuroda (vs. TOR) vs. LHP Mark Buehrle (vs. NYY)
Buehrle, 35, is 12 innings away from his 14th (!) straight 200+ inning season with two starts to go. Unless they start him on three days' rest in the season finale or something. He's thrown at least six innings in each of his last five starts, but one short start could cause him to fall short of 200 innings. Buehrle has a 3.40 ERA (3.71 FIP) in 30 starts and 188 innings this year, plus he's sporting his usually low strikeout (5.07 K/9 and 13.2 K%) and walk (2.06 BB/9 and 5.4 BB%) rates. His ground ball rate (43.9%) is right in line with his career norm but his homerun rate (0.67 HR/9 and 6.6 HR/FB%) is the lowest of his career. Buehrle's platoon split is small and he has been much better on the road (.300 wOBA) than at home (.360 wOBA). As always, he works in the mid-80s with his four-seamer, two-seamer, and cutter while mixing in some upper-70s changeups and low-70s curves to keep hitters off balance. The Yankees have seen Buehrle four times this year: three runs (two earned) in six innings in mid-June, four runs in 6.2 innings in late-June, six runs in three innings in late-July, and four runs in six innings in late-August.
Saturday: LHP Chris Capuano (vs. TOR) vs. RHP Marcus Stroman (vs. NYY)
Last time out, the 23-year-old Stroman created a ruckus when he threw a retaliation pitch behind the head of Orioles catcher Caleb Joseph. He was ejected and has since been suspended six games, but he is appealing and is expected to make this start. Stroman has made 19 starts and five relief appearances this year, pitching to a 3.80 ERA (2.99 FIP) in 120.2 innings. His strikeout rate is alright (7.46 K/9 and 20.2 K%) but his walk (2.09 BB/9 and 5.7 BB%), homer (0.52 HR/9 and 7.1 HR/FB%), and ground ball (54.7%) numbers are spectacular. He has been way better at home (.251 wOBA) than on the road (.355 wOBA) but has a negligible platoon split. The Long Island raised Stroman uses mid-90s two and four-seamers as well a low-90s cutter to set up his mid-80s slider, mid-80s changeup, and low-80s curve. The four-seamer, cutter, and curve are his main pitches. The Yankees have faced him twice this year, first scoring two runs in 3.2 innings and then scoring one run in eight innings, both times in June.
Sunday: RHP Masahiro Tanaka (vs. TOR) vs. RHP Drew Hutchison (vs. NYY)
Again with Hutchison. The 24-year-old will be the first non-James Shields pitcher to make six starts in one season against the Yankees since both Edwin Jackson and Roy Halladay did it in 2008. (Shields did it in 2010 and 2012.) They've faced him in every series this year. Geez. Hutchison has a 4.51 ERA (3.82 FIP) in 30 starts and 175.2 innings after missing just about all of last season due to Tommy John surgery. Both his walk (2.87 BB/9 and 7.5 BB%) and strikeout (8.71 K/9 and 22.9 K%) rates are very good, the homer (1.08 HR/9 and 9.3 HR/FB%) and grounder (36.7%) rates less so. He gets hit hard by lefties (.348 wOBA) and at home (.333 wOBA), though not so much by righties (.274 wOBA) and on the road (.305 wOBA). A low-90s fastball is Hutchison's main pitch and he throws it roughly two-thirds of the time. Sliders and changeups in the mid-80s round out his repertoire. Amazingly, each of Hutchison's five starts against New York have gotten progressively better this year: six runs in 3.1 innings in April, four runs in 4.1 innings in early-June, four runs in 6.1 innings in late-June, two runs in 6.2 innings in July, and no runs in seven innings in August. I guess a no-hitter's coming this weekend.
Oh, and yeah, Tanaka is returning to the rotation this weekend. It will either be totally awesome or the worst thing ever. Lots riding on his right elbow.
Bullpen Status
Because they have been losing so much recently, Gibbons had to use closer RHP Casey Janssen (4.24 FIP) and setup man RHP Aaron Sanchez (2.57 FIP) yesterday just to get them work. Janssen's had an up and down season and he'll be a free agent this winter. I wonder what kind of contract he'll get. Anyway, LHP Brett Cecil (2.48 FIP) and LHP Aaron Loup (3.70 FIP) are the team's other regular late-inning relievers.
RHP Dustin McGowan (4.92 FIP) and RHP Todd Redmond (3.44 FIP) are Toronto's other bullpen regulars. RHP Brandon Morrow (3.83 FIP) is now working in relief after missing most of the season with a finger injury. LHP Daniel Norris, LHP Sean Nolin, and RHP Kendall Graveman are the club's September pitching call-ups. Head over to our Bullpen Workload page for the status of the Yankees' bullpen, then head over to Drunk Jays Fans for everything you need to know about the Blue Jays.
By

Via George King: The Yankees will be among the teams in attendance when soon-to-be free agent Cuban outfielder Yasmany Tomas works out for scouts in the Dominican Republic. The early front-runners to sign him are the Giants, Padres, Rangers, and Tigers, according to Peter Gammons. Jim Salisbury says the Phillies also have "legitimate interest."

Tomas, 23, is billed as a right-handed power hitter with some swing-and-miss-ability and a strong right field-caliber throwing arm. Here's some video. He has established residency in Haiti and has been unblocked by the Office of Foreign Assets Control, but he's still waiting for MLB to declare him a free agent. That should happen soon. Given his age and their need for a big right-handed bat, I hope the Yankees make a real strong push to sign him. The fit is obvious. · (182) ·