By

As expected, the Yankees have added Josh Outman to the active roster and designated Rich Hill for assignment, the team announced. They acquired Outman from the Indians for a player to be named later or cash last night. · (19) ·
Starting with this three-game series against the Blue Jays in Toronto, the Yankees will play 27 of their final 30 games against AL East opponents. Those intra-division games always seem to be tough regardless of where each team sits in the standings. The Yankees are 7-5 against the Jays this year, including 3-3 at Rogers Centre.
What Have They Done Lately?
Toronto is in a month-long free fall. It wasn't long ago that they were right in the thick of the wildcard race, but they've dropped ten of their last 14 games and are now 5.5 games back of the second wildcard spot and 2.5 games back of New York. "The difference between other years and this year is we believed," said Adam Lind to TSN recently. Ouch. The Jays are 7-16 in August and 67-66 with a -2 run differential overall.
Offense
Manager John Gibbons watches over one of the most powerful lineups in baseball. His club averages 4.43 runs per game with a team 105 wRC+, plus they rank fourth in baseball with 147 homers. The Blue Jays are currently without 3B Brett Lawrie (100 wRC+) and IF Maicer Izturis (79 wRC+) due to oblique and knee injuries. Neither is expected to return this series. OF Colby Rasmus (98 wRC+) has missed the last few days with flu-like symptoms.
As usual, the Toronto lineup is built around OF Jose Bautista (149 wRC+) and 1B Edwin Encarnacion (151 wRC+). Those dudes are monsters. DH Adam Lind (136 wRC+) has been pretty awesome as well. SS Jose Reyes (106 wRC+) and OF Melky Cabrera (129 wRC+) set the tone from the one-two spots in the lineup. The top five spots in Gibbons' lineup are as good as any top five around the league. Speed, power, high averages, on-base ability … this group does it all.
The lineup thins out considerably after those top five. Former Yankees C Dioner Navarro (92 wRC+) and C Josh Thole (84 wRC+) split time behind the plate — Thole is knuckleballer R.A. Dickey's personal catcher — and IF Juan Francisco (108 wRC+) and 3B Danny Valencia (109 wRC+) have been platooning at third with Lawrie out. IF Munenori Kawasaki (81 wRC+), OF Kevin Pillar (50 wRC+), and UTIL Steve Tolleson (82 wRC+) fill out the rest of the bench.
Pitching Matchups
Friday: LHP Chris Capuano (vs. TOR) vs. LHP Mark Buehrle (vs. NYY)
This has gone from a career year to a pretty typical Mark Buehrle year these last few weeks. He's slowed down considerably following his great start to the season. The 35-year-old has a 3.41 ERA (3.81 FIP) in 26 starts and 161 innings with his typically low strikeout (5.25 K/9 and 13.6 K%) and walk (2.29 BB/9 and 5.9 BB%) rates. He hasn't gotten many grounders (42.6%) and his homer rate (0.73 HR/9 and 6.9 HR/FB%) is unusually low. That's been on the way up in the second half. Buehrle's platoon split is tiny and he's been much better on the road (.309 wOBA) than at home (.360 wOBA). As always, he works in the mid-80s with his four-seamer, two-seamer, and cutter, mixing in some upper-70s changeups and low-70s curves to keep hitters (even more) off balance. The Yankees have seen Buehrle three times this year and each start has gotten progressively worse (for him): three runs (two earned) in six innings in June, four runs in 6.2 innings later in June, and six runs in three innings in June.
Saturday: RHP Michael Pineda (vs. TOR) vs. RHP Drew Hutchison (vs. NYY)
Hutchison, 24, has a 4.68 ERA (3.95 FIP) in 26 starts and 150 innings this season, his first following Tommy John surgery. His strikeout (8.04 K/9 and 20.9 K%) and walk (2.94 BB/9 and 7.6 BB%) rates are very good, his homer (1.08 HR/9 and 9.0 HR/FB%) and ground ball (35.7%) numbers less so. He has had less success against lefties (.362 wOBA) and at home (.357 wOBA) than against righties (.276 wOBA) and on the road (.306 wOBA). A low-90s fastball is Hutchison's main pitch and he throws it a ton, more than 65% of the time. Sliders and changeups in the mid-80s round out the repertoire. Hutchison has faced the Yankees four times this year, and, unlike Buehrle, he's been progressively better each time out: six runs in 3.1 innings in April, four runs in 4.1 innings in June, four runs in six innings later in June, and two runs in 6.2 innings in July.
Sunday: RHP Brandon McCarthy (vs. TOR) vs. LHP J.A. Happ (vs. NYY)
I'm still pretty mad at Happ for breaking Curtis Granderson's forearm in Spring Training last year. The 31-year-old has pitched to a 4.40 ERA (4.34 FIP) in 118.2 innings across 20 starts and four relief appearances this year, and his peripherals are decidedly meh: 7.66 K/9 (19.7 K%), 3.34 BB/9 (8.6 BB%), 8.6 HR/9 (10.8 HR/FB%), and 39.2% grounders. Both his platoon and home/road splits are small. Happ throws a lot of fastballs, using his low-90s two and four-seamers more than 70% of the time combined. A mid-80s changeup is his top offspeed pitch and he'll also mix in a few low-80s sliders and low-70s curveballs. The Yankees have faced Happ just once this year, scoring three runs (two earned) in 5.1 innings.
Bullpen Status
The Blue Jays were off yesterday, so their bullpen is as fresh as it's going to get in late-August. Closer RHP Casey Janssen (4.14 FIP) is set up primarily by two lefties: LHP Brett Cecil (2.51 FIP) and LHP Aaron Loup (3.56 FIP). Top prospect RHP Aaron Sanchez (2.52 FIP) was called up recently and has also seen some late-inning work.
The rest of Gibbons' bullpen includes RHP Chad Jenkins (3.48 FIP), RHP Dustin McGowan (4.76 FIP), and RHP Todd Redmond (3.27 FIP). Check out our Bullpen Workload page for the status of Joe Girardi's relievers, then check out Drunk Jays Fans for everything you need to know about the Blue Jays.
Only five questions this week, but one has a really long answer. The best way to send us anything throughout the week is via the Submit A Tip box in the sidebar.
Justin asks: What would a fair contract for Chase Headley be? I know he hasn't set the world on fire here, but he seems to be involved in a lot of rallies and his defense speaks for itself. I know re-signing him would in theory block Rob Refsnyder, as it would lock Martin Prado in at 2B, but I don't see that as a major hurdle as there is almost no way the combination of Carlos Beltran, A-Rod, and Mark Teixeira don't miss significant time next year and Prado would likely move somewhere to fill in in such times.
I am pretty terrible at estimating free agent contracts and I feel especially lost on what it will take to sign Headley. Is he going to look for the biggest payday possible? That's never a bad idea in my opinion, especially at age 30. Will he be open to a one-year "pillow contract" to re-establish his value and then look for the biggest payday next winter? That's what Adrian Beltre did with the Red Sox a few years ago.
The pillow contract idea is pretty risky, especially since Headley has hit only .234/.310/.350 (90 wRC+) this year after putting up a 113 wRC+ last year. Excellent defense is great, but it's getting harder and harder to put up big offensive numbers, and that's what gets guys paid. Can Headley get back up to, say, .270/.340/.430 with a full season in Yankee Stadium and without the pressure of having to be The Man offensively? Maybe, but who really knows. Baseball is hard.
I don't think Headley would have any trouble getting $10M on a one-year pillow contract. Maybe $10M plus incentives. Teams have shown they're willing to pay big dollars to keep the term short. The biggest possible contract for Headley at this point probably ranges between two years and $15M (Juan Uribe) to three years and $39M (Aramis Ramirez). Headley and Uribe are actually very similar players as standout defenders with average-ish bats, though Headley is several years younger with an MVP caliber season to his credit. Uribe has two total disaster years (2011-12) on his resume.
Ramirez and Headley are not at all the same type of player — Aramis is all bat while Headley's value comes primarily from his glove — but Ramirez's deal is the largest given to a non-Beltre free agent third baseman since A-Rod. Headley isn't getting Beltre money (five years, $80M) but he'll probably get more than Uribe. Aramis is right in the middle there. Headley's free agent stock is very hard to gauge because he's in his prime years and has shown he can be a solid offensive player, but he's also the type of player who always leaves you wanting more.
The Yankees will need a caddy for Alex Rodriguez next year and Prado could always play second base — I'm not worried at all about blocking Refsnyder, I want the Yankees to have as many good players as possible — so there's an obvious place for Headley on the 2015 Yankees. I'd absolutely love to get him back on a pillow contract, but I would be wary of giving him three years at something like $27M to $30M or so. I like Headley, he fits the team well, but the Yankees need impact hitters at this point and he isn't one.
JonS asks: Maybe I haven't been paying attention and SSS and all that, but does it seem like Michael Pineda is a LOT more efficient since he's been back?
The difference between Pineda and other young big stuff prospects was always his command and ability to pound the strike zone. He had a 2.07 BB/9 (5.7 BB%) while in the minor leagues with the Mariners from 2006-10, then he followed that up with a 2.89 BB/9 (7.9 BB%) with Seattle during his rookie year in 2011. Pineda threw 54.1% of his pitches in the zone that year, the 14th highest rate among the 94 qualified starters according to PitchFX. Remember, he was a 22-year-old rookie back then, and 22-year-old rookies are not known for filling the zone.
Pineda has a 0.97 BB/9 (2.9 BB%) in seven starts and 37 innings overall this year, throwing 54.7% of his pitches in the strike zone. That is broken down into a 1.37 BB/9 (3.9 BB%) walk rate and a 52.6% zone rate in 19.2 innings before getting hurt and a 0.52 BB/9 (1.6 BB%) walk rate and a 57.0% zone rate in 17.1 innings since coming off the disabled list. Pineda also averaged 3.94 pitches per plate appearances before getting hurt and is at 4.00 pitches per plate appearance since coming back, so he really hasn't been more efficient. About the same in terms of pitches per batter. The important thing is that Pineda is healthy and pounding the zone, which indicates he hasn't lost confidence in his stuff.
Matt asks: Is there any available data about a manager's success at challenges? I've heard people mention it before, and after the challenge at the plate with Jacoby Ellsbury (against the Royals) the ESPN guys mentioned it again. Seems like Joe Girardi is doing very well.
There sure is. Baseball Savant has a database of all manager's challenges. Heading into yesterday's action, calls have been overturned only 46.92% of the time this year, which really surprises me. I thought the overturn rate would be much higher since, you know, managers get the thumbs up or thumbs down from their video people before challenging. You'd think a system like that would have a pretty high success rate. I guess a lot of managers are rolling the dice on super close plays.
Girardi is 19-for-24 (79.17%) at getting calls overturned this year, which is obviously excellent compared to the 46.92% league average. In fact, that is the highest overturn rate in baseball. The Marlins are a distant second at 72.73% and no other team was over even 65% heading into yesterday. I'm sure there's an element of luck here — super close players without what seems to be conclusive evidence going your way, for example — but that is pretty remarkable. Girardi and everyone involved in the team's video review process have done a fantastic job this year.
Ryan asks: If Shane Greene keeps pitching the way he is and the Yankees make the playoffs, could he be considered in the running for Rookie of the Year? Same thing with Dellin Betances, does he have a legitimate shot at winning it?
Jose Abreu has the Rookie of the Year already in the bag and deservedly so. He went into last night's game hitting .312/.371/.602 (164 wRC+) with 33 homers, and voters will love that he's leading the league with 96 RBI. Masahiro Tanaka was the only player (in the league, not just with the Yankees) with a realistic chance to challenge Abreu, and his Rookie of the Year chances went down the drain as soon as he got hurt.
Betances has been awesome and he'll definitely get some Rookie of the Year votes, maybe even a stray Cy Young or MVP vote, but there's no way he's beating out Abreu. The slugging first baseman is always going to trump the setup reliever in awards voting. Greene has been very good as well but he'll finish the year with fewer than 100 innings pitched. What makes him more deserving than, say, Matt Shoemaker of the Angels (3.33 ERA and 3.38 FIP in 110.2 innings)? Nothing, really. Greene's been great but I don't see him getting any Rookie of the Year votes. The ballot is only three players deep, remember.
JPK asks: A lot will change, but as currently structured how you stack the top of the order next year? Do you bat Prado between Brett Gardner and Ellsbury or do you go some order of Ellsbury and Gardner 1-2?
I'd definitely go with Ellsbury and Gardner in the one-two spots with Prado lower in the lineup, ideally seventh or eighth. That's not a knock on Prado, I just hope the team adds some true middle of the order bats this winter. It would be awesome if Prado bats eighth because the lineup is so deep, but batting him fifth because they don't have anyone else? Nope. Ellsbury is at his absolute best as a leadoff hitter because he creates so much havoc, and Gardner's on-base ability and newfound power make him a nice fit for the two-hole. Ellsbury's completely miscast as a number three hitter, I wouldn't do that again next year. Prado would make sense as the number two hitter if the Yankees didn't have the other two guys under contract.
The Yankees have released both RHP Alfredo Aceves and IF Corban Joseph from Triple-A Scranton, according to Chad Jennings. Aceves was serving a 50-game suspension for a drug of abuse and was released as soon as he was eligible to be activated. Matt Eddy says they also released the just signed RHP Wilking Rodriguez. Maybe he was hiding an injury or something.
Triple-A Scranton (11-3 loss to Buffalo)
SS Jose Pirela: 2-5, 1 K — 15-for-41 (.366) in his last ten games
RF Chris Young: 1-4, 1 RBI, 2 K – first game since signing a minor league deal, and it's no coincidence he's playing right field
2B Rob Refsnyder & CF Zoilo Almonte: 0-4, 2 K
1B Kyle Roller: 1-2, 1 R, 2 BB, 1 K, 1 E (fielding) — 9-for-14 (.643) in his last five games
DH Ramon Flores: 0-3, 1 BB
C John Ryan Murphy: 2-4, 1 R, 1 RBI, 1 K
RHP Chris Leroux: 2 IP, 9 H, 11 R, 9 ER, 4 BB, 3 K, 2/2 GB/FB – 46 of 77 pitches were strikes (60%) … egads
SwP Pat Venditte: 3 IP, 2 H, 0 R, 0 ER, 0 BB, 4 K, 1/3 GB/FB — 34 of 49 pitches were strikes (69%)
RHP Chase Whitley: 1 IP, zeroes, 2/1 GB/FB – eight pitches six strikes
RHP Preston Claiborne: 1 IP, zeroes, 1 K, 1/1 GB/FB — 11 of 17 pitches were strikes (65%)
By

The Yankees have acquired left-handed reliever Josh Outman from the Indians for a player to be named later or cash, the team announced. Outman is not on the 40-man roster but will report to the big league club. I assume Rich Hill's time in pinstripes is coming to an end.

Outman, 29, had a 3.28 ERA (5.24 FIP) in 24.2 innings for the Tribe this year before being sent to Triple-A, where he had a 4.43 ERA (4.09 FIP) in 22.1 innings. Big league lefties hit .180/.293/.380 (.304 wOBA) with a 25.9% strikeout rate against Outman in his limited time this year. He manhandled same-side hitters last year, holding them to a .195/.278/.261 (.249 wOBA) line with a 31.0% strikeout rate in 2013. Just another incremental upgrade. · (86) ·
Got a fun little quiz to pass along tonight: SB Nation put together a ten-question quiz about obscure baseball rules. I got six right out of ten and one of my correct answers was a total guess. There are a lot of really, really weird rules in this game. Check it out. It's pretty fun.
Once you've done that, here is your open thread for the night. The Mets are playing plus both the (football) Giants and Jets are playing their final preseason games. Talk about those games, the quiz, this afternoon's loss, or anything else right here.
Another winnable game slips through their fingers. The Yankees lost Thursday afternoon's series finale to the Tigers by the score of 3-2, mostly because the offense didn't bother to show up for the final five innings of the game. Two runs won't win you much in this league.
One Run At A Time
The Yankees and Tigers traded runs each inning from the second through fifth. A single (Nick Castellanos), a hit-and-run (Don Kelly), and a sacrifice fly (Alex Avila) gave Detroit a 1-0 lead in the second inning. The Yankees responded with an infield single and an advance on an error (Zelous Wheeler) plus another single (Jacoby Ellsbury) to score a run in the next half-inning, all with two outs. The hardest hit ball in those two rallies was probably Avila's sac fly. They didn't exactly knock the cover off the ball.
A more traditional rally gave the Yankees a 2-1 lead in the fourth. Martin Prado led off the inning with a single, then moved to third on Carlos Beltran's one-out line drive double to left. It took a weird carom off the side wall and deflected right to Kelly, the left fielder, otherwise I'm pretty sure Prado would have scored from first on the hit. It ultimately did not matter because Brian McCann pulled a two-strike pitch on the ground to the right side of the infield to score the runner from third. A productive out, as they say. I prefer to call it a less bad out.
Anyway, the Tigers tied the game at two in the bottom of the fifth thanks a leadoff walk (Kelly) and a wild pitch. Hiroki Kuroda gift-wrapped that rally for them. Kelly moved to third on Andrew Romine's ground out and scored on Rajai Davis' two-out single. Again, I'm pretty sure the hardest hit ball against Kuroda was Avila's sacrifice fly. Well, Victor Martinez lifted two long fly balls to left field, but that's pretty much it. The Tigers didn't square him up at all. But still, the score was knotted at two through five innings.
No More Offense
Somehow the Yankees only managed the two runs (one earned) in six innings against rookie left-hander Kyle Lobstein even though he gave up a ton of long fly balls and did not strike out a batter (one swing-and-miss out of 83 pitches). Here is the team's spray chart against Lobstein (taken from Gameday), just in case you don't believe me about the long fly balls: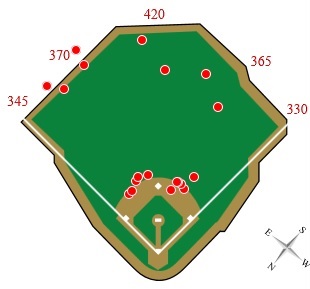 No, the Yankees didn't hit any homers off Lobstein, so those two data points over the left field fence give you an idea of just how unreliable batted ball data is. But yeah, they hit four balls very deep to left field another deep to center, all for outs. The Yankees had some well-struck balls against Lobstein, just not well-struck enough. Blah.
Anyway, after Beltran doubled to left in the fourth inning, Lobstein and relievers Blaine Hardy and ex-Yankee Joba Chamberlain combined to retire 16 straight Yankees before Mark Teixeira drew a two-out walk in the ninth. Beltran followed that with a single to shallow center, moving Teixeira to third, but McCann struck out to end the inning. He just missed a three-run homer by a few feet earlier in the at-bat. It had plenty of distance but hooked just foul. The Yankees have just seven hits in 15 innings since recording nine straight hits off David Price in the third inning on Thursday.
Walked Off
For the second time this year, the Yankees were beaten by the fading bat of Alex Avila. He hit an extra-innings go-ahead solo homer in New York a few weeks ago, and on Thursday he clubbed a walk-off single with two outs in the bottom of the ninth. Shawn Kelley pitched into the mess by allowing a leadoff double to Victor Martinez and a walk to J.D. Martinez, but he rebounded to strike out both Castellanos and pinch-hitter Torii Hunter. He recorded both strikeouts with fastballs because his slider just wasn't working. Naturally, Avila hit the slider.
The game-winning hit looked to be gone off the bat, but it ended up hitting off the wall in right field. Ichiro Suzuki either alligator-armed it or simply timed his jump poorly and completely whiffed on the ball. It certainly wasn't a routine play, but it was catchable based on the fact that he was right there when it hit the wall. Not exactly the most graceful defensive play you'll see. I know the slider is Kelley's trademark pitch, but it was clearly his less effective offering on Thursday and that's what he got beat on. If you're not going to bring in David Robertson in situations like this, maybe at least have a lefty ready for Avila?
Leftovers
Kuroda's biggest mistake of the afternoon was probably the leadoff walk to Kelly in the fifth inning. He held the Tigers to those two runs on just four singles and a walk in seven innings, striking out four and recording 15 of his 21 outs on the infield. Kuroda looked very good considering he was making a late-August start on normal rest. Usually he hits a wall around 80 pitches this time of year — he threw 91 in this game, 58 for strikes (64%) — but that was not the case Thursday. Just another strong start in a recent string of them for the rotation.
The offense had five hits all afternoon: a single and a double by Beltran, and singles by Ellsbury, Prado, and Wheeler. Teixeira drew two walks. Derek Jeter went 0-for-4 with three ground outs and is down to .265/.313/.317 (76 wRC+) on the season. It's amazing the Yankees continue to shoot themselves in the foot by batting him second.
Dellin Betances threw a scoreless eighth inning but did walk Ian Kinsler — who immediately stole second — to bring Miguel Cabrera to the plate with a chance to drive in the go-ahead run. He struck out Miggy on four pitches and got the two-time defending AL MVP to take one of the silliest swings you'll ever see for strike three.
Box Score, WPA Graph & Standings
Head on over to MLB.com for the box score and video highlights. FanGraphs has some additional game stats. The updated standings are at ESPN. The Mariners are off Thursday, so the Yankees are three games back of the second wildcard spot at the moment. Depending on the outcome of the night game, they'll be either six games (Orioles lose) or seven games (Orioles win) back of the top spot in the AL East. FanGraphs puts New York's postseason odds at 12.9% at the moment.

Source: FanGraphs
Up Next
The Yankees are off to Toronto for a three-game weekend set against the struggling Blue Jays. Finesse lefties Chris Capuano and Mark Buehrle will open the series on Friday night.
By

As expected, Masahiro Tanaka threw his second simulated game this morning. He threw 49 pitches across three innings while facing Brendan Ryan, who batted both right- and left-handed. Tanaka threw all of his pitches and said he feels nothing more than normal soreness, though he is rusty. Joe Girardi called it a "good step in the right direction."

The Yankees will wait to see how Tanaka and his partially torn elbow ligament feel in the coming days before setting the next step in stone. Girardi indicated his ace will throw at least two and likely three more simulated games before returning to the team. The minor league season ends Monday, so Tanaka will have to do all of his rehab and prep work in simulated games. That's not ideal but there's really nothing they can do. · (84) ·
The Yankees are playing their best baseball of the season right now. The rotation is giving them a quality outing just about every day, and the offense is finally starting to consistently score runs. Scoring 16 runs in 14.2 innings against Chris Sale, James Shields, and David Price these last few days is something that would have never happened earlier this year.
This afternoon's rubber game against the Tigers gives the Yankees a chance to climb to within two games of the second wildcard spot (the Mariners are off today) with 30 games left to play. They also have a chance to draw closer to Detroit in the wildcard race. Passing one team is tough enough. Having to jump two is very difficult, which is why these head-to-head games are so important. Here is the Tigers lineup and here is the Yankees lineup:
It is nice and sunny in Detroit this afternoon. Cool, too. Temperatures are in the low-70s. These games are starting to have playoff level intensity and the weather is appropriate. First pitch is scheduled for 1:08pm ET and you can watch on YES locally and MLB Network nationally, depending on where you live.