There has been much written about Alex Rodriguez and his substandard season over the last several months, and deservedly so. His triple-slash stats represent career lows across the board and he's a 35-year-old admitted PED user with a bad hip, so I guess he had it coming it in a way. But for this one August night, Alex reminded everyone that he's the most talented player on the field whenever he steps on the diamond.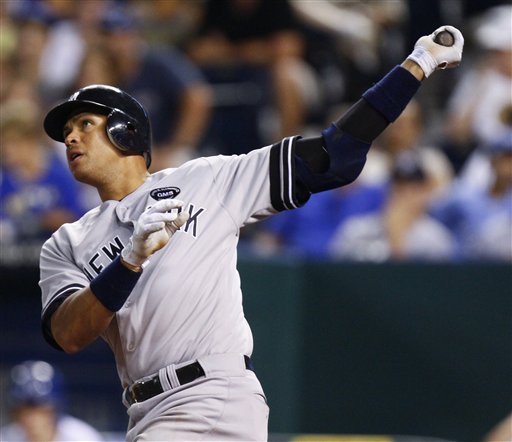 Easy As One, Two, Three
It's like he heard me. After A-Rod struck out – swinging through two low-90's fastballs, mind you – with men on first and second to end the 3rd inning, I took out some frustration on Twitter. "Alex needs to get his shit together," I ranted. "It's August already." Little did I know how much power I truly have.
With the score tied at one, A-Rod led off the 6th against Royals' starter Sean O'Sullivan, who again befuddled the Yankee lineup with changeup after changeup after changeup. He fed Alex a heavy diet of sinkers down in the zone before accidentally leaving one up in the zone in a 2-1 count, which the Yanks' cleanup hitter promptly deposited into the leftfield stands to give his team a 2-1 lead. Given the offensive frustration of the first five innings, it felt like a grand slam. Well, not really, but it was good to have the lead.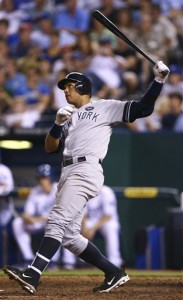 The Yanks were up 4-3 in the very next inning (yeah, a lot happened in that 6th inning), and Alex came to the plate with a man on first but didn't bother to work the count. Former Yankee farmhand Kanekoa Texeira came right after him with the heater, but Alex turned it right around and hit it into the batter's eye in dead center. Not only did it give the Yanks a much more comfortable three run lead, but it gave us all some hope that A-Rod is turning back into the hitter we all know he can be.
Not satisfied with just the two long balls, the newest addition of the 600 HR club took out some anger on a 96 mph Greg Holland fastball in the 9th, hitting it clear into the fountains beyond the leftfield wall. The majestic blast gave the Yanks a five run lead, their biggest since last Sunday. It was A-Rod's first three run homer effort since the Bartolo Colon game back in 2005, and the fourth of his career. His night ended with four hits and five runs driven in, and he raised his season OPS by a whopping 31 points in the span of five plate appearances.
Alex's 7th inning homer was technically the biggest hit of the game, but all together were talking about a .372 WPA effort from the Yanks' regular third baseman, pretty remarkable since there wasn't some kind of walk-off hit involved. Hopefully this is a sign of things to come.
Not Bad Luck, Terrible Luck
Yanks' starter Phil Hughes settled into a groove after the Royals picked up a quick run in the 1st, retiring 13 of the next 17 men he faced heading into the 6th. With a three run lead, Hughes immediately gave one right back when Wilson Betemit, yes that Wilson Betemit, clubbed a pitch into the rightfield stands for a solo jack. What followed was nothing more than bad luck.
Kile Ka'aihue reached on an infield single, barely beating out the throw by Robbie Cano. Alex Gordon then blooped a single over Ramiro Pena's head into shallow left, and Yuniesky Betancourt completed the bad luck trifecta by reaching base when Brett Gardner lost a lazy fly ball in the moon. Nothing was hard hit and most of the time two of those plays result in outs, but there was Hughes, starting down a bases loaded, zero outs situation with a two run lead.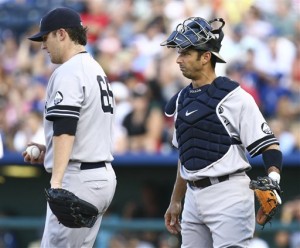 With his pitch count creeping up towards the century mark, Hughes and catcher Jorge Posada went right to their comfort zone, the fastball. The impatient Mitch Maier hacked at a first pitch heater, flying out to left and not deep enough to score the run. Chris Getz saw five pitches (all fastballs and cutters) in an at-bat that ended with an RBI ground out. As if the bad luck gods were worried that we forgot they existed, Getz's grounder was hit far too weakly to turn a double play. Gregor Blanco followed that an all-fastball at-bat, ending the inning with another grounder to first on the fifth pitch. The outs made by Maier and Blanco were equal in terms of WPA impact, decreasing Kansas City's chances of winning by close to 11% each.
A year or two ago, that's probably a three or four or more run inning for the opposition. The young neophyte pitcher probably tries to get cute instead of trusting his stuff, leading only to more trouble. But Hughes didn't do that in this one, he went to his strength regardless of the hitter's weakness, and battled out an inning with some serious ugly potential. Anytime the other team loads the bases with no outs and manages to only score one run, that's a win for the pitcher and his defense.
Overall, Hughes allowed nine hits over six innings of work, but he didn't strike out a batter and walked one. He certainly threw strikes (99 pitches, 71 strikes), but I'm encouraged that he was able to grind out six innings against the BABIP happy Royals. Through 22 starts the 24-year-old has a 3.94 ERA, and I'm pretty sure every one of us would have signed up for that coming out Spring Training.
Leftovers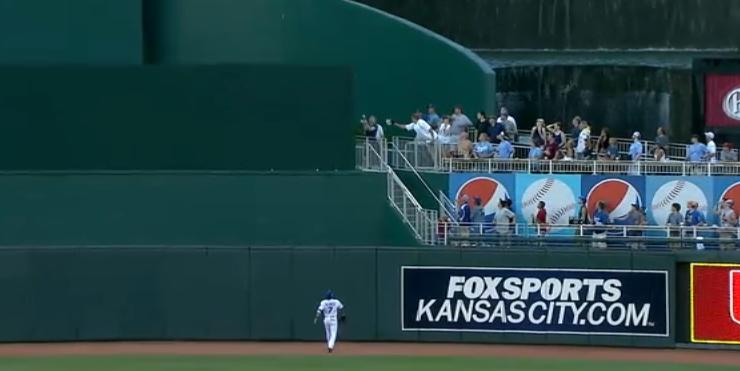 Alex absolutely stole the show, but let's not forget that Jorge Posada and Curtis Granderson also went deep in this one. Posada's homer hit some dude in the face (above), and Grandy's was his third career hit off O'Sullivan, all of which are homers. Nick Swisher, Robbie Cano, and Mark Teixeira all hit balls to the wall as well, including another one by Granderson. If this game would have been played in the Bronx, the Yanks probably would had hit six homers as a team.
Speaking of Grandy, he's hit a few balls hard the other way in this series, which is a good sign. He's been a dead pull hitter for a few years now. Going the other way will open up some more holes and the hits will start to drop in soon enough.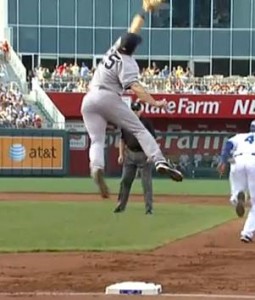 We all know Teixeira is a stud defensively, but he put on a clinic in this one. He made a leaping grab, a diving stop, a few nice scoops, you name it. He was all over the place, and definitely saved a run or two. Tex also picked up a pair of hits, just like Brett Gardner. Everyone in the starting lineup had at least one knock.
Another day, another three scoreless innings out of the bullpen. Those guys have been fantastic for over a month now. I guess the only negative is that Boone Logan actually allowed a lefthanded batter to reach base against him, the first time that's happened since he hit Ichiro with a pitch at the end of June. But seriously, great work out of him, Joba Chamberlain, David Robertson (where's the high socks, yo?), and Sergio Mitre.
Three homers aside, let's give A-Rod some props for this being his 1,000th game as a Yankee. Only 42 other players in history have accomplished that. He appeared in 790 games as a Mariner and 485 as a Ranger, yet it still feels like he just got here, no?
The Yanks, Rays, and Red Sox all won, so everything remains status quo in the AL East. Tampa's two back, Boston six.
WPA Graph & Box Score
Finally, a night without some late inning stress. Here's the box score, here's all that other stuff.
Up Next
The Yanks will try for the series win tomorrow afternoon when they send A.J. Burnett to the mound against Bryan Bullington, who I can't believe is still in baseball.