By

After a ridiculous ruling on a slow groundball that resulted in an inexplicable decision by the Official Scorer as an A-rod error, The Cleveland Indians radio announcers just said, "Derek Jeter doesn't get charged with an error in this ballpark." The six errors on his record already this year beg to differ. · (0) ·
By

Suzyn Waldman on the WCBS broadcast of the game just said someone introduced her to "this thing on the Internet, yoooooooTube?" Anyone else ever hear of it? As she just asked Sterling, "You don't know YouTube?" His response: "I'm not a big YouTube fan." John doesn't know what he's missing. · (0) ·
Player
WPA
pLI
Pitcher
WPA
pLI
Jeter
.151
0.65
Igawa
.054
0.94
Giambi
.132
0.58
Proctor
.006
0.11
Abreu
.094
0.61
Henn
.004
0.04
Phelps
.084
0.53
Britton
.001
0.04
Damon
.067
0.67
Cano
.031
0.67
Cairo
.000
0.01
KT
.000
0.02
Posada
-.015
0.63
Melky
-.052
0.54
Alex
-.056
0.83
You just gotta love these offensive romps. You also have to wish they could do this night in and night out, but hey, we'll take it when we can get it. We'll also take that pitching performance from Igawa every time, though we know he's not going to deliver it.
As one of Igawa's most vocal detractors, I have to say that he was rather impressive last night. He threw 92 pitches through six innings, 62 for strikes, which really makes me wonder why he didn't come out for the seventh inning. You knew Henn and Britton were throwing the 8th and 9th, so was it Joe's and Gator's concern for Igawa's confidence (get him out while he's ahead), or was it Joe's compulsory use of Scott Proctor?
Yeah, I'm going to bring it up, even though my intention is not to kill the buzz of another win. I just don't get it: with another game against Cleveland and three against Boston in the offing, why does Joe have to go to Proctor? The dude pitched in five straight games last week, and has pitched in nine of the Yankees 13 games this season. An extra day off is only going to help him at this point. Some of my angst will subside if he's not available for work today — but I'm not sure Joe has ever strung together the words "Scott Proctor is not available today."
The good news is that he hasn't allowed a hit in his last three appearances (3.2 innings), hasn't allowed a run in his past five, and his walk last night was his first in four outings. He's starting to hit a groove, and I just don't want him being overused and burned out.
But, if my biggest complaint about a game is the use of Proctor with a 7-run lead, I think we're in good shape. All the starters got a hit, and Alex hit yet another bomb (yeah, it was a "tack on," if there is such thing, but what are you gonna do, tell the guy to stop hitting homers?).
Rasner vs. Fausto Carmona this afternoon. I've been worried about our inexperienced pitchers going up against the Cleveland offense, but after looking through their order, they're nothing to fear, at least at this point. True, their top three — Sizemore, Michaels, and Hafner — are producing, and Ryan Garko has promise at the No. 4 spot. But after that, it's a mess of guys hitting under .250 (though Peralta and Delucci have decent OBPs).
Bonus
Here are two batting lines. Name each player:
Player A: .191/.296/.213
Player B: .180/.208/.180
Triple-A Scranton (4-0 win over Syracuse) check out which 2 former Yankee prospects batted 3-4 in the Syracuse lineup
Kevin Reese: 2 for 5, 1 R, 1 2B
Alberto Gonzalez: 0 for 4, 1 RBI, 2 K
Bronson Sardinha: 0 for 3, 1 BB, 1 K
Eric Duncan: 1 for 4, 1 R, 1 K
Shelley Duncan: 0 for 2, 2 BB, 2 K – HR and RBI streak ends at 3 games
Omir Santos: 1 for 4, 1 K
Phil Hughes: 6 IP, 2 H, 0 R, 0 ER, 0 BB, 10 K, 6-2 GB/FBÂ - you're right, it's best to keep him in the minors…
Ron Villone:Â .1 IP, 2 H, 0 R, 0 ER, 0 BB, 1 K
Ben Kozlowski: .1 IP, 0 H, 0 R, 0 ER, 0 BB, 0 K – 7.1 IP, 4 H, 0 R, 0 ER, 1 BB, 8 K in last 4 games
BA's Jim Callis took a swarm of draft related questions today at his weekly ESPN chat:
Eric (Sierra Vista, AZ): Hey, Jim, sorry to pester you, but with Max Scherzer heading to Fort Worth, do you see him cashing in with the Nats like you saw last week? Was the departure of Mike Rizzo a big reason why the negotiations have deterorated?
 Jim Callis: (2:05 PM ET ) I think the biggest problem is just that the Diamondbacks and Boras valued him differently. Arizona saw him as a guy who wasn't going to go higher than No. 11 (and might have slid through the first round otherwise), and Boras saw him as one of the top two pitchers in the draft. I don't think he was that good, but if he pitches well at Fort Worth and shows he's fully healthy, you could argue that he's the No. 2 prospect in a 2007 draft bereft of college righthanded pitching.
By

Pitcher A: 3 G, 14 IP, 6 H, 2 R, 2 ER, 8 BB, 14 K, .133 BAA Pitcher B: 3 G, 8.1 IP, 12 H, 11 R, 8 ER, 12 BB, 3 K, .333 BAA To all the people who flooded my inbox after last year's draft: you're right, the Yanks should have drafted the second guy over the first. · (0) ·
Just got the scoop from Pete Abraham. It'll be Pettitte vs. Schilling, Karstens vs. Beckett, and Wright vs. Dice-K.
I still don't totally agree with starting Karstens in Boston after he missed the last part of Spring Training and had only one four-inning rehab start. But, when you're stuck in situations like this, you're forced to adjust accordingly.
Just so it doesn't go to waste: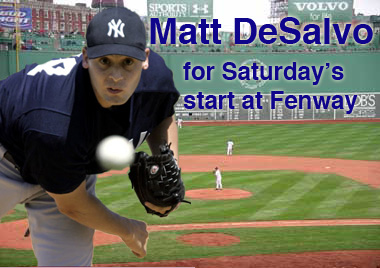 By

Literally. Is there a hotter blogger around right now? And as an added bonus, she's writing a baseball blog too. · (8) ·
By

Just thumbed through the new issue of SI, and saw a bit about Colt Molloy, a Texas high schooler who just threw five straight no-hitters. Neat, huh? The reason I mention it here is because the article mentioned contacts with a Yankees scout. There's no reason to get overly excited: the only two guys to throw more consecutive no-hit innings in high school didn't exactly pan out. I kinda wish the article talked about his stuff more, but it did make mention of a mid-80s fastball, something that doesn't translate well in the bigs. But, as a late-rounder? Yeah, he'd be worth a 20th round pick or so. · (1) ·
The weather's been creating havoc in the baseball world, and it's not just the major leagues that are being put in a bind (although my fantasy team is looking forward to all those Grady Sizemore doubleheaders). Because minor league teams do not have the resources to deal with Mother Nature, games are called much sooner and much more often than they are in The Show. Here's a quick wrap up of how the weather has affected each Yankee affiliate so far this year (includes tonight's games):
Triple-A Scranton:Â 4 total games called off, none made up, haven't played since Saturday
Double-A Trenton: 5 total games called off, none made up, also haven't played since Saturday
High-A Tampa: 1 game rained out, and it's already been made up
Low-A Charleston: no cancellations…yet
On to tonight's action:
Triple-A Scranton snowed out. No word on a makeup date.
Double-A Trenton's doubleheader was rained out. They'll try to make up one game as part of a doubleheader tomorrow, no word on the makeup of the second game. If they play tomorrow, it'll be their first action since Saturday.