By

Remember the old adidas commercials with the ANSKY guys? Well, the Yanks' mortal enemies over at Metsblog broke out this old adidas commercial. (Warning: Topless Steinbrenner ahead.) · (5) ·
A couple of months ago I posted a review of the PS2 version of The Show, in which I advised you to wait until you can go get a used copy for $15. That most certainly does not hold true for the PS3 version.
The gameplay is nearly identical to the PS2 version, the one major difference is that you can use the SixAxis motion sensing feature of the controller to make diving catches, run over the catcher, and slide into the bases. This isn't necessarily a bad thing though, because the game play is the best out there next to EA's NCAA Baseball series in my opinion.
The graphics though, holy cow are they phenomenal. They added something like 3,500 new animations, including massive upgrades to the crowd, stadiums, and even the environment outside the stadiums. In addition to the basic player specific batting stances, there are now player specific swings. Wanna take that big long healthy cut with A-Rod? You can do it. Maybe you just wanna inside-out a pitch to the opposite field with Jeter; that's in their too.
There's new slide animations as well, including what I call "The David Ortiz Special," which is when a guy catches a spike a few feet before reaching the base, and then tumbles head over heels before falling a yard short of the base. Take out slides are a bit more violent, and pop-up slides actually look like…well…pop-up slides.
There's also host of tiny little details that have been upgraded as well, including: real 1st and 3rd base coaches (gone are the generic #77 & #81 coaches, in come the real guys, like Larry Bowa and Tony Pena), players letting go of their bats and they helicopter into the stands, A-Rod rockin' the high socks, oh, and and after the first baseman makes a put out and throws the ball to the shortstop, he'll actually catch it (this irked me to no end in the PS2 version).
If you're a stickler about rosters (and who isn't), then I've got good news. The default rosters are current as of Opening Day, so guys like Josh "Mike you're an idiot, why would the Yankees want to pick this guy off waivers (a few years ago), he's toast" Hamilton, Elijah Dukes, Alex Gordon and Joe freakin' Smith are in the game, plus Jon Papelbon is a closer, Braden Looper a starter, and Junior Griffey a right fielder. But, if you go and download the roster updates (if you're like me and don't have online capabilities with your PS3, go here for instructions on how to download the updates to your computer and tranfer the files to your PS3 – it's a piece of cake), the rosters are current as of a couple days ago. That means you get to use Phil Hughes (custom windup), Mighty Matt DeSalvo, Chase Wright, Brandon Wood, Tim Lincecum, Andy LaRoche, Brett Myers as a closer, Freddy Sanchez as a second baseman…the list goes on and on. Alas, Roger Clemens and Ron Villone aren't in the update because they hadn't appeared in an MLB game before the update was released.
Overall, I give it a very solid 9 out of 10. I don't like the fictious player contracts/salaries, and I do have some qualms about some of the player rankings (David Ross the best player on the Reds? Anibal Sanchez the best on the Fish? Come on now), but the combination of gameplay and graphics is nearly impossible to beat. $65 is a bit stiff, but if you love baseball games, it's well worth it.
Forget what you know about yesterday's outcome. If I told you that Matt DeSalvo didn't pitch well yesterday and was lifted with one out in the fourth inning, how many runs do you think the White Sox would have scored? If I told you that he was replaced by Luis Vizcaino — with men on base — how many more runs do you think the White Sox would have scored? And after Viz pitched an inning and two-thirds, he was replaced by Ron Villone. So we have to be up to seven, eight, nine runs by now, right?
But there were only four. When you think of it that way, it doesn't seem so bad. In fact, with the Yankees lineup, that should translate into a win. Unfortunately, the cold bats continued, and the Yanks managed just one run (a Mientkiewicz double that was oh so close to going over the fence). That's what happens when you strand six of the 10 men you put on base, and erase another three via the double play.
Joe Torre displayed a bit of desperation after the game. "I know we're going to get better at it. I know we're going to put a streak together. Every time you win, you say, 'This is when we're starting it.' But it hasn't happened yet. You keep working hard."
Can you blame him, though? Wouldn't you be desperate if you were in a position similar to the Yanks'? The expectations bar is set ridiculously high, so when your heralded offense is limping, the whole team looks bad. If the Yanks drop five out of the next six, you can just imagine what Joe's media dealings will be like.
"It's either a hamstring thing, or an elbow thing, or a psychological thing. Or a heart attack!"
"Who used that one, skip?"
"Me."
Hey, if the Yanks offense is giving fans agita, imagine what it's doing to the man at the helm. It may appear that he's asleep at the wheel most of the time, but if the man really didn't care about his job, he wouldn't have fought for it last fall. His players wouldn't have defended him this spring. He may make some questionable in-game decisions (which includes writing Bobby Abreu's atop the lineup card), but he's not the reason the bats are cold. He wasn't the reason for April's hamstring injuries, and he didn't pitch ineffectively and not make it through five innings.
So what, exactly, does this team need? Maybe Alex Rodriguez (whose swing hasn't been nearly as sweet in May) has an answer. "It's very important to play well, and it's good — it's maybe what we need. You have no choice against the Mets and Boston but to bring your game up."
So, while many of us aren't particularly looking forward to the next two series, Alex thinks it may be what the team needs to turn the season around. I'm not sure if I buy that. You're not going to be playing teams the caliber of the Mets and the Red Sox all year, and if that's what it takes to get you motivated, you're not going to end up in the playoffs. Wins against the best are obviously necessary, but so are wins against teams like the pathetic-hitting White Sox.
Then again, I think back to what we've been saying for years now: the Yanks beat up on the good pitchers, but falter against rookies and shitty arms. The Yankees worst offensive games this year have come against Jon Garland (okay, he's pretty good — but not great), Jon Danks (rook), Horacio Ramirez (fuckin' terrible), Jarrod Washburn (after smoking him), Brandon McCarthy (who had an ERA over 7.00 heading into the contest), Miguel Batista (sucks), Tim Wakefield (even though we won), A.J. Burnett (who was getting killed coming into that game), and Ramon Ortiz (on the verge of being released).
This weekend, we have Oliver Perez (who is looking much more like 2004 than 2005 and 06), Tom Glavine, and John Maine (wow). So at least we're not facing a bunch of rookies and shitheads (though I'm not sure if we've seen Maine yet). Maybe that's a good thing? Who knows. At least it will start of on a good foot, pitching-wise for us. Andy Pettitte tonight. Tomorrow is a "gimme" game, with Rasner on the hill (if we win, it's a huge bonus), and Sunday is a roll of the freakin' dice with Tyler Clippard (he might fool the Mets hitters, or he might give up four consecutive bombs). Is asking for five runs too much?
Last 7 Days
Posada: .455/.478/.682
Jeter: .364/.462/.500
Matsui: .320/.346/.440
Damon: .278/.278/.333
MInky: .182/.250/.273
Alex: .174/.269/.174
Melky: .167/.231/.500
Abreu: .160/.192/.280
Cano: .143/.143/.238
Giambi: .071/.278/.071
By

Since we fetishize good young pitchers around here, I thought I would share with you Tim Lincecum's pitching line tonight against the Astros. He went 7 IP, gave up 2 hits, 1 run (unearned) and 1 walk while recording 10 strike outs. He threw 60 of his 95 pitches for strikes. That's pretty damn good. I think he'll stick around San Francisco. · (1) ·
Oh man, have you played MLB 07: The Show for PS3 yet? That game's crazy sick. If you go and download the roster updates, you get to use Phil Hughes (they have his real windup), Mighty Matt DeSalvo, Chase Wright, Timmy Lincecum…all those guys who got called up earlier in the year. It's frickin' awesome. No Rocket though, he can't be included in the game updates until he appears in an MLB game. I'll post a more in-depth review tomorrow…
Triple-A Scranton (2-0 loss to Norfolk)
Kevin Reese: 1 for 3, 1 BB
Andy Phillips: 1 for 4, 1 2B, 1 K – .329-.409-.529-.937
Shelley Duncan: 1 for 4, 2 K
rest of lineup: 0 for 19, 7 K, 2 EÂ - Eric Duncan wasn't in the lineup…
Tyler Clippard: 1 IP, 0 H, 0 R, 0 ER, 1 BB, 3 K – is he starting Sunday? Man I hope not…
Sean Henn: 2 IP, 3 H, 2 R, 2 ER, 0 BB, 1 K
Chris Britton: 2 IP, 3 H, 0 R, 0 ER, 0 BB, 2 K
Ben Kozlowski: 3 IP, 0 H, 0 R, 0 ER, 0 BB, 3 K, 5-1 GB/FB – this poor guy is gonna need an arm transplant by August…
By

"If you thought Barry Bonds was interesting, wait until you see this kid. Took four pitches (intentional walk) with bat tucked under arms and arms folded across chest. Sat down on second (base) twice. A bit of a canine, but I'D TAKE HIM IN A SECOND."

You think you know who that is? Take the quiz and see how good your scouting eye really is. I went 10 for 35, Joe went 9 for 35… · (8) ·
By

Pause… Pause… NOT. So the Mets score 5 runs in the bottom of the 9th for their second walk-off victory this week while the Yanks go down meekly in Chicago. Anyone else think the Yanks will be lucky to take one of three from the Mets during Subway Series Part CCXVII? · (8) ·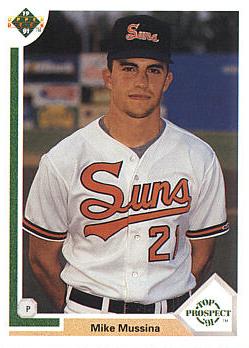 Time after time, some little thing disrupts Mike Mussina's rhythm, and he feels the need to make excuses for himself. After watching this go on and on since 2001, I'm beyond sick of it.
Yesterday afternoon, during the postgame interviews, Mussina claimed that he had nothing coming out of the bullpen and that he really struggled to make it through his half-assed start against a White Sox club that came into the game batting .220 with a sub-.300 OBP AS A TEAM.
But really, Mussina didn't like the rain-out and the extra day of rest. It bothered him. For a smart guy – Stanford, crossword puzzles – Mussina sure can't conquer the mental aspects of the game. He falls apart when someone makes an error; he can't deal with a disruption to his routine.
Mark Feinsand said it best in his blog recapping 14 hours spent at U.S. Cellular Field in Chicago:
Mike Mussina needs to just go out and pitch. I know he's a huge creature of habit, so being pushed back two extra days is a big problem for him, but after playing as long as he has played, he needs to find a way to get past it and give his team 100 pitches.
I know Feinsand isn't the only sports reporter who questions Mussina's fortitude. You have to believe that an accomplished pitcher in his 17th season in the Majors could just suck it up now and then. But more and more, it seems like Moose cannot, and it's a let down.
Tyler Clippard left today's game against Norfolk with an injury after the 1st inning. No idea how serious it is, but when I find out, I'll let ya know…
Update: There are some rumblings that Clippard was pulled early because he's going to start Sunday for the Yankees. The NEW YORK Yankees, not the Scranton variety. Good grief…
Just wanted to make a quick little announcement and say that Joe and I (and maybe Ben if he's interested) will be acting as co-scouting directors for the Yankees in this year's Mock Draft over at John Sickel's Minor League Ball.
If you don't know what the Mock Draft is, go here to find out. We'll periodically update you on our progress, and I'm sure we'll do something cool for draft day.
We're looking for some help with scouting guys/doing research, so if you're interested in lending a hand, here's the diary thread. Remember, this is NOT about who we think the Yanks should pick, it's about who we'd pick if we were in charge. But most of all, this is about having fun, so come join in and help pick the next wave of great Yankee prospects!