Our long national nightmare is finally over. After weeks of relatively few ups and plenty of downs, the Yankees have clinched a playoff spot and did so because of their ace CC Sabathia. He carried team on his broad shoulders and almost singlehandedly got them into October, but he had some help from an offense that scored runs in ways we're not used to seeing. By no means is it a stretch to say that Tuesday's game was the best the Yankees have played in three weeks.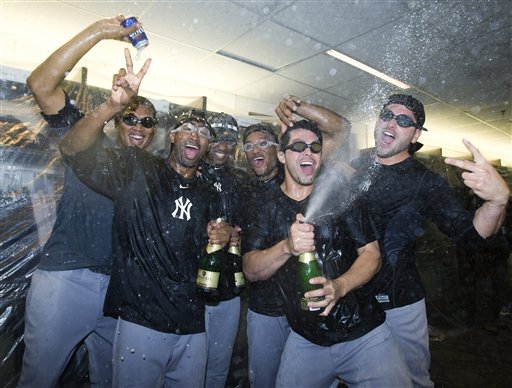 Small Ball
The Bronx Bombers have been a left-on-base factory over the last several weeks, but they had no such trouble in this game. Not only did six of the seven men that reached third base come around to score, they all came around to score in ways that don't do justice to the Bronx Bomber moniker.
The pressure was applied in the very first inning, when Derek Jeter led the game off with a bouncer back up the middle for a single. He moved to second on a wild pitch then over to third on a Mark Teixeira single, and Alex Rodriguez drove him home with a sacrifice fly. The second run scored in similar fashion: a Jeter walk, a wild pitch, a bunt to third, and another sac fly. The Yanks didn't need any more than that, but they happily tacked on a few more on anyway.
Jeter, in the middle of it again, drove in their third run on a fielder's choice in the fifth, and two more runs came around to score on an A-Rod bases loaded walk and a Robbie Cano sac fly in the seventh. The last run came on a Greg Golson ground out in the ninth, the final nail in the coffin. Six runs, all on what are generally considered small ball tactics and not a single base hit. It was their first game with three sac flies in almost exactly two years. Considering that 21 of their previous 24 runs had been scored on homeruns, it was a nice change of pace. The RISP FAIL was nowhere to be found, and hopefully that's a trend that continues deep into October.
Why They Started Him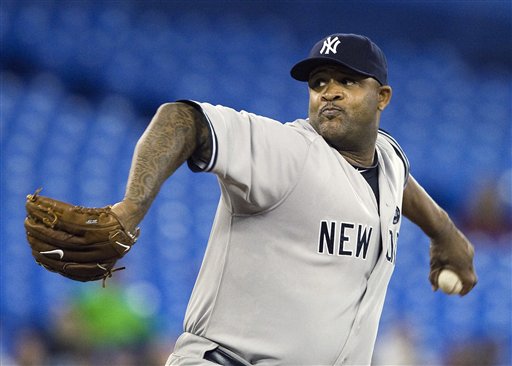 Regardless of where you stood on the debate about whether starting CC Sabathia was a good move, there's no denying that the big man showed why giving him the ball is always the right move. It was evident right from the start, when he retired the first two Blue Jays on two pitches, and cruised right into the third inning before his lone hiccup: a first pitch solo homerun to semi-rookie Travis Snider. CC then retired the next eleven men he faced, and took the ball into the ninth inning on less than 100 pitches. Exactly half of the 30 men he faced were retired on three pitches or less. That's efficiency, yo.
It was a big time game from a big time pitcher, the staff ace of the defending World Champs. There was definitely enough gas left in the tank for the complete game, but there's no shame in handing the ball off to the greatest reliever of all-time with a postseason berth on the line. Sabathia gave the Yankees everything they could have asked for tonight, and now he gets to enjoy some extra rest as he prepares for Game One of the ALCS, no matter where that ends up being. Bravo CC, bravo.
Leftovers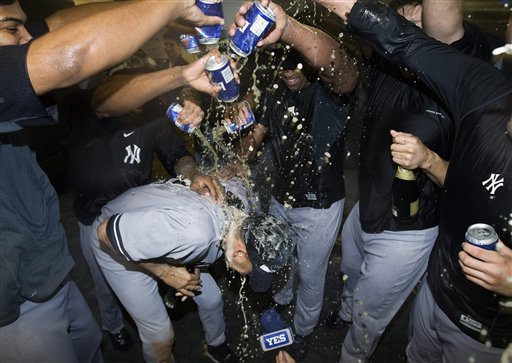 Aside from the obvious, the big victory in the game is that the Yankees actually beat a young pitcher they'd never faced before. Kyle Drabek definitely had the stuff, but the Yanks pushed enough runs across to saddle him with his third loss in as many big league starts. Thankfully we're done with that nonsense for the season.
Brett Gardner had a big hand in tonight's game. He tripled and singled, scoring on Jeter's ground out and slid in just under John Buck's tag. He and Derek combined for four hits, a walk, and four runs scored. A-Rod and Tex combined for two hits and three walks, driving in three. Very nice job by the table setters and the meat of the order.
Huge night for the defense as well. A-Rod made some brilliants stabs and third and made the throws with the help of the artificial turf, Cano barehanded a slow roller, and Curtis Granderson ran down everything from gap-to-gap while Tex was scooping balls in the dirt like it was going out of style. Great effort by everyone.
Tampa beat the Orioles, so they remain half-a-game up in the AL East. Remember, it's effectively a one-and-a-half game lead because they hold the tiebreaker. With four games left, the priority is resting players, getting healthy, and lining up the rotation. The division should be an afterthought at this point. This will be the Yanks' 49th trip to the postseason, by far the most of all-time. Second? The Dodgers with 26. Mighty big gap there.
WPA Graph & Box Score
Nice and easy. Thanks CC. ESPN has the box, FanGraphs the nerd.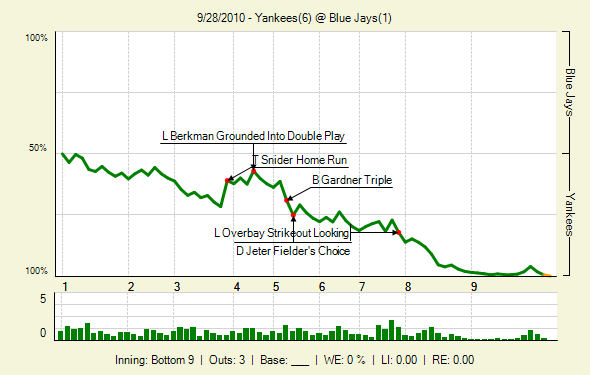 Up Next
These two clubs will wrap up their season series tomorrow night, when someone not named Andy Pettitte Javy Vazquez takes on Brett Cecil. Chances are he'll be facing some guys that logged lots of at-bats at Triple-A Scranton this summer, and I'm perfectly fine with that.