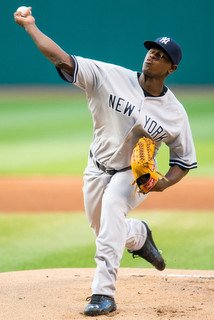 Last night, top pitching prospect Luis Severino made his second big league start, allowing just two runs in six innings. The first two innings were rough but he settled down and cruised the final four frames. The Yankees insist Severino is staying in the rotation, so we'll see the young right-hander on the mound again in five days.
Severino is just the latest young player to be called up from the farm system and be asked to contribute this year. He was the 14th player to make his MLB debut with the Yankees this season and that doesn't include two others (Joel De La Cruz, Taylor Dugas) who were called up but did not appear in a game. The Yankees have definitely dipped deep into their farm system for help this year.
"I think we have gotten younger this year," said Joe Girardi to Alex Putterman last week. "We have a 25-year-old (shortstop). We've had some players who have come up and really helped. Severino (was) our 14th player this season to make his Major League debut. So we have gotten younger, and we'll continue to get younger as these kids continue to mature."
Getting help from the farm system was an issue the last two years. Whenever the 2013-14 Yankees called up a player, he often provided little impact, or there was no young player to call up in the first place. Organizational depth has improved considerably this year. Need an outfielder? Slade Heathcott, Mason Williams, and Ramon Flores were there. Infielder? Rob Refsnyder and Jose Pirela. Relievers? The Yankees have a small army of power arms in Triple-A.
The improved depth extends beyond the farm system as well. If Chris Young is not the best fourth outfielder in baseball, then he's certainly in the conversation. People like to complain about Garrett Jones and Dustin Ackley, but they're something like the 24th or 25th man on the roster. Zelous Wheeler, Dean Anna, Ben Francisco, and Brennan Boesch were among the guys to fill that role in recent years. Who would you rather have as the 24th man, that cast of characters or Jones/Ackley? Exactly.
Of course, the big difference this year is health. By and large the Yankees have stayed healthy this season, at least their core players. Masahiro Tanaka (forearm), Carlos Beltran (oblique), Jacoby Ellsbury (knee), Andrew Miller (forearm), and Michael Pineda (forearm) all missed a few weeks but that's about it. Mark Teixeira and Alex Rodriguez have stayed on the field, first and foremost, but so has the rest of the infield, Brian McCann, and the majority of the pitching staff.
Major injuries forced the Yankees to dip into their system for help more than they would have liked the last few years. That has not been the case this season, with Ellsbury's injury the only one that really pushed the team to give young position players everyday at-bats. (And, of course, Heathcott and Williams both ended up on the DL themselves. Womp womp.) The last spot or two in the bullpen has been used as a taxi squad for fresh arms and it's worked pretty well, I'd say.
The Yankees have been able to call players up this year because they want to call them up, not because they have to. There's a big difference. Compare Rob Refsnyder to David Adams two years ago. The Yankees called Refsnyder up because they wanted to give him a shot and see if he was any better than what they already had. Adams was called up because the Yankees had no choice. Injuries forced their hand. There's a huge difference between giving someone a chance because you can or because you have no other choice.
Make no mistake, the Yankees are exceeding expectations this year (last few games notwithstanding) because most of their star players have played like stars, Teixeira and A-Rod specifically. That they've been able to get quality production from their depth players like Young, all those relievers, and now Severino is icing on the cake. Young players are coming up, having some success, and helping in different ways. The Yankees have much more organizational depth now than in recent years. Their system has been an asset.