The mailbag returns from the Thanksgiving break with eleven questions. I hadn't checked the inbox in so long that there was a question asking whether the Nationals could have interest in Brian McCann. True story. RABmailbag (at) gmail (dot) com is the place to send us questions.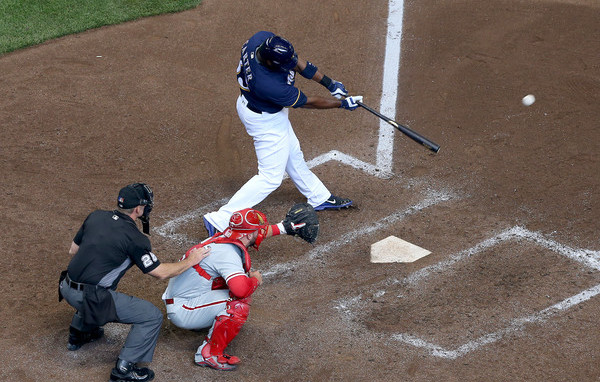 Many asked: What about Chris Carter?
The Brewers are planning to non-tender Carter later today unless they can trade him before the deadline, which seems unlikely. The 29-year-old right-handed hitter put up a .222/.321/.499 (122 wRC+) batting line this past season, during which he led the NL in home runs (41) and strikeouts (206). That's Chris Carter. Dude is going to hit some bombs, draw walks (11.8%), and swing and miss a ton.
Milwaukee is opting to non-tender Carter rather than pay him a projected $8.1M salary through arbitration in 2017. Teams are unwilling to pay big for one-dimensional sluggers nowadays. That's why Carter is getting non-tendered for the second straight offseason, why Mark Trumbo was traded for peanuts last year, and why Pedro Alvarez had to wait forever for a new contract last winter. Homers are cool, but you better be able to do other things too.
The Yankees have an opening at DH right now — I mean, they could use another young player there, but it seems unlikely right now — and Carter could certainly fill that role. He'd give the team some much needed power too. Carlos Beltran led the Yankees with 22 homers last season. Yikes. The last time the team leader had that few home runs was the strike-shortened 1995 season, when Paul O'Neill hit 22.
Carter can be had a cheap one-year contract — he made $2.5M this year and I don't think he'll get much of a raise even after leading the NL in dingers — so he fits what the Yankees need in that sense. I am hesitant because a) he can't play defense, and b) he strikes out so much. The Yankees are probably going to have to put up with some deep Aaron Judge slumps next year. How many more strikeouts do you want in the lineup?
Right now, I'd have Carter third on the DH wish list at best. Beltran and Matt Holliday are my top two preferences. Carter is ahead of Mike Napoli and Brandon Moss for me though. All three guys will end up giving you the same production, and Carter will come the cheapest. He's not a must sign for me at all. He's a backup plan at DH.
Many asked: What about Jay Bruce or Curtis Granderson?
Yes on Granderson, meh on Bruce. The Grandyman is forever cool with me. He'd fill that DH void and also provide extra depth in the outfield. Also, the Yankees are really short on left-handed power right now, and Granderson would help in that department for sure. There's only one year left on his contract at $15M, and while that's pricey, it's not a deal-breaker. Among trade targets, Granderson is at the top of my DH list.
As for Bruce, he'd be an okay option at DH, I suppose. His numbers have really taken a nosedive the last few years for whatever reason. He would add left-handed pop and could also play the outfield (and even some first base), and heck, he's six years younger than Granderson. And cheaper too (one year at $13M). In reality, it's basically a toss up between the two. They're similar. I prefer Granderson because a) he'll get on base more, b) he's been healthier the last few seasons, and c) he's been here before and there will be no adjustment period, presumably. Just my preference.
Eric asks: Is there any chance that the Rockies, White Sox, Pirates, Marlins, Royals, or Astros sign any of the free agents who rejected qualifying offers, thus moving the Yankees up in the draft order? Assuming this isn't affected by a new CBA.
It won't be affected by the new Collective Bargaining Agreement. We know that now. The Astros are said to be in the mix for Edwin Encarnacion, and even if they don't sign him, they could make a run at another qualified free agent like Jose Bautista or Ian Desmond to add offense. I wouldn't call it 50/50. Maybe it's more like 30/70 the Astros give up their first round pick to sign a free agent? I can't see any of the other teams doing it though. They're more likely to tear things down than make a real go-for-it move. The Yankees hold the 17th overall pick in the 2017 draft right now, and with any luck, the 'Stros will give up their pick and New York will slide up to 16th. (Assuming the Yankees don't give up their first round to sign a free agent.)
Frank asks (short version): With the free agent reliever market about to go insane, wouldn't a Michael Pineda move to the bullpen be something to think about?
I think it's worth considering at this point. Pineda's about to enter his sixth year in the organization and he's only thrown two full seasons because of various injuries. Both seasons were league average at best. Pineda has his pluses (misses bats) and minuses (far too hittable), and over a full season, the minuses seem to outweigh the pluses. I think he'd be pretty excellent in relief, to be honest. Airing out the cutter/slider combo for an inning at a time could be devastating.
There are two potential issues. One, Pineda would probably resist such a move in his contract year. His earning potential as a starter, even a league average one, would be pretty big. If he puts together a few strong months and finishes with, say, a 3.50 ERA (3.70 FIP) in 180 innings, he could be looking at a very nice contract. And two, the Yankees probably need him as a starter right now. Putting Pineda in the bullpen would almost certainly require adding a starter. I couldn't imagine the Yankees going with Masahiro Tanaka, CC Sabathia, and three kids next year.
Steven asks: I'm not that interested in what we'd get back in return, I'm sure there's some 19 yr old I never heard of who can throw 90+, but what teams could legit benefit/be interested in obtaining Brett Gardner?
Three teams immediately jumped to mind: the Nationals, Giants, and Cardinals. Washington needs a center fielder and Gardner would fill that role. (They don't necessarily need a leadoff hitter anymore thanks to Trea Turner.) They've reportedly been talking to the Pirates and Andrew McCutchen, so they're thinking big. The Giants need a left fielder but not a leadoff hitter because they have Denard Span. In that huge ballpark, they need a left fielder who can go get the ball, and Gardner can do that.
The Cardinals might be the best fit because they need both a center fielder and leadoff hitter. They're moving Matt Carpenter down in the lineup to help replace Holliday, and they need someone atop the lineup who can get on base. St. Louis also doesn't have a true center fielder on the roster. They've been playing Randal Grichuk out there and that can't last. Gardner helps them offensively and defensively. The Indians are another possible suitor, I'd say. Depends on Michael Brantley's shoulder as much as than anything.
Mike asks: The thought of having a prospect package large enough for Trout and the news the Yankees have given thought to trading Headley got me thinking, what about Nolan Arenado from the Rockies? What would a potential package look like and would the Rockies do it?
I don't think they would trade him. The Rockies do have a history of locking up their star players. They signed both Todd Helton and Troy Tulowitzki, two homegrown megastars, to massive contract back in the day. Carlos Gonzalez got a big extension too. Nolan Arenado is next in line for a Helton/Tulowitzki deal. He is so insanely good and I feel like people don't realize it because he's stuck on a crappy team and his numbers get discounted due to Coors Field.
If the Rockies did make Arenado available, oh yes, go get him. He's a 25-year-old cornerstone player who does everything but steal bases. Will he hit .294/.362/.570 at sea level like did at altitude last year? No, but if you believe in the park factors, he's still 25% better than average offensively and is just now entering his prime years. I think Arenado still has another level in him, and considering he's already a +5 WAR player, there might be an MVP in his near future. (His teammates might cost him that MVP though.)
I can't really answer what it would take to get a player like this, a bonafide star three years away from free agency. This is like the Paul Goldschmidt question three weeks ago. Guys like this almost never get traded. The Yankees would have to put Gleyber Torres on the table — if you're the Rockies, why would you trade Arenado without getting Torres? — plus a bunch more. Good prospects, too. Not Torres and crap. And it'd be worth it. Arenado's a top five player in my opinion.
Rich asks: Sean Doolittle. What do you think as a another LH option for the bullpen?
Doolittle is exactly the kind of reliever I don't want the Yankees to acquire. He's had some shoulder problems the last few years and he throws basically nothing but fastballs. That's usually a bad combination. Doolittle had a fine 2016 season, pitching to a 3.23 ERA (3.45 FIP) with 29.0% strikeouts in 39 innings, though I feel like it's all downhill from here. His contract is not prohibitive at all ($19.5M from 2017-20 if the club options are picked up) but the prospect cost might be given the state of the bullpen trade market. When there are better relievers available in free agency for nothing but money, go for them, not Doolittle.
Kenneth asks: What's your thoughts on potentially a trade for Tony Watson. I live in Pittsburgh and he along with Cutch and J-Hey have been in trade rumors. Wondering if you think he could be an interesting guy to add to the back of the pen.
The Doolittle logic applies to Watson — just sign one of the top relievers and keep the prospects. Watson is one year away from free agency and for some reason his ground ball (43.8%) and home run (1.33 HR/9) rates really took a step back in 2016. I mean, everyone's home run rate went up in 2016, but his was 0.52 HR/9 from 2013-15. That's a big jump. Could just be a fluke for all I know. Watson would be worth a longer look in a non-mailbag setting if, you know, there weren't so many good free agent relievers available.
Sam asks (short version): I get why people say you couldn't use relievers the way Miller was used in the post-season over the course of a regular season, but what if you constructed your pitching staff to have a guy you planned on using 40-50 times, for 120 premium innings?
It's a great idea, in theory. The player would have to a) buy into that role, and b) be someone you could extend three innings and remain effective. A lot of relievers are relievers because they couldn't go multiple innings. If you find the right player, that's definitely a bullpen role I'd like to see. He'd be someone you could count on to give your other relievers a rest every few nights, and when you do run into those tight games, you can use a quality reliever for more than one inning at a time. Everything in baseball is trending towards using pitchers less and less, so I'd be surprised if someone tried this nowadays, but it'd be awesome to see. It's a great way to maximize a quality reliever and a roster spot.
Michael asks: If the Pirates are open to trading Josh Harrison (we know the Pirate-Yankee trading history), would it make sense to pursue him given his team control and club options?
Harrison is surprisingly expensive! I thought the Pirates got a better deal when they signed him long-term. They owe him $7.75M next year and $10.25M the year after before his club options kick in ($10.5M and $11.5M). That's a decent chunk of change for a guy who hit .283/.311/.388 (87 wRC+) this year and has been a +1 WAR player for two years now.
I'm not sure how much versatility Harrison offers at this point — he's been a full-time second baseman for two years now — and if his bat keeps going backwards, he's suddenly an expensive platoon player. I'm not surprised the Pirates are looking to move him. Back when the Yankees had a seemingly limitless payroll, Harrison would make some sense. But with the luxury tax plan in effect, that's a pricey roll of the dice.
Carlos asks: With the lifespan of most stadiums these days getting shorter and shorter, could you ever foresee a day when the Yankees move away from the Bronx?
No. Not out of the Bronx. I think they're too ingrained in the city and the culture at this point. It'd be like moving the Cubs to the South Side or something. The Yankees may one day build a new ballpark elsewhere in the Bronx, but I'd be surprised if the team ever moved to Manhattan or even Brooklyn. Relocating the Bronx Bombers is not something that should happen.