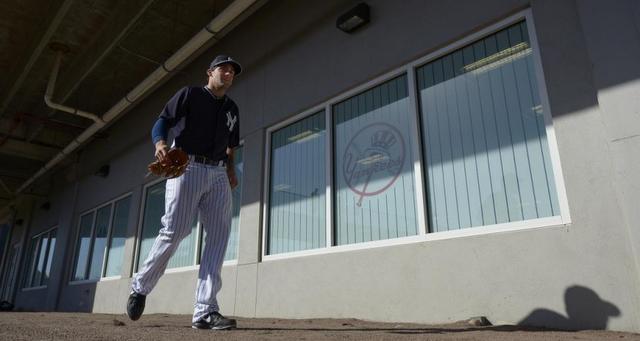 Earlier this week in our little poll, RAB readers voted right-hander Nathan Eovaldi as the Yankees' most important pickup of the offseason. (He received 40% of the 2,500+ votes.) He beat out the likes of Chase Headley, Didi Gregorius, and various relievers because he's a hard-throwing starter with obvious upside and three full years of team control remaining. He's a rotation building block going forward.
Although he already has 79 career starts and 460 big league innings under his belt, Eovaldi is still just a kid. He turned 25 less than two weeks ago. He's almost two full years younger than reigning NL Rookie of the Year Jacob deGrom. He's younger the all five of the top five finishers in last year's AL Rookie of the Year voting. At his age, Eovaldi is far from a finished product, and the Yankees know that. He's a work in progress.
"He kind of defies some of the logic with the analysis, as far as velocity and location and then giving up so many hits," said pitching coach Larry Rothschild to Billy Witz over the weekend. "I've watched the tape, but I want to sit and watch during the game and try to figure out, how do you eliminate that? There's not any great explanation."
Eovaldi throws very hard — his fastball averaged 95.5 mph last year, fifth highest among the 88 qualified starters — and he doesn't really walk many batters (5.0 BB% in 2014), yet he led the NL in hits allowed last season (223 in 199.2 innings) and only struck out 16.6% of batters faced, well below the 20.4% league average. An argument can be made all those hits were the product of bad luck (.323 BABIP was fourth highest among qualified starter), especially since his batted ball profile held steady.
Clearly though, there's some kind of disconnect here. You'd expect someone who throws as hard as Eovaldi to strike out more batters, especially since he throws so many strikes. Eovaldi ranked 32nd out of those 88 qualify starters in first pitch strike percentage (62.9%) last year and he ranked 21st in percentage of 0-2 counts (22.0%), right alongside noted control artists like Jon Lester (22.3%), Zack Greinke (22.0%), and Doug Fister (21.8%). Getting in favorable counts wasn't a problem.
Getting strike three has been an issue and Eovaldi knows that — "That's one of the big issues I've had, not being able to finish the batters off. I try and do too much," he said to Mark Feinsand recently — so he spent the weekend working on elevating his fastball with Rothschild, according to Chad Jennings. High fastballs are an excellent swing-and-miss pitch due to effective velocity. High fastballs look faster to the hitter and make it appear like they have less time to react.
There's also an experience component to this that's tough (impossible?) to quantify. It's been said Eovaldi tries to throw harder when he's in a jam like many pitchers his age, but the numbers don't back that up. According to Baseball Savant, Eovaldi's fastball has averaged 95.5 mph with the bases empty in his career, 94.9 mph with men on base, and 95.3 mph with runners in scoring position. Batters have a 94, 108, and 115 OPS+ against him in those situations, respectively.
The radar gun might not say Eovaldi is trying to throw harder in big spots — remember, trying to throw harder doesn't automatically result in throwing hard. The result could be the same velocity but a "rushed" delivery and therefore bad location — but that doesn't necessary mean the game doesn't speed up on him in certain situations. Baseball is hard, man. It's even harder when you're young. It can be overwhelming.
"Sometimes, I think (his competitiveness) takes him into territory where he needs to back off a little bit, and not be not competitive, but get it under control. Or not always run it into the middle of everything. Step off and gather yourself and not try to necessarily power yourself through the inning," said Rothschild to Witz. That sounds like a pitching coach describing a pitcher who needs to learn how to slow the game down in certain spots.
I'm not going to quote Yogi Berra here but you all know the saying. Eovaldi has the natural gifts — the big fastball, the solid slider, the work-in-progress changeup — but his development into a top flight pitcher will take more than physical adjustments. There's a mental component to the game that can be easy to overlook but is also really important. I'm not saying Eovaldi is stupid or anything. He's just a young kid and the game can spiral out of control on occasion. It's normal. Learning to slow things down and stay in control will be an important part of his development, and that's not something we can stick a number on.