The Yankees came into this offseason with a lot of needs. They needed to upgrade their lineup, their rotation, and their bullpen, so pretty much entire team. The offense was addressed weeks ago and the team is working on the pitching staff at the moment — only 55 hours or so left in Masahiro Tanaka's signing period! — but there is still more work to be done. There never isn't a move to be made, really.
One spot we haven't discussed this winter is Mark Teixeira's backup at first base. That position is a low priority in the grand scheme of things and that was especially true this offseason. There were so many other and more important things to worry about first. Now that we're getting closer to Spring Training and Teixeira says his wrist is still stiff — probably not that uncommon less than seven months out from surgery, but still not ideal — we should probably sit down to think about this a bit.
Russ Canzler is the obvious in-house option. The Yankees signed him to a minor league deal a few weeks ago and his best position is first base, so he's a logical option. I expect him to start the year with Triple-A Scranton, though winning a bench spot in camp isn't completely out of the question. After that there's … uh … Kelly Johnson? He has a total of 18 innings (across three games) at the position in his career, all last year with the Rays. Not exactly a ton of experience.
That's pretty much it as a far as internal options. Playing Brian McCann at first every once in a while seems like a good idea but he's never played the position during his professional career. I can't help but think back to Gary Sheffield in 2006, when the Yankees stuck him at first and he looked completely lost. Like he'd never picked up a glove in his life. First base is the easiest position on the field but that doesn't mean it isn't tough to learn, especially on the fly. This applies to guys like Carlos Beltran, Alfonso Soriano, and even Derek Jeter as well.
As far as options outside the organization, the list of available free agent first baseman is pretty small right now. From MLBTR:
First Basemen

Jeff Baker (33)
Yuniesky Betancourt (32)
Casey Kotchman (31)
Kendrys Morales (30)
Carlos Pena (36)
Chad Tracy (34)
Ty Wigginton (36)
Betancourt and Wigginton are both terrible and not worth roster spots, Tracy and Kotchman have both been awful in three of the last four years, and Pena is pretty much toast at this point. Baker would be a fine pickup given his ability to pound lefties and play all over the field, plus the Yankees have interest in signing him, so that's cool. He could backup Teixeira.
At this point Morales would be a long-term solution, as in Teixeira's wrist acts up and he needs to miss a big chunk of the season again. Otherwise what would the Yankees do with him? They already have about five guys slated to spend a bunch of time at DH next year and adding another — Morales has played 214 games at DH and only 59 at first the last two years — doesn't make sense at all. They have nowhere to play him. If Tex hurts his wrist again and misses a bunch of time, sure, Morales would be a fit. But that's the only situation in which he makes sense for the current roster.
There is one other free agent out there who would fit the roster as a backup first baseman, but he's hiding away under another position. Here, look:
Third Basemen

Michael Young (37)
Sneaky. The Yankees had interest in Young earlier this winter but Ken Rosenthal says he's been mulling retirement so he can spend more time with his family. Luring a player away from retirements feels like something right out of the Yankees' roster building playbook, so we can't rule him out just yet. Young has played a bunch of first (and third base) in recent years and his bat wasn't terrible last season (102 wRC+), though I'm not sure how much gas is left in that tank at age 37. Just a year ago he hit to a 79 wRC+, remember.
I think that, if the season started today, Johnson would be the backup first baseman whenever Teixeira needs a day off almost by default. That last open bench spot figures to go to a second/third base capable infielder like Scott Sizemore or Eduardo Nunez, not a lumbering guy like Canzler. That could always change but right now it seems unlikely. If Teixeira suffers a setback in camp and has to miss the start of the season, I think the Yankees would do what they did last year and wait to see who gets released in March. Scrounging the scrap heap for a first baseman in Spring Training is not ideal, but given the current roster construction, that's probably what it'll come to if Teixeira gets hurt. Until then, Johnson seems to be the guy.
By

Via Jeff Passan & Tim Brown: Members of the players' association sought to kick Alex Rodriguez out of the union, but were told it is not legally possible. Players felt betrayed after A-Rod sued the union as part of the suit he filed in an effort to get an injunction against his record 162-game suspension.

"It's beyond disappointment," said one unnamed player. "What brought it beyond disappointment was the fact he's suing the union. Guys understand people make bad decisions, they lie when they're embarrassed or trying to avoid punishment. Those are human qualities. Guys understand. But what made guys incensed is he would bring a suit against the union."

A-Rod's suit says the union and late chief Michael Weiner "completely abdicated its responsibility" to defend him during the appeals process. From what I understand he had to sue both MLB and MLBPA to have a chance in a federal case; leaving the union out of the suit wouldn't have worked. Ironically, trying to kick A-Rod out of the union may strengthen his case. · (36) ·
By

Via Ronald Blum: MLB has informed the 30 clubs they must implement security screening for fans by 2015. The league specifically asked for metal detectors, either walk-through or hand-held wands. "This procedure, which results from MLB's continuing work with the Department of Homeland Security to standardize security practices across the game, will be in addition to bag checks that are now uniform throughout MLB," said a league spokesman.

The league tested the new screening system in a handful of ballparks last year, as well as at the All-Star Game and World Series. They started looking for ways to improve security following the Boston Marathon bombing last year. The NFL upgraded its security procedures this season, so MLB is not alone. I've never felt unsafe at a baseball game or any sporting event in general, but it seems like the screening is happening whether we like it or not. Get to the game early, I guess. · (45) ·
Less than 70 hours to go in the Masahiro Tanaka signing period and there is still no serious indication of where he may land. It could be the Yankees, Cubs, or Dodgers depending on who you ask and what day of the week it is. Tanaka did some nice unintentional trolling earlier today, which was fun for a little while. I'm really looking forward to this whole process being over. Hopefully the Yankees sign him.
Here is your open thread for this snowy night. All of the local hockey and basketball teams are playing except for the Knicks, so talk about those games or anything else right here. Have at it.
By

Via MLBTR: The Yankees are one of several teams to talk to Brett Tomko as he attempts a comeback. The right-hander has battled arm problems in recent years, but he's healthy now and was able to spend time pitching in winter ball. He is planning to work out for teams in the coming weeks.

Tomko, 40, last pitched in the big leagues back in 2011, when he chucked 17.2 ineffective innings with the Rangers. You probably remember his brief cameo with the 2009 Yankees. Tomko says he is open to going to Triple-A and mentoring young pitchers, and it sounds like he's already thinking about a post-playing career in coaching. The Yankees have signed a ton of pitchers to minor league deals in recent weeks. If they add him to the pile, great. If not, oh well. No reason to get worked up over it either way. · (40) ·
I can't imagine this has been a comfortable offseason for Eduardo Nunez. The Yankees' incumbent backup infielder and wannabe shortstop of the future has watched the team give Derek Jeter a raise, re-sign Brendan Ryan, sign Kelly Johnson, trade for Dean Anna, and sign Scott Sizemore. They're still looking for infield help too, so there could be even more names added to the list. That's a lot of moves involving players who play the same positions as Nunez.
Even before these moves, it was obvious the Yankees needed to prioritize middle infield depth this offseason. There was never a chance Jeter was leaving, even if he declined his player option. That just wasn't happening. But, as we saw last year, he is not invincible and the team needed a better backup plan. That's where Ryan comes into play. He can't hit a lick but you can run him out there on an everyday basis if need be because of his slick glovework. Anna can play the two middle infield spots and has some nice on-base skills, plus he was basically free, so why not? Johnson and Sizemore are second and third baseman but two more infielders nonetheless.
None of this is good news for Nunez. Or at least it isn't a vote of confidence, I should say. If the team had any real faith in his ability to play shortstop on a full-time basis should Jeter go down with another injury, they probably wouldn't have given Ryan two years (and an option!) so early in the offseason. That just doesn't strike me as something you do if you have a 26-year-old shortstop you believe in long-term. Am I wrong? If Nunez had shown any improvement with the glove — his throwing was way better early last year but that didn't last — or more promise with the bat, finding a replacement for 2014 and 2015 wouldn't have been much of a priority.
It's not all bad news, however. Nunez did keep his job while others infielders like Jayson Nix and David Adams were non-tendered weeks ago. That's better than the alternative. Cutting Nix was an obvious move given his projected salary ($1.4M) but keeping Nunez over Adams was not a given. Both players have a minor league option remaining and both will earn something close to the league minimum in 2014, so that stuff wasn't a factor. The Yankees decided Nunez, who has a standout tool in his speed (and ability to make contact, really), was the one worth keeping. I know what Adams has done over the years and I'm not convinced the team made the wrong move, especially since Sizemore is almost the exact same player. Betting on the guy who can run and consistently put the ball in play is not unreasonable.
"[Nunez] has options and he could be a utility player. I wouldn't want to start him [at third]. Regardless how he feels about it, I would want to find someone that I feel more comfortable with," said Brian Cashman to George King earlier this winter, making it clear the Yankees have knocked Nunez down the depth chart a peg or two. There is only so much patience you can show with a guy who, even if everything breaks right, still projects to be a solid regular more than a star. In a perfect world, Jeter will play shortstop next year with Ryan backing him up and Nunez sitting Triple-A, rotating between second and short with Anna. That's the best situation for the Yankees but a big step down for Nunez, who probably sees it coming.
By

During a recent YES Network interview (video link), Mark Teixeira acknowledged still feeling some stiffness in his surgically repaired right wrist. "Right now, I'm six months out of surgery. Will I be 100% day one? I hope so," said Teixeira. "Even my doctor said 'it's going to keep getting looser, keep getting stronger' … I'm a little anxious about the way I'm going to feel, but I know that as long as I'm doing what I'm told, doing what I'm supposed to be doing, that I should be fine."

Teixeira, 33, missed all but 15 games last year due to wrist trouble, eventually having season-ending surgery in early-July. During the interview he said he has been taking dry swings for two months and just recently started hitting off a tee. Hitting against 90+ mph pitches is on tap for next month with game action to follow in early-March. Hearing Teixeira still has some stiffness in the wrist is disconcerting, but there is still a long way to go before Opening Day. The Yankees improved their offense this winter but they're still going to need their first baseman to remain healthy and productive. · (84) ·
At some point in the next 80 hours or so, the Masahiro Tanaka sweepstakes will be over. He has until 5pm ET this Friday to sign with an MLB club, and that club might even be the Yankees. They reportedly made a fat nine-figure offer but so did four other clubs. There have been no serious indications about him leaning towards one team either. It's a total mystery, amazingly.
The Yankees need Tanaka if they want to contend this coming season, but he is still only one pitcher. There are four other rotation spots to consider and one of them belongs to CC Sabathia, who, up until last year, was the sure thing. During his first four years in pinstripes, the club could count on their ace left-hander to take the ball every five days and provide a ton of high-end innings. Even his bad starts were rarely disasters.
That all changed last year. Sabathia was legitimately one of the worst starters in baseball in 2013, ranking 76th out of 81 qualified starters with a 4.78 ERA and 72nd with 0.3 bWAR. His 122 runs and 112 earned runs allowed were both the most in the game. A normal Sabathia season probably would not have been enough to get the Yankees into the postseason, but his performance was a big reason why the team was stuck home in October. It was ugly.
The list of potential reasons for CC's sucky season is seemingly endless. He lost too much weight. He lost too much off his fastball. He had offseason elbow surgery. All the innings are catching up to him. Those are the most popular theories and I'm sure all four factor in somehow. I definitely think there is something to the idea of the elbow surgery throwing off his usual offseason routine, which Sabathia said he really noticed when his normal arm strength just wasn't there in mid-April. That doesn't figure to be an issue in 2014.
"I've been working out 100 percent, doing all my lifting and everything. I've felt fine," said Sabathia to Bryan Hoch recently, referring to his season-ending hamstring injury. "I've been able to throw the whole winter. Last year, I had the surgery, so I wasn't able to throw. I lost a bunch of weight all at one time. This year, it's all about just getting stronger, building my strength back up and keeping my arm loose."
Of course Sabathia was at his worst at midseason, after his velocity returned. His four-seam fastball averaged 92.3 mph during his disastrous nine-start run following the All-Star break (7.33 ERA and 4.80 FIP in 50.1 innings), velocity that was on par with his strong 2012 season (92.4 mph). There's a lot more to pitching life than fastball velocity, and this seems like a good spot to mention Sabathia's continually dropping release point (via Brooks):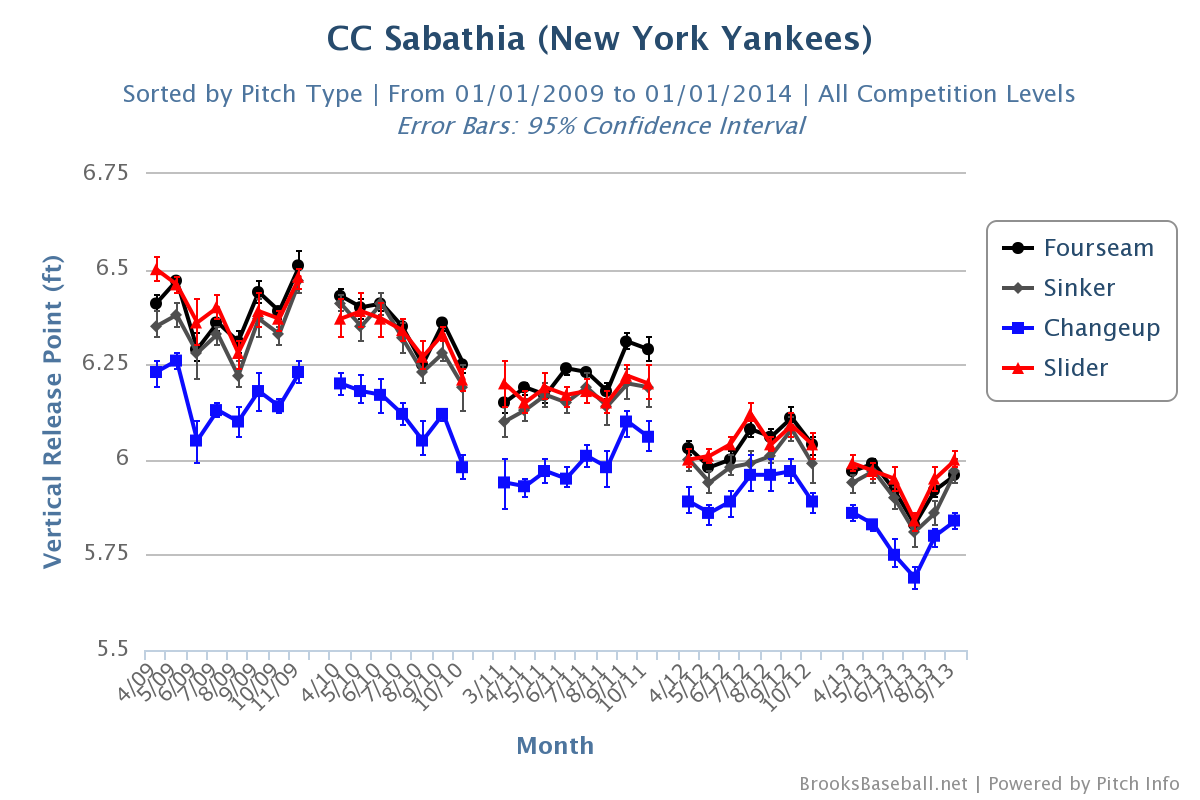 That's scary but also completely normal. Pitchers tend to drop their arms as they age because of all the wear and tear — the shoulder just isn't strong enough to maintain a high release point after a couple thousand innings. Pitching coach Larry Rothschild mentioned several times last year that Sabathia would lose his release point and his pitches would start to cut (right out over the plate, unfortunately), and the PitchFX data backs that up. I'm not sure anything can be done to reverse this trend at this point. The solution might not involve raising his arm slot, but learning how to pitch with a lower arm slot.
Anyway, Sabathia has had a normal offseason this winter, a normal offseason that will hopefully boost his velocity and maybe help a bunch of other stuff. You can tell he's been working hard these last few weeks because, well, look:
Holy crap!
That photo is from former teammate Rickie Weeks' wedding this past weekend. We've seen "CC is getting skinnier!" photos for like, three offseasons in a row now, but I think that one is the most startling. Not a bad way, just … wow. Sabathia told Ken Rosenthal he is "actually the same weight as I was last year, just a little more toned and a lot more strong," so it wasn't so much losing weight as it was turning bad weight (fat) into good weight (muscle). Still, you can't look at the photo and tell me he doesn't look way slimmer. Good for him.
"He's been going full speed since before Halloween," said trainer T.J. Lopez to Mike Puma. "This year he's going to go into Spring Training in the best shape of his life … Having the year he had last year, he's coming back really with a vengeance and he wants to prove something now, that he can do it."
That's a good thing. Everyone should want Sabathia to go out there with a chip on his shoulder and a desire to show last season was a bump in the road and not the start of a harsh decline. The Yankees need that Sabathia because the 2014 rotation will be full of question marks, with or without Tanaka. How will Tanaka or a similar pitcher handle the move into the AL East? Will Hiroki Kuroda shake off his rough finish? Will Ivan Nova find some consistency? What will David Phelps and various back-end arms contribute? It's unlikely Sabathia can get back to his dominant, Cy Young caliber form from 2007-11, but a healthy and productive above-average starter will go a long way towards improving the Yankees this summer. It's a necessity if they hope to contend.
By

As expected, Derek Jeter started baseball activities today in preparation for the upcoming season, reports the Associated Press. He hit off a tee and fielded over 100 grounders at the team's minor league complex in Tampa. "It's good to have a normal offseason and get some work in," said the Cap'n. "Everything is normal now."

Normally a player starting his offseason routine is not newsworthy, but Jeter is different this year. He will turn 40 this summer and he missed all but 17 games due to various leg injuries last year, including the fractured ankle he suffered during the 2012 ALCS and a subsequent setback. Jeter did not begin baseball workouts until early-March last year, so he's well ahead of that schedule. As he said, this is a normal offseason for him, something he didn't have a year ago. · (24) ·
Late last week, Derek Jeter sat down for the above interview with Harold Reynolds. They discussed his offseason and rehab from the various leg injuries, Alex Rodriguez, Alex Rodriguez some more, Robinson Cano bolting for the Mariners, Masahiro Tanaka, and a bunch of other stuff. I thought Jeter opened up a little more than we're used to seeing but not a ton. Nothing controversial or anything like that. It's only six minutes, so check it out.
This is your open thread for the evening. The various local basketball and hockey teams played earlier today, so you're on your own for entertainment. You should know how these things work by now, so go to town.