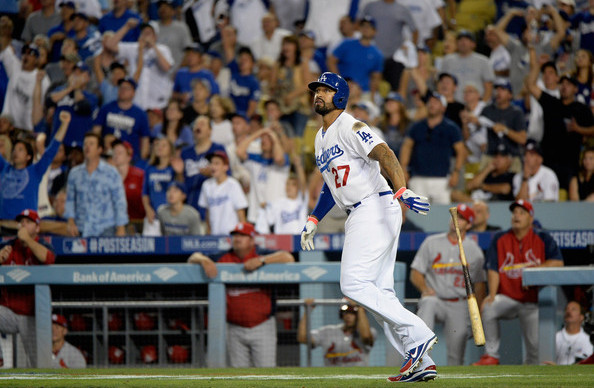 The 2014 Winter Meetings came and went last week, and although the Yankees didn't make any moves, it was the busiest Winter Meetings I can remember. The 2008 Winter Meetings were pretty hectic — the Yankees signed both CC Sabathia and A.J. Burnett that week — but nothing compared to this year. There were a ton of high profile signings and trades in San Diego last week, and yet there are still more on the way. Max Scherzer and James Shields are unsigned and Justin Upton is still on the trade block.
The busiest team during the Winter Meetings last week was the Dodgers, who swung three major trades and landed a notable free agent in the span of about 18 hours from Wednesday afternoon into Thursday morning. As those deals were going down, I saw nothing but approval for the job ex-Rays GM Andrew Friedman was doing. Whether it was real time reaction on Twitter or analysis posts filed later, it was nothing but love for what the Dodgers were doing. Universal praise.
And yet, of all their moves, the only one that struck me as great was the Jimmy Rollins trade. (I really like Rollins as a one year stopgap shortstop.) The Dee Gordon trade? I mean, didn't anyone actually stop to think that maybe he's good now? (Drew Fairservice did.) Or that the Marlins are legitimately excellent at player development, so maybe there's a reason top pitching prospect Andrew Heaney was available? Trade four years of Gordon for six of Heaney? Brilliant! Flip six years of Heaney for one of Howie Kendrick? Somehow also brilliant! Also, isn't it amazing how almost no one is questioning four years for Brandon McCarthy now?
Then there's the Matt Kemp trade, in which the Dodgers ate so much money that they turned his contract into a five-year, $75M deal. Isn't that entirely reasonable for a just turned 30-year-old who is one of only 18 players to slug .500+ over the last four years? All the Dodgers got back was a catcher who has been lauded for his pitch framing (Yasmani Grandal), a broken young pitcher (Joe Wieland), and a Single-A prospect (Zach Eflin). The ultimate win now team just traded one of their two best hitters for that package. I guess I don't see that as deserving of the instant, unquestioned praise it received.
So anyway, those moves and the reaction to those moves got me thinking about how people perceive certain front offices. If anyone other than Friedman had made those moves, I'm pretty sure they would have been viewed differently. No doubt about it in my mind. Theo Epstein & Co. are treated the same way as Friedman. On the other side of the coin, we snicker at everything Mariners GM Jack Zduriencik or Royals GM Dayton Moore does. Or at least we did until Moore's team went to the World Series. Giants GM Brian Sabean was the butt of many jokes until he built a dynasty.
How do people perceive the Yankees front office? I honestly don't know the answer to that question. Based on what I've seen and read over the years, it seems like the majority of non-Yankees fans generally like the team's moves more than Yankees fans. I've seen very few non-Yankees fans think the Didi Gregorius trade was a mistake, for example. Almost zero. Is that because they hadn't seen enough of Shane Greene to fall in love with him? Or because they better understand just how hard it is to get a young shortstop because they haven't been watching Derek Jeter for two decades? I don't know. Could be both.
Here is a relevant tweet from a non-Yankees fan:
Rick Hahn is having the brilliant offseason that Brian Cashman gets panned for every other year.

— Patrick Dubuque (@euqubud) December 14, 2014
Patrick's talking about handing out some market value contracts and making one big trade. The Yankees, because of their payroll, tend to buy big money free agents rather than mid-range free agents like the ChiSox, but the idea is the same. Market value signings and a big trade. When the Yankees do it, it's bad. When the Rick Hahn does it, it's genius. (Full disclosure: I really like what Hahn's done this winter.)
These biases exist and that's perfectly fine. It's human nature. We have biases about players and that extends into the front office. The Dodgers' moves drew praise last week because Friedman was excellent while with the Rays, consistently building a contender with a shoestring budget. He earned the benefit of the doubt. But these days it isn't so much benefit of the doubt as it is unquestioned approval. We don't even consider the "what if Friedman just made a big mistake?" option. Doesn't even cross our minds. Meanwhile, it feels like "what if Cashman just made a big mistake?" is the default setting for many fans.
As someone who writes a lot about baseball, especially about the Yankees, I can't tell you how many times a move has been made, my initial reaction is "it sucks" or "this is awesome," and I find myself writing a post that fits my opinion. Happens way too often, especially when I'm trying to crank something out quickly. I'm not going to sit here and tell people what to think. I just think we'd all be better served if we removed our preconceived notions — that's very difficult! — and took a second to consider the alternative. What if Friedman did make a mistake? What if this relatively quiet Yankees offseason is, in fact, the best thing for the Yankees long-term?