By any and all accounts, Didi Gregorius had a career year in 2015. After being traded to the Yankees in the winter, he notched career highs across the board, most importantly in playing time. A slick fielder with a rocket arm, he overcame some early fielding hiccups and (let's be nice and call it) aggressive baserunning and was as successful as one could be in replacing a legend at one of the three most important positions on the field. Were he to repeat last year going forward, there wouldn't be much to complain about. He's a good fielder at shortstop and he doesn't embarrass himself with his bat; in today's MLB, that's as good as gold. Of course, the goal of a younger player is to improve each year and there's one spot that Didi could stand to improve, and that's his walk rate.
As a lower order hitter, it's not imperative that Didi act like a table-setter or a take-and-rake slugger. He makes good contact and can move around the guys on base in front of him because of that. As Didi's never likely to be a big power guy–his ISO has actually dropped in each year as he's gotten more playing time–it'd be good for him to augment his  offensive game with a little bit more patience at the plate.
To be fair to Didi, his walk rate wasn't awful last year at 5.7%. Still, it was a drop from 2014 (7.4) and two points below the league average of 7.7%. His career rate is a more palatable 7.1%, but that's buoyed by 2014 and 2013 (9.2%) and, as we can see, his rate has dropped each year as he's gotten more time at the plate. So, what can he do to increase his walk rate?
Like anyone looking to increase his or her walks, the first thing he could do is limit his pitch-chasing. In 2015, his out-of-zone swing percentage, per FanGraphs, was 33.8%, about 3% higher than league average (30.9%). Still, this is painting with a broad brush and Didi's chase-rate isn't so much higher than league average that we should be panicking that he's turning into '03 playoffs Alfonso Soriano or anything. In fact, at 62%, Didi was just about average (62.9%) at making contact with pitches out of the zone. That's a double-edged sword, of course, as that could lead to weak contact on bad pitches.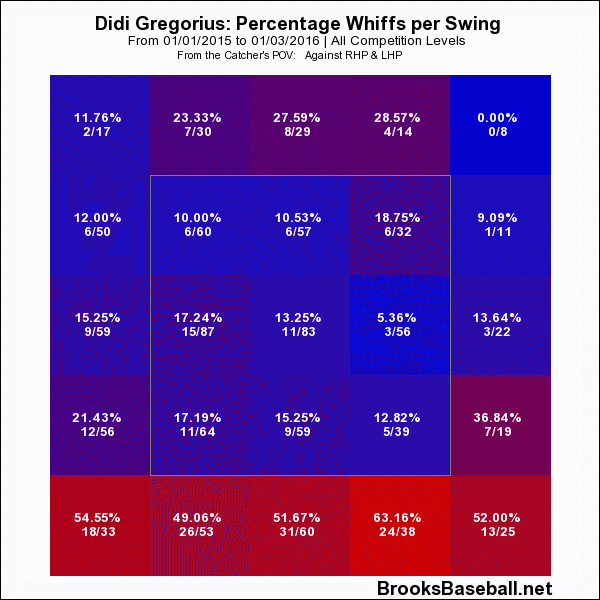 If we note the table above, which shows Didi's whiff/swing% on various pitch locations, the lower part of the image stands out. On pitches just outside the zone, low and either inside or out, Didi is whiffing quite a bit when he takes a cut. To start improving his walk rate, that's where Didi can start: by avoiding those tempting pitches below the knees.
Didi Gregorius is never going to be an elite hitter, and he doesn't need to be, given his position and his defense at that position. Still, any improvement helps and since it's unlikely that he starts popping homers over the short fence any time soon, Didi should focus on improving his discipline to round out his offensive game a little bit. He's already given Yankee fans plenty to be happy about, so hopefully more is on the horizon.