The Bronx Bombers are back! For one night, anyway. The Yankees hit five home runs en route to a 6-3 win over the Royals in Monday's series opener. It was their first five-homer game of the season. I hope there are many more. The Yankees have won four of their last six games too. Are things turning around? I hope so.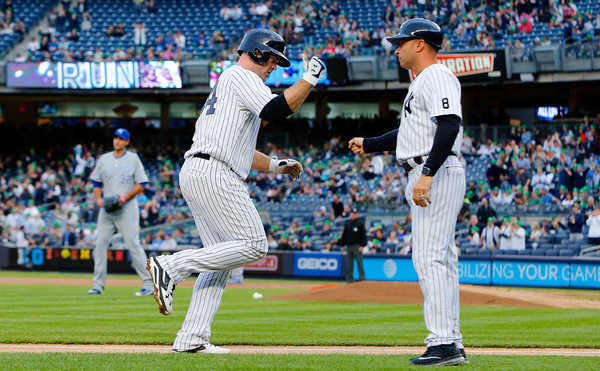 Five & Fly
The Yankees went into Monday's game next to last in the AL with 25 home runs. Only the Royals hit fewer. They had 23. After two innings and change against Chris Young, the Yankees jumped from 14th in the AL to ninth with 30 home runs. Young faced 14 batters and five (five!) took him deep. That's … bad. Young is the first pitcher to allow five homers to the Yankees since Clay Buchholz back in 2012.
The tater mashers: Brian McCann, Carlos Beltran, Brett Gardner, Aaron Hicks, and then Beltran again. Gardner and Hicks went back-to-back in the third. (First back-to-back homers of the season for the Yanks.) All five home runs were solo shots, which is kinda lame, but hey, I'll take it. Young is an extreme fly ball pitcher and his fastball averages 88 mph on a good day, so when he misses his spot, the ball tends to go a long way. The Yankees haven't been hitting many home runs this year. It was fun to watch them do some yard work Monday.
Four and Two-Thirds & Fly
Ivan Nova probably cost himself a win in the fifth inning. Not because he pitched poorly, but because he made some defensive no-nos. First he fielded a chopper from Cheslor Cuthbert, then turned and rushed the throw, pulling Mark Teixeira off the bag. Replays showed Nova had a little more time than he probably realized. Also, Chase Headley was right there too and could have made the play without the difficult throw.
Then, later in the inning, Nova reached out with his barehand and slowed down a Jarrod Dyson chopper back up the middle. Had he let it go, it would have gone right to Didi Gregorius near second base for a possible double play, even with the speedy Dyson running. It would have been catch, step on the bag, throw. Bang bang bang. Gregorius did get the out at second but nothing more because Nova slowed the ball down.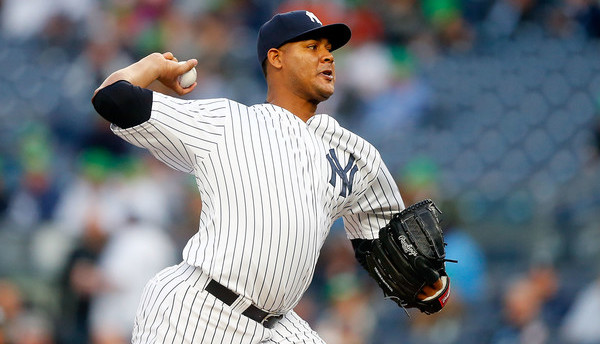 And finally, Nova missed first base on Alcides Escobar's ground ball to Teixeira at first. The flip was perfect and Nova did make the catch, he just missed the bag. It happens, but man, Nova did himself no favors that inning defensively. The Yankees were up 5-1, and he was pulled with runners on the corners and two outs in the fifth inning because his pitch count hit 81, six more than Joe Girardi said Nova was scheduled to throw. One out short of a win. Sucks.
Most importantly, Nova's first start in place of the injured CC Sabathia went well. One run on six hits and a walk in 4.2 innings is serviceable, especially since he was on a pitch limit. The run came on a long Alex Gordon homer. Nova wiggled out of trouble in the second and Phil Coke bailed him out in the fifth. Pretty much exactly what the Yankees needed from Nova. Don't meltdown, basically.
Bullpen Machinations
Girardi managed his four-run lead like it was a one-run lead. Coke got Eric Hosmer to end the fifth — he fell behind in the count 3-0 before rebounding to get a fly out — then got the first out of the sixth. After Coke walked Gordon, Kirby Yates came in to finish off the inning. Dellin Betances was warming behind him much of that inning, just in case things got really hairy.
Rather than bring Betances into the seventh, Girardi managed to steal another inning's worth of outs from Yates, who had some help from Gregorius and Teixeira. Didi and Tex made two great plays in that inning — both times Gregorius made the backhanded snag, fired to first, and Teixeira made the scoop — and Kirby retired all three batters he faced. Yates seems to be this year's "who is this guy and why is he pitching effectively out of the bullpen?" guy.
The Yankees were able to tack on a sixth run in the seventh inning on two singles (Headley, Ronald Torreyes), a productive ground out (Gardner), and a sac fly (Hicks). That meant Chasen Shreve and not one of the big three relievers handled the eighth inning. On his first pitch, Shreve gave up another homer. Hosmer got him. That was the fifth dinger he's allowed in his last 5.2 innings. So much for Chasen being fixed, huh?
Andrew Miller was on the bullpen mound warming up before Hosmer's home run landed, it seemed. Shreve did get through the rest of the inning unscathed though, so Miller did nothing but warm up. Aroldis Chapman then made his Yankees debut in the ninth. The first batter he faced: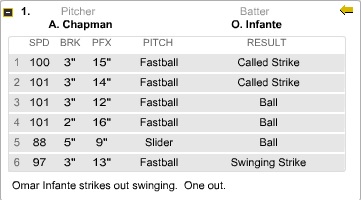 That'll do. Chapman topped out at 102.1 mph and did actually allow a run. Paulo Orlando hit a booming double to center and Escobar drove him in with a single through Gregorius. Didi should have had that one. He played the hop weird. One inning, two hits, one run, two strikeouts. Good to get Chapman in there in a low-leverage spot for his first first game of the year.
Nitpick Time
Allow me to nitpick, because it's what I do best. Why warm up Betances and not bring him in? Girardi had Dellin ready to go in case Yates ran into trouble in the sixth and seventh, which he didn't. Then, when Shreve gave up the homer, it was Miller who warmed up, not Betances. Why not just go to Betances since he was already warmed up and avoid getting both hot?
Pitchers will tell you warming up and not pitching is almost like appearing in the game. It's not nothing. Dellin and Miller didn't pitch, but they kinda did, you know? The Yankees had a four-run lead (and temporarily a five-run lead), yet six of the seven relievers either warmed up or pitched. Overkill. Girardi was like a kid on Christmas morning. He didn't know which toy to play with.
Leftovers
The offense went pretty silent after Young left the game. The Yankees did add that sixth run in the seventh, but they still had only three hits and one walk in their final 5.1 offensive innings. They managed to score six runs while having only two at-bats with runners in scoring position. Hooray dingers! Everyone in the starting lineup had a hit except Texeira and Gregorius. At least they played some mean defense.
Speaking of warming up and not pitching, Chien-Ming Wang was getting hot in the Kansas City in the bullpen in the eighth inning. He didn't enter the game, unfortunately. Hopefully he pitches at some point in the series, preferably in a blowout loss. Wanger deserves a nice big ovation at Yankee Stadium.
And finally, congrats to Ben Gamel for picking up his first big league hit in his first at-bat. It was a soft ground ball single through the left side of the infield. It hit off Escobar's glove and scooted away. Line drive in the box score, my man.
Box Score, WPA Graph & Standings
Go to ESPN for the box score and updated standings, then go to MLB.com for the video highlights. We have Bullpen Workload and Announcer Standings pages that may be of some help. Here's the ol' win probability graph:

Source: FanGraphs
Up Next
The Yankees and Royals will play the second game of this four-game series Tuesday night. Masahiro Tanaka and Kris Medlen are the scheduled starting pitchers. RAB Tickets can get you in the door for that game or any other home game this season.