The game was a little closer than I think we all would have liked, but the Yankees were able to grab a 2-1 win over the Red Sox in their series finale Thursday night. The Bombers are now 8-0-1 in their last nine series, dating back to the series in Anaheim at the end of June. Pretty, pretty good.
Cy Sabathia
Okay, maybe calling him Cy Sabathia is a bit too much, but CC Sabathia turned in his best start of the season by Game Score (67) on Thursday. He allowed just one run on three singles and three walks in six innings, striking out eight. Sabathia hadn't struck out that many batters in any of his previous 13 starts. He had four 1-2-3 innings and scrunched the six base-runners into the other two innings, including two singles and two walks in the fifth.
That fifth inning was by far the Red Sox's best chance to put up a crooked number against Sabathia, who has been prone to crooked numbers this year. It started with a one out single by Ryan Hanigan and started to spiral out of control from there. Sabathia walked the awful Jackie Bradley Jr., served up a dinky ground ball single to Rusney Castillo to drive in a run — Didi Gregorius probably should have at least knocked the ball down to keep it on the field, but alas — then walked Xander Bogaerts to load the bases with two outs.
I was calling for the bullpen at that point and I know many of you were too. We've seen this movie before. The ending sucks. Joe Girardi opted to stick with Sabathia and the big lefty rewarded his manager by striking out David Ortiz to strand all three runners. Sabathia went full Joba after the strikeout: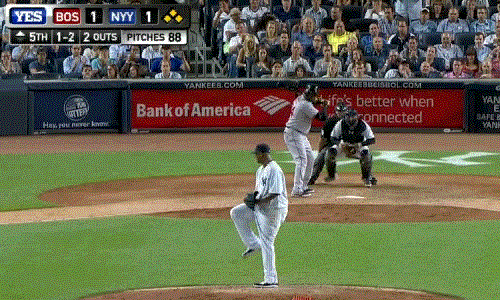 Sabathia has not been good this year, he'll be the first one to tell you that, but man, you can't question the dude's compete level. That's a full season's worth of frustration coming out right there. I still love Sabathia and it pains me to see him to pitch the way he has this year. That strikeout right there was pretty damn awesome.
Anyway, here's something cool: PitchFX says Sabathia averaged 92.9 mph with his fastball and topped out at 94.7 mph. I mean, what!? The last time his fastball averaged at least 92.9 mph in a game was September 2013, in his third to last start of that season. The last time he threw a pitch at 94.7 mph or better was again in September 2013, in his second to last start of the year. I don't know what caused the velocity spike, but hopefully it's not just a one start blip. Those extra few miles an hour mean a lot to Sabathia. Either way, he did a helluva job Thursday night.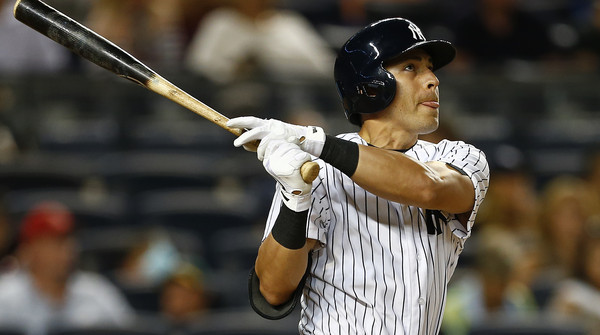 Two Is Enough
The Yankees scored their first run the same way they've scored many other runs this year, by relying on the duo of Brett Gardner and Alex Rodriguez. Gardner laced a two-out single to center then came around to score on A-Rod's double to left field. Alex worked a great seven-pitch at-bat and fouled off some tough put-away sliders. Nice little quick strike two-out run. Good hitters will do that.
A-Rod's double gave the Yankees a 1-0 lead in the third inning and, after the Red Sox knotted the game up in the fifth, Jacoby Ellsbury untied it in the seventh with a solo homer into the second deck in right field. It was no cheapie. Eduardo Rodriguez pitched pretty well in this game but man, he made an awful pitch to Ellsbury, leaving a flat slider right out over the plate in a 2-1 count. Good hitters are supposed to hammer a pitch like that, and while Ellsbury has been struggling big time of late, there's still a good hitter in there somewhere. Hopefully the homer helps get him out of his slump.
Of course, the Yankees had a golden opportunity to break the game open in the fifth thanks to consecutive singles by Brendan Ryan and Ellsbury leading off the inning. Gardner bunted them over, which I hated for a few reasons, include the fact that A-Rod was likely to be intentionally walked as the next batter. Sure enough, the Red Sox walked Alex. The bunt took the bat out of the hands of one of the team's very best hitters in a tie game. Blah. (For the record, I think Gardner bunted on his own.)
The intentional walk loaded the bases with one out for Mark Teixeira, and hey, that's still a pretty good situation. Unfortunately Teixeira popped a 2-0 pitch up in foul territory, then lefty masher Chris Young popped up the first pitch he saw to end the inning. Blah. That felt like a blown opportunity that would come back to bite the Yankees. Thank goodness it didn't. That was not a fun inning.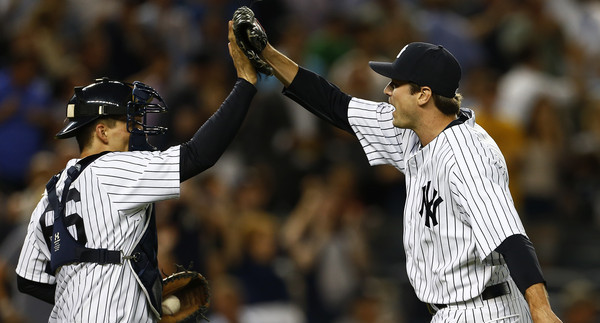 Leftovers
Andrew Miller made things unnecessarily interesting in the ninth — he gave up a two-strike single to the lefty hitting Travis Shaw, then walked Bradley on four pitches (!) to put the tying run in scoring position — but eventually nailed down his 24th save in 24 chances. Dellin Betances struck out one in the eighth and Justin Wilson struck out the side in the seventh. The bullpen threw ten scoreless innings in the series.
Ellsbury and A-Rod each had two hits while Gardner had his lone single. The rest of the lineup? They went 1-for-19 (.053) with a walk. Zoinks. Teixeira drew the walk and Ryan had the base hit. Only eight base-runners on the night, including an 0-for-4 with runners in scoring position. Remember though, first base is scoring position with A-Rod at the plate. He proved it in the third inning.
Sabathia got into it with home plate umpire Rob Drake over a non-strike call in the fourth inning. Drake walked out to the mound to talk to Sabathia because apparently he didn't like that CC took his time walking around the mound after the missed call. Whatever.
And finally, Ellsbury now has five home runs on the season, including four since coming back from his knee injury. Two of 'em are off Rodriguez. He got him Thursday and once at Fenway Park right before the All-Star break.
Box Score, WPA Graph & Standings
Here are the box score and video highlights, and here are the updated standings and postseason odds. Also make sure you check out our Bullpen Workload and Announcer Standings pages. Now here's the win probability graph:

Source: FanGraphs
Up Next
The Blue Jays are coming to the Bronx for a pretty big three-game weekend series. They're gunning for the top spot in the AL East, no doubt about it. Nathan Eovaldi will take on R.A. Dickey in the series opener Friday night. Check out RAB Tickets if you want to catch that game or either of the two games this weekend live at the Stadium.