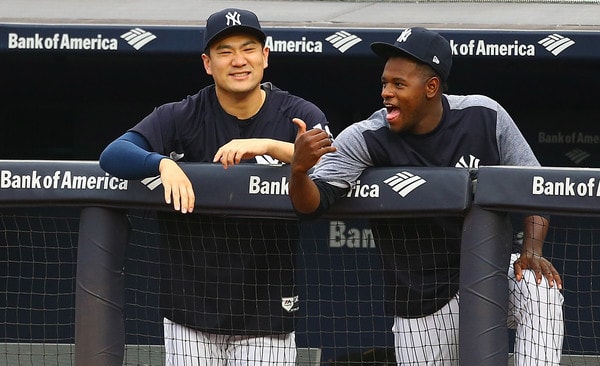 Even though he turned only 24 in February, Luis Severino has been through an awful lot in his baseball career. He was a small bonus international signing who developed into a top prospect, had instant success at the MLB level in 2015, fell on his face and was demoted (to Triple-A and the bullpen) in 2016, and bounced back to become an ace in 2017. Lots of ups and downs in a short period of time.
This season Severino is showing last year's success was no fluke. In fact, he's been even better this year than he was last year. Last season Severino posted a 2.98 ERA (3.07 FIP) in 193.1 innings. This year he's sitting on a 2.09 ERA (2.18 FIP) through 99 innings. Through 99 innings last year Severino had a 3.52 ERA (3.15 FIP), so yeah, he is getting better. He's not just the Yankees' ace. He's a top ten pitcher in baseball. Maybe top five.
Probably my most favorite thing about Severino is that he's challenging hitters more now than ever before, and he's doing that while allowing less contact on pitches in the strike zone. Here's a fun graph: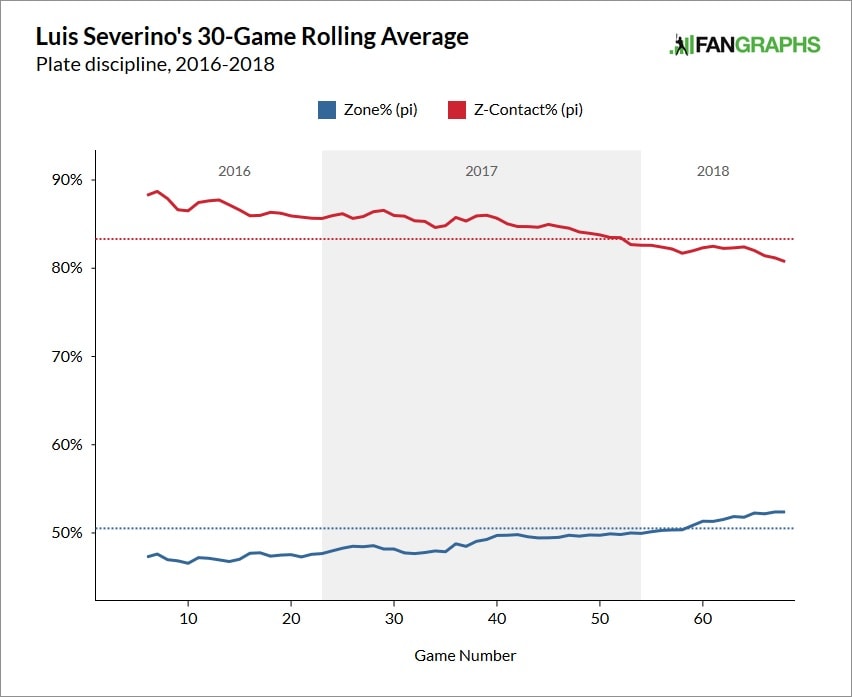 More pitches in the zone and less contact on pitches in the zone. Among the 91 pitchers with enough innings to qualify for the ERA title, Severino has the third highest zone rate (54.3%) and the 15th lowest contact rate on pitches in the zone (82.9%). His stuff is so good (sooo good) that he can attack hitters in the zone and still get empty swings. Not many starters can do that consistently. Severino can.
"Clearly, he's established himself as one of the best in the game," said Aaron Boone following Severino's eight shutout innings Saturday. "He gave us a lot today. Now we're seeing, in a lot of ways, what a finished, elite pitcher in the league looks like. He's a special one."
The on-field performance makes Severino an ace. He's among the best pitchers in the game, clearly. But "ace" is one of those ambiguous baseball terms everyone seems to define differently. Technically every team has an ace. Every team deemed someone the leader of the rotation and gave him the ball on Opening Day. Every team has an ace, but are there really 30 aces in baseball? Nah.
To me, there are three components to being an ace. First of all, you have to be a great pitcher and you have to do it for a while. I mean, duh. We see lots of one-year aces — remember 2003 Esteban Loaiza? — but to be a true ace, you've got to do it year after year. Severino's short on track record right now, but he is doing it again this year — he's doing it better this year — and not many guys get that far.
Secondly, there needs to be some semblance of durability. Taking the ball every fifth day is part of being an ace in my book. Injuries happen and sometimes they're unavoidable. That's baseball and it ain't always fair. The best of the best stay on the field. And third, there's an off-the-field aspect to being an ace. There are leadership responsibilities, I think. Some lead by example, some are more outspoken. But the ace of the staff leads.
CC Sabathia is a perfect example. At his peak he was a high-end performer who never missed a start, and he was great in the clubhouse. Sabathia is no longer the pitcher he was in his prime, but he remains a key figure in the clubhouse. Severino has provided elite performance every fifth day (knock on wood) since Opening Day 2017, so he has the first two components of being an ace. Now the leadership part is coming.
"I think I can work more on that," said Severino to A.J Herrmann back in Spring Training when asked about taking on a leadership role. "I can listen more to CC, one of the leaders here, and I think that if I can work on that with him, with the veteran guys here, I can become somebody like that."
Last week, when Jonathan Loaisiga struck out Christian Arroyo to strand the bases loaded in the fourth inning of his big league debut, Severino was among the first to greet him in the dugout. We've also seen Severino huddle up with Domingo German both during starts and on days German didn't pitch. German's older than Severino and yet it's Severino who's taking on that mentor role.
"(Severino) was giving me some pointers on how to face hitters," said German to Dan Martin last month, after he faced the Astros in long relief following Jordan Montgomery's injury. "One of things he mentioned was being aggressive and getting ahead of the count and he explained why that was so important to do."
Severino went out of his way to make his presence felt at Old Timers' Day …
One thing from today, Luis severino shook every old timers hand in the dugout before the game started! That kid gets it!

— John Flaherty (@flash17yes) June 18, 2018
… and that's not necessarily an easy thing to do for a 24-year-old kid with one full season in the big leagues. Severino seems to be growing more comfortable in his own skin. Getting to the big leagues is difficult. Staying in the big leagues is even more difficult. Severino seems to have reached the point where he's good, he knows he's good, and he's getting more comfortable and trying to help others the way someone like Sabathia helped him.
"He's definitely a voice in there," said Aaron Boone when asked about Severino as a leader over the weekend. "He's definitely somebody that guys in a way look up to, and guys — position player, pitcher, he connects with a lot of guys in there — see the way he is on the bench when he's not starting. He's hooked up. On the days he's not pitching, he's really into the games on the bench and cheering his guys. I think he is very respected, and those experiences (in 2016), I think people understand he's been through that. So I think he is somebody a lot of the guys look too."
The Yankees have a great veteran leadership core with Sabathia and Brett Gardner — Sabathia mentioned Didi Gregorius as another strong voice in the clubhouse in a recent episode of the R2C2 podcast — but it doesn't stop with them. Leaders usually emerge organically and, now that he's settled in as an on-field performer, Severino is beginning to assume more of a leadership role, even at such a young age. Everything about him continues to improve, and not only on the field.