The Yankees continue to fade out of the postseason race, but at least there is some good news on the injury front. Also some bad news, but whatever. Here are a few injury updates, courtesy of Bryan Hoch, Chad Jennings, George King, and Mark Feinsand.
Masahiro Tanaka (elbow) threw 45 pitches across three simulated innings yesterday, saying afterwards that everything went fine and he feels strong. He will throw a bullpen session in the coming days, and after that the Yankees will decide whether Tanaka will throw another simulated game or pitch in an Instructional League game in Tampa. It's entirely possible he will rejoin the rotation after that. "I think he wants to feel that he can go home and have a normal offseason and he can be healthy and come back," said Joe Girardi. "I do believe it's important to him."
Brett Gardner (abdomen) underwent an MRI and was diagnosed with a mild strain. There is no timetable for his return right now and it's possible his season is over. "We're not sure exactly when we'll get him back," said Girardi. "He does feel better. He'll see the doctor again tonight and then we'll try to make some decisions on when he'll start doing some baseball activities … I'm not sure when we'll get him back. It is a concern of mine. We'll continue to talk to the doctors, measure how he feels and how he's improving and go from there."
Martin Prado (hamstring) is not improving. His mild strain hasn't gotten any worse — he did play two games over the weekend — but it just isn't getting any better right now. "There's concern about him playing on that, where he could really make it worse in his hamstring to where it becomes a serious issue," said Girardi. "It's still bothering him. Even though I told him to guard it — and he did a good job — there's concern."
David Phelps (elbow) will throw a bullpen session on Wednesday and is likely to be activated on Friday, in advance of the team's doubleheader against the Orioles. He feels great and is ready to go. The Yankees are bringing Phelps back as a reliever.
Frankie Cervelli (migraines) is on medication and resumed working out Monday. He should be available soon. "I got treatment and I'm back. Doctors say we have to make sure it doesn't come back, but I feel good so I think I am going to play soon," he said.

Source: FanGraphs
So it seems the Yankees will fall out of the wildcard race without much of a fight. They lost Tuesday night's series opener to the Rays by the score of 4-3. It was their eighth loss in the last 13 games, in the middle of the most important stretch of their season. The team's chances of claiming he second wildcard spot are all but kaput at this point.
I was out with my brother for his birthday, so I only caught bits and pieces of the game on the radio. I can't say I'm disappointed I missed it. The Yankees were down 4-0 before they even had their first base-runner against Chris Archer, which was Jacoby Ellsbury's leadoff homer in the fourth. A hit batsman (Chase Headley) and four straight singles (Ichiro Suzuki, Stephen Drew, Chris Young, Ellsbury) created two more runs in the fifth, but Drew was thrown out at the plate on a terrible send by third base coach Robbie Thomson, stifling the rally.
Hiroki Kuroda opened the game by striking out the side in the first before allowing hits to nine of the next 16 men he faced. That resulted in four runs and the end of his day with one out in the fourth inning. Kuroda's been really good of late. This was just a bad night against a team he can't seem to beat. The bullpen was pretty great — Joe Girardi went a little bonkers with the matchups — as seven relievers combined for 5.2 scoreless innings. They allowed only two hits and two walks. Not Kuroda's best game but four runs in nine innings overall should be a winnable game.
MLB.com has the box score and video highlights, FanGraphs has some other stats, and ESPN has the updated standings. The Orioles and Blue Jays both won, so the Yankees are now in third place in the AL East, one game back of Toronto and eleven back of Baltimore. Depending on the outcome of the late game, they'll be either five games (Mariners lose) or six games (Mariners win) back of the second wildcard spot with 20 games to play. FanGraphs has their postseason odds at 1.0%. Their elimination number is nine games for the division and 14 games for the wildcard. Chris Capuano and Jake Odorizzi will be Wednesday's pitching matchup.
Including tonight, there are only 21 games left in the season. The Yankees are five games back of the second wildcard spot with three teams ahead of them, so sneaking into the postseason will be a daunting task. After dropping three of their last four series, winning this one against the Rays is a must if they want to play meaningful games beyond this coming weekend. Here is the Rays lineup and here is the Yankees lineup:
It is cool, humid, and cloudy in New York, but there is not rain in the forecast tonight. Well, no substantial rain. Maybe some drizzle but nothing more. Tonight's game will begin at 7:05pm ET and you can watch on My9. Enjoy the game.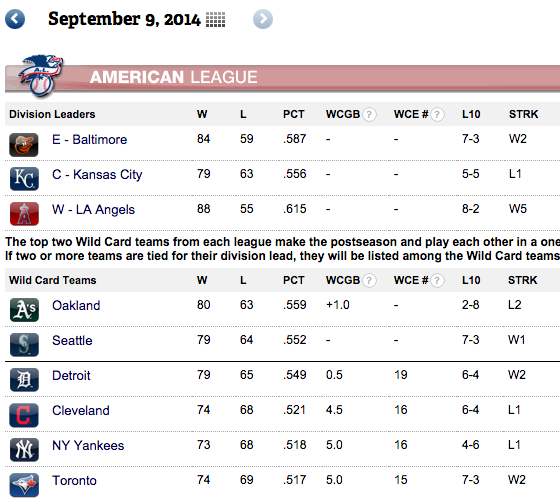 The odds were stacked against them to open September, and they haven't helped their cause. By playing mere .500 ball at a time when every win is crucial, the Yankees have dropped from 3.5 games back from a tie for the second Wild Card to five games back.
Cleveland and Detroit now sit between them and the postseason. Toronto rides their heels in a virtual tie. The offense can't generate any runs. The Yankees' chances don't look great, even with 21 games remaining.
People love to estimate how many wins it'll take to put them into October play. Will they need to win 17 of 21? More? To make up five games in just three weeks is a pretty tall order any way you slice it.
The Yanks can forget about the AL East. While eight — EIGHT — of their remaining games are against the Orioles, they simply cannot expect a second-half-2009-against-the-Red-Sox performance. Even if they did, by some miracle, sweep the O's, those games alone would only get them within two of the AL East crown.
On the Wild Card front, the Yankees have the misfortune of not playing any teams ahead of them the rest of the way. The best chances they had to beat up on the competition came with their recent series against Detroit and Kansas City, and they dropped two of three in both. Oops.
But I'm not here to argue what they could have done and didn't do. What we all want to know is what comical scenarios will it take for the Yankees to actually make the postseason?
Let's start with some semi-reasonable expectations. To date the Yankees have a .518 win percentage. Let's say they get reasonably hot and play close to .600 ball the rest of the way, going 12-9. Seattle, current holders of the second Wild Card spot, would have to go 6-13 the rest of the way after playing .552 ball all season. And that's while Cleveland goes at best 11-9 and Detroit goes at best 6-12.
(Which would be great for Dave Pinto's massive tie scenario.)
Clearly, the Yanks will have to get super hot in order to stand an inkling of a chance. If Seattle, Detroit, and Cleveland play .500 ball the rest of the way — which is about as reasonably bad as you can project. (We'll go one game under, for odd-numbered games remaining.) That would make the final standings:
Seattle: 88-74
Detroit: 88-74
Cleveland: 84-78
Just to tie, the Yankees would have to go 15-6. The odds of even doing that are pretty long. A quick glance shows the Yankees having nowhere near that good a stretch previously this season. My eye sees a 10-4 stretch as being their best to date.
This isn't meant to bury the Yankees. We're fans, with no control on the outcome of the games. Anything other than hope is pretty ridiculous. But it sets some solid expectations going forward. The worst the Yankees can reasonably play the rest of the way is 15-6 ball, a .714 win percentage.
We keep tally starting tonight.
The second to last homestand of the season ends with this series, a three-gamer against the Rays. Neither team is whether they expected to be at the start of the year. The Yankees have won only five of 13 games against the Tampa this year, including only one win in six head-to-head meetings at Yankee Stadium.
What Have They Done Lately?
The Rays were off yesterday and they took two of three from the Orioles at home over the weekend. They dropped eight of eleven games before that. Tampa is 69-75 with a +8 run differential on the season, leaving them comfortably in fourth place in the AL East.
Offense
With an average of 3.85 runs per game and a team 99 wRC+, manager Joe Maddon's squad is essentially league average offensively. Actually about half-a-run per game below that when it comes to runs actually crossing the plate. Sequencing matters. OF Desmond Jennings (104 wRC+) is done for the season with a knee injury. Otherwise the Rays are healthy.
As always, Maddon's lineup is built around 3B Evan Longoria (105 wRC+), who is having a very down year by his standards. UTIL Ben Zobrist (120 wRC+) is a perpetual pain in the behind and OF Matt Joyce (115 wRC+) is having a nice year as well. OF Wil Myers (86 wRC+) came off the disabled list not too long ago and he just destroys the Yankees. They can't seem to get him out. 1B James Loney (106 wRC+) has been unable to repeat last year's success and OF David DeJesus (133 wRC+) is having a nice year around a broken hand.
SS Yunel Escobar (84 wRC+) plays everyday while C Ryan Hanigan (95 wRC+) and ex-Yankee C Jose Molina (24 wRC+) split catching duties. OF Kevin Kiermaier (125 wRC+) has cooled off following his ridiculously hot start. He is playing center field regularly now that Jennings is hurt. The always annoying UTIL Sean Rodriguez (100 wRC+) is on the bench, as are IF Logan Forsythe (82 wRC+) and OF Brandon Guyer (109 wRC+). C Curt Casali is the third catcher now that rosters have expanded.
Pitching Matchups
Tuesday: RHP Hiroki Kuroda (vs. TB) vs. RHP Chris Archer (vs. NYY)
Back-to-back rough outings (14 runs in ten innings) have the 25-year-old Archer sitting on a 3.60 ERA (3.26 FIP) in 28 starts and 167.1 innings so far this year. His strikeout (8.18 K/9 and 21.1 K%), homer (0.48 HR/9 and 6.2 HR/FB%), and ground ball (46.7%) rates are all very good, though his walk rate (3.39 BB/9 and 8.8 BB%) has jumped quite a bit from last year. It's still not bad though. Righties (.310 wOBA) have actually fared better than lefties (.295 wOBA) against him so far this year, which is odd because Archer is a mid-90s fastball/mid-80s slider guy. He throws only a handful of mid-80s changeups per start and those guys tend to have platoon splits, not reverse platoon splits. Archer has faced the Yankees twice this year, holding them to one run in 6.2 innings back in April and two runs in seven innings June. He never seems to not pitch well against New York.
Wednesday: LHP Chris Capuano (vs. TB) vs. RHP Jake Odorizzi (vs. NYY)
Odorizzi, 24, has quietly had a solid rookie season for the Rays, posting a 3.84 ERA (3.49 FIP) in 28 starts and 154.2 innings. His strikeout rate is excellent (9.66 K/9 and 25.4 K%) and his walk rate is good (3.03 BB/9 and 8.0 BB%), but he doesn't get ground balls at all (30.4%). He has somehow managed to keep the ball in the park reasonably well despite that lack of grounder (0.99 HR/9 and 8.3 HR/FB%). Like Archer, he has a reverse split (righties have a .312 wOBA, lefties .288). Odorizzi uses a four-seamer right around 90 mph to set up his mid-80s slider, which is his top secondary pitch. He'll throw a handful of mid-80s changeups and big-breaking upper-60s curveballs per start. The Yankees scored three runs in four innings when they saw Odorizzi in May, then they scored another three runs in 5.2 innings in July.
Thursday: RHP Michael Pineda (vs. TB) vs. RHP Alex Cobb (vs. NYY)
With David Price gone and Archer still finding his way, the 26-year-old Cobb has taken over as the ace of Maddon's staff. He missed time with an oblique injury earlier this season but otherwise has a 2.83 ERA (3.07 FIP) in 23 starts and 140 innings. Across the board he has posted very strong peripherals: 8.61 K/9 (23.3 K%), 2.57 BB/9 (6.9 BB%), 0.58 HR/9 (8.6 HR/FB%), and 56.4% grounders. Thanks to his knockout mid-80s changeup, lefties (.259 wOBA) have actually had less success against Cobb than righties (.296 wOBA). His two and four-seamers sit in the low-90s and he'll also throw a bunch of low-80s curveballs. The Yankees scored no runs in 7.1 innings against Cobb last month, the only time they faced him in 2014.
Bullpen Status
The Rays continue to say they are using a closer by committee, but LHP Jake McGee (1.29 FIP) has more or less taken over the ninth inning. Maddon will use him in the eighth inning on some occasions depends on the matchups. RHP Joel Peralta (3.68 FIP) and RHP Brad Boxberger (2.50 FIP) will also see late-inning work. RHP Grant Balfour (4.01 FIP) still gets some high-leverage chances despite his poor year.
The rest of Maddon's bullpen includes RHP Kirby Yates (3.67 FIP), RHP Brandon Gomes (4.87 FIP), and LHP Cesar Ramos (4.30 FIP). LHP Jeff Beliveau and RHP Steve Geltz are the extra September call-up arms. Tampa Bay was off yesterday, so their bullpen is relatively rested. The same goes for the Yankees. Check out our Bullpen Workload page for recent relieve usage then check out The Process Report for everything you could possibly want to know about the Rays.
By

Via Jayson Stark: MLB and the MLBPA are working on an agreement that would "clarify" the new home plate collision rules, specifically for plays like this. An official announcement is expected soon. Stark says the clarification "would remind umpires that while the intent of the rule was to protect catchers from violent collisions at the plate, the wording was not intended to be interpreted so strictly that it would allow runners to be called safe on a technicality if the throw had beaten them to the plate by a substantial margin."

As Dave Brown put it the other day, home plate has become the twilight zone. No one really seems to know what's happening on plays at the plate anymore and they're often followed with reviews and arguments and confusion. Hopefully whatever MLB and MLBPA are working on will clear up some things, but I still expect there to be some bumps in the road. I think the spirit of the rule is great — avoid turning catchers' brains into mush, basically — but the new rule is clearly a work in progress. There has definitely been a league-wide learning curve in year one. · (22) ·
The Yankees were off yesterday for the final time this season. Twenty-one games in the next 20 days next up — they play a doubleheader against the Orioles in Baltimore on Friday — then we'll either be celebrating the team's miraculous return to the postseason or preparing for an offseason that should be mighty interesting. Here are some random thoughts heading into tonight's series opener against the Rays.
1. First things first, the Yankees haven't announced a starter for the second game of Friday's doubleheader but that's not really a big deal because of the expanded rosters. David Phelps should be activated off the disabled list before then, so the team will be able to stitch the game together with two or three innings apiece from guys like Phelps, David Huff, Esmil Rogers, Bryan Mitchell, and Chase Whitley. I guess it all depends on who is needed in relief these next three games. Either way, cobbling together enough pitching for that doubleheader won't be a problem. September call-ups make it a piece of cake.
2. With free agency becoming diluted, one of the few notable free agent outfield bats available this winter will be ex-Yankee Melky Cabrera. He had a big season with the Blue Jays, hitting .301/.351/.458 (124 wRC+) with 35 doubles and 16 homers before breaking a finger sliding into a base over the weekend, ending his season. Obviously there is a lot of skepticism surrounded Melky gives his past PED issues, but he is only 30 years old and he's a true switch-hitter who hits both lefties (116 wRC+) and righties (127 wRC+). Plus he never strikes out (10.8%), which is a highly desirable trait in this strikeout heavy age. His defense isn't anything special but he does have a strong arm for right field. Buster Olney (subs. req'd) suggested Melky could wind up with Shane Victorino's contract (three years, $39M) while a scout told Jeff Blair teams are willing to offer Jhonny Peralta's contract (four years, $52M). My gut says Cabrera will wind up with the bigger contract of those two, given the market. Does Melky make sense for the Yankees at that price? The team already has three outfielders under contract at a combined $50M or so per year the next two years. Would they really add a fourth eight-figure outfielder? The Yankees can use someone like Melky in the lineup, but I'm not sure he fits unless they trade Brett Gardner.
3. Now, that said, I think Carlos Beltran has to be the everyday DH next season. Or at least the most of the time DH, four or five games a week. There are two reasons for this. One, the guy is barely mobile at this point of his career and he's a Raul Ibanez-esque liability in right field. My tolerance for bad defensive corner outfielders is surprisingly high, but not that high. Beltran's been scary bad in right this year. Two, his health. I know Beltran is having the bone spur taken out of his elbow this winter, but he also has bad knees and at his age, the likelihood of breaking down physically is pretty high. Giving him more time at DH should reduce his injury risk, in theory. So, in this scenario the Yankees would have room for someone like Melky in right field, but again, are they willing to spent that much money on another outfielder? If the Yankees are going to hand out another $10M+ per year contract to a position player, the infield seems like the place to do it.
4. Stephen Drew has not hit a lick with the Yankees (32 wRC+) but I contend the trade was still worth it because now the team knows he is definitely not the guy to sign to play shortstop next season. The fact that he isn't even playing regularly at this point seems like they are admitting that is the case. Besides, it's not like the Yankees gave up anything of value to get him in the first place. They took a low-cost flier and it didn't work out, that's life. I don't believe Drew is really as bad as he's shown this year but I also don't think the "he didn't have a proper Spring Training" excuse is all that valid anymore either. He's at 239 plate appearances and shown no signs of snapping out of it. (It's worth noting Kendrys Morales is still struggling to find his way after signing late as well.) The upcoming free agent market is shockingly deep with shortstops, namely Drew, J.J. Hardy, Jed Lowrie, Hanley Ramirez, and Asdrubal Cabrera. I assume the Yankees will sign one of those guys — they all have their pluses and minuses, I don't see an obvious one to target right now — and eliminating Drew from the pack makes life that much easier. These few weeks after the trade were an audition and Drew flunked.
5. What exactly is Brendan Ryan's role on the Yankees going forward? I know they re-signed him (two years plus a player option!) as a backup plan for Derek Jeter should his ankle give him more trouble this year, but I don't buy for a second that they would install him as the starting shortstop next year. I'd much rather see the Yankees re-sign Drew before going with Ryan as the starter. They'd have to whiff on every one of the free agent shortstop for Ryan to get a chance to play everyday, and I don't see that happening. Ryan's contract isn't exactly an albatross ($2M in 2015) but he has no trade value. He has played in seven of the team's last 33 games (five starts) and really doesn't seem to have a defined role at this point. I wonder if the Yankees would look for a better backup infield infielder, then outright Ryan off the 40-man roster and down to Triple-A Scranton. If he gets claimed off waivers, so be it. He won't refuse the outright assignment if he clears waivers because then he would forfeit the remainder of his contract, and I have a hard time believing that will happen. It's a weird situation. No hit, all glove backup infielders have zero value if they're playing as infrequently as Ryan does.
6. As far as second base goes, I think my perfect world scenario has Martin Prado at second and Alex Rodriguez at third base to open next season. A-Rod is coming back and I'm sure the Yankees will stick him out there at the hot corner early on. Then, when Alex inevitably gets injured, the Yankees slide Prado to third base and play Rob Refsnyder at second. A-Rod hasn't played a full healthy season since 2007 and I have no reason to think 2015 will be the year he does it. Not at age 39 and after two hip surgeries and nearly two full years away from the game. I like Prado the most at second base, he fits there way better than in right field or at third base in my opinion, but I also want the Yankees to give Refsnyder a chance next year. I mean, at some point they have to try one of their young position players, and he's the obvious candidate knocking on the door. Prado's versatility gives the team flexibility and I'm sure Rodriguez's brittle body will create the opportunity.
Today is the final scheduled off-day of the season for the Yankees. They'll close out the 2014 regular season with 21 games in 20 days — they have a doubleheader against the Orioles this Friday — before heading into what will surely be one of the most interesting offseasons in recent franchise history. (I think I said that last year too.) Unless they make a miraculous comeback these next three weeks, picking up the pieces following back-to-back postseason-less years will be a daunting task.
Here is your open thread for the off-night. The Mets are playing, MLB Network is airing a regional game, and the Monday Night Football game is the Giants at the Lions. Good night for the Yankees to be off, I'd say. Talk about any of those games or anything else right here.
By

The Yankees have outrighted outfielder Zoilo Almonte to Triple-A Scranton, according to the official league transactions. That means he went unclaimed on waivers. Almonte can not refuse the assignment since this is his first outright, but I believe he is due to become a minor league free agent in a few weeks anyway. I would expect him to sign elsewhere since it's pretty obvious he won't get much of an opportunity in New York.

Almonte, 25, hit .261/.311/.436 (103 wRC+) with 18 homers in 105 Triple-A games this season. He's had several unsuccessful (39 wRC+) big league cameos over the last two seasons. Almonte is a switch-hitter in name only — he absolutely can not hit left-handers — but he has some pop against righties and can play good defense in the two corners. I thought he could be a useful platoon/fourth outfielder, but the fact that every other team could have had him for free off waivers but passed is telling. · (19) ·
By

As expected, David Phelps faced hitters in a simulated game yesterday for the first time since going down with elbow inflammation last month. He threw 31 pitches and felt fine. "I feel like I made some good pitches. I was just nice to be out there with some adrenaline flowing. It feels good enough to get guys out right now," he said to Brian Heyman.

The Yankees will see how Phelps feels in the coming days before deciding on the next step, and it's entirely possible he will be activated off the disabled list before throwing another simulated game. The team already announced he will return as a reliever — at this point of the season I'm not sure there's enough time to get him all the way stretched out to start anyway — and I'm sure he'll jump right into some kind of quasi-high-leverage role similar to what Adam Warren is doing right now. · (14) ·