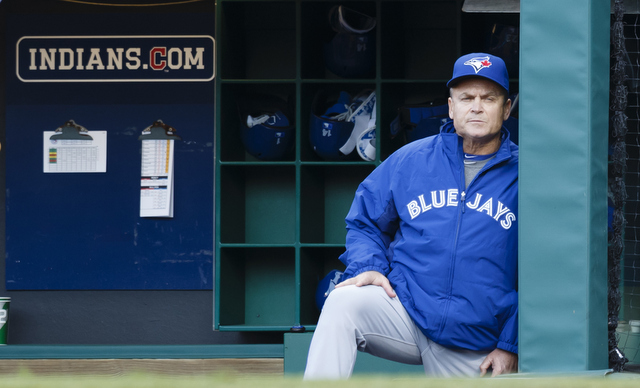 The Yankees are in Toronto for a three-game set starting tonight as they look to win their sixth consecutive series. They haven't won six straight series since late-June/early-July 2011, when they won seven straight. Yeah, it's been a while. It's worth noting new turf was installed at Rogers Centre this offseason and everyone seems to hate it. Players have said it's too soft and spongy, and it slows down batted balls significantly, enough that MLB is monitoring the new surface.
What Have The Blue Jays Done Lately?
The Blue Jays dropped a slugfest to the Indians yesterday afternoon (final score: 10-7) and split the four-game series in Cleveland. They've lost seven of their last ten games overall and are in the AL East cellar with a 12-14 record and a +6 run differential. The Yankees and Blue Jays played in Yankee Stadium in the very first series of the season, as you probably remember. Toronto won two of three.
Offense & Defense
The Blue Jays look quite a bit different than when he was saw them. SS Jose Reyes (rib) and C Dioner Navarro (hamstring) are both on the DL, UTIL Steve Tolleson has been designated for assignment, and OF Dalton Pompey was sent to Triple-A because he wasn't hitting. They Jays are the highest scoring team in baseball, averaging 5.54 runs per game with a team 109 wRC+.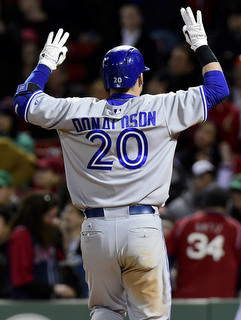 The middle of Toronto's lineup is straight up terrifying even though OF Jose Bautista (128 wRC+) is having some BABIP issues (.213) and 1B Edwin Encarnacion (75 wRC+) has yet to really get going. Those two plus 3B Josh Donaldson (155 wRC+) are as good as any three hitters in any other lineup in the baseball, at least on paper. Add in surprising rookie 2B Devon Travis (180 wRC+) and you've got four really scary right-handed hitters atop the lineup.
Bautista is nursing a throwing shoulder issue and has been limited to DH duty for about a week now. OF Ezequiel Carrera (244 wRC+ in very limited time) and 3B/OF Danny Valencia (155 wRC+) have been platooning in his place. OF Kevin Pillar (97 wRC+) and OF Michael Saunders (70 wRC+) are the other two regular outfielders. C Russell Martin (138 wRC+) is the everyday catcher and OF Ryan Goins (75 wRC+) and UTIL Jonathan Diaz (-38 RC+ in very limited time) have been platooning at short with Reyes out. C Josh Thole and 1B Justin Smoak are also on the bench.
The Blue Jays are a sound defensive team with elite defenders at third base (Donaldson) and behind the plate (Martin). Pillar has been excellent this year as well, first in left and now in center with Pompey demoted. Saunders and Carrera are above-average glovemen while Valencia looks very much like a third baseman playing the outfield. Travis is adequate at second and the Goins/Diaz tandem is good at short. Encarnacion's not much of a defender at first. He's in the lineup for his bat.
Pitching Matchups
Monday: RHP Chase Whitley (Career vs. TOR) vs. RHP R.A. Dickey (Career vs. NYY)
Dickey, 40, is off to a rough start this season, with a 5.23 ERA (5.50 FIP) in five starts and 31 innings. His strikeout (14.9%), ground ball (43.8%), and home run (1.45 HR/9) rates are all below average, and Dickey's walk rate has climbed from 5.8% in 2012 to 7.5% in 2013 to 8.1% in 2014% to 9.7% in 2015. Lefties (.384 wOBA) have hit him a lot harder than righties (.304 wOBA) in the early going. Dickey's a knuckleballer, you know that, and these days it butterflies in around 75 mph. He throws the knuckler roughly 85% of the time, and the other 15% are show-me low-80s fastballs. The Yankees faced Dickey earlier this year and he held them to one run in 6.1 innings.
Tuesday: RHP Michael Pineda (Career vs. TOR) vs. RHP Marco Estrada (Career vs. NYY)
Late last week rookie left-hander Daniel Norris was sent back to Triple-A after struggling to throw strikes (11.7 BB%), keep the ball on the ground (30.0 GB%), and pitch deep into games (4.2 innings per start). The 31-year-old Estrada is taking his spot in the rotation after pitching to a 0.84 ERA (3.99 FIP) in 10.2 long relief innings. Estrada's been a starter before — he made 62 starts for the Brewers from 2012-14 — so this won't be knew to him. Last season he managed to lead MLB with 29 home runs allowed in only 150.2 innings. Estrada's always been homer and fly ball prone with average strikeout and walk rates. He's a three-pitch pitcher, using upper-80s fastballs to set up upper-70s changeups and curveballs. The changeup is his go-to secondary pitch. Estrada did not pitch during the series at Yankee Stadium earlier this year.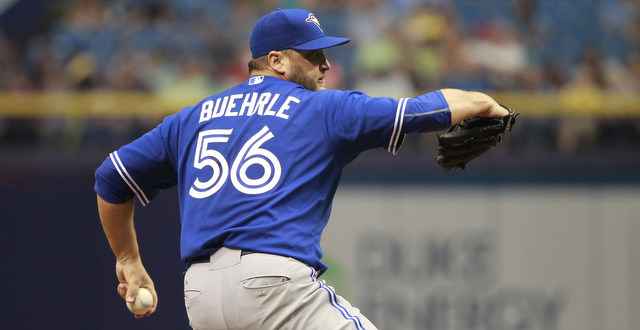 Wednesday: LHP CC Sabathia (Career vs. TOR) vs. LHP Mark Buehrle (Career vs. NYY)
Man, Buehrle is off to a terrible start this year. He's got a 6.75 ERA (5.89 FIP) and has allowed 47 hits (!) in 28 innings. Egads. No other pitcher who has yet to throw 30 innings has allowed even 40 hits this year. Buehrle's strikeout rate (8.3%) is at an all-time low, his homer rate (1.93 HR/9) an all-time high, and both his walk (5.3%) and grounder (42.7%) numbers are in line with his career norms. Lefties (.498 wOBA) have crushed him, but it's a small sample. Righties (.412 wOBA) have hit him really hard too. Buehrle sits in the low-80s with his fastball, has for a few years now, and throws both two and four-seamers in addition to an upper-70s cutter. An upper-70s changeup is his top secondary pitch and either he is throwing the pitch more than ever (~33%), or PitchFX is misclassifying some fastballs as changeups. That's never good. The Yankees didn't face Buehrle in the first series of the year.
Bullpen Status
Despite that slugfest with the Indians yesterday, manager John Gibbons didn't really tax his bullpen too much. RHP Scott Copeland (5.14 FIP) threw two innings and RHP Miguel Castro (4.76 FIP) needed 33 pitches to get four outs, and that's about it. Ex-Yankees LHP Jeff Francis (3.14 FIP) got one out as well. No one on the staff has pitched in both of the last two games.
LHP Brett Cecil (6.14 FIP) has resumed closing and his primary setup men are RHP Roberto Osuna (1.76 FIP) and LHP Aaron Loup (4.69 FIP). Castro and Osuna are the two youngest players in MLB right now — they're both only 20. RHP Liam Hendriks (1.54 FIP) is the last man in the bullpen. Check out our Bullpen Workload page for an update on New York's bullpen and then head over to Andrew Stoeten's site for everything you need to know about the Blue Jays.