As I mentioned the other day, MLB is testing out the new manager's challenge-based replay system in the Arizona Fall League this week. The first test game was last night and sure enough, the new system was put to the test. See the video above. They actually reviewed another bang-bang play at first base later in the game as well. Both times the replay was very quick and easy; I was pleasantly surprised. MLB is leaning towards implementing the system for 2014 but nothing is final yet.
Anyway, here is your open thread for the evening, day two of free agency. Once again, not a whole lot happened. It'll pick up soon, I promise. The Rangers are the only local team in action, so you're on your own for entertainment if you don't like hockey. Talk about anything and everything right here. Enjoy.
By

Via Susan Slusser: The Yankees are one of several teams with interest in free agent right-hander Grant Balfour. The Athletics did not make their closer a qualifying offer, so he will not cost a draft pick to sign. Bullpen-needy teams like Tigers, Rockies, Angels, and Rays are also said to be in the mix.

Balfour, 36 next month, pitched to a 2.59 ERA (3.49 FIP) in 62.2 innings while going 38-for-41 in save chances this season. He misses bats (10.34 K/9 and 27.5 K%) but walks a few too many (3.88 BB/9 and 10.3 BB%), gives up homers (1.01 HR/9 and 11.1% HR/FB), and is fly ball prone (37.9% grounders). The Yankees could use a veteran late-inning reliever to replace Mariano Rivera and I loved the idea of signing Balfour a few months ago, but I think his huge season may have pushed him out of New York's price range. He's a definite fit though. · (16) ·
The 2013 season is over and now it's time to review all aspects of the year that was, continuing today with the team's nominal ace for two years running.
It's hard to believe that once upon a time, there was legitimate concern about how Hiroki Kuroda would handle a small Yankee Stadium and the AL East after opening his big league career in spacious Dodger Stadium and the generally pitcher-friendly NL West. Those are two extremely different run environments, nevermind the general concern associated with a pitcher on the wrong side of 35.
Kuroda showed last season that those concerns were unwarranted by pitching to a 3.32 ERA and 3.86 FIP in a career-high 219.2 innings. He fit in so well that the Yankees gave him a nice big raise and brought him back for 2013, and pretty much no one had a problem with it. Why would they? Kuroda's awesome. He was getting up there in age but it was a one-year contract. The risk was small, the reward potentially high.
It's easy to forget that the start of Kuroda's season was only a fraction of an inch away from being disastrous. In the second inning of his first start, he reached for a Shane Victorino line drive with his barehand and took the ball right off his fingertips. Joe Girardi and the trainer came out to look at him, but Kuroda ultimately stayed in the game after a few test pitches. It was obvious he wasn't right though, he plunked two of the next four batters and walked another on four pitches. He was removed from the game after that.
Tests showed no break thankfully, just a contusion that needed a few days to heal. Kuroda made his next start five days later and still seemed to be showing some lingering effects from the liner as he walked four in 5.1 innings against the Indians. The Yankees took advantage of an off-day to give the right-hander and his bruised finger some extra rest, and the results were immediate. In his third start of the year, Kuroda held the Orioles to five singles and zero walks while striking out five in a complete-game shutout.
That game was the beginning of a nine-start stretch in which Kuroda allowed only 13 runs (1.92 ERA and 3.28 FIP) in 61 innings, holding batters to a .204/.234/.321 batting line. He completed seven full innings of work in seven of those nine starts. Believe it or not, his worst outing of the season — five runs on eight hits in only two innings against the Orioles — is included in this nine-start stretch.
Kuroda had an effective but ultimately average month of June (3.92 ERA and 4.43 FIP in 39 innings across six starts) before putting together an utterly dominant month of July. He made five starts — one apiece against the Orioles, Twins, Red Sox, Rangers, and Dodgers, so not exactly the easiest competition — and allowed two runs total, pitching to a 0.55 ERA and 2.33 FIP in 33 innings. Kuroda went at least seven full innings in four of the five starts and the only reason he didn't work deep into the other game was a lengthy rain delay that cut his outing short.
In 19 first half starts, Kuroda pitched to a 2.65 ERA (3.60 FIP) in 118.2 innings. Only Felix Hernandez (2.53 ERA) had been better at preventing runs among AL hurlers, and obviously he enjoys a much more pitcher-friendly atmosphere in Seattle. Kuroda did not make the All-Star team mostly because his teammates never scored runs and his win-loss record sat at a forgettable 8-6. Chris Tillman, he of the 11-3 record (3.95 ERA and 4.94 FIP) got the final pitching spot on the AL squad.
As neat as an All-Star Game berth would have been, Kuroda probably needed the rest more than anything. He was able to take a full week off between starts thanks to the break and he continued to dominate early in the second half — 1.25 ERA and 2.02 FIP in 36 innings across his first five starts. Following eight shutout innings against the Angels on August 12th, Kuroda owned a league-leading 2.33 ERA (3.20 FIP) and was a legitimate Cy Young candidate. Not an "he's good and a Yankee so he should be a Cy Young candidate," a real live Cy Young candidate.
Unfortunately, Kuroda hit a wall in mid-August, the same wall he hit in mid-August last year. I assume it is due to his age and his workload — he stopped throwing his regular between-starts bullpen session in an effort to stay fresh late in the season — and a million other things. Regardless, his Cy Young hopes crashed and burned with eight dreadful starts to close out the year. Here is the carnage in table form:
| | Starts | Innings/Start | ERA | FIP | WHIP | K/BB | HR/9 | Opp. Batters |
| --- | --- | --- | --- | --- | --- | --- | --- | --- |
| 4/1 to 8/12 | 24 | 6.4 | 2.33 | 3.20 | 1.02 | 3.79 | 0.70 | .226/.265/.338 |
| 8/13 to 9/29 | 8 | 5.8 | 6.56 | 4.46 | 1.62 | 2.86 | 1.54 | .316/.364/.551 |
I wasn't exaggerating, that's really awful! Kuroda was an absolute disaster in his final eight starts. That batting line against is in the neighborhood of what Robinson Cano hit this summer (.314/.383/.516). Kuroda turned every batter he faced in his final eight starts into Cano with more power. Seriously. As soon as the Yankees were eliminated from postseason contention, they effectively shut him down for the season. They never called it that, but they did skip his final start.
The Yankees faded out of the race partly because of Kuroda's poor finish, but then again they wouldn't even have been in the race in the first place had he not pitched so well during the first four-and-a-half months of the season. Those disastrous last eight starts, exactly one-quarter of his season, doesn't erase all of the good he did before then. That he pitched to a 3.31 ERA and 3.56 FIP in 201.1 innings overall despite that ugly finish is a testament to how outstanding he was for much of the summer. The guy was truly dominant and the anchor of the staff.
It will take quite a bit of research to answer definitively, but my hunch is that Kuroda was one of the best one-year pitching contracts in baseball history. Not just Yankees history (that's a given), but all baseball history. Heck, he might be on that list twice for these last two seasons. He's been that good. New York made Kuroda a qualifying offer before the deadline earlier this week, so if he leaves for another MLB team, they'll receive a draft pick in return. There is reason to be concerned about him going forward given his age and how he finished, but there's not doubt #HIROK was one of the few things to go right for the Yankees in 2013.
Gosuke Katoh | 2B
Background
Katoh was born but not raised in Tokyo — his family moved from Japan to Southern California when he was a child. He got into baseball when his parents enrolled him in Little League to help him learn English and socialize. Katoh starred at Rancho Bernardo High School — he hit .451 with 12 doubles and eight homers as a senior — and really jumped onto the prospect map during the Area Code Games last year. He was a very good student with a strong commitment to UCLA.
Prior to the 2013 draft, Baseball America (no subs. req'd) ranked Katoh as the 39th best draft prospect in California and the 189th best draft prospect overall. The commitment to UCLA had many clubs thinking he was going to be a tough sign, but the Yankees rolled the dice and selected Katoh with their second round pick, the 66th overall selection. He signed within two weeks of the draft for a straight slot $845,700 bonus.
Following a season in which their catchers ranked 26th in baseball with a 61 wRC+ and 23rd with 0.9 fWAR, help behind the plate figures to be on the Yankees' agenda this winter. They have some strong backstop prospects in J.C. Murphy and Gary Sanchez, but prospects break hearts and if the team has a chance to land a quality catcher this offseason, they should consider it. Strongly consider it. Very strongly.
Long-time Braves catcher Brian McCann is a free agent and his camp has already had preliminary talks with New York according to Andy McCullough. That makes sense, especially since elite catchers very rarely hit the open market. In fact, since Ivan Rodriguez signed his four-year, $40M deal with the Tigers prior to the 2004 season, the largest contract given to a free agent catcher is the three-year, $18M pact the Marlins gave John Buck three years ago. Good catchers never ever ever become free agents. Teams lock them up because they know how rare and precious they are.
On the surface, McCann makes perfect since for the Yankees. If he's not an elite catcher, he's damn near elite. One of the five best in baseball. He's also a left-handed power hitter who should benefit quite a bit from the short right field porch at Yankee Stadium. There is more to life than that though, especially when talking about a guy who had surgery to repair a tear in his labrum and general instability in his right shoulder last October. Let's break down his game to see just how much of a fit he is for New York:
The Pros
McCann showed no ill effects from the surgery offensively by hitting .256/.336/.461 (122 wRC+) with 20 homers in 402 plate appearances this year. He struggled mightily while playing through the injury last summer (87 wRC+) but rebounded to his pre-surgery levels (121 wRC+ from 2009-2011). His strikeout rate (16.4% in both 2013 and 2009-2011) is lower than the league average as well.
He fits the classic Yankees' mold of power and patience. McCann drew a walk in 9.7% of his plate appearances this year (10.9% from 2009-2011) and managed a .205 ISO (.195 from 2009-2011) despite playing in pitcher-friendly Turner Field. As his spray charts show (2013, 2009-2011), he does most of his damage when he pulls the ball to right. That fit perfectly with Yankee Stadium.
Aside from the shoulder problem last year, McCann has been very durable by catcher standards since breaking into the league 2005. The shoulder surgery is a huge red flag obviously, but it's not like he has a tendency to visit the DL every year or anything.
Outside of what appears to be an outlier in 2011, McCann has consistently rated as an above-average defensive catcher (2013, 2012, 2011, 2010 rankings). He has also grades out as an excellent pitch-framer, both this past season and historically (subs. req'd).
McCann has played in the postseason a bunch of times and has plenty of experience in pennant races and all that with the Braves. I don't know how valuable that actually is, but it can't hurt.
The Cons
McCann's overall offensive performance was very good this year, but he really struggled against southpaws for the first time since breaking into the league: .231/.279/.337 (72 wRC+) against lefties but .266/.357/.512 (141 wRC+) against righties. From 2009-2011, it was .250/.323/.411 (100 wRC+) against lefties and .284/.374/.494 (131 wRC+) against righties.
Despite the strong defensive scores, McCann has always been below-average at throwing out attempted base-stealers. He cut down just 15 of 62 (24.2%) runners this year and 89 of 353 (25.2%) from 2009-2011. Consistently five or so percentage points below the league average.
McCann has no value on the bases whatsoever, which is par for the catcher course. He attempted one stolen base this year and only 21 over the last five years. He's also well-below-average at taking the extra base (first-to-third on a single, etc.), succeeding only 17% of the time since 2009. The league average is close to 40%. He's a base-clogger in the historical sense of the term.
The Braves unsurprisingly made McCann a qualifying offer before Monday's deadline, so the Yankees or any other club will have to forfeit a high draft pick to sign him. For New York, that means the 18th overall selection.
I think Yadier Molina's five-year, $75M contract is the benchmark for McCann's next deal. I think that's the starting point, really. It's been two seasons since Molina signed his contract and free agent prices have only gone up, plus McCann will be a true free agent and able to get several teams involved in a bidding war. Molina is clearly the superior player, but he signed an extension and could only negotiate with one team. I mentioned before how rare it is for a top catcher life McCann to hit the market, so I wouldn't be surprised if the team that lands him is the one willing to offer a sixth year.
McCann turns 30 in February and already has more than 8,800 career innings at catcher to his credit, so expecting him to remain behind the plate for the entirety of a five (or six) year contract seems unreasonable. I think the realistic case is getting two full years at catcher, one year split between catcher and first base, then two years split between first base and DH. That timetable lines up well with the expiration of Mark Teixeira's contract, so McCann could slide right over to first once he starts to turn into a pumpkin behind the dish. Maybe if you're lucky, you'll get three full years at catcher during a five-year deal.
There is almost no chance the Yankees could fit McCann into their $189M or less payroll next season without Alex Rodriguez being suspended for all of 2014. That's a problem because the ruling for A-Rod's appeal may not be handed down until mid-December, after the Winter Meetings when most top free agents pick a new team. Maybe McCann will be one of the exceptions who drag their decision into January, but the point remains: the Yankees can't seriously pursue him until they know A-Rod's salary is off the books for certain. That's unfortunate, McCann is such a perfect fit.
By

Via Jon Heyman: The Yankees have called the Reds and inquired about Brandon Phillips, who is supposedly on the trade block. The team also contacted free agent Omar Infante recently as they try to line up second base options should Robinson Cano sign elsewhere. Heyman says the price tag on Phillips is "way too steep."

Phillips, 32, hit .261/.310/.396 (91 wRC+) with 18 homers and five stolen bases in 666 plate appearances this summer. His defense at second is very good and there is still $50M and four years left on his contract. As I wrote in a mailbag late last month, I would look for a short-term solution (like Infante!) before taking the plunge and making a trade for Phillips. He's a solid player but there are clear signs of decline, most notably his disappearing power and speed. · (38) ·
By

Finalists for the four major awards were announced tonight, and, unsurprisingly, no Yankees made the cut. Joe Girardi was the team's best hope for a finalist, but a Yankees manager doesn't get many votes if the team misses the postseason. It's just the way it is. Girardi and several players will get down ballot votes (Robinson Cano for MVP, specifically) for the various awards, which will be announced next week. All of the finalists are right here. · (4) ·
The first day of free agency came and went with a whole bunch of nothing. That's no surprise, really. Baseball was never like the NFL or NHL, where the majority of the top free agents choose a new team on the very first day. I guess that has to do with the salary cap, no? Sign now otherwise there might not be any money left over later? I can't see baseball ever going to a salary cap, at least not anything in the next … I dunno, 15-20 years or so. The union is too strong and the league makes too much money.
Anyway, here is your open thread for the evening. The Islanders, Knicks, and Nets are all playing, but otherwise you're on your own for entertainment. Talk about whatever, go nuts.
By

Via Jerry Crasnick: MLB is investigating whether Jay-Z violated the union's regulations by giving Robinson Cano a watch valued at $33,900 during his recent birthday party in Germany. Cano hired Jay-Z back in April and any gift in excess of $500 must be disclosed in writing. Obviously agents are strictly prohibited from giving a gift to a player (or the family of a player) who is not their client, but that isn't an issue here. Jay-Z could be subject to some kind of discipline (fine?) if he is found to be in violation of the regulations, but Robbie is in the clear as far as I know. · (17) ·
The 2013 season is over and now it's time to review all aspects of the year that was, continuing today with a big name outfielder who provided small name production.
It doesn't happen often, but every once in a while a move will work out exactly the way I expected it to work out. The Ichiro Suzuki re-signing was one of those moves. It was a terrible signing at the time (two years!!!) and it looks just as terrible today. Those three great weeks at the end of last season were a total mirage — the Magic of the Pinstripes™ failed Ichiro miserably in 2013. He looked old and washed up because, well, he's old and washed up. Here is his 2013 season in three acts:
Act One: The Terrible Start
It's hard to believe Ichiro was asked to be the everyday right fielder at the outset of the season. Yet there he was, starting ten of the team's first 13 games and playing against both righties and lefties. He singled to center field in his second at-bat of the season and then went hitless in his next 14 at-bats. Ichiro went 8-for-42 with one extra-base hit (a homer) in the team's first 14 games, good for a .190/.255/.262 batting line. The Yankees were winning and an early season slump is usually nothing to worry about, so Suzuki got a free pass because hey, he's Ichiro Suzuki and he'll figure it out.
Act Two: The Inevitable Hot Streak
Naturally, Ichiro figured it out and went on a two-and-a-half month hot streak. From April 19th through July 4th, a span of 70 team games, he hit .296/.339/.408 with four homers and 12 stolen bases in 255 plate appearances. It wasn't exactly Ichiro circa 2004 or even Ichiro circa September 2012, but it was good enough. The highlight of the hot streak was a walk-off solo homer against Tanner Scheppers and the Rangers, one of four games in which New York swatted four of more homers in 2013.
That 70-game hot streak featured 18 multi-hit games and only 26 strikeouts, raising his season batting line to .280/.318/.387. Ichiro was piling up base hits and making noise on the bases, plus he was still playing solid defense. He was contributing both at the plate and in the field, exactly what the injury-riddled Yankees needed. The early slump was forgotten and any concern that he was, uh, old and washed up disappeared for a little while. A streak like this was inevitable at some point, I felt.
Act Three: The Awful Finish
Things very quickly went south for Ichiro. Following the (arbitrarily cut-off) hot streak, he went into a 6-for-27 (.222) and 17-for-73 (.233) slide. Ichiro hit .239/.272/.290 with two homers and eight steals in his final 253 plate appearances and the team's final 76 games of the season. Ichiro started only 57 of those 76 games because he hit his way out of the lineup, first losing time to Zoilo Almonte and then to Curtis Granderson before Brett Gardner got hurt late in the year. He did record his 4,000th professional hit on August 21st, which was pretty cool:
Ichiro finished the season at .262/.297/.342 (71 wRC+) with seven homers and 20 steals (in 24 attempts) in 555 plate appearances. He set new career worsts in AVG, OBP, wRC+, stolen bases, and plate appearances. It was, by a not small margin, the worst offensive season of his career. Ichiro did play strong right field defense despite developing what appeared to be a Bobby Abreu-esque fear of the wall late in the season. Maybe he was hiding an injury and didn't want to aggravate it by running into the wall, who knows. Maybe that explains the noodle bat as well, but I wouldn't get my hopes up.
* * *
Depending on your preference, Ichiro was either a 1.1-win player (fWAR) or a 1.4-win player (bWAR) in 2013, obviously on the strength of his defense. That's … okay, I guess. It's basically the bare minimum for a starting player. Suzuki's season, these three acts, is best shown in graph form: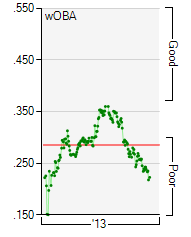 Down, then up (teetering on good!), then really down.
Unfortunately, we're all going to get a look at Act Four in 2014. Ownership signed Ichiro to a two-year contract (!!!) and pending the team's offseason moves, he is currently slated to open next season as the regular-ish right fielder. His skillset at this point is that of a fourth or fifth outfielder: some average, no on-base skills, no power, good base-running, good defense. The kind of guy you can find for maybe a million bucks in the offseason. Instead, Ichiro and his unparallelled marketability will earn $6.25M in 2014 and again provide below-average production. Old, overpaid, and on the decline. The Yankees way.