By

Via Anthony Castrovince: Shin-Soo Choo confirmed the Yankees gave him 21 hours to accept their seven-year, $140M contract offer back in December. The team then pulled it off the table and signed Carlos Beltran for three years and $45M. I dunno, seems like if you give a prominent free agent less than a day to mull over an offer, you weren't all that serious about signing him in the first place. Eh, whatever. Having two outfielders locked up for seven years probably isn't a good idea anyway. · (52) ·
I can't think of another high-profile trade that went as bad as quickly as the Jesus Montero-Michael Pineda blockbuster two years ago. Both teams have gotten nothing from the deal — an especially painful nothing considering the opportunity cost of trading a top prospect or then-23-year-old starter — as all four players involved have either disappointed or gotten hurt. Some have done both. The trade has gone so wrong for both sides that it's actually kinda fascinating.
That is all about to change, knock on wood. Michael Pineda, who showed up to his first camp with the Yankees overweight and was arrested to DUI soon thereafter, is finally healthy following a May 2012 procedure to repair a torn labrum, the kind of injury that can derail a promising career. The now-25-year-old made his first Spring Training start of 2014 yesterday and looked very much like an effective pitcher, striking out five of eleven batters faced in 2.2 scoreless innings. He also looked pretty rusty, but that is to be expected after such a long layoff.
"The best thing is, my shoulder is feeling great. When my shoulder is feeling good, I can pitch, I can compete. I'm happy with that," said Pineda to Mark Didtler following yesterday's start. His fastball velocity is more upper-80s/low-90s right now, a far cry from the mid-to-high-90s he showed with the Mariners three years ago, but it is only March and he should add a few ticks as the season progresses. That he is already touching 93 is promising. As a fastball-slider pitcher, velocity is pretty important to Pineda.
Now for the kicker: we have no idea what to expect out of Pineda this summer. He looks good now, but how will he look facing actual big leaguers every fifth day? What happens once he get 50 or 100 or 150 innings under his belt? Can he hold his stuff for 100+ pitches per start? These are all questions we can't answer. Remember, the Yankees said they expected Pineda back last June. That didn't work out. They can't count on him for anything. Whatever he provides has to be treated as gravy.
And yet, if the season started today, I'm pretty sure Pineda would be the fifth starter. He'd have to be, right? He's healthy and throwing well enough, plus he has the highest ceiling of the fifth starter candidates by frickin' far. Actually, forget about ceiling. Pineda might be the best pitcher for the 2014 season out of the lot, nevermind 2015 and beyond. I also think there's a "let's finally get something out of this trade" line of thinking as well. That's not necessarily a good thing, but I do think that mentality exists.
Even though he's on a staff with an unknown in Masahiro Tanaka and the enigmatic Ivan Nova, Pineda is the biggest wildcard in the rotation heading into 2014. Probably on the entire roster, really. He could be a non-factor like the last two seasons or he could be their best pitcher. Well, maybe not. That's probably a stretch. Pineda could wind up being their second best starter though, legitimately too. Not in a "everyone else fell apart so he's number two by default" way. That ability is there. It's just unclear if we will actually see it this summer.
The Yankees sunk a ton of money into Tanaka this winter to be the future of their rotation, but that does not lessen Pineda's importance to the franchise going forward. It would be a big blow to the organization if he is unable to re-establish himself this season. The farm system doesn't have much impact pitching on the immediate horizon and free agency is becoming a less effective to build a roster with each passing year. Pineda can still be rotation solution in both the short and long-term, but until he shows he's up to the task, the Yankees can't count on him.
If it feels like we've seen a lot of David Phelps this spring, it's because we have. Every one of his starts has been broadcast on YES so far, and that will continue today. He'll be making his fourth start of Grapefruit League play this afternoon as he tries to win a fifth starter's competition that, frankly, feels like it has already been decided as long as Michael Pineda stays healthy. Phelps is still going to be a big part of the pitching staff this summer though. I'm sure of it.
Half the Yankees are in Panama, but there is still a representative group left in Tampa. Mark Teixeira is playing back-to-back games at first base for the first time this spring, and Brian McCann is playing back-to-back games behind the plate as well. I think he's done that before though. Russ Canzler, who has an outside chance of winning that last bench job, was supposed to make his first start at third, but was a late scratch with hip stiffness.
The Twins are up from Fort Myers for this afternoon's game. Ex-Yankee Phil Hughes started yesterday, so we missed him by just a day. Oh well. Kyle Gibson is on the bump for Minnesota and will be backed by a skeleton crew lineup. Here is the lineup third base coach/acting manager Rob Thomson is sending out there (Joe Girardi is in Panama):
1B Mark Teixeira
C Brian McCann
LF Ramon Flores
DH Peter O'Brien
3B Rob Segedin
Available Pitchers: LHP Manny Banuelos, RHP David Herndon, LHP Fred Lewis, and RHP Dellin Betances are all scheduled to come out of the bullpen. RHP Danny Burawa, RHP Mark Montgomery, LHP Aaron Dott, LHP James Pazos, and RHP Branden Pinder are also available if needed.
Available Position Players: C Austin Romine, 1B Francisco Arcia, 2B Rob Refsnyder, SS Carmen Angelini, LF Ben Gamel, CF Jake Cave, and RF Taylor Dugas will be the second string off the bench. C Wes Wilson and UTIL Ali Castillo are also available.
It's nice and sunny in Tampa with temperatures in the 70s and no threat of rain. Wonderful day for baseball. This afternoon's game is scheduled to start a little after 1pm ET and you can watch live on YES and MLB.tv. Enjoy.
Got eight questions for you this week, so most of the answers are short. Use the Submit A Tip box in the sidebar to send us questions, comments, links, whatever.
Matt asks: There has been much made, so far this spring and in the past, about CC Sabathia's decrease in velocity, which got me to thinking: What kind of contract do you think he would have received, had he been on the open market this past off-season?
This question came in a few days ago, so I've been mulling it over for a while, and … I have no idea. On one hand, Sabathia's velocity is down and the chances of him being in a permanent decline are rather high. On the other hand, the dude is still a workhorse of the first order and his track record is as good as it gets. Sabathia is also super accountable and good in the community, making him the type of person teams want on their roster.
Given his age and workload and all that, I think Sabathia would have wound up with a shorter term deal for big dollars this winter. Not a four or five-year contract or anything like that. Something more along the lines of how the Giants handled Tim Lincecum. Would two years and $40M with a vesting option for a third year have worked? There are three years (plus a vesting option) and $71M left on Sabathia's contract right now, so 2/40 wouldn't be a huge step down. Just a pretty big one.
Brad asks: Most analysis at this point indicates that Michael Pineda (if healthy) will win the 5th starter job, while David Phelps and Adam Warren are favorites for bullpen spots. Wouldn't it be more prudent to keep one of the latter two candidates stretched out in the AAA rotation?
I think that will be Vidal Nuno's role, the sixth starter in Triple-A. If both Warren and Phelps are in the bullpen, I assume one would be a traditional long reliever (likely Warren), and going from long relief to a starter isn't too tough. Considering the state of the bullpen, I think the Yankees have to focus on taking the best arms north at the end of camp. Nuno will be in Triple-A as the extra starter, giving the team some freedom with Phelps and Warren.
Paul asks: What is the market for Stephen Drew at this point? Am I being a typical unrealistic greedy Yankee fan when I'm hoping/expecting him to join us soon?
There have not been many updates on Drew recently, other than his former Red Sox teammates speculating he wishes he had accepted the qualifying offer. The Yankees could obviously still use him on the infield, but the longer he goes unsigned, the less likely it is I think the Yankees will sign him. Drew would have to change positions — I'm guessed he'd move to third, not second — and that's something he'd need to work on in Spring Training since he's never played anywhere other than short. There is only about two weeks left in camp, so he's running out of time to prepare for the position change. I'd love to see the Yankees sign him, but it's clear it's a long shot at this point.
Warren asks: So I was wondering how lead size effects base stealing. I feel like Brett Gardner in particular takes enormous leads compared to people of equal or lesser speed who steal more. I was wondering if there was a way to measure if he was taking such a large lead that it results in too much attention. He almost has to constantly be leaning back towards first. Is there any way to measure if other base stealers like Jacoby Ellsbury have more success by giving up a foot or two of lead to get a better jump?
Lead size definitely affects base-stealing. The bigger the lead, the more likely it is the pitcher will throw over. The more the pitcher throws over, the more the runner has to hurry back to the bag. The more he does that, the more tired he gets. The more tired he gets, the less likely he is to steal or steal successfully. The size of a player's lead definitely plays a role in his base-stealing success.
How can we measure this? Other than going back and watching video of everytime a player was on base and taking a lead, I'm not sure. Hopefully this is something that MLBAM's new player's tracker system will cover because it is definitely a part of the game we don't know a whole lot about. What's the relationship between lead size and likelihood of a pickoff attempt? Is there such a thing as an optimal lead? Probably, I just have no idea what it is.
Eric asks: You can either have a starting pitcher who is guaranteed to strike everyone out once every five days, or a hitter who is guaranteed to hit a home run every time up. Which one would you choose?
I'll take the hitter, no doubt about it. You can bat him as low as third and still guarantee he'd get no fewer than four at-bats in every game, so that's at least four runs right there. I think that, over the course of the 162-game season, you would win more games scoring at least four runs every time out than you would by getting a guaranteed shutout (perfect game, really) every fifth day. Just my opinion. Not sure if there's a way to test this mathematically.
Andrew asks: Do you think MLB will ever make and enforce a rule requiring identical field dimensions across baseball?
I do not think MLB would do it and I sure hope they don't. One of my favorite things about baseball are the unique parks and dimensions. No other sport has that. MLB has minimum standards and things like that, but otherwise the shape and size of the field is up to the individual teams. It's great, I love it.
Tucker asks: How strong of a push do you the think the Yankees will make next winter to sign Chase Headley? It seems inevitable to me.
Headley would be a really good fit as a switch-hitter with power, patience, and good defense at third base, there's no doubt about it. I wonder if the Yankees will be open to signing another huge contract so soon though. Maybe if they somehow get rid of Alex Rodriguez and the money he's owed, but otherwise if they were to sign Headley to something along the lines of six years and $108M (total guess), they'd have seven players making at least $17M in both 2015 and 2016. It works out to $146M for seven players each year. Unless the team increases payroll by quite a bit or their farm system suddenly starts cranking out players, I'm not sure if they would go for that. On paper, yeah Headley makes a ton of sense.
Jon asks: Given the relatively small contract for which he signed, do you think Aledmys Diaz would have been worth taking a flier on? The Yankees certainly have a bigger need for a young middle-infielder than the Cards. Maybe the guy isn't that great but I'll place my faith in the Cards scouting over the Yanks.
It seems pretty obvious Diaz just isn't all that good, or at least teams don't expect him to be all that good given his contract. The scouting reports said he might end up a utility infielder and that's what he wound up with, utility man dollars. Just $2M annually. The Cardinals are obviously very well run by they aren't infallible. The Yankees had him in for a workout and that's more than they've done for any international player in a long time. It's not like they didn't do their homework.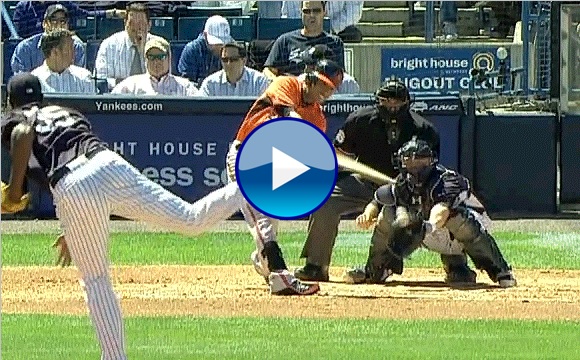 Right-hander Michael Pineda made his first start and second appearance of Spring Training this afternoon, throwing 2.2 scoreless innings against the Orioles before hitting his pitch count. He struck out five, walked one, and allowed three hits (one bloop, one grounder with eyes, one infield single) while throwing 27 of 48 pitches for strikes. His fastball was anywhere from 88-92 on the YES Network gun and he was almost decapitated by a Delmon Young line drive (GIF). That was kinda close.
Pineda was good but I thought he was obviously rusty. David Cone noted during the broadcast that Pineda's fastball would cut every so often, meaning his mechanics were a little off. When he missed, he missed down in the dirt rather than up in the zone or over the plate, so that was good. Most importantly, it looked everything was coming free and easy. Pineda wasn't laboring or overthrowing or anything like that. He was just letting it fly. The rust was obvious and hopefully he shakes that off as camp progresses. Considered he missed nearly two full years following shoulder surgery, Pineda looked strong today.
There are more GIFs after the jump. If the mouse-over feature isn't working for whatever reason, you can see each GIF here: one, two, three, four, five, six, seven, eight, nine.
The Yankees split their two games this afternoon, losing 6-2 to the Phillies and beating the Orioles 5-0. Michael Pineda started against Baltimore and looked good, striking out five in 2.2 scoreless innings before hitting his pitch count. I'll have some more on him later tonight. Brett Gardner (2-for-4 with a double), Carlos Beltran (1-for-3), Brian McCann (0-for-1 with two walks), Alfonso Soriano (1-for-2 with a walk), and Zoilo Almonte (2-for-3 with a double) all had nice days. Derek Jeter went 0-for-4. Here's the box score and video highlights for that game.
Meanwhile, against the Phillies, Ivan Nova got knocked around a bit, surrendering three runs on nine hits and no walks (six strikeouts) in five innings. He was getting dinked and dunked early but gave up a few hard hits near the end of his outing. Jacoby Ellsbury hit a homer (!), Kelly Johnson doubled, and both Scott Sizemore and Frankie Cervelli singled. Ichiro Suzuki and Mark Teixeira both went 0-for-3. Preston Claiborne got knocked around for three runs on four hits in 0.2 innings. Here's the box score and video highlights for this game, now here's the rest from Tampa.
The upcoming rotation: David Phelps (Friday), Vidal Nuno and Adam Warren (Saturday), Masahiro Tanaka and CC Sabathia (Sunday), Hiroki Kuroda (Monday), Pineda (Tuesday), Nova (Wednesday), Phelps (Thursday), and Sabathia (Friday). No surprise here, but Joe Girardi confirmed Pineda will have an innings limit this season. [Chad Jennings]
McCann will not travel to Panama as planned, instead staying behind to catch Tanaka on Sunday. Does that mean Cervelli, who looked like he was being groomed to be be Tanaka's personal catcher, is about to be traded? Eh, maybe. Cervelli is going to Panama instead of McCann though. Jennings has the full roster for the trip. [Jack Curry]
Another two roster cuts: Bryan Mitchell and Jose Campos have been optioned to Triple-A Scranton and High-A Tampa, respectively, the team announced. There are still 59 player in big league camp by my unofficial count.
Here is your open thread for the night. The game against the Orioles will be replayed at 7pm ET on YES, if you missed Pineda earlier today. MLB Network will air a non-Yankees game later tonight, plus the (hockey) Rangers are playing as well. Talk about whatever here.
By

Via Joel Sherman: The Yankees have signed all of their remaining pre-arbitration-eligible players. I unofficially count 18 of them. Some notables include Eduardo Nunez ($576,900), David Phelps ($541,425), and Michael Pineda ($538,475). The league minimum is $500,000 this season. All of these guys sign split contracts, meaning they earn a different salary in the minors.

The Yankees had previously signed John Ryan Murphy ($502,700), Vidal Nuno ($504,500), and Dean Anna ($500,000). This all procedural stuff. All of these pre-arbitration players are under team control for several more years, so they aren't coming up on free agency anytime soon. They just needed contracts to cover this coming season and now they have them. A loose end that is tied up. · (7) ·
Last season was not a good one for the Yankees' farm system, and the team has admitted as much in recent weeks. That doesn't happen often. Usually clubs will say their system is underrated and all that stuff. The Yankees made some non-personnel changes to their player development system over the winter in an effort to get things back on track, though we're going to have to wait to if those changes actually work.
That said, the Yankees' system is unique because it has the potential to get a lot better in 2014. The team is adding what amounts to five first round talents to the organization in 3B Eric Jagielo, OF Aaron Judge, LHP Ian Clarkin (2013′s three first rounders), RHP Ty Hensley (2012′s first rounder), and LHP Manny Banuelos. The first three guys are entering their first full year of professional baseball while Hensley (hip) and Banuelos (elbow) are returning from injury. That's a lot of talent that was not available for most of last summer.
I think we all know who the obvious breakout prospects are. It wouldn't be much of a surprise if Judge or OF Mason Williams or C Gary Sanchez took big steps forward and became top 100 type of prospects. The smaller, unexpected breakouts are the ones that will really help the farm system going forward. Think RHP Shane Greene and C John Ryan Murphy, for example. They were interesting guys who improved and took that big step forward last summer. Who will be this year's Greene or Murphy? Here are some candidates.
OF Jake Cave
Cave, 21, was the team's sixth round pick in the 2011 draft, though he missed all of 2012 with a fractured kneecap. He joined Low-A Charleston in mid-April last year and was the team's best non-1B Greg Bird player, hitting .282/.347/.401 (117 wRC+) with two homers, 18 steals, and a whopping 37 doubles in a tough hitter's park. The knee, obviously, is fine.
Cave's breakout potential is built on his all-around game and innate ability to barrel up the ball with his left-handed swing. He's cut from the OF Slade Heathcott cloth in that he plays very hard — he hurt his knee in a home plate collision — though he is not out of control, and his makeup and work ethic are considered pluses. Cave is really starting to fill out his 6-foot-0 and 180 lb. frame, so some of those doubles could start clearing the fence for homers. I wouldn't necessarily say he has a chance to become a top prospect, but a strong year at High-A and continued improvement will definitely get him a prominent place on the map.
SS Cito Culver
The Yankees caught a lot of heat for making Culver their first round pick in 2010 and he really hasn't done anything to justify the selection yet. He struggled so much with the River Dogs in 2012 (75 wRC+) that he decided to stop switch-hitting — Culver made the decision himself and the team went along — sticking to the right side of the plate even though his numbers were better as a left-handed hitter (.642 OPS vs. .508 OPS in 2012). The result: an improved though still not great .248/.322/.362 (100 wRC+) batting line split between Low-A Charleston and High-A Tampa in 2013.
So why is Culver a breakout candidate despite three years of impressive performance? Two reasons. One, he now has a full year of being a right-handed hitter exclusively under his belt. Dropping switch-hitting is easier said than done. Remember, he'd never seen a breaking ball that moves away from him until last season. Two, his age. Culver was drafted at 17 and he will spend almost the entire 2014 minor league season at age 21. He's several months younger than Jagielo and Judge even though he's about to entire his fifth pro season and fourth full season.
Is Culver ever going to live up being the 32nd overall pick in the country? Almost certainly not. Is there some hope he may not be a total lost cause? Yes. His defense at shortstop is still solid and that's pretty big. Scrapping switch-hitting and focusing on the stronger side has already helped his offense and could help even more as he gets comfortable. The bar at shortstop is so impossibly low these days that, even with an 80-85 wRC+, Culver can be league average at the position because of his defense. The decision to stop switch-hitting has kept his career alive.
RHP Brady Lail
I did not rank Lail as one of the organization's top 30 prospects last month, but he was among the final cuts. I think he might be the most unheralded potentially great prospect in the system. The 20-year-old from Utah was the team's 18th round pick in 2012, and last year he pitched to a 2.33 ERA (1.64 FIP) with 51 strikeouts, five walks, and zero homers allowed in 54 innings down in the Rookie Gulf Coast League. He was even trusted to make two emergency appearances for High-A Tampa (that were disasters).
Lail's fastball sat in the upper-80s when he was drafted but that has ticked up into the low-90s thanks to pro instruction and workouts, and his changeup is improved as well. The pitch was already advanced for a high schooler when he was drafted. His go-to pitch is bat-missing curveball with big break. At 6-foot-2 and 175 lbs., Lail was a classic projection pick who the team hopes will get better and better and he fills out and gains more experience. What sets him apart is his three-pitch mix and his ability to throw strikes, a combination that a) overwhelmed rookie ball hitters, and b) isn't all that common among pitchers from cold weather states.
RHP Bryan Mitchell
I'm pretty sure I'm going to continue listing Mitchell as a possible breakout prospect every year until he either breaks out or flames out. It feels like the 22-year-old has had the same statistical season every year since being drafted in 16th round of the 2009 draft, but he did cut his walk rate from 13.6% in 2012 to 9.0% in 2013. It's a sign of progress and I'll take it.
Mitchell's breakout potential stems from his fastball-curveball combination, which might be the best two-pitch mix in the organization. His heater sits in the mid-90s and will touch 97 while the curveball is a low-80s hammer, rivaled only by David Robertson's in the entire organization. Can he ever put it all together by throwing strikes with his fastball and getting the curveball down and out of the zone for consistent swings and misses? I hope so. As I said earlier, Mitchell is a breakout candidate until either breaks out of flames out. The stuff is simply too good.
* * *
More than anything, the Yankees need their current top prospects to perform like top prospects. Heathcott, Banuelos, Hensley, and OF Tyler Austin have to stay healthy. Jagielo, Clarkin, Judge, 2B Gosuke Katoh, SS Abi Avelino, RHP Luis Severino, and 3B Miguel Andujar have to have strong years in their first full pro season this summer. Will all of that happen? No, of course not. Most of those guys will flame out. But if a few of them can make some progress in 2014 while someone like Cave and/or Lail breaks out, the system will be much better off next spring than it is right now.
For the first time this spring, the Yankees will play a pair of split squad this afternoon. It won't be the last time though. Not even close. Half the team, including most of the regulars, are leaving camp this evening to travel to Panama for this weekend's exhibition games. The other half will stay in Tampa to play regularly scheduled Grapefruit League games. Seven games in the next four days and at least five will be on television, if not all seven. Fun.
This afternoon is all about Michael Pineda, who will be making his second appearance of the spring. His first outing was not broadcast anywhere, so this game will be the first time many of us get to see him since Spring Training 2012, before he blew out his shoulder. Pineda's first outing went well (four strikeouts in two scoreless innings) but I don't really care about results. I just want to see a healthy pitcher this afternoon. A pitcher with some life on his fastball, a nasty slider, and the ability to locate. If I see that, I'll be happy.
Half the team is at home in Tampa to play the Orioles while the other half is just over the causeway in Clearwater to play the Phillies. Pineda and just about everyone going to Panama will play in the home game. Here are the Orioles and Phillies lineups, if you're interested. Here are the Yankees' lineups:
Home vs. Orioles (Joe Girardi managing)
SS Derek Jeter
2B Dean Anna
1B Russ Canzler
Available Pitchers: RHP Michael Pineda (starter), RHP David Robertson, LHP Matt Thornton, RHP Bruce Billings, LHP Cesar Cabral, and RHP Chris Leroux are all scheduled to pitch. RHP Matt Daley, RHP Jim Miller, and RHP Brian Gordon are also available if needed.
Available Position Players: C John Ryan Murphy, 1B Jose Gil, 2B Corban Joseph, SS Jose Pirela, 3B Zelous Wheeler, LF Jake Cave, CF Antoan Richardson, RF Adonis Garcia, and DH Gary Sanchez will come off the bench as the second string. C/1B Tyson Blaser and UTIL Casey Stevenson are also available.
Road vs. Phillies (Tony Pena managing)
Available Pitchers: RHP Ivan Nova (starter), RHP Shane Greene, RHP Bryan Mitchell, RHP Mark Montgomery, and RHP Preston Claiborne are all scheduled to pitch. RHP Danny Burawa, LHP Fred Lewis, LHP Tyler Webb, and SwP Pat Venditte are the extra arms.
Available Position Players: C Peter O'Brien, 1B Francisco Arcia, 2B Rob Refsnyder, SS Carmen Angelini, 3B Rob Segedin, LF Ben Gamel, CF Mason Williams, and RF Taylor Dugas are all due to come off the bench. C Wes Wilson and UTIL Ali Castillo are also available.
Both games are scheduled to begin a little after 1pm ET and both will be broadcast live, which is neat. The home game will be available on YES and MLB.tv while the road game will be on MLB.tv only. Thank goodness for the split screen feature. The weather in both Tampa and Clearwater will be a non-issue, it's nice and sunny on Florida's west coast. Talk about both games right here. Enjoy.
Starting this afternoon, the Yankees will play seven games in the next four days. They play a set of split squad games this afternoon, then this weekend half the team (including most of the regulars) will travel to Panama for a pair of exhibition games. The other half will remain in Tampa and play regularly scheduled Grapefruit League games. I still have no idea if the Panama games will be on television. They have to be, right? I think so. Here are some scattered thoughts on random Thursday.
1. Derek Jeter continues to run well following all the ankle and leg injuries, which is very encouraging. He seems to be on the Mariano Rivera plan right now, meaning he is only playing at home and not traveling, but that will have to change at some point. I guess it will this weekend in Panama. Jeter has played only one set of back-to-back games so far but I have to think he'll play three straight or four games in five days before the start of the season. Something like that. The Cap'n hasn't hit all that much in camp (4-for-20) but I'm not too worried about that. Opening Day is still more than two weeks away. Running and moving well is still the most important thing right now and so far everything is going a-okay.
2. Brett Wallace is pretty bad — that's a prerequisite for being released by the Astros, as Wallace did yesterday — but it wouldn't be a bad idea for the Yankees to scoop him on a minor league contract as Mark Teixeira insurance. Russ Canzler is the only other natural first baseman in big league camp right now and he would get the call should Teixeira go down with injury. The 27-year-old Wallace hit .221/.284/.431 (97 wRC+) with 13 homers and an unsightly 104/18 K/BB in 285 plate appearances last season (93 wRC+ in 1,077 career plate appearances), but he's a left-handed batter with some pop and there's the short porch in right field, yadda yadda yadda. Canzler is worth keeping around because he can play the outfield as well, though I consider Wallace a better backup plan at first base. If they can grab him until someone better comes along, I think that's the way to go.
3. Left-hander Fred Lewis has had himself a nice Spring Training so far. The 27-year-old was the team's 47th round pick in the 2010 draft and he's allowed two hits and one walk in 4.1 scoreless innings in Grapefruit League action, striking out four. He also chucked eleven scoreless innings in Arizona Fall League last year. Lewis is something of a soft tosser and he didn't handle lefties well last year (.308/.375/.415) or over the last three years (.297/.389/.378), so this is likely a small sample mirage more than anything. It's also worth noting he went unselected in the Rule 5 Draft in December, so other teams don't think he can help at the MLB level this year. Still, Lewis has handled himself well in front of the decision makers in camp, and all a guy like this is trying to do is put himself on the map. Preston Claiborne had a strong spring last year and it led to him getting called up during the regular season. Lewis is currently pitching his way into a similar situation.
4. This is nothing more than a guess, but if the season started right now, I think Michael Pineda would be the fifth starter with Dellin Betances and Matt Daley joining David Phelps and Adam Warren in the bullpen. Again, that's just a guess. Betances seems to have a bullpen spot locked up right now, and I'm saying Daley over guys like Claiborne and Cesar Cabral for a few reasons. One, the Yankees obviously like him. They didn't spend the last two years rehabbing him from a shoulder injury he suffered pitching for another team out of the kindness of their hearts. Two, he's pitched well in camp (3.2 scoreless inning with six strikeouts) and he went from relatively meaningless eighth and ninth inning appearances to being the first guy out of the bullpen and facing projected big leaguers. Three, I think the Yankees realize there might only be so many bullets in the 31-year-old's arm after shoulder surgery, and they don't want to waste them in Triple-A. Daley seems like another Cory Wade in that he's a soft-tosser who might only have 50 good innings in him before the wheels come off. He was with the team last September and as of right now, I think he'll be there on Opening Day.
5. As for the final bench spot, I think it would go to Eduardo Nunez if the season started today. This is just another guess. Scott Sizemore was eased into things early in camp following his knee injuries and he hasn't played much while Nunez has already started multiple games at second, short, and third. Sizemore has started two games total. He can opt-out of his minor league contract on May 1st (and August 1st), and I think the team would send him down to Triple-A for a month to let him get back into the swing of things before re-evaluating him at the first opt-out. Sizemore has missed most of the last two seasons and that's an awful lot of rust to shake off. Things could change between now and Opening Day and they probably will, but that's my opinion right now. Nunez seems to keep getting chances and my hunch is he will get one more.