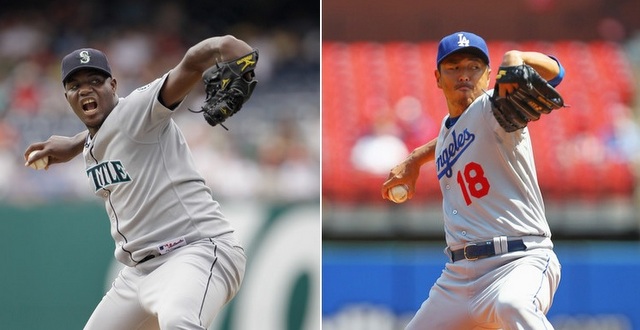 It's a new month and a new year, so our MLBTR Archives series now jumps into 2012. I'm not going to lie, these MLBTR Archives posts can get pretty tedious at times, but this one was a lot of fun. January 2012 was a busy month for the Yankees, both in terms of rumors and actual transactions. Putting this post together was a blast.
Prior to January, the Yankees hadn't done much during the 2011-12 offseason. They signed CC Sabathia to an extension and re-signed Freddy Garcia, and that's about it. They still needed to address the rotation because, on New Years Day 2012, the starting staff was Sabathia, Garcia, A.J. Burnett, Phil Hughes, and Ivan Nova in whatever order. Egads. Time to jump back in time to January 2012. Come with me, won't you?
January 3rd, 2012: Boras Seeks Five Years For Edwin Jackson
8:16pm: At the beginning of the offseason, the asking price for Jackson was in the Lackey/Burnett range ($82.5MM), tweets ESPN.com's Buster Olney.  The Yankees haven't had talks with Boras about Jackson, tweets Jack Curry of the YES Network. No talks are expected unless his asking price drops.
Jackson was a stathead favorite back then and he'd just had the best season of his career in 2011, pitching to a 3.79 ERA (3.55 FIP) in 199.2 innings for the White Sox and Cardinals. He was only 28 at the time too, so many saw him as a guy who was about to have the best stretch of his career. And on top of that, Jackson was a Type-B free agent, meaning he didn't cost a draft pick. Sign him up, right?
The Yankees passed even though more than a few wanted them to go after Jackson given their questionable rotation. The Nationals were able to pick him up on a cheap one-year contract, which was telling. Jackson had Michael Pineda Syndrome in that he was way more hittable than his power stuff would lead you believe. He had a solid season for Washington in 2012 (4.03 ERA and 3.85 FIP) before signing a four-year contract with the Cubs and completely falling apart (5.33 ERA and 4.29 FIP from 2013-16). Sometimes the "he has great stuff and just needs learn how to pitch" guys never learn how to, you know, pitch.
January 5th, 2012: Yankees Fail To Reach Deal With Hiroyuki Nakajima
The Yankees and Hiroyuki Nakajima have failed to reach an agreement on a contract, the team announced. New York won the negotiating rights to the infielder with a bid around $2MM last month.
It was a surprise when the Yankees won the negotiating rights to Nakajima, who Brian Cashman said they viewed as a utility man. They offered him a small contract and wanted six years of team control, as if he were a typical rookie and not an overseas veteran. Nakajima went back to Japan for another year, signed a two-year deal with the Athletics the following offseason, and never got out of Triple-A. He hit .290/.346/.439 for the Orix Buffaloes in 2016.
January 5th, 2012: Quick Hits: Manny, Braves, Oliver, Tejada
The Yankees never inquired on lefty reliever Darren Oliver before he signed with the Blue Jays, reports MLBTR's Ben Nicholson-Smith (on Twitter).
Oliver was 41 at the time of this rumor and he had carved out a very nice second phase of his career as a reliever. From 2008-11, his age 37-40 seasons, Oliver had a 2.62 ERA (3.11 FIP) in 242 appearances and 257.2 innings. The Yankees needed a lefty reliever and Oliver had been as good as anyone the last few seasons, but still, the guy was 41, and his strikeout rate dropped from 26.6% in 2010 to 20.5% in 2011. There were some other red flags too. The Blue Jays gave Oliver a one-year deal worth $4M and he went out and threw 56.2 innings with a 2.06 ERA (2.95 FIP) and a 23.5% strikeout rate in 2012. Go figure. Old players: not always bad!
January 7th, 2012: Jorge Posada To Announce Retirement
Jorge Posada will announce his retirement within the next two weeks, a source tells Sweeny Murti of WFAN (via Twitter).  Previously, it was reported that Posada wanted to continue playing in 2012 if he could find the right situation.
Aw man. On one hand, it was sad to see Posada retire. He's one of my all-time favorite players. Switch-hitting catchers with power are my jam. On the other hand, it was also something of a relief to hear Posada was calling it a career. He was pretty bad in 2011 (92 wRC+) and the Yankees were ready to hand the DH reins over to Jesus Montero, so there was no room for Posada on the roster. It would have been weird seeing him finish out his career as a DH with the Rays or something like that. Here's his retirement press conference:
As of this writing, Posada has appeared on only 4.5% of the publicly available Hall of Fame ballots according to
Ryan Thibodaux's tracker
. He's already been mathematically eliminated from receiving the 75% needed for induction into Cooperstown, so Posada won't get into the Hall of Fame this year, not that I expected it to happen. Jorge does need some help — 15 more votes, to be precise — to receive the 5% necessary to remain on the ballot another year. Man, Posada falling off the ballot after one year would be a serious bummer.
January 7th, 2012: Yankees Notes: Posada, Rivera, Nakajima, Chavez
Speaking of members of the Core Four, closer Mariano Rivera has said he might know by Spring Training whether he intends to keep pitching when his contract expires after this year, but won't say which way he's leaning, writes Marc Carig of The Star-Ledger.  The 42-year-old posted a 1.91 ERA with 8.8 K/9 and 1.2 BB/9 last season.
Rivera later admitted he was planning to retire following the 2012 season, but he decided to stick around another year after tearing his ACL in May and missing the rest of the season. Mo could probably show up to Spring Training this year, throw ten tune-up innings, then give the Yankees about 60 innings with a sub-3.00 ERA, right? He was a machine. Rivera could roll out of bed in December and paint the corners.
January 11th, 2012: Minor Moves: Powell, Mattingly, Hu, Phillips, Herrera
The Yankees signed Preston Mattingly to a minor league deal, tweets Kevin Goldstein of Baseball Prospectus. The 24-year-old former first rounder posted a .232/.281/.354 line in the lower minors last year. He is the son of current Dodgers manager and former Yankees star Don Mattingly. 
Geez, I forgot the Yankees signed Mattingly's kid. Preston never did actually play in the organization. The Yankees released him at the end of Spring Training and he's been out of baseball since. The Dodgers drafted Mattingly with the 31st overall pick in the 2006 draft and he hit .232/.276/.336 (69 wRC+) in over 1,700 minor league plate appearances. Never made it out of Single-A. Preston went to college after his baseball career ended and played on the Lamar University basketball team.
January 13th, 2012: Stark On Yankees, Red Sox, Reds, Garza
The Yankees won't be under the luxury tax threshold in 2012 or 2013, but they hope to spend less than $189MM in 2014, Stark writes. However, the CBA isn't the only reason the Yankees are spending more cautiously. "I think this is what the Yankees were going to do, regardless," one of Stark's sources said.
Five years later, the Yankees are still trying to get under the luxury tax threshold, and they won't be able to do it until at least 2018. This was the first report of the austerity plan. The first time we got wind of Hal Steinbrenner's plan to cut payroll and throw away the team's market advantage. Nowadays the Collective Bargaining Agreement ensures the Yankees or any other big market team has no way to flex their financial muscle without being taxed or penalized heavily. Parity: it's just a fancy word for widespread mediocrity.
January 13th, 2012: Mariners, Yankees Swap Pineda For Montero
The Mariners needed hitting, the Yankees needed pitching.  The two teams addressed each other's needs in a blockbuster trade of young stars, as right-handers Michael Pineda and Jose Campos will go to the Bronx in exchange for catcher/DH Jesus Montero and righty Hector Noesi.  Both teams confirmed the trade this afternoon.
January 13th, 2012: Yankees Sign Hiroki Kuroda
The Yankees have signed Hiroki Kuroda to a one-year contract, the team announced.  Jack Curry of the YES Network first reported the agreement (Twitter link).  The deal will pay Kuroda $10MM, tweets ESPN's Buster Olney.  Kuroda is represented by the Octagon agency.
I'm going to lump these two moves together because they kinda felt like one big move. The time stamps of the RAB posts (Pineda trade, Kuroda signing) tell me the deals happened 54 minutes apart. The dust hadn't come close to settling following the Pineda trade when news of the Kuroda signing broke. What a day that was, huh?
The Pineda trade was a classic out-of-nowhere Brian Cashman move. There was talk Montero could be traded for a pitcher all winter and pretty much no one wanted that to happen. He came up in September 2011 and raked, and everyone was looking forward to seeing him as the full-time DH in 2012. Montero's name was certainly out there as a trade candidate though.
Pineda? There were no rumors about him, and certainly nothing connecting him to the Yankees. Pineda had just wrapped up an excellent rookie season and it seemed like the Mariners were ready to pair him with Felix Hernandez for the next half-decade. Instead, they cashed him in as a trade chip to get the big middle of the order bat they'd been lacking for years. That was the thinking behind the trade, anyway.
As for Kuroda, the Yankees had been linked to him for weeks, dating back to the 2011 trade deadline. I wanted the Yankees to sign him so bad. So, so bad. Kuroda was not the kinda guy to chase top dollar though. He wanted the best fit for his family and a chance to win, which is why he insisted on no-trade clauses wherever he played. The Yankees convinced him to come to New York and he was a damn good Yankee.
Both these deals were reported on January 13th, but it wasn't until January 23rd than the Pineda trade became official and January 26th that the Kuroda trade was official. If I'm remembering correctly, the Pineda trade was held up because Montero had some visa issues and wasn't able to get to Seattle to take his physical right away. Kuroda was home in Japan at the time and in no real rush to fly all the way to New York for his physical.
But man, was that a wild day or what? There was a lot of angst about the pitching staff that offseason. The Yankees missed out on Cliff Lee the previous year and made it through the 2011 season thanks to Bartolo Colon and Freddy Garcia. We were all anticipating a rotation overhaul during the 2011-12 offseason and it just wasn't happening, then BAM, Pineda and Kuroda were Yankees in the span of 54 minutes. What a time to be alive.
January 13th, 2012: Yankees Looking For Hitting, Carlos Pena On "Radar"
Now that the Yankees have addressed their pitching issues with two major transactions, the club is looking to add some offense, reports Jon Heyman of CBSSports.com.  Carlos Pena is "now on their radar," and Heyman says the Bronx Bombers could be looking at other hitters as well.
With Montero gone and Posada retired, the Yankees suddenly had an opening at DH, and my goodness, they were connected to pretty much every veteran bat in the final few weeks of the 2011-12 offseason. The Yankees liked Pena for a long time — he spent time with Triple-A Columbus in 2006 and they claimed him on trade waivers in August 2011 — and always seemed to be linked to him, but it never did come together. He wound up back with the Rays in 2012 and hit .197/.330/.354 (98 wRC+) with 19 homers in exactly 600 plate appearances. Bullet dodged, I'd say.
January 13th, 2012: Analysis And Background Of The Montero/Pineda Deal
The Yankees initially tried to acquire Felix Hernandez from the Mariners, reports Jon Heyman of CBSSports.com (via Twitter) and were willing to offer a package that included Montero, Betances, Banuelos and more.
"If they were going to trade Montero, why didn't they ask for Felix instead of Pineda???" was a fairly common RAB comment back in January 2012. As if the Yankees didn't try that. Hernandez was coming off his worst season in several years at time — "worst season" is a relative term here because Felix was still awesome in 2011 — but he was signed for another three years and he was still only 25. Crazy. Hernandez was the face of the franchise and the Mariners weren't going to give him up. The Yankees asked, Seattle said no, so they moved on to the next best thing.
January 15th, 2012: AL East Notes: Yankees, Pineda, Red Sox, Rays
GM Brian Cashman tells Jim Bowden of MLB Network Radio on SiriusXM that the Yankees will have made a mistake if Pineda never develops into a #1 starter (Twitter link).
Well, Pineda hasn't develop into a No. 1 starter, but it's still hard to consider the trade a mistake given what we know now. Montero was a total bust for the Mariners and it sure seems like the Yankees sold as high as possible. Sure, there was an opportunity cost to trading Montero — who else could they have gotten for him besides Pineda? — but we'll never know what other deals were out there. Neither the Yankees nor the Mariners got what they wanted out of that trade. Seattle ended up way worse off though.
January 15th, 2012: Yankees Have Spoken To Johnny Damon
With Jesus Montero headed to the Mariners, the Yankees have spoken to Johnny Damon about the possibility of returning to New York as a DH according to Jon Heyman of CBSSports.com (all Twitter links). He says they don't have much money left to spend on a hitter, adding that there's a "very small chance" they would consider Jorge Posada since he has yet to make his retirement official.
Like I said, the Yankees talked to every available veteran bat following the Montero trade. Damon was 38 at the time and coming off a good season with the Rays, during which he hit .261/.326/.418 (108 wRC+) with 16 homers in 647 plate appearances as their full-time DH. Talks with the Yankees about a reunion never got off the ground though. Damon ended up signing with the Indians in mid-April and hit .222/.281/.329 (70 wRC++) with four homers in 224 plate appearances before being released in August. He hasn't played since. Another bullet dodged.
January 16th, 2012: Yankees, Hideki Matsui Have Been In Contact
There has been some contact between Hideki Matsui and the Yankees this offseason, Jon Heyman of CBSSports.com tweets. The Yankees, who have also been in touch with Johnny Damon, appear to have just $1-2MM to spend on a DH. That would likely be enough to sign the 37-year-old Matsui, who's coming off a disappointing season in Oakland.  
Another veteran bat, another old friend. Matsui was 37 at the time and he authored a .251/.321/.375 (93 wRC+) batting line with 12 homers in 585 plate appearances for the Athletics in 2011. I have zero recollection of Matsui with Oakland, but it happened. Look: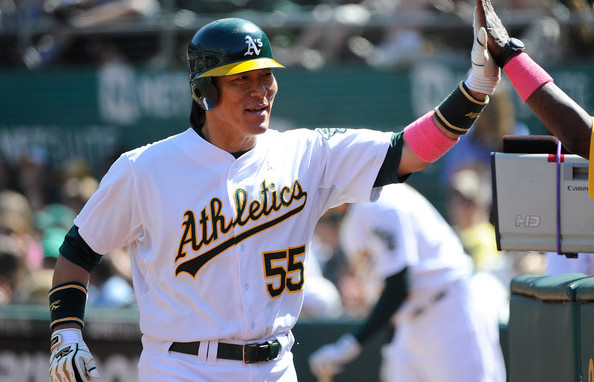 Friggin' wild, man. As with Damon, reunion talks with Matsui never did advance — it didn't go over too well when the Yankees passed on both — and he wound up with the Rays, where he hit .147/.214/.221 (20 wRC+) with two homers in 103 plate appearances before being released in August. He hasn't played since. Yet another bullet dodged.
Bringing Damon or especially Matsui back sure would have been cool from a nostalgic point of view, but it was pretty clear neither had much to offer at that point of their careers. Both guys left town a hero rather than stick around long enough to see themselves become the villain.
January 16th, 2012: Quick Hits: Orioles, Cespedes, Dodgers
ESPN.com's Buster Olney suggests the Yankees could use their DH spot to see what Jorge Vazquez can do at the big league level or to give Alex Rodriguez and Derek Jeter partial days off (all Twitter links). The 29-year-old Vazquez posted a .262/.314/.516 line with 32 homers at Triple-A in 2011.
Jorge Vazquez! Oh man, good times. Vazquez was a guy the Yankees plucked out of Mexico in December 2008, and he put up some big numbers in the minors, including a .262/.314/.516 (121 wRC+) batting line with 32 homers in 500 plate appearances with Triple-A Scranton in 2011. I remember the man they call El Chato hitting a home run clear over the batter's eye in dead center field in Spring Training 2011.
Of course, Vazquez was an older guy (29 at the time of this rumor) with zero defensive value and no plan at the plate whatsoever. Everyone oohed and aahed at the homers but ignored his 33.2% strikeout rate and 6.0% walk rate in 2011. The Yankees never seriously considered Vazquez for the DH position — how was he supposed to give A-Rod and Jeter partial days off anyway? — and in fact they released him following Spring Training 2012. Folks were Mad Online about that.
Vazquez is still active, you know. Or at least he was last season. He hit .319/.403/.513 (146 wRC+) with six homers in 139 plate appearances for a team in the Mexican League last summer. Vazquez has been playing in Mexico ever since being released by the Yankees. He hit a walk-off homer to win the Caribbean Series last February:
Vaya con Dios, El Chato.
January 17th, 2012: Quick Hits: White Sox, Guerrero, Gonzalez, Hart
The representatives for Vladimir Guerrero and Raul Ibanez contacted the Yankees about their DH opening, Newsday's Ken Davidoff tweets.
Every agent with a veteran free agent bat called the Yankees after the Montero trade, it seems. The Yankees ended up signing Ibanez to replace Montero, but we'll get to that in a bit.
As for Vlad, he actually never played again. He hit .290/.317/.416 (96 wRC+) with 13 homers in 590 plate appearances as a 36-year-old for the Orioles in 2011, and that was it. No one signed him following that season and his career ended. Guerrero is on the Hall of Fame ballot for the first time this year. Bullet dodged? Hard to say since Vlad didn't play in 2012. That no team bothered to sign him tells you he was considered a liability at this point of his career, not as asset.
January 18th, 2012: Gerardo Concepcion Close To Free Agency
18-year-old Cuban lefty Gerardo Concepcion has established residency in Mexico, agent Jaime Torres told Enrique Rojas of ESPNDeportesLosAngeles.com.  He should be able to declare free agency and negotiate with Major League teams very soon.  The Yankees, Rangers, Cubs, White Sox, and Phillies are among the interested clubs, Rojas tweets.
I totally forgot about this dude. Concepcion was the Next Big Thing out of Cuba and those stupid Yankees didn't sign him because they never sign Cuban players. The Cubs gave him a five-year deal worth $7M, and he showed up to camp in 2012 with a mid-80s fastball and iffy secondary pitches. Concepcion had a 5.50 ERA (4.74 FIP) with 16.4% strikeouts and 12.9% walks in 178.1 minor league innings from 2012-15. Egads.
Last year the now 24-year-old Concepcion found some success as a reliever, pitching to a 5.13 ERA (4.78 FIP) with 19.7% strikeouts and 10.6% walks in 59.2 innings split between Double-A and Triple-A. He even made his MLB debut in June, allowing one run in 2.1 innings. The Cubs non-tendered him after the season and re-signed him to a minor league deal. Meh. Maybe Concepcion will figure it out as a reliever. Can't say the Yankees missed out here.
January 20th, 2012: Stark On Tigers, Pineda, Dodgers, Rockies, Angels
There are also two "conspiracy theories" floating around regarding the deal.  One school of thought has people wondering if Pineda's fading velocity down the stretch trigged the M's to trade him.  There are also clubs wondering if the Yankees had concerns about Montero's mental make-up.
The concerns about Montero's makeup were nothing new. We'd heard about his #badattitude for years. Makeup and work ethic issues led to Montero's failure as a baseball player as much as anything.
Pineda's velocity drop at the end of the 2011 season was a big red flag and the reason many weren't fond of the trade, especially since we were all still in "Montero is the next Miguel Cabrera!" mode at the time. Here is Pineda's game-by-game velocity in 2011, via Brooks Baseball: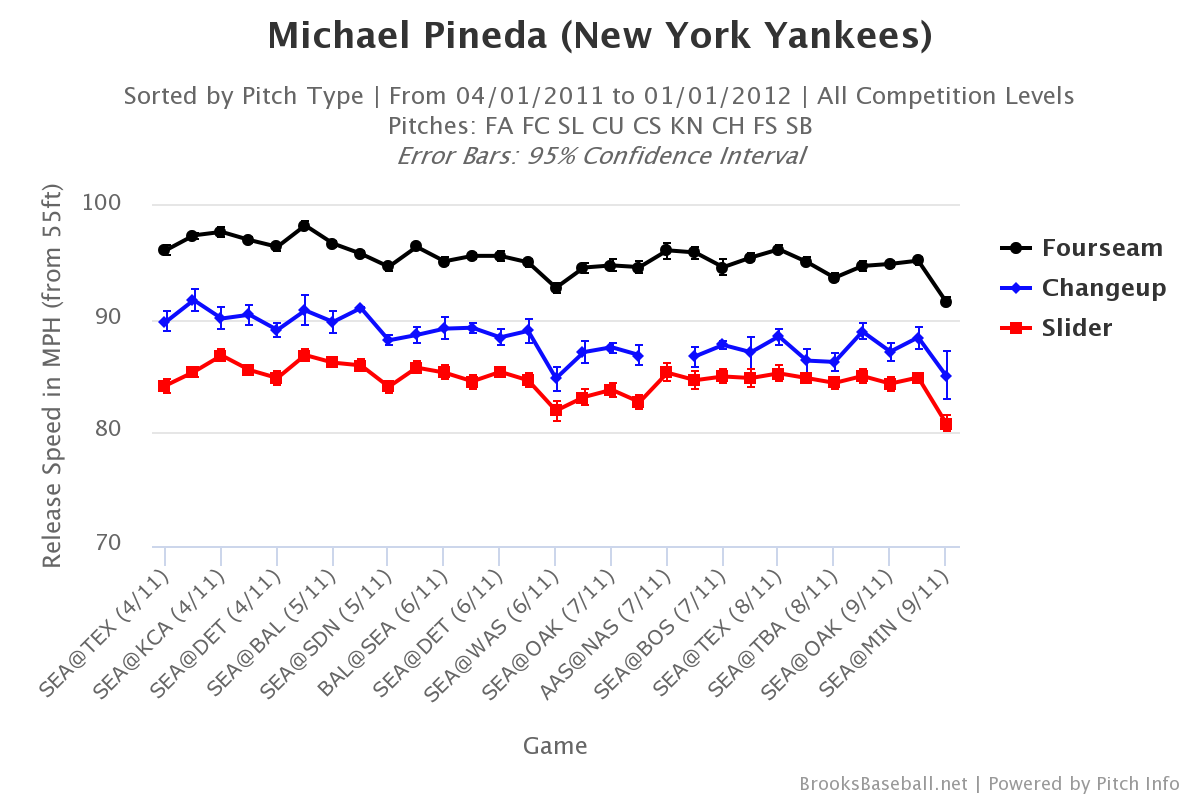 That drop in his final start was the big concern, but Pineda's velocity had been fading for weeks. He was over his previous career high in innings — he finished 2011 with 171 total innings, up from 139.1 the year before — and the Mariners did give him extra days off down the stretch in 2011.
The velocity loss could have been due to fatigue, or the irregular work. That was the hope. Then Pineda blew out his labrum in Spring Training 2012 and missed two full seasons. Womp effin' womp.
January 26th, 2012: Yankees Designate Kevin Whelan For Assignment
The Yankees designated right-hander Kevin Whelan for assignment to create 40-man roster space for Hiroki Kuroda, Jon Heyman of CBSSports.com tweets. The 28-year-old debuted with the Yankees in 2011, appearing in two games.
Geez, Whelan stuck around a long-time, huh? The Yankees got him in the Gary Sheffield trade with the Tigers following the 2006 season. He spent the next four and a half seasons toiling in the minors before making his MLB debut in June 2011, when he allowed one run in 1.2 innings. He walked five and struck out one. Whelan cleared waivers and spent the 2012 season in Triple-A Scranton before becoming a minor league free agent. He bounced from team to team for a few years and got back to the show briefly with the Tigers in 2014. He's been out of baseball since 2015. Relief prospects, man. They'll break your heart.
January 27th, 2012: Yankees Interested In Raul Ibanez
The Yankees have interest in Raul Ibanez, Kevin Kernan of the New York Post reports. Ibanez has drawn interest from a number of clubs, including the Mets and Tigers, in recent weeks. We heard ten days ago that ACES had contacted the Yankees about Ibanez, but this is the first concrete indication that the interest is mutual.
Ibanez was a less than inspiring choice for DH. He was 39 and had just hit .245/.289/.419 (90 wRC+) with 20 homers in 575 plate appearances for the Phillies. Add in his terrible defense and you had a -1.9 fWAR and -2.0 bWAR player. The Yankees eventually signed Ibanez and he looked washed up in Spring Training. It was bad. Fast forward six months, and the dude was a postseason hero. Something something can't predict baseball.
January 30th, 2012: Yankees In Serious Talks With Bill Hall
The Yankees are in serious talks with utility man Bill Hall, tweets Ken Rosenthal of FOX Sports.  Rosenthal thinks Hall could reprise a 2010 Red Sox-type role, and notes that the 32-year-old works out in the offseason with Yankees hitting coach Kevin Long.  No deal is imminent and Hall is still considering a couple of teams, tweets Andy Martino of the New York Daily News.
The Yankees were never not connected to Bill Hall. Everyone offseason they were trying to sign him and every trade deadline they were trying to acquire him. By this point Hall was well past his prime even though he was only 32. He hit .211/.261/.314 (57 wRC+) for the Astros and Giants in 2011, and no level of defense and versatility could make up for that. The Yankees did eventually sign Hall to a minor league deal, but he didn't make it out of Spring Training. The last time he topped a 90 wRC+ was 2006.
January 30th, 2012: Minor Moves: Delcarmen, Tolbert, Gonzalez
The Yankees signed Manny Delcarmen to a minor league contract, Joel Sherman of the New York Post tweets. The right-hander, who last pitched in the Major Leagues in 2010, owns a 3.97 ERA with 7.7 K/9 and 4.2 BB/9 in 292 2/3 innings over the course of six MLB seasons.

Really thought Manny Delcarmen would be a successful closer for an NL team, you guys. Delcarmen, who was only 29 at the time, had a 4.74 ERA (5.04 FIP) from 2009-10 before spending 2011 in Triple-A with the Mariners and Rangers. The Yankees gave him that minor league contract and he spent the season with Triple-A Scranton, where he had a 4.42 ERA (4.23 FIP) in 57 innings. Delcarmen hasn't pitched in the big leagues since 2010, though he did make two relief appearances in the Mexican League last summer, so he's still giving it a go.
January 31st, 2012: Yankees Hire Jim Hendry
11:57am: The Yankees have hired former Cubs GM Jim Hendry as a special assistant, ESPNChicago.com's Bruce Levine reports. The Cubs dismissed Hendry in August, before hiring Theo Epstein and Jed Hoyer.
The Cubs fired Hendry in late-July, but he agreed to stay on a few extra weeks to help the team sign their draft picks while the front office was in flux. Hendry had spent 17 seasons with the Cubs and was their GM from 2002-11, during which time he built some great teams (97 wins in 2008) and some terrible teams (66 wins in 2006). Tom Ricketts, who bought the Cubs in late-2009, decided it was time for a new voice. I'm guessing he doesn't regret that decision.
Anyway, the Yankees hired Hendry as a special assistant and he's still with the team as one of Cashman's top lieutenants. He handled contract talks with Scott Boras about James Kaprielian two years ago. I'm sure he had a hand in the Starlin Castro trade as well. Hendry's work as Cubs GM made him an easy punching bag, but he's long had a reputation for being a great scout and talent evaluator. His current role suits him well. Hendry's better off as an advisor than as the guy calling the shots.