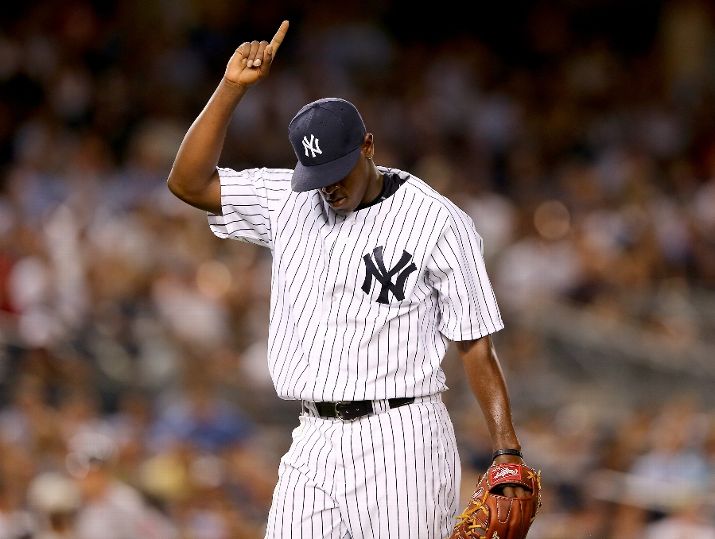 Been here, done that
The Red Sox held the Yankees offense mostly in check for the first half of Tuesday's game — but that just delayed the inevitable scoring explosion that was to come in the sixth and seventh innings. They scored 12 runs in those two frames — including nine in the seventh — en route to another blowout win.
It was the first time they scored nine runs in an inning since … oh yeah, last Tuesday against the Rangers. Time flies, eh? Less than two weeks ago, they'd hadn't put up a nine-spot in any inning since the final series of the 2012 season against the Red Sox — and now they did it twice in a span of seven days.
Chris Young and Brian McCann were the big thumpers for the Yankees, both crushing three-run homers in the seventh to turn the game into a rout. It was the first time Yankee teammates hit a pair of three-run dingers in the same inning against the Red Sox since Melky Cabrera and Jorge Posada on August 6, 2009.
With the win over the Red Sox and their stud prospect, Henry Owens, who was pitching in his first career big-league game, the Yankees are now 9-1 over the past five seasons when an opposing team starts a pitcher making his major-league debut.
Merry Severino-mas!
Luis Severino, meet Hype; Hype, meet Luis Severino … The Yankees top prospect lived up to (and probably exceeded) all expectations in his major-league debut on Wednesday night, holding the Red Sox to just two runs on two hits with seven strikeouts in five innings.
His performance was arguably one of the most impressive by any Yankee making his first career start in franchise history. Onto the bullet points!
• Before Severino, no Yankee pitcher had ever struck out at least seven guys while giving up two-or-fewer hits in his major-league debut.
• At the age of 21 years and 166 days, Severino also became the youngest Yankee with at least seven strikeouts and no more than two hits allowed in a game.
• And he joined Mike Mussina and David Cone as the only Yankees in the last 50 years to have seven-plus strikeouts and surrender fewer than three baserunners against the Red Sox. Mussina's gem was his near-perfect game on Sept. 2, 2001 and Cone's effort came on Sept. 8, 1998.
And he did all of this against the Red Sox, at Yankee Stadium, in front of national television audience on ESPN. Poise, confidence, swagger, cojones, whatever you want to call it, Severino seems to have it.
Of course, this being baseball, the Yankee bats suddenly went ice-cold and Severino ended up with a loss, ruining what could have been a perfect night in the Bronx. He became the first Yankee starter to lose in his major-league debut despite allowing one earned run or fewer since Bob McGraw in 1917.
#TBT: Ace Sabathia
The Yankees took the rubber game against the Red Sox on Thursday night thanks to a vintage performance from CC Sabathia and a timely homer from a slumping Jacoby Ellsbury.
For Sabathia, it was the first time he had as many as eight strikeouts, and gave up as few as three hits and one run in a game since Sept. 21, 2012 against the A's. When Jackie Bradley Jr. took ball four in the fifth inning, it was the first walk Sabathia had issued to a true left-handed batter this year. He entered the game having faced 108 lefties, the most of any pitcher that hadn't walked one yet this season.
Jacoby Ellsbury — who entered the game 7-for-47 (.149) in his previous 12 games — was the unlikely offensive hero with a tie-breaking solo homer in the seventh inning. Over the last 30 years, Ellsbury and Bernie Williams (2003) are the only Yankee center fielders to hit a go-ahead home run in the seventh inning or later against Red Sox at Yankee Stadium
Andrew Miller sealed the win by punching out Rusney Castillo to end the game, earning his 24th save in 24 chances this season. He now has the third-longest streak of converted saves to begin a stint with a team in major-league history, behind only Brad Lidge (44 with Phillies in 2008-09) and Willie Hernandez (32 with Tigers in 1984).