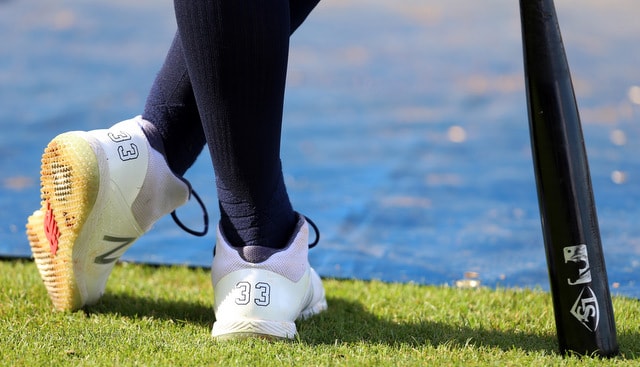 At long last, the Yankees are whole on offense*. Greg Bird rejoined the Yankees today and he'll make his season debut tonight. He had ankle surgery at the end of Spring Training and the recovery timetable put him on track to return in late May, and wouldn't you know it, he's actually back in late May. Hooray for that.
The Yankees have been woefully short on left-handed power this season — their lefty bats have 18 homers and a .386 SLG, which is pretty terrible — and Bird can help fix that. Even with all the injury problems, he's hit 23 homers with a .480 SLG in 108 career big league games, postseason included. That'll play. A blowout win would be nice today. Sock some dingers, let Tommy Kahnle shake off the rust in a low-leverage appearance, and get after it tomorrow. Fingers crossed. Here are the lineups:
New York Yankees
1. CF Brett Gardner
2. RF Aaron Judge
3. SS Didi Gregorius
4. LF Giancarlo Stanton
5. DH Gary Sanchez
6. 1B Greg Bird
7. 3B Miguel Andujar
8. C Austin Romine
9. 2B Gleyber Torres
RHP Sonny Gray
Los Angeles Angels
1. 2B Zack Cozart
2. CF Mike Trout
3. LF Justin Upton
4. 1B Albert Pujols
5. DH Shohei Ohtani
6. SS Andrelton Simmons
7. 3B Luis Valbuena
8. RF Kole Calhoun
9. C Jose Briceno
RHP Jaime Barria
It is warm, cloudy, and humid in New York today, and that usually means rain. Fortunately it's not supposed to arrive until much later tonight. Shouldn't interrupt the game at all. Tonight's game will begin at 7:15pm ET and you can watch on FOX and FOX only. No YES broadcast tonight. Enjoy.
Roster Move: In case you missed it earlier, Ronald Torreyes was sent to Triple-A Scranton to clear a roster spot for Bird. That surprised me. Thought it would be Tyler Austin.
Injury Update: Jacoby Ellsbury remains shut down with his recent back issue. "Everything he's had has been diagnosed legitimately by a doctor," said Brian Cashman, which is a line he once used to defend Carl Pavano. Cashman said the Yankees expect Ellsbury back at this point this season.
* Just ignore that Ellsbury guy.