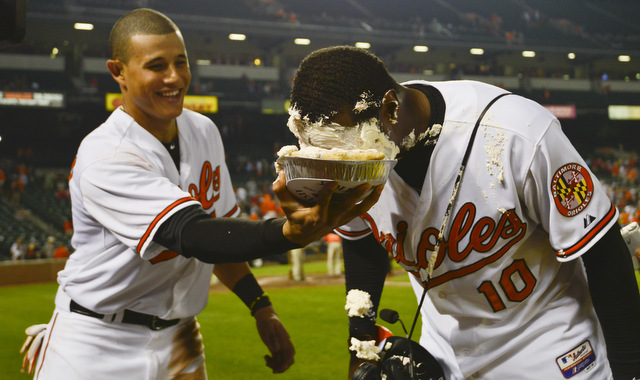 The Yankees start their annual stretch of 20 games in 20 days — every team does the 20-in-20 thing once a year — this evening at Camden Yards. They're in Baltimore to start a three-game weekend series with the Orioles. The O's took two of three from the Yankees at Camden Yards in April while the Yankees took three of four from the Orioles at Yankee Stadium in May.
What Have The O's Done Lately?
The Orioles just swept the Red Sox and have won four straight games and six of their last seven, so they're on a hot streak. Baltimore is 29-30 with a +4 run differential overall, good for fourth place in the AL East. They're four games back of the Yankees, who have a two-game division lead over the second place Rays.
Offense & Defense
With an average of 4.10 runs per game and a team 98 wRC+, manager Buck Showalter has basically an average MLB offense at his disposal. They do hit a fair amount of home runs (65, seventh most in MLB) but struggle to get on base (.308, tenth worst). Their only injured position player is Yankees killer IF Jonathan Schoop, who will miss another month or so with a knee injury. Hard to believe the Yankees are catching a break when a guy with a career 72 wRC+ will miss the series. Schoop straight up kills them.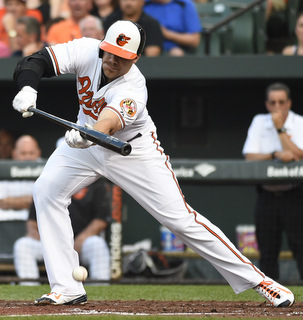 As always, Baltimore's lineup is anchored by OF Adam Jones (141 wRC+), who is simply one of the best players in the game. Yeah, he never walks (4.6%), but he does everything else. Such a good player. UTIL Jimmy Paredes (120 wRC+) has predictably cooled down following his insane start, though 3B Manny Machado (121 wRC+) and 1B Chris Davis (113 wRC+) have been productive all year. Davis will strike out a ton (33.2%), but, if you make a mistake, he's going to flick his wrists and hit it a mile. Unreal power.
SS J.J. Hardy (38 wRC+), OF Travis Snider (93 wRC+), OF Delmon Young (90 wRC+), and 2B Ryan Flaherty (119 wRC+) are playing every day — yes, Young is the everyday right fielder now — while UTIL Steve Pearce (75 wRC+) has had his playing time scaled back because he isn't hitting. C Matt Wieters (135 wRC+ in very limited time) recently returned from Tommy John surgery and has played a handful of games. C Caleb Joseph (90 wRC+), OF Nolan Reimold (228 wRC+ in very limited time), and OF David Lough (50 wRC+) are the other bench players.
The Orioles are solid defensively, probably not as good as their reputation, but still solid overall. Jones, Hardy, Machado, and Wieters are studs while Young is a total disaster. Flaherty, Davis, and Snider are fine. Not great, not terrible. This will be a good series for all those left-handed pull hitters the Yankees have. Hit it to Delmon.
Pitching Matchups
Friday: RHP Michael Pineda (Career vs. BAL) vs. RHP Ubaldo Jimenez (Career vs. NYY)
The 31-year-old Jimenez has turned things around from last season and is having a good year in 2015, though with Ubaldo you never really know when the other shoe will drop. He is the most unpredictable pitcher in baseball. Jimenez has a 3.03 ERA (3.38 FIP) in eleven starts and 62.2 innings with average-ish strikeout (22.9%), walk (8.4%), ground ball (49.1%), and home run (0.72 HR/9) rates. Lefties (.301 wOBA) have had a little more success against him than righties (.286 wOBA). These days Ubaldo sits right around 90 mph with his four-seamer and a touch below that with a two-seamer. A mid-80s splitter is his go-to offspeed pitch, and he'll also throw some low-80s sliders per start. It's not the same power stuff he had with the Rockies back in the day. That Yankees haven't seen Jimenez yet this year. Also, Pineda will be making his first start in almost two weeks after having his last turn skipped to control his workload.
Saturday: LHP CC Sabathia (Career vs. BAL) vs. RHP Bud Norris (Career vs. NYY)
Norris, 30, missed about a month with bronchitis recently, and this will be his second start off the DL. He's been dreadful this year, pitching to an 8.63 ERA (4.84 FIP) in seven starts and 32.1 innings. The peripherals aren't all that good (16.6 K%, 9.1 BB%, 39.6 GB%, 1.11 HR/9) and lefties (.459 wOBA) have absolutely crushed him. Righties have a more respectable .311 wOBA. Norris is basically a two-pitch pitcher, using his low-to-mid-90s fastball and mid-80s slider about 95% of the time combined. He'll show a changeup on rare occasions. The Yankees have seen Norris twice this season, scoring three runs in five innings in early-April and then four runs in 3.1 innings early-May.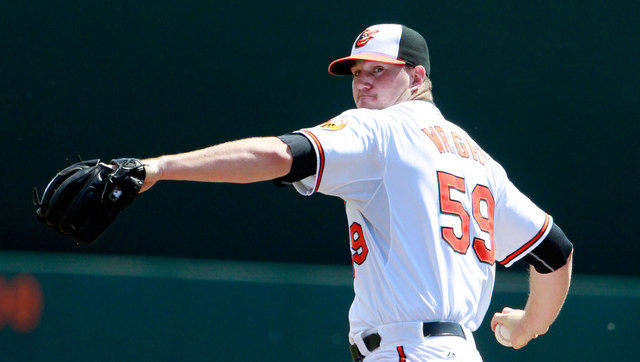 Sunday: RHP Adam Warren (Career vs. BAL) vs. TBA
This start is expected to go to righty Mike Wright, unless he's needed out of the bullpen tonight, in which case the O's would change plans for Sunday. Wright, a 25-year-old rookie, filled in when Norris was out, and Miguel Gonzalez's recent groin strain means he'll stick around a little longer. Wright has a 2.96 ERA (4.67 FIP) in four starts and 24.1 innings, and in those four starts he hasn't struck anyone out (16.5%), hasn't walk anyone (4.1%), hasn't gotten many ground balls (43.2%), and has given up a bunch of homers (1.48 HR/9). Wright has had major problems with lefties (.372 wOBA) but no issues with righties (.213 wOBA) in his limited time as a big leaguer. He's a mid-90s fastball guy and he throws his four-seamer a lot, almost 70% of the time. Mid-80s sliders, low-80s changeups, and upper-70s curves round out his repertoire, though none of them are out pitches. "He doesn't have a put-away pitch or the stuff to elevate as a starter," wrote Baseball America (subs. req'd) when they ranked Wright as Baltimore's eighth best prospect before the season.
The Yankees, meanwhile, rearranged their rotation ever so slightly this weekend. They flipped Sabathia and Warren to give Warren an extra day of rest. He'll be on seven day's rest Sunday thanks to the off-days this week. Warren has already thrown 64.1 innings this season after throwing 78.2 innings last year and 74 innings the year before that. His career high is 155 innings back in 2012. The Yankees not only want to make sure Warren stays healthy, but also make sure he doesn't run out of gas in August and September.
Bullpen Status
The O's have typically had a strong bullpen during the Showalter era, but that isn't so much the case this year. The 'pen has a collective 3.12 ERA (3.64 FIP) this season, which is good, but is closer to middle of the pack than the league's best. Closer LHP Zach Britton (1.51 FIP) and setup man RHP Darren O'Day (3.15 FIP) are Showalter's horses. They're his moment of truth relievers. RHP Tommy Hunter (3.11 FIP) will also see some high-leverage spots but not as many as in the past. Britton pitched yesterday and got five outs two days before that.
RHP Brad Brach (3.04 FIP), LHP T.J. MacFarland (4.43 FIP), and ex-Yankees RHP Chaz Roe (2.95 FIP) make up the rest of the six-man bullpen, though Wright will be available in relief if necessary tonight. I'm not sure how long the six-man bullpen this will last, but it looks like that's the plan through the weekend, barring something crazy that forces the O's to call up an extra arm. Joe Girardi's bullpen is as fresh as can be thanks to yesterday's off-day. Check out our Bullpen Workload page and then check out Camden Chat for everything you need to know about the Orioles.