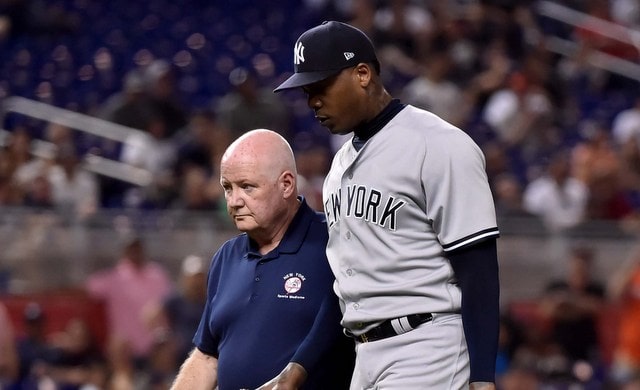 11:31pm ET: It is indeed Chapman's achy left knee. He's likely heading for an MRI. At this point, the Yankees should probably but him on the disabled list. They have to make sure he's healthy for October. Here's the video of Chapman's appearance:
11:11pm ET:
Aroldis Chapman exited tonight's game in the 12th inning with an injury. He threw six pitches, only one of which was in the strike zone, before waving to the dugout for the trainer. His six pitches — all fastballs — averaged 96 mph, which is down for Chapman. He topped out at 97.1 mph.
Chapman has been pitching with left knee tendinitis pretty much all season and this wouldn't be the first time it's forced him to leave a game. It forced him out of a game in July, and he also sat out the All-Star Game to rest it. The Yankees have not yet announced an update on Chapman, so stay tuned. The last thing they need is another injury.