By

Yesterday morning, the Diamondbacks officially fired GM Kevin Towers in the wake of their massively disappointing season. (Towers spent 2010 working as a special advisor with the Yankees, so I suppose there's a chance he could return to the team in some capacity. He and Brian Cashman are very close.) During a conference call with Nick Piecoro, D'Backs exec Tony La Russa named Yankees assistant GM Billy Eppler as someone on their list of GM candidates.

Eppler was reportedly a finalist for the Padres GM job earlier this summer, though San Diego eventually went in a different direction. He was also the runner up to Jerry Dipoto for the Angels GM gig a few years ago. The Yankees gave Eppler permission to interview with the Padres and I have no reason to think they won't allow him to speak with Arizona. He's been with the Yankees since 2004 and was the director of pro scouting from 2005-11 before being promoted to assistant GM. It's only a matter of time before Eppler becomes a GM, and with the Yankees likely to re-sign Cashman after the season, chances are that opportunity will come with another team. · (106) ·

Source: FanGraphs
Building off that awesome walk-off win over the Red Sox was a fun idea for a few hours. The Yankees had one of their worst offensive showings of the season on Friday night and dropped the series opener to the Royals by the score of 1-0. Let's recap the loss:
Big Mike: Considering he was fighting his command and leaving the ball up in the zone early on, Michael Pineda pitched very well on Friday. He only run he allowed came after the usually reliable Chase Headley whiffed on a hard-hit ground ball, allowing Alcides Escobar to hustle a single into a double and eventually score on Norichika Aoki's single up the middle. Pineda held Kansas City to the one unearned run on three singles in seven innings, walking none and striking out four. He retired the final eleven men he faced. It was obvious Pineda was not on top of his game in the first few innings but he figured out how to pitch effectively anyway. Very nice to see.
Shut Down: The Yankees grabbed their biggest win of the season on Thursday night and responded with three singles and a hit batsman on Friday. They did not have a runner reach third base all night and it wasn't until Derek Jeter singled with one out in the ninth that they had a man reach base with fewer than two outs. The Yankees did put the tying man at second that inning — pinch-runner Antoan Richardson stole second — but Brett Gardner (swinging) and Carlos Beltran (looking) struck out to end the game. Thirteen of the final 14 men they sent to the plate made outs. James Shields was cruising and probably could have thrown ten innings if Ned Yost wasn't so quick to go to his bullpen. The offense was completely overmatched.
Leftovers: Dellin Betances struck out one in his perfect eighth inning, giving him 124 strikeouts in 82 innings. The franchise strikeout record for a reliever belongs to 1996 Mariano Rivera (130 in 107.2) … David Robertson struck out two in a perfect ninth. Between Pineda and the two relievers, the Yankees retired the final 17 men they faced … Jeter, Headley, and Gardner (double) had the three base hits. No one on either team drew a walk. Coincidentally, both clubs went 3-for-30 with eight strikeouts at the plate … Pineda has a 1.80 ERA and the Yankees have somehow lost six of his nine starts … the Bombers lost a game without allowing an earned run for the first time since May 1996.
MLB.com has the box score and video highlights, FanGraphs has some other stats, and ESPN has the updated standings. Depending on the outcome of the late games, the Yankees will end the night either four games (Tigers and Mariners lose) or five games (Tigers or Mariners win) back of the second wildcard spot. FanGraphs puts their postseason odds at 2.3% at this very moment. Brandon McCarthy and Danny Duffy will be the pitching matchup on Saturday afternoon.
By

Francisco Cervelli is dealing with "severe headaches" and will not be available for the foreseeable future, according to Sweeny Murti. Insert joke about having to watch the offense here. Austin Romine will be called up to join the Yankees in the meantime. Cervelli has a history of concussions and, if I remember correctly, he did take a pretty hard foul tip to the face mask the last time he played. Hopefully it's nothing serious. The brain is nothing to mess around with. · (25) ·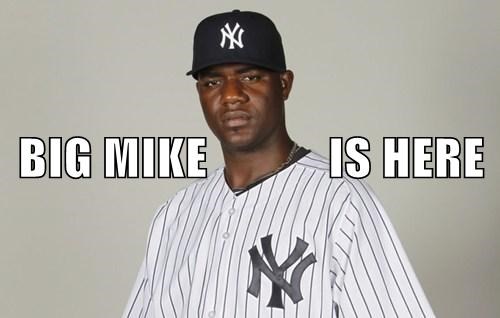 Am I the only one who finds myself looking forward to Michael Pineda starts more than anything right now? I can't be, right? I mean, Shane Greene and Brandon McCarthy are cool, so is Hiroki Kuroda, but Big Mike is the star of the pitching show. He's been awesome just about every time out this year. Hoping to see more of the same tonight. Here is the Royals lineup and here is the Yankees lineup:
It's warm and humid in New York this evening, but the sky is clear and there is no rain in the forecast. Tonight's game is scheduled to start a little after 7pm ET and you can watch on YES. Enjoy the game.
Injury Update: Martin Prado (hamstring) did some more running and baseball activities but obviously is not back in the lineup just yet. He said he hopes to be available to pinch-hit tonight.
Believe it or not, this is the last series the Yankees will play against a non-AL East team this season. Well, at least until they make that huge September push to win the division and face the Angels in the ALDS. Anyway, the Royals are in town for a three-game set starting tonight. The two teams have split their first four games of the season, three back in June and one last week in the makeup game of a rainout.
What Have They Done Lately?
Prior to yesterday's off-day, the Royals swept a three-game series from the lowly Rangers. They dropped five of seven before that. Kansas City sits atop the AL Central at 77-61 with a +27 run differential, though their one-game lead over the Tigers is hardly commanding even this late in the season.
Offense
Manager Ned Yost's team averages 4.07 runs per game with a team 93 wRC+, so the Royals are a bit below-average offensively. It's worth noting they have the lowest strikeout rate in baseball at 15.7%, nearly two full percentage points lower than any other team. They just don't strike out. Their only injured position player is IF Christian Colon, who just broke a finger and is done for the season.
Kansas City's lineup revolves around OF Alex Gordon (129 wRC+), who is getting a bunch of MVP love thanks to some recent clutch homers and his UZR-inflated 6.2 WAR. Both 1B Eric Hosmer (90 wRC+) and DH Billy Butler (97 wRC+) are having down years, but both C Salvador Perez (101 wRC+) and OF Lorenzo Cain (106 wRC+) have been strong supporting players for Gordon. OF Josh Willingham (117 wRC+) plays based on matchups.
The rest of Yost's regular lineup includes OF Norichika Aoki (90 wRC+), 2B Omar Infante (79 wRC+), SS Alcides Escobar (89 wRC+), and 3B Mike Moustakas (78 wRC+). Ex-Yankees OF Raul Ibanez (60 wRC+) and IF Jayson Nix (-1 wRC+ in limited) are on the bench alongside backup C Erik Kratz (78 wRC+) and the speedy OF Jarrod Dyson (96 wRC+). C Francisco Pena, IF Johnny Giavotella, OF Lane Adams, OF Terrance Gore, and OF Carlos Peguero are the September call-ups on the roster. Francisco is Yankees bench coach Tony Pena's son.
Pitching Matchups
Friday: RHP Michael Pineda (vs. KC) vs. RHP James Shields (vs. NYY)
The Yankees and Royals will technically play only two series this season, but New York is going to wind up facing Shields three times because of that stupid rainout. Just their luck, huh? Shields, 32, has a 3.38 ERA (3.77 FIP) in 29 starts and 192 innings this season, though his strikeout rate (7.03 K/9 and 18.7 K%) is the lowest it's been in five years. His walk (1.88 BB/9 and 5.0 BB%), homer (0.98 HR/9 and 10.3 HR/FB%), and ground ball (45.3%) rates are right where they usually are. Both his home/road and platoon splits are small. A mid-80s changeup remains Shields' go-to pitch, though he has scaled back on it a bit this year and is throwing more low-90s four-seamers and mid-80s cutters instead. He also throws an upper-70s curveball on occasion. The Yankees have faced ex-Rays righty twice this year, first scoring one unearned run in six innings, then scoring six runs in 6.2 innings.
Saturday: RHP Brandon McCarthy (vs. KC) vs. LHP Danny Duffy (vs. NYY)
Duffy, 25, has a 2.42 ERA (3.69 FIP) in 141.1 innings across 22 starts and six relief appearances in his first full season following Tommy John surgery. His peripherals aren't all that impressive outside of his homer rate (0.64 HR/9 and 5.4 HR/FB%) though: 6.88 K/9 (19.0 K%), 3.18 BB/9 (8.8 BB%), and 35.6% grounders. Duffy doesn't have a home/road split but he is far better against lefties (.170 wOBA) than righties (.292 wOBA). He throws his mid-90s fastball more than two-thirds of the time, even as a starter, and he backs it up with an upper-70s curveball and a handful of mid-80 changeups per start. Duffy allowed three runs to the Yankees in 5.2 innings back in June.
Sunday: RHP Shane Greene (No vs. KC) vs. RHP Yordano Ventura (vs. NYY)
The Yankees did not see the 23-year-old Ventura when these two clubs met in June because he was nursing an elbow injury. The hard-throwing rookie has a 3.38 ERA (3.67 FIP) in 25 starts (and one relief appearance) and 152 innings in 2014 with very good homerun (0.77 HR/9 and 9.4 HR/FB%) and ground ball (48.0%) rates. His strikeout (7.82 K/9 and 20.3 K%) and walk (3.38 BB/9 and 8.8 BB%) numbers aren't as strong, plus he has uncannily similar home/road (.295/.314 wOBA) and left/right (.295/.316 wOBA) splits. Freaky. Ventura is one of the hardest throwers in baseball, sitting in the upper-90s with both his two and four-seamer — his average four-seam fastball velocity (96.1 mph) is the second highest among qualified starters, behind only the injured Garrett Richards (96.4) — while also offering mid-80s changeups and low-80s curveballs. Like I said, the Yankees did not see Ventura the last time(s) these clubs met.
Bullpen Status
Yost has the best seventh/eighth/ninth inning trio in baseball in his bullpen. RHP Kelvin Herrera (2.69 FIP) is the seventh inning guy, RHP Wade Davis (1.38 FIP) is the eighth inning guy, and RHP Greg Holland (1.94 FIP) is the ninth inning guy. They're all dominant and effectively make it a six-inning game. It is worth noting Holland has shown some signs of fatigue recently and been less effective the last week or so.
Elsewhere in the bullpen, Yost has LHP Scott Downs (4.16 FIP), RHP Aaron Crow (5.36 FIP), RHP Jason Frasor (3.47 FIP), and LHP Francisley Bueno (3.85 FIP). The crop of September call-ups includes RHP Casey Coleman, RHP Louis Coleman, RHP Liam Hendriks, and LHP Brandon Finnegan. Finnegan was the 17th overall pick in June's draft. He's the first 2014 draftee to reach MLB. Check out our Bullpen Workload page for the status of Joe Girardi's bullpen, then check out Royals Review and Royals Authority for the latest and greatest on the Royals.
Yes, I'm swiping Mike's bit, kind of. He's invited me to do so for years, and now seems like a good time to take him up on the offer.
Brian Cashman's contract expires after this season. With the possibility of his team missing the postseason for the second consecutive year, fans have speculated that Cashman's 16-year tenure as GM could come to an end.
Plenty of fans, particularly the loudest ones, have hoped that is the case. But it appears that they will be disappointed.
Playoffs or no playoffs, the Yankees intend to offer Brian Cashman a new contract this winter, according to pretty cool guy Jon Heyman. His sources indicate that ownership doesn't blame Cashman for the way the last two seasons have unfolded.
(Perhaps because their own meddling has played a role?)
Few fanbases stand 100% behind the general manager. There's always a set of people who believe that they're the smartest people in the room, and they're vocal so they can prove it to everyone. Yet it seems that this group is larger than it was the last time Cashman's contract expired.
At that point, after the 2011 season, I fully supported bringing back Cashman. Since the inception of RAB the three of us (now four with Jay) have felt that Cashman is the guy for the job.
Now? I'm not so sure. Hence, a "thoughts on" post.
1. Where is this team headed? The Yankees had some tough decision to make last off-season. Not only did they face a depleted roster, but their far-and-away most productive hitter hit the free agent market. The time seemed ripe for a rebuilding effort.
They could have acted far differently. They could have re-signed Robinson Cano and signed Masahiro Tanaka without sacrificing the 18th pick in the draft. Instead they went in a completely different direction, trying to patch multiple weaknesses with high-priced free agents.
As Mike wrote earlier this week, the Yankees face an even tougher set of decisions this winter. Do they double down on their spending strategy to bring in Jon Lester? Do they seek out an offensive upgrade — Nelson Cruz or Hanley Ramirez? They've already committed $168 million to the 2015 team, and that covers just 10 players.
It seems kind of silly to hold back this off-season after going big and seeing little results this past season. Yet, as Mike noted, they certainly need to rethink how they operate as the team around them modify their philosophies.
The point is, in the past we've had some idea of the direction the Yankees were taking. Right now? I have none, and I don't think anyone else outside the organization does, either.
The further point is, I'm not totally sure Cashman is the guy to take the team in a different direction.
2. Is it a higher ups problem? There are plenty of young executives from other clubs the Yankees could poach for a potentially vacant GM spot. But if they're not allowed to actually make decisions, will it even matter?
The larger question is of whether ownership is truly a problem here. Yes, the Steinbrenners have opened their wallets to help the team, but are they spending that money wisely? Are they meddling to too great a degree? These are questions we have difficulty answering from the outsider perspective.
We've seen certain instances where the higher ups step in to make decisions. Rafael Soriano remains the most prominent example. Ichiro Suzuki, too. So how many decisions is ownership forcing on the team? How independently can the GM act?
The Diamondbacks just fired their GM, Kevin Towers. They'll find someone soon to fill that role. Will he have any success? It's tough to say, because, as my dear friend Leo said, Ken Kendrick still owns them. It has become pretty apparent that ownership is part of the problem here. Knicks fans have known this for far more than a decade.
If the problem does lie with the higher ups, then does it even matter who holds the GM position? In that case, having Cashman, who has been around the Steinbrenner family his entire adult life, might be an advantage.
3. Would a good candidate even want the job? Many of us have dreamt of becoming the GM. (And a few among us have delusions that we're qualified.) Who would turn down the opportunity if offered?
Plenty of people. Perhaps the most qualified candidates wouldn't find the Yankees' job attractive. Two highly regarded executives, Jason McLeod of the Cubs and David Forst of the A's, declined to interview for the Padres GM job earlier this year. Would they interview for the Yankees' gig, knowing that ownership gets involved in baseball decisions?
The absolute worst case scenario is to let Cashman walk only to hire some retread GM, because none of the elite candidates want the job. I like Kevin Towers well enough, but I don't want to see him replace Cashman as GM of the Yankees.
There's no point in letting Cashman go if they're not going to replace him with an elite GM, or a young executive on his path to greatness. Firing Cashman and then hiring (shudders) Ed Wade or Jim Bowden or Jim Hendry seems like a sure step backward. What if they're the only guys lining up to interview for the job?
4. A Theo/Hoyer situation? By most visible measures, Billy Eppler has done a fine job in the last few years, first as pro scouting director and now as assistant GM. The Padres courted him for their vacant GM position, and nearly hired him. The man is in demand. Might it be his time to shine?
The Yankees could choose to promote Cashman and move Eppler into the GM role, a situation similar to how Jed Hoyer and Theo Epstein operate in Chicago. On a practical level that might not accomplish much. Epstein surely continues to call shots in Chicago, just as Ken Williams continues to call shots in Chicago even though Rick Hahn is the GM.
At the very least, this kind of nominal move could keep Eppler in New York. Given the work he's done in the last few years and the reputation he's established, that seems desirable. The Yankees have an obstacle, in that they already have a team president. While most of us have less than perfect impressions of Randy Levine, it's not as though the Steinbrenners are just going to fire him because they want to move Cashman into that position.
Six questions and six answers in this week's mailbag. If you'd like to send us anything, mailbag questions or links or cooking tips or whatever, use the Submit A Tip box in the sidebar. We get a ton of questions each week, so don't take it personally if we don't answer yours.
Tim Leary asks: Am I the only one who thinks that nobody won the Jesus Montero-Michael Pineda deal? Just because Montero is seemingly a disaster right now and Pineda has made seven starts now, doesn't mean the Yankees won. Montero could have fetched any number of star caliber players from 2010 through 2012 and the Yankees flipped him for an asset who subsequently got hurt and missed two full years. I just don't see how in retrospect you can say the Yankees "won the trade" with that misuse of a top asset. Your thoughts?
There are a bunch of different ways to evaluate a trade, right? The easiest and lamest way is to add up the WARs, in which case both FanGraphs (1.1 vs. -0.8) and Baseball Reference (1.6 vs. -0.4) say the Yankees won the trade. That doesn't include Hector Noesi, who would only further tip the scales in the Yankees' favor, though Jose Campos would give some of that back since he hasn't done much of anything or been particularly healthy these last three years.
Another way and arguably the fairest way to evaluate is trade is based on what we knew at the time. Back in January 2012, we knew:
Pineda just had an All-Star debut season and was the first rookie in history to qualify for the ERA title with 9+ K/9 and sub-3 BB/9. He had five years of team control remaining.
Montero had a monster September in pinstripes and was widely regarded as one of the two or three best hitting prospects in baseball despite his lack of position. He had six years of team control remaining.
Noesi had a nice MLB debut season as a swingman and looked like someone cut from the David Phelps and Adam Warren cloth. He had six years of team control remaining.
Campos was a good looking pitching prospect way down in the short season leagues.
That's what we knew at the time. Based on that, I think you'd have to say the Yankees got the better end of the deal because Pineda had established dominance at the MLB level. I've always said I thought the trade was fair value (or that the Yankees actually came out ahead) on paper, but I wouldn't have done it because I thought they had a much greater need for a young middle of the order bat than the young top flight arm. I was kinda right, no?
Anyway, there is also an opportunity cost element here — what they actually got vs. what they could have gotten had they traded these players elsewhere — but how could we possibly evaluate that with any sort of accuracy? Unless reports come out involving these players and trades that were turned down, it's all guesswork. We know for a fact the Blue Jays said no to Montero for Roy Halladay and that the Mariners backed out of a Montero for Cliff Lee deal, but that's really it. Knowing that, how could you say "Montero could have fetched any number of star caliber players from 2010 through 2012?" We assume the Yankees could have gotten something nice if they traded Montero elsewhere but we don't know that for sure.
I think the simplest and most straight-forward way to evaluate a trade like this is: did either team get what they wanted? Did the Yankees get the young pitcher who claimed a spot near the top of their rotation? Did the Mariners get their big middle of the order bat? The answer to both of those questions is no. Neither team has gotten what they wanted out of this deal. Does that mean they both lost? I guess. Ultimately, it doesn't matter who wins and who loses. There is no trade scorecard. The Yankees are left with Pineda and Campos and what happens with the Mariners is mostly irrelevant to their end of the trade. This deal has not worked out as hoped for either team and although I will stop short of calling it win for the Yankees, I do know I'd much rather have their end of the trade than Seattle's right now.
Dustin asks: Do you think Kevin Long could be under any heat this offseason? It wouldn't be necessarily deserved, but given the problems getting on base and scoring runs all season.
Yeah I think so. It wouldn't surprise me if the Yankees, after spending all that money last offseason only to win fewer games and score fewer runs in 2014 than they did in 2013 (which they're on pace to do), look for someone to take the fall after the season. Ownership reportedly wants to bring Brian Cashman back and I suspect that's what will happen. Joe Girardi sure as hell shouldn't go anywhere, so now we're down to the coaches, and pitching coach Larry Rothschild deserves a lot of credit for keeping the rotation afloat despite the injuries. That leaves Long, right? If someone is going to be scapegoated for the season, the process of elimination leaves him as the likely candidate.
Justin asks: How much money comes off the Yankee payroll at the end of the season? Off the top my head I got Derek Jeter, Hiroki Kuroda, David Robertson, Brandon McCarthy, Chase Headley, and Ichiro Suzuki. Did I miss any one significant? Also will $189M will be a issue this offseason? If so how much room to work do they have?
According to Cot's, the Yankees already have $168.8M in salary commitments for next season. Those players Justin mentioned plus Stephen Drew are the notable guys set to hit free agency, clearing money. Remember, Alex Rodriguez and his massive salary will be coming back. A-Rod is included in that $168.8M but the team's arbitration-eligible players are not. This winter's crop of arbitration-eligible players includes Pineda, Ivan Nova, Phelps, Shawn Kelley, Frankie Cervelli, Esmil Rogers, Josh Outman, and David Huff. Rogers, Outman, and Huff are all non-tender candidates. Pineda and Phelps will get nice raises as first time eligible players, Nova and Kelley less so by virtue of being hurt and a non-closing reliever, respectively.
Including the arbitration guys, the Yankees already have something like $180M to $185M on the books for 18 players next year when you include Rogers, Outman, and Huff. Non-tendering them clears three roster spots but would results in minimal savings, maybe dropping them down to $175M to $180M for 15 players. This is all back of the envelope stuff, obviously. The Yankees have opened the last few years with a payroll in the $195M to $210M range, and if they stick to that again, they'll have approximately $20M to $30M to spend this offseason unless they manage to shed some salary through trades. The biggest needs are a big bat (right field?), another starting pitcher or two, and a reliever or two if Robertson leaves.
Adam asks: Any idea/prediction on what this offseason's qualifying offer amount will be? And does it make sense to offer to D-Rob and/or Kuroda?
Estimations have this winter's qualifying offer just north of $15M. Last offseason it was $14.1M, the offseason before that $13.3M. The Yankees can not make qualifying offers to McCarthy, Headley, or Drew by rule since they were traded at midseason. Kuroda is again on the fence about retirement and the Yankees have made him the qualifying offer in each of the last two winters, so I think they will again just in case he decides to spent another year in Los Angeles or something. He didn't accept the last two qualifying offers, instead opting to negotiate a new one-year deal. I think they trust he would do that again.
I definitely think the Yankees will and should make Robertson a qualifying offer. He just might accept, at which point the team could either keep him another year at an inflated salary (not the worst thing in the world) or use it as a stepping stone towards a long-term deal. If Robertson doesn't accept, it might kill his market. I'm not sure how many teams will give up a high draft pick to sign a reliever, even an elite one. Remember, Rafael Soriano sat out there unsigned until Yankees ownership felt the need to grab some headlines a few winters ago. My feeling at this moment is that it makes sense to extend the qualifying offer to both Robertson and Kuroda, and that the team will do just that.
Paul asks: Thoughts on the Yankees trying to get some extensions done this month, before the end of the season? D-Rob and B-Mac (is that what we call him?) seem likely candidates. Or is it more likely they'll wait until the season ends? Also, remind me again of how the exclusive negotiating period works please. Thanks.
I know Cashman has said the no extensions policy is a thing of the past, but I would be surprised if they took the time to work out any extensions this month. Robertson and McCarthy and maybe Headley are the obvious candidates for a new contract. I assume they'll wait until after the season to work on that. The five-day exclusive negotiating period starts the day after the end of the World Series, but the Yankees are unlikely to go to the postseason, so they'll have the entire month of October to discuss any extensions as well. They'll have plenty of time to talk about new deals with McCarthy and/or Robertson and I hope they do just that. There are obvious reasons to keep both and few reasons to let either go.
Jamie asks: The Yankees offensive woes makes me wonder: how many times have they been shut out? Scored one run? Two? Three? Four? Five? Etc.
As always, Baseball Reference makes this nice and easy. To the table:
| Runs | Games | Wins | Loss | W-L% |
| --- | --- | --- | --- | --- |
| 0 | 6 | 0 | 6 | .000 |
| 1 | 18 | 2 | 16 | .111 |
| 2 | 19 | 5 | 14 | .263 |
| 3 | 22 | 10 | 12 | .455 |
| 4 | 23 | 15 | 8 | .652 |
| 5 | 17 | 10 | 7 | .588 |
| 6 | 10 | 9 | 1 | .900 |
| 7 | 12 | 10 | 2 | .833 |
| 8 | 3 | 3 | 0 | 1.000 |
| 9 | 4 | 4 | 0 | 1.000 |
| 10 | 2 | 2 | 0 | 1.000 |
| 12 | 1 | 1 | 0 | 1.000 |
| 14 | 1 | 1 | 0 | 1.000 |
The Yankees have been shut out six times and held to two or fewer runs 43 times. That's basically one-third of their games played at this point. They're 7-36 (.163) in those games. On the other hand, they've scored six or more runs 33 times and are 30-3 (.909) in those games. That's been the "magic number" this year, so to speak. If the Yankees manage to push across six runs, then in all likelihood they won the game. The MLB average winning percentage when scoring two or fewer runs and six or more runs is .144 and .874, respectively, so the Yankees are above-average at both.
Boy did that turn around in the hurry. The Yankees grabbed victory from the jaws of defeat on Thursday night, rallying in the ninth inning to turn a 4-3 deficit into a 5-4 walk-off win. That win was much, much needed.
Cap'd The Bed
The Chris Capuano magic is starting to wear off. The team's 12th starter served up three homers — including two moonshots to David Ortiz — in 4.1 innings of work on Thursday night after allowing four homers total in his first 42.2 innings in pinstripes. Capuano has now surrendered 18 runs in 28 innings across his last five starts, which is no bueno. He did get off to a nice little start with the Yankees but he's returning to Earth and pitching exactly how you'd expect a scrap heap finesse guy to pitch in Yankee Stadium.
The final damage on Thursday was four runs on six hits and one walk in those 4.1 innings. Capuano struck out two and did get eight of his 13 outs on the infield. Boston's lefties were 3-for-5 with those three homers against him — Brock Holt hit a Yankee Stadium cheapie out to right, which may or may not have been catchable (I say not) — while their righties were 3-for-14 (.214) with three singles. The Yankees really don't have much to lose by continuing to run Capuano out there at this point, but should Masahiro Tanaka's elbow hold up and allow him to actually pitch against this season, it's pretty clear whose rotation spot he should take over.
Rally To Tie
Capuano put the Yankees in a 3-0 hole following the two homers to Ortiz, but the offense did rally to tie the game up in the third inning. The bottom of the order got the rally started as Ichiro Suzuki dunked a one-out single to left, then Jacoby Ellsbury drew a walk and Derek Jeter drove a two-run double over the head of center fielder Mookie Betts. Betts, who has 56 games worth of experience at center field in his career, was understandably playing Jeter very shallow, and the Cap'n simply muscled it out over his head.
Carlos Beltran singled in Jeter with two outs to tie the game at three, and after that the Yankees had three whole base-runners until the ninth inning. Stephen Drew drew a two-out walk in the fourth, Mark Teixeira beat out an infield single with one out in the fifth, and pinch-hitter Zelous Wheeler drew a leadoff walk in the seventh. Teixeira's single was a jam shot that was perfectly placed against the shift out of pure luck, nothing more. That's three base-runners in the span of five innings with none making it beyond first base.
Rally To Tie, Rally To Win
The bullpen in relief of Capuano was really good. Rich Hill struck out Ortiz, Esmil Rogers allowed a hit in 1.2 otherwise uneventful innings, Josh Outman got Holt to ground out to second, and Shawn Kelley retired all four men he faced. Kelley looked really sharp. Adam Warren had a messy ninth inning (plunked Allen Craig, bobbled a sacrifice bunt attempt) but escaped without allowing a run. Five relievers combined to allow just one hit in 4.2 scoreless innings, striking out four. They held up their end of the bargain.
For once, the offense held up its end of the bargain in the bottom of the ninth. Koji Uehara has been struggling hard of late, allowing runs in four of his last five outings (eight runs total), including two homers. Teixeira started the ninth by looking at a 2-0 fastball right down the middle — what the hell man!? — but he made up for it by slamming a hanging 2-2 splitter into the right field second deck for a game-tying solo homer. Two batters later, Chase Headley lifted a hanging full count splitter into the right field bleachers for a no-doubt walk-off blast. It was a bomb. Gone off the bat. Also his second walk-off hit with the Yankees. Remember his debut? It took a super-struggling Uehara, but a win is a win, and this was a cool win.
Leftovers
One night after going 4-for-4 with a dinger, Brian McCann went 0-for-4 with a strikeout. He did rip a line drive to left between the Teixeira and Headley homers in the ninth. He was the only starter who failed to reach base. Ellsbury and Drew drew walks while Jeter, Gardner, Teixeira, Headley, and Ichiro had hits. Teixeira was the only player on the team with multiple hits. Wheeler drew the walk off the bench when he pinch-hit for Drew against a lefty. The Yankees went 2-for-4 with runners in scoring position.
The nightly base-running blunder came in the seventh inning, when pinch-runner Antoan Richardson put his head down and ran to second on a steal attempt, not looking up to see Ichiro's line drive go right to Betts in center. By time Richardson realized the ball had been caught, Betts was already throwing it to first to double him up. That's not as bad as the base-running mistakes the last two nights, but it's still pretty bad.
By the way, Richardson was the 56th different player to play for the Yankees this year, tying last season's franchise record. Everyone currently on the active roster has played in a game, so if they're going use a 57th player and break that record, they'll have to call someone else up.
Once again, just so it doesn't get overlooked: the bullpen was really great. Those guys gave the offense a chance to get back in the game. Couldn't have done it without them.
Box Score, WPA Graph & Standings
The place to go for the box score and video highlights is MLB.com. You can find some other game stats and FanGraphs and the up to the minute standings at ESPN. Depending on the outcome of the currently tied Tigers-Indians game, the Yankees will be either three games (Indians win) or four games (Tigers win) back of the second wildcard spot. FanGraphs has New York's postseason odds at 4.7% at this very moment.

Source: FanGraphs
Up Next
The Royals come to town next for a three-game weekend series. That is the Yankees' last series against a non-AL East team this year. Big Mike Pineda and James Shields is the scheduled pitching matchup for Friday night's series opener. Head over to RAB Tickets if you want to catch that or any of the other five games left on the homestand in person.
For the third straight series, the Yankees have split the first two games with their opponent. They then lost the third game of the series to both the Tigers and Blue Jays last week. Tonight the Yankees have a chance to win their first series in more than a week if they can manage to beat the Red Sox in tonight's rubber game. Boston has all but checked out for the season already, but that doesn't make them a push-over. Here is the Red Sox lineup and here is the Yankees lineup:
It's another great night for baseball in New York. Clear sky and warm but not too hot or humid. Nice night to spend at the park. Tonight's game is scheduled to begin at 7:05pm ET and you can watch on YES locally and MLB Network nationally, depending on where you live. Enjoy the game.
Got a bunch of injury updates to pass along prior to tonight's series finale against the Red Sox. The updates come courtesy of Meredith Marakovits, Chad Jennings, Mark Feinsand, Jack Curry, Brendan Kuty, and Dan Martin.
Masahiro Tanaka (elbow) felt fine after playing long toss earlier this week. He is scheduled to throw off a mound in the bullpen on Saturday. "He does feel better. Our doctor said he basically just had arm fatigue, and that's not abnormal for a pitcher. He does feel better. He played long toss the other day and felt good, so hopefully it's pretty soon," said Joe Girardi.
Ivan Nova (elbow) started a throwing program last week as part of his rehab from Tommy John surgery. "It was awesome to be throwing a baseball again. For me, I always worried about how I'm going to be. It feels a little weird, but once you start throwing, you're more confident," he said. Nova, who is right on schedule with his rehab, is making 25 throws at 60 feet every other day and will eventually start to stretch it out. He will spend the winter rehabbing in Tampa rather than going home to the Dominican Republic.
Martin Prado (hamstring) received some treatment yesterday and does not feel anything when he's walking. He will test the hamstring with some baseball activities today — batting practice, running, fielding grounders, etc. — to see how it responds. "I think we made a little progress and we'll see how it responds," he said. "I just want it to be one or two days and not the rest of the season. I don't feel it walking. I'm not going to play 50%. I have to be 100%."
Carlos Beltran (elbow) will have the bone spur removed as soon as the season ends and the rehab is not expected to limit him at the start of Spring Training. He'll need two months of rest before he can resume throwing and swinging a bat — Beltran will spend the winter living in New York so he can go for regular check-ups — which still gives him plenty of time to get ready for camp.
As scheduled, CC Sabathia (knee) received another stem cell injection last week. "It went well. I've got no crutches. I feel good," he said. Sabathia is expected to begin throwing in another week or two.
This isn't really an injury update, but Hiroki Kuroda admitted he skipped his usual between-starts bullpen session this week in an effort to avoid fatigue, something he's done late in each of the last two years. He added that he's thrown less between starts all season.