That was a Good Win. Things did not look good early in Sunday's game against the Rays, but the Yankees rallied from behind to beat Tampa and their ace Chris Archer. The final score was 6-4.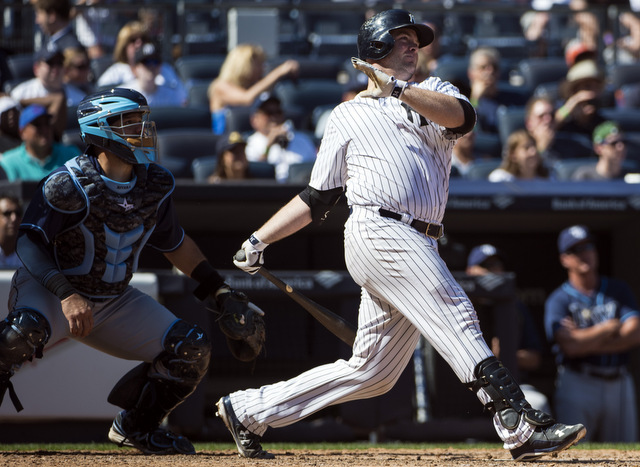 Back-To-Back & Back In It
Not surprisingly, the Yankees got completely shut down by Archer for the first five innings. He's excellent, and he also seems to have New York's number. Archer came into this start with a career 1.78 ERA in eight starts and 55.2 innings against the Yankees, including a 1.54 ERA in five starts and 35 innings at Yankee Stadium. The Yankees had just two base-runners in the first five innings against Archer: a Chase Headley walk and a Jacoby Ellsbury single, both in the third inning. That's it.
The sixth inning is when the game turned around. Ellsbury started the inning with a one out soft line drive single to right, then Carlos Beltran worked a two-out walk to bring the tying run to the plate. That was pretty clearly their best chance to get back into the game. It was now or never, probably. Archer started Brian McCann off with four straight balls … except the fourth ball was called a strike because of the silly 3-0 autostrike that always seems to pop up at the worst times.
McCann should have walked. Thankfully, he didn't. The next pitch was middle-middle fastball — Archer missed his spot big time — and McCann hammered it into the right field bleachers for his career-high 25th home run. It was a no-doubter off the bat. It had the good sound and everything. Suddenly, the game was tied 3-3. One pitch later, it was untied. Alex Rodriguez lifted Archer's very next pitch the other way and into the second row of the right field seats for a solo homer and a 4-3 lead. One dinger is good. Back-to-back dingers is way better.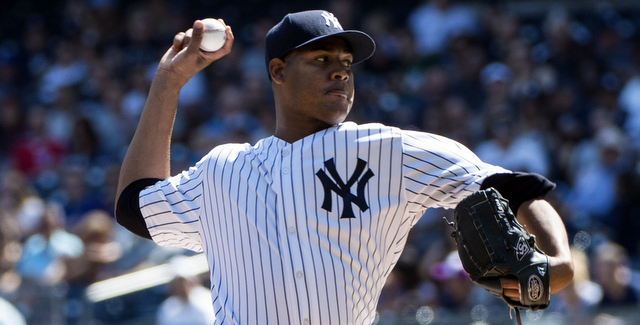 Just Good Enough
In his last six starts, Ivan Nova has allowed 23 runs and 49 base-runners in 33.1 innings. The Yankees have won two of those six games. Sunday afternoon Nova allowed three runs on six hits and a walk in six innings against Tampa, serving up a two-run homer to Kevin Kiermaier and a jam-shot run-scoring single to Logan Forsythe. The homer was an awful pitch, a quad-high hanging curveball Kiermaier yanked into the short porch, but the Forsythe single was just baseball being stupid. Nova jammed him real good …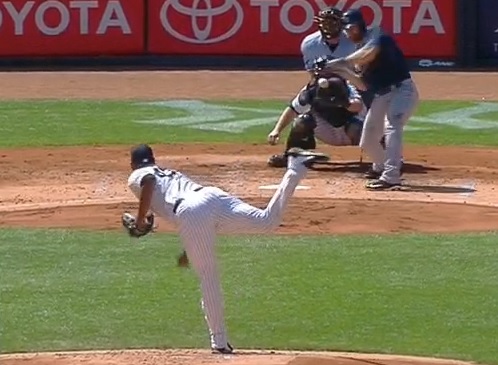 … and it found grass. So it goes. Nova had just one 1-2-3 inning (the fourth) and the Rays got a runner into scoring position in every inning but the second, fourth, and fifth. (Kiermaier hit his homer in the second though.) It could have been a lot worse had the Rays not gone 1-for-7 (.143) with runners in scoring position with Nova on the mound. (Forsythe's jam shot was the one.) Every fan thinks their team sucks with runners in scoring position, but the Rays really do suck with runners in scoring position. They ranked 27th in baseball with a .236 AVG in those situations coming into the day.
Anyway, Nova is what he is at this point. A serviceable starter who both frustrating and occasionally brilliant, though since Tommy John surgery there's been a lot more frustration than brilliance. That's not surprising. It usually takes a while for guys to get back into their groove following elbow reconstruction. Nova's not coming out of the rotation, and for now starts like this seem to be the best case. Not a disaster, not great. Winnable.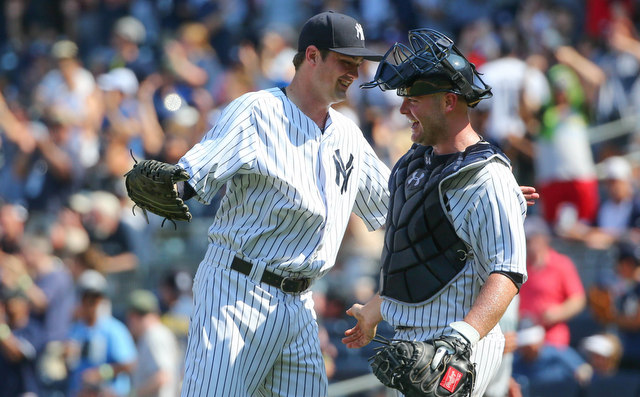 Up To The Bullpen
One run lead after six innings? Time to go to that bullpen. Joe Girardi called on Justin Wilson to start the seventh and he struck out the side … except McCann couldn't hang on to Daniel Nava's foul tip for the third out. He almost had it. Couldn't stop it from hitting the dirt though. Such is life. Nava then smacked a double into the left-center field gap to extend the inning.
As expected, Girardi went to Dellin Betances to face Evan Longoria with the runner on second and two outs in the seventh. Dellin walked Longoria then got Grady Sizemore — still can't believe Sizemore is hitting cleanup for a kinda sorta contending team in 2015 — to ground out harmlessly to third to end the inning. Exhale. Betances went back out for the eighth, gave up a solo homer to Asdrubal Cabrera, hit James Loney with a breaking ball, then got an inning-ending double play from Kiermaier. Exhale again.
The Yankees added an insurance run in the bottom of the seventh, so they still had a 5-4 lead after Asdrubal's homer. They added another run in the eighth too. Didi Gregorius helped create both. He singled in the seventh, moved to second on a wild pitch, then scored on an error. In the eighth he laced a single back up the middle with the bases loaded and one out. Steve Geltz walked himself into trouble in the eighth, then Didi got the big hit against a funky lefty. Pretty awesome. He's come such a long way in a short period of time.
Andrew Miller came on for the ninth inning with the Yankees up 6-4. J.P. Arencibia flew out to the right field warning track, Joey Butler struck out, Mikie Mahtook singled, Longoria singled, Mahtook moved to third a wild pitch, then Brandon Guyer struck out. Never easy. Miller is 31 for 32 in save chances this year. Fun Fact: Mahtook is the kid the Rays selected with the first round draft pick the Yankees forfeited to sign Rafael Soriano a few years ago.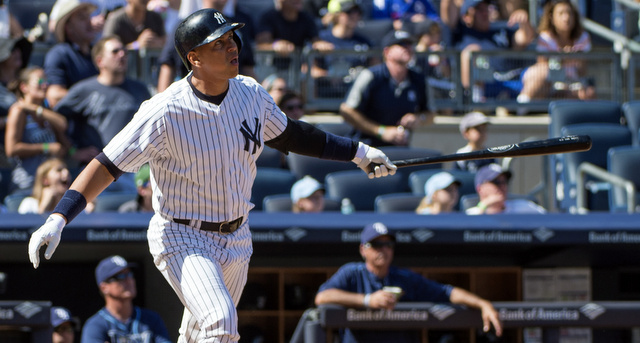 Leftovers
Everyone in the starting lineup had a hit except Brett Gardner, Headley, and Stephen Drew. Gardner hit the ground ball that led to Forsythe's error and the insurance run in the eighth, and Headley drew a walk. Drew bobbled an error on a ground ball. Not a great afternoon for him.
Ellsbury, A-Rod, and Gregorius each had two hits. Greg Bird doubled immediately after A-Rod's homer, so he Yankees managed three straight extra-base hits off Archer. They had five walks and five strikeouts as a team. The Yanks have 19 games with at least as many walks as strikeouts this year, fifth most in the league.
And finally, the Yankees are now 10-6 against the Rays this season. This is the first time they have won the season series against Tampa since 2009, if you can believe that. That 2009 season was a good one. Let's do that again.
Box Score, WPA Graph & Standings
Here are the box score and video highlights for the game and the updated standings and postseason odds for the season. The magic number to clinch a postseason spot is 22 as of this writing, so Roger Clemens is in the sidebar. Here are our Bullpen Workload and Announcer Standings pages, and here's the win probability graph:

Source: FanGraphs
Up Next
The Yankees are done with the Rays and the Orioles are coming to the Bronx next. The two teams kick off their three-game series with a Labor Day matinee on Monday. Michael Pineda and Wei-Yin Chen will be the pitching matchup. Head over to RAB Tickets if you want to catch that game or any of the other six games on the homestand live at Yankee Stadium.