By

The Yankees released right-hander David Aardsma just before the start of the season, but it wasn't until late last week that he signed a minor league contract with the Marlins. Dan Barbarisi wrote about Aardsma's life during those two weeks between the release and the new contract, two hectic weeks that were filled with unofficial workouts, canceled plans, and waiting for phone calls. It's definitely not a side of the game we think about all that much. It's a great piece and gets RAB's highest level of recommendation. Check it out. · (19) ·
The 2013 amateur draft will be held from June 6-8 this year, and between now and then I'm going to highlight some prospects individually rather than lump them together into larger posts.
Kyle Devin | C
Background
A Massachusetts kid who attends Lynn Classical High School just north of Boston, Devin played for the Yankees Area Code Games team last summer. In one game during the showcase, he threw out five attempted base-stealers while picking up two singles and a walk at the plate. He's committed to Stony Brook.
Scouting Report
Devin, who is listed at 6-foot-1 and 205 lbs., stands out for the power in his bat and the power in his arm. The left-handed swinger puts on big power displays in batting practice and shows a very strong arm from behind the plate. The rest of Devin's game is very raw — he didn't start catching until his sophomore year — including his offensive approach and general receiving and footwork at the catcher position. Power at the plate and throwing strength are two skills you can't teach though, and they're what will get Devin drafted in June.
Miscellany
Neither Baseball America (subs. req'd) nor Keith Law (subs. req'd) ranked Devin as one of the 50 best prospects in the draft class in their most recent rankings, and in fact he didn't even crack Baseball America's list of the top 200 high school prospects. Devin is a definite project and the lack of polish is just too much to ignore. The Yankees do generally love players with his skillset though, meaning a catcher who hits for power (especially from the left side) and offers arm strength. Devin certainly seems like someone they could target in the later rounds of the draft.
We all knew the Yankees were going to rely on their pitching staff this year, especially early in the season. That's why it was bummer to watch the starters allow a combined 15 runs in 23 innings during the first five games of the year (5.87 R/9). They've rebounded to allow just 11 runs in 39.1 innings in the last six games (2.52 R/9), but none of those last six starts were made by Ivan Nova.
Nova, 26, nibbled his way to four runs in 4.2 innings against the Tigers last week, putting himself in hitter's counts and long at-bats all afternoon. The Yankees used last week's rainouts to skip his turn, a move that wasn't unjustified given not only his first start of the season, but also his second half a year ago. Nova was pretty dreadful down the stretch, remember. He will get the ball tonight in the series opener against the Diamondbacks on nine days rest.
"I always worry about starters the first time through to begin a season," said Joe Girardi to Mark Feinsand following Nova's first start. "I think they can get a little excited, they can get a little hyped up. Position players go through it for one day; for a pitcher, if you're the second starter, it builds up a couple days. Third starter, it's more, fourth starter it's even more. I don't judge them too quickly on their first starts, because that's a concern. For him, it's consistency down in the zone."
Regardless of whether it's consistency down in the zone or strike-throwing in general or something else entirely, Nova might be starting to run out of rope. He allowed 55 runs in his final 72 innings last summer (6.88 R/9) and by the time late September rolled around, Girardi went from not giving him a chance to work out jams (2.1 and 4.2 innings in his final two starts) to not giving him the ball entirely, skipping Ivan in favor of David Phelps in Game 161 with the division title on the line. Add it all together and it doesn't seem like the team has a ton of faith in him at the moment.
"I have to look at it like a regular start … If I start doing anything differently, I'll be in trouble," said Nova to Dan Martin. "It's tough when you're not pitching good and you don't get a chance to go out there for a lot of days. It's a little bit frustrating … But I have to fight. I don't think they're worried about me and I don't think they should be worried about me."
Nova threw an extended bullpen session on Friday in an effort to stay sharp, but his issues extend beyond just staying sharp. His stuff is plenty good, but adjustments have to be made and his command needs to be refined. Perhaps working backwards and using the breaking ball earlier in counts would help, who knows? Given how CC Sabathia and Hiroki Kuroda have rebounded while Phil Hughes struggles and Andy Pettitte is sidelined with old man back, Nova is suddenly an important part of the rotation. Getting things straight and soon, as in tonight, is very important for the Yankees going forward.
By

Via the AP: Derek Jeter has scaled back his workload has he rehabs from left ankle surgery/setback in Tampa. He took five rounds of batting practice in addition to fielding 21 ground balls and running in straight line yesterday, compared to fielding many more balls and running the bases last week.

Jeter, 38, did not do any rehab work over the weekend, which Brian Cashman confirmed to Andrew Marchand was planned. I don't think this qualifies as a setback since he's still doing some baseball activity, but it's not terribly encouraging that the Cap'n had to reduce his work lately. I think we've all been expecting him to ramp it up a little more, if anything. Either way, it sounds like Jeter is still a long ways off from returning, and that's not good news. · (78) ·
This Yankees were off on Monday and will open their first interleague series of the season tonight, as the Diamondbacks come to town for a three-game set. Counting the currently injured Derek Jeter, only five players from the 2001 World Series remain active in the big leagues: Jeter, Andy Pettitte, Mariano Rivera, Randy Choate, and Alfonso Soriano. That's it. Doesn't that series seem like it was just yesterday? Where does the time go…
1. The Blue Jays designated Casper Wells for assignment yesterday, the second time the right-handed hitting outfielder has been cut loose in the last two weeks or so. He's a useful player — career 132 wRC+ against lefties (in limited time) with solid defensive numbers — who has gotten overrated the last year or two, which tends to happen when part-timers have some success. That said, I think he's an obvious upgrade over Ben Francisco and someone the Yankees should try to acquire given their general vulnerability against left-handed pitchers. At least four teams claimed Wells off waivers from the Mariners according to Jason Churchill, so the Bombers aren't going to be able to acquire him that way. They'll have to go out and make a trade with a division rival to make it happen. Tough to see it getting done.
2. Speaking of that vulnerability against southpaws, the Yankees lucked out quite a bit with their early season schedule. After seeing Jon Lester on Opening Day, they saw nine straight right-handed starters before the Orioles threw Wei-Yin Chen on Sunday. It would have been eleven straight right-handed starters if not for the two rainouts in Cleveland. That won't happen very often and the Yankees are lucky it did so early in the season. Things will change though, they're scheduled to see two lefties during the D'backs series (Wade Miley and Patrick Corbin) and a total of five lefties in the next eight games (Mark Buehrle, Matt Moore, and David Price are the others). I won't call any stretch of games in April a "defining stretch," but these next eight days will play a big role in how well the Yankees can stay in the hunt before their players start to get healthy.
3. I'm not going to lie, Andy Pettitte's back trouble has me pretty worried. The combination of his age and the fact that he hasn't had a full season in four years has me thinking nagging injuries could be the norm this summer. I mean, it took two whole starts before something started barking. Maybe the back will be a one-time thing or maybe he'll have to have starts pushed back due to aches and pains all year, but I feel like carrying two long-ish men in the bullpen (Adam Warren and David Phelps) is more of a necessity than a luxury right now. Phil Hughes and Ivan Nova certainly contribute to need that as well.
OF Slade Heathcott is still day-to-day with his neck strain, according to Mike Ashmore. Given his injury history and all-out style of play,"day-to-day" actually seems like an apt nickname. 2B Angelo Gumbs was placed on the DL today as well, hopefully for nothing involving the elbow.
Triple-A Scranton (10-1 win over Rochester)
By

The Yankees are off today, but baseball seems kinda pointless given everything that is going on in Boston right now. I hope all you from the area or you have friends and family in the area or whatever … I truly hope everything is okay. This is horrifying. Please keep everyone in your thoughts and forget about baseball tonight. Focus on what's important. · (155) ·
By

Via Dan Martin: There is still no timetable for Curtis Granderson and his fractured right forearm to resume swinging a bat. "Swinging was something that could happen," he said yesterday. "The timetable of when is still to be determined. After further consultation with the doctors and trainers, they decided to make sure I'm good throwing before I start to swing."

Granderson, 32, was cleared to resume throwing last week. Because he missed all but of five pitches of Spring Training, he figures to need a longer than usual minor league rehab assignment. This won't be a two or three day thing, he might need a week or ten days to prepare for the season. Maybe more. Joe Girardi said a May 1st return date is probably a little optimistic, but once Granderson is given the okay to start swinging a bat, they'll have a much better idea of when he'll be able to return to the lineup. · (13) ·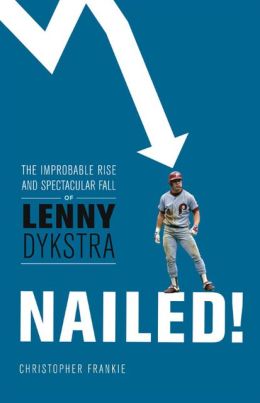 I recently had the opportunity to chat with author Christopher Frankie about his new book, NAILED! The Improbable Rise and Spectacular Fall of Lenny Dykstra. You may remember Lenny Dykstra from his time in the Majors (he played with both the Mets and the Phillies). You may remember him for his $55M car wash empire, or his affiliation with Mad Money's Jim Cramer. Or you may remember him for his increasingly baffling behavior that was so publicly scrutinized.
So without further ado, let me present Christopher Frankie.
Matt Warden: You were obviously motivated to write this book. What prompted that?
Christopher Frankie: First and foremost was the realization that this is an absolutely astonishing story and that my front row seat in 2008 allowed me to tell this insider's tale with the texture and context that was severely lacking in the mainstream narrative. Many people had heard some of Dykstra's story from TV and the newspapers, but I guarantee they haven't heard it like this.
On a personal note, I also wanted to show how and why so many smart, talented, hard-working and well-intentioned people got caught in Dykstra's web and had such a hard time walking away. It's a story of abuse, leverage, coercion and manipulation that I think will shock many people.
MW: What made working with Lenny so difficult to cope with?
CF: The manic and self-destructive behavior that wreaked havoc on everyone in Dykstra's life. The chaos he introduced into nearly every situation masked a lot of his misdeeds.
What also made working for Dykstra so difficult in 2008, when I worked for him, was the contrast between his public image and what I saw behind the scenes. The positive press, such as the HBO Real Sports feature, as well as Jim Cramer's endorsement, his $18 million mansion and private jet, all gave Dykstra added credibility and helped him explain away the "red flags" that would surface during the beginning of his financial downfall. It made it very difficult to discern fact from fiction at the time.
The 2013 amateur draft will be held from June 6-8 this year, and between now and then I'm going to highlight some prospects individually rather than lump them together into larger posts.
Hunter Renfroe | OF
Background
Originally drafted by the Red Sox in the 31st round of the 2010 draft, Renfroe didn't sign and instead followed through on his commitment to Mississippi State. He went into the weekend with a .414/.483/.828 batting line with 11 homers, 16 walks, and 19 strikeouts in 32 games after managing a .242/.318/.355 batting line during his first two years with the Bulldogs.
Scouting Report
Renfroe, who is listed at 6-foot-1 and 216 lbs., stands out immediately because of his right-handed power. He has arguably the most pop in the draft class and is capable of driving the ball out of any part of any park. His overall offensive game has taken a big step forward this spring and he's now among the best all-around hitters in the nation, with quick hands and a plan at the plate. Renfroe was one of those "has the high-end tools but needs to learn how to use them" guys for a while, selling out for power and struggling to make contact.
Defensively, Renfroe offers a big-time arm — he ran his fastball up to 96 as a reliever last spring — and enough speed and athleticism to handle center fielder, though right field might be his best long-term position. Renfroe caught in high school and as a freshman with Mississippi State, but a move back behind the plate is unlikely. Although the defensive tools are solid, he's clearly a bat-first prospect. There are plenty of videos on YouTube, and you can see above he's already got the bat flip part of his game down pat.
Miscellany
Baseball America (subs. req'd) ranked Renfroe as the 32nd best prospect in the draft recently while Keith Law (subs. req'd) did not include him among his most recent top 50 draft prospect rankings. However, during his chat last week Law did say he would "be a definite first-round pick if the draft were today" because of his offensive improvement. The Yankees had special assistant Jim Hendry on hand to watch the outfielder this weekend according to Kendall Rogers, so we know Renfroe is on the team's radar. College hitters tend to climb draft boards quickly due to strong performance more than any type of player, so the Bombers might not even get a chance to draft Renfroe with one of their three first round selections (26th, 32nd, 33rd) in a few weeks.