This one wasn't quite as easy as the last few, but the result was the same. Another win. The Yankees beat the Twins (and the fog) Wednesday night for their fifth straight win and their ninth win in the last dozen games. The final score was 7-4. I hope this series never ends.
The Didi & Tyler Show
Running out of ways to described Didi Gregorius' early season awesomeness, folks. Wednesday's feats including a run-scoring single in the first inning, a solo home run in the third inning, an intentional walk in the fourth inning, a bunt single against the shift in the sixth inning, and a walk in the eighth inning. We leave in a world where Gregorius was intentionally walked to get to Giancarlo Stanton. What a time to be alive.
The Yankees opened Wednesday's game with three straight singles against Lance Lynn, who looks as bad as pretty much every free agent who signed late this past offseason. Lynn, Neil Walker, Alex Cobb … they all look terrible. Maybe it's just a coincidence. Anyway, Sir Didi's dinger in the third inning tied the game at two, and after Stanton singled and Gary Sanchez walked, Tyler Austin put the Yankees up for good with a three-run homer. A laser into the left field seats, it was.
The homer is Austin's first this year against someone other than Marco Estrada or a position player. He took Lynn deep in the third and ripped a double against Addison Reed in the seventh. Two well-struck hits against tough righties. Austin also flew out loudly to end the eighth inning against lefty Taylor Rogers. And let's not forget his defense. Austin made a fantastic over-the-shoulder catch in foul territory to end the seventh, when the Twins were threatening.
Gregorius went 3-for-3 with a homer and two walks — the second walk, against the lefty Rogers, is the kind of walk Didi never would've taken in previous years — to raise his season batting line to .372/.470/.833 (234 wRC+). He also made a stellar barehand play for the final out. Didi is out of his mind right now. What a player. Austin, meanwhile, went 2-for-5 with a double and a homer to raise his season batting line to .305/.379/.661 (181 wRC+). He's been a very pleasant surprise. Gregorius and Austin drove in five of the team's seven runs.
Sonny Not Gray-t
We can say two things about Sonny Gray after this game. One, he was better than he'd been in his previous two starts. And two, he was still pretty bad. Three runs on six hits and five walks in 4.2 innings. Gray faced 24 batters and eleven reached base. That's a .458 OBP. Aaron Judge-esque. Sonny threw to Austin Romine too, so we can forget about that personal catcher nonsense everyone keeps talking about. Sorry, can't blame this one on Gary Sanchez.
Wednesday's game started with a ground out (Brian Dozier), a walk (Joe Mauer), and a two-run homer (Miguel Sano). To Gray's credit, he hasn't been homer prone this year. Only the second dinger he's allowed. The walk? That's nothing new. The Yankees were in an early 2-0 hole. In the fourth, three straight singles and a ground out gave the Twins their third run. The first single got under Miguel Andujar's glove on the second base side of the bag. The other two were legit line drives.
You could tell Aaron Boone wanted to get Gray through the fifth inning, and he almost did. Gray was hit by a line drive to start the fifth — it went for a single and Sonny was okay — then another legit single followed to put two on with no outs. A strikeout and a fly out later, Gray was in position to escape the jam. He got ahead in the count 0-2 on Eduardo Escobar and couldn't put him away. The nine-pitch at-bat: Called strike, foul, ball, ball, ball, foul, foul, foul, ball. Bases loaded, two outs, showers. Gray was done at 104 pitches.
The final line: 4.2 IP, 6 H, 3 R, 3 ER, 5 BB, 4 K. There are two problems with Gray right now. One, he can't throw strikes. Everyone says he's nibbling, but nibbling implies he can throw strikes, but doesn't want to. That's not really the case. Gray just can't throw strikes right now. And two, he's not missing bats. Nine swings and misses out of 104 pitches Wednesday night. Sonny has now struck out only 19 of the 110 batters he faced this season, or 17.3%. And remember, he struck out eight in four innings in his first start. It's a 12.4% strikeout in his last four starts. I dunno, man. I just don't know.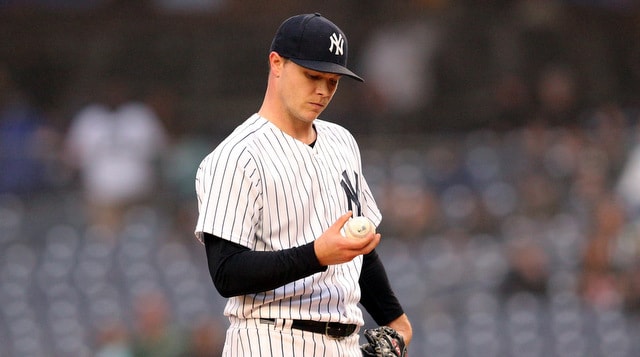 Bullpen Machinations
Gray's latest short start meant the bullpen had to get 13 outs. Chad Green was the first man out of the bullpen, as expected. He got Logan Morrison to pop out with the bases loaded to end the fifth, then added a scoreless sixth as well. The seventh didn't go so well. Stanton either misplayed a fly ball or lost it in the fog (probably a little of both), allowing Mauer to reach with a leadoff double. Two more singles followed to get the Twins to within 6-4.
Chasen Shreve, not David Robertson, entered with the bases loaded and one out in the seventh. He got the left-on-left strikeout against Morrison — the crowd loved that — then Austin made that wonderful catch in foul territory to end the inning. Gotta say, didn't expect Austin to be the one to came through with a big defensive play. Quick eighth and ninth innings for Robertson and Aroldis Chapman followed. Judge and Stanton chipped in insurance run sac flies to give the Yankees breathing room.
Leftovers
Gleyber Torres, man. Everything about the kid says big leaguer. His at-bats, his defense, his body language. He belongs. Gleyber went 2-for-4 with a double — his first MLB extra-base hit — and also made a few tough defensive plays. Gleyber has five hits in four games and all five have come in two-strike counts. He struck out in his first big league at-bat and hasn't struck out in 15 plate appearances since. What a stud.
Ho hum, three more times on base for Judge, plus he had the sac fly. A single and two walks get his batting line to .345/.481/.655 (201 wRC+). Every starter reached base at least once and five of the nine starters reached base multiple times. Andujar doubled, ending his streak of games without an extra-base hit at one. Phew. Was getting worried there. Sanchez drew two walks to give him four in the last two games. He had three walks in his first 18 games.
And finally, how about that fog? I can't remember ever seeing fog that thick at Yankee Stadium. Look at this (screen grab via Sunny):
After the game Judge said he couldn't see the upper deck from his spot in right field. Geez.
Box Score, WPA Graph & Standings
Go to ESPN for the box score and updated standings, and MLB for the video highlights. Here's our Bullpen Workload page and here's the win probability graph:

Source: FanGraphs
Up Next
This four-game series will come to an end Thursday afternoon. That's a 1pm ET getaway start because the Yankees are heading out to the West Coast this weekend. Jordan Montgomery and Kyle Gibson are the scheduled starters for the series finale.