By

Via ESPN NY: Joe Girardi ripped players in an "angry" team meeting before Thursday's home finale, reportedly chiding some players for being overweight and others for not being "hungry." Girardi and several players confirmed the meeting happened without giving details. "I'm not going to go into what I talked about. Write whatever you want," he said.

"It was a speech the likes of which I've never heard him give before. It's something he probably should have said back in Spring Training," said someone involved with the meeting to ESPN NY. I'm guessing stuff like this happens much more often than we hear about and there's nothing wrong with some brutal honesty and tough love in my opinion. The Yankees played like crap and definitely didn't look "hungry" at times this year. It needed to be said. · (99) ·
The Yankees won the first game of this season-ending series with the Red Sox last night, and with a win today and tomorrow, New York will match last season's 85-77 record. That's a bad thing after spending all that money on free agents this winter. Unless they manage to score 30 runs the next two games, they'll score fewer runs than last year. On the other hand, they'll also allow fewer runs than last year unless they somehow give up 22 runs in the final two games. That's … good? Here is the Red Sox lineup and here is the Yankees lineup:
It's a perfect fall day for baseball in Boston. Blue skies, a few clouds, cool and breezy. This afternoon's game will begin at 1:05pm ET and you can watch on FOX. Regular old FOX, not FOX Sports 1. Enjoy the game.
Update: Neither Jacoby Ellsbury (hamstring) nor Dellin Betances will play again this year. Betances isn't hurt, they're just shutting him down due to his workload … David Robertson will pitch again if he has a chance to get his 40th save of the season (he's at 39) … both Brett Gardner and Mark Teixeira will play tomorrow … the Red Sox were planning to use the Bob Sheppard recording to introduce Jeter before his at-bats (the Yankees and Sheppard's family signed off), but Jeter shot it down, saying Sheppard's voice belongs in Yankee Stadium. Yep.
By

Following his final start of the season earlier this week, Brandon McCarthy told Brendan Kuty it would be tough to pass up a return to New York when he hits free agency this winter. "I'd prefer to be anywhere where I'm wanted but this would be a hard place to turn down. It's been a great time here," he said. "I feel like gotten along with a lot of people. The way the organization goes about its business makes perfect sense to me. It'd be hard to find a better fit than here."

McCarthy, 31, had a rough final start, but he still had a 2.89 ERA (3.22 FIP) in 14 starts and 90.1 innings with the Yankees. He was awesome. McCarthy will be arguably the fourth best pitcher on the open market behind Jon Lester, Max Scherzer, and James Shields this winter. At this point I would not be surprised if he got a three or even four-year contract. His lengthy history of shoulder problems (specifically stress fractures) is scary even though he did stay healthy this year. The Yankees need to add some pitching this offseason and McCarthy made it easy to want him back after the trade. · (153) ·

Source: FanGraphs
Neither the Yankees nor the Red Sox sent out their A-team on Friday night — heck, you could argue they didn't even send out their B-team — but because this was a Yankees-Red Sox game, it went right down to the wire and took well more than three hours. It's in their DNA. New York walked away with a 3-2 win. Let's recap:
MLB.com has the box score and video highlights, FanGraphs has some other stats, and ESPN has the updated standings. I forgot to mention this last night, but the Yankees have clinched their 22nd consecutive winning season. That's the second longest such streak in baseball history behind the 1925-64 Yankees, who did it 39 straight years. Masahiro Tanaka and Joe Kelly will square off in the penultimate game of the 2014 season on Saturday afternoon.
For all intents and purposes, the 2014 regular season ended last night. The Yankees are just running out the clock this weekend. So, with nothing on the line, Joe Girardi decided to send out the Triple-A Scranton lineup for tonight's opener with the Red Sox. Or maybe I should say the Triple-A Pawtucket Red Sox. Their lineup isn't looking so hot either. Here is Girardi's lineup:
Beautiful weather in Boston tonight. Clear skies and cool, which is to be expected this time of year. First pitch is scheduled for 7:10pm ET and you can watch on My9. Enjoy the game.
Updates: Derek Jeter asked for today off because he was "drained" following last night's game. He won't even pinch-hit but he will play the next two games … Joe Girardi said he wanted to send Hiroki Kuroda back out for the ninth inning so he could get an ovation last night, but Kuroda declined … Girardi offered to let Jeter manage on Sunday, but Jeter isn't interested.
By

Derek Jeter's final home game last night was the most watched game broadcast in the history of the YES Network, the network announced. The game averaged 1.25 million viewers in New York and peaked at 1.99 million viewers from 10:15-10:30pm ET. That works out to an average 10.84 Nielsen rating and a peak 16.55 Nielsen rating. The previous record was held by the second game of the 2005 season (1.21 million viewers). Can't say I'm surprised. Jeter is one hell of a draw. · (42) ·
Boy these late-season Yankees-Red Sox series have lost something off their fastball these last few years, haven't they? Both teams have already been eliminated from postseason contention, so they will wrap-up their seasons this weekend with nothing more than bragging rights on the line. The Yankees are 10-6 against the Red Sox this year, including 4-2 at Fenway Park.
What Have They Done Lately?
The BoSox just took two of three from the Rays — they outscored them 22-4 in the last two games — but they've won only seven of their last 17 games. They are 70-89 with a -82 run differential overall, both the fourth worst marks in the AL.
Offense
At 3.88 runs per game with a team 90 wRC+, the Red Sox are the Yankees' equal offensively. That's not a compliment. (The Yankees average 3.88 runs per game with a team 91 wRC+.) Boston will be without 1B Mike Napoli (123 wRC+), 2B Dustin Pedroia (99 wRC+), UTIL Brock Holt (98 wRC+), and OF Shane Victorino this weekend (88 wRC+). They're all hurt and have been shut down for the season. DH David Ortiz (135 wRC+) is dealing with wrist inflammation and he is unlikely to play as well.
With all those familiar names out of action, manager John Farrell builds his lineup around OF Yoenis Cespedes (110 wRC+) and 1B Allen Craig (29 wRC+). Craig has looked completely helpless at the plate since hurting his foot last year. 2B Mookie Betts (131 wRC+) is having a nice late-season cameo and SS Xander Bogaerts (82 wRC+) has been better the last two weeks or so. The recently signed OF Rusney Castillo (79 wRC+ in very limited time) is still trying to find his way. OF Daniel Nava (99 wRC+) rakes against righties (118 wRC+).
The rest of the lineup includes 3B Will Middlebrooks (44 wRC+) and C Christian Vazquez (69 wRC+). OF Jackie Bradley Jr. (47 wRC+) seems to have played his way out of the organization's plans and is now just a defensive replacement, even with all the injuries late in the season. C David Ross (74 wRC+) is the backup catcher. The long list of September call-ups includes C Dan Butler, C Ryan Lavarnway, 3B Garin Cecchini, IF Carlos Rivero, IF Jemile Weeks, and OF Bryce Brentz.
Pitching Matchups
Friday: LHP Chris Capuano (vs. BOS) vs. RHP Steven Wright (vs. NYY)
The Red Sox have already shut down their various young starters and the 30-year-old Wright is getting the spot start tonight. He's appeared in five games for Boston this year, all in relief, allowing six runs in 16 innings with 18 strikeouts and two walks. Wright had a 3.41 ERA (3.88 FIP) in 15 starts and 95 innings down in Triple-A this summer. His strikeout (6.44 K/9 and 17.6 K%), walk (2.8 BB/9 and 5.7 BB%), and homer (0.85 HR/9) rates down in Pawtucket range between okay and good. Ready to be surprised? Wright is a knuckleballer. He throws his mid-70s knuckler roughly three-fourths of the time, filling in the gaps with low-90s fastballs and mid-60s curveballs. I can't help but wonder if those curveballs are just sloppy knuckleballs being misclassified by PitchFX. I guess we'll find out tonight. Wright has never faced the Yankees but he did make two starts against Triple-A Scranton this year. Jose Pirela, Zelous Wheeler, John Ryan Murphy, and Austin Romine know what's up.
Saturday: RHP Masahiro Tanaka (vs. BOS) vs. RHP Joe Kelly (vs. NYY)
Kelly, 26, was the centerpiece of the John Lackey trade a few weeks back now that Craig is hitting like a pitcher. He has a 4.15 ERA (4.46 FIP) in 16 starts and 89 total inning this year, including a 4.00 ERA (4.81 FIP) in nine starts for Boston. His overall strikeout (6.37 K/9 and 16.3 K%) and walk (4.04 BB/9 and 10.4 BB%) rates stink, though he gets plenty of grounders (55.6%) and keeps the ball in the park (0.81 HR/9 and 12.9 HR/FB%). Lefties (.320 wOBA) have hit Kelly a little harder than righties (.299 wOBA). A mid-90s two-seamer is his main pitch, which he'll use to set up low-80s changeups and upper-70s curveballs. He'll throw a handful of mid-90s four-seamers and mid-80s sliders per start as well. Kelly held the Yankees to three runs in 6.2 innings earlier this month.
Sunday: RHP Michael Pineda (vs. BOS) vs. RHP Clay Buchholz (vs. NYY)
In the span of a few days in late-July, the 30-year-old Buchholz went from being the Red Sox's nominal number four starter to their staff ace. He has a 5.31 ERA (4.06 FIP) in 27 starts and 164.1 innings this year, with peripherals that are decent across the board: 7.01 K/9 (18.0 K%), 2.90 BB/9 (7.4 BB%), 0.93 HR/9 (9.6 HR/FB%), and 46.4% grounders. Buchholz has been hit much harder by lefties (.357 wOBA) than righties (.306 wOBA) this season. As always, Buchholz uses low-90s two and four-seamers as well as an upper-80s cutter to set up his knockout low-80s changeup and occasionally knockout upper-70s curveball. The Yankees scored four runs (two earned) in six innings against him in April, then seven runs in five innings in August.
Bullpen Status
The Yankees broke RHP Koji Uehara (3.08 FIP) with the Chase Headley walk-off homer game a few weeks ago. He was removed from the closer role after that game and has pitch very sparingly since. RHP Edward Mujica (3.70 FIP) is now pitching the ninth inning. RHP Junichi Tazawa (2.94 FIP) is his primary setup man and LHP Tommy Layne (3.08 FIP) will see the high-leverage matchup situations.
RHP Burke Badenhop (3.10 FIP), RHP Alex Wilson (4.01 FIP), and LHP Craig Breslow (5.34 FIP) are Farrell's other bullpen regulars. The September call-ups are RHP Matt Barnes, LHP Drake Britton, LHP Edwin Escobar, and RHP Heath Hembree. Uehara and Wilson each threw a low-stress inning last night. Head over to our Bullpen Workload page for details on the Yankees' bullpen, then head over to Over The Monster for everything you could possibly want to know about the Red Sox.
Last night was almost too good to be true. It was the kind of ending that would be totally cheesy if I saw it in a movie, but I saw it with my own eyes in real life and it was amazing. Derek Jeter inside-outing a walk-off single to right field in his final game at Yankee Stadium is just perfect. Too perfect. It's magic. There's no other way to describe it. Pure baseball magic.
Like you, I'm going to remember that game for the rest of my life, but not just for the ending. I mentioned this in the game recap last night — I'm also going to remember seeing Jeter show more emotion than I can ever remember. He literally jumped for joy following the walk-off single and the only other time I can remember him doing that was when the Yankees won the World Series. Cameras caught Jeter fighting back tears as fans chanted his name in the ninth inning: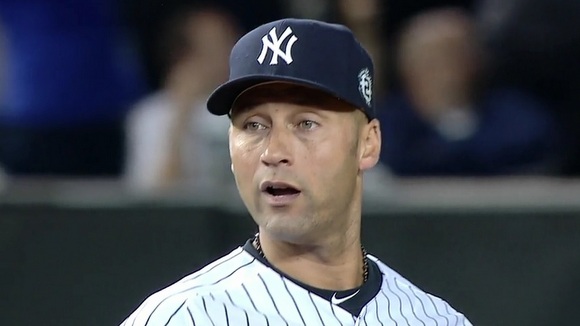 That is not the Derek Jeter face we're used to seeing. We're used to stone-faced, all business, we've got a job to do Derek Jeter. The YES Network broadcast showed both Joe Girardi and Mark Teixeira with tears in their eyes that inning, but I guess being on the verge of tears is the most we'll get out of Derek. Jeter spoke about fighting back the tears following the game and I thought his quotes were interesting, so I want to pass them along. Courtesy of Chad Jennings:
"There were a couple of times I almost lost it," Jeter said. "First inning I was saying, please don't hit it to me. The last inning I almost lost it. Same thing. I don't know how many times in my career I've said, please don't hit it to me, but that's what was going on in my mind. I really thought I was going to break down."

…

"I almost started crying driving here today," Jeter said. "I was by myself, so I could have lost it and no one would have seen it. My teammates presented me with something before the game. I almost lost it and I had to turn around. I think I've done a pretty good job of controlling my emotions throughout the course of my career. I have them, I try to hide them, I try to trick myself and convince myself that I'm not feeling those particular emotions whether it's nerves, whether I'm injured; pain. I just try to trick myself that I don't have it.

"Today, I wasn't able to do it. It's been getting more and more difficult these last few weeks, but today I wasn't able to do it. I don't know if the cameras were on me close, but there were a couple times I almost broke down. I was almost thinking to myself, 'Joe, get me out of here before I do something to cost us this game.' It's funny how things change, I guess."
I can't imagine what last night — and these last few weeks, really — felt like for Jeter. Outside of a little fist pump following the final out of every win, he rarely showed emotion on the field, so being on the verge of tears on the field in front of a nationally televised audience means he was playing with a very heavy heart. Jeter even said these last few weeks were like "watching your own funeral." That's some heavy stuff.
I could be wrong, but it appeared to me Jeter was a little more laid back on the field this year. More smiles, more joking around with teammates and opponents who happened to make their way to second base. It seemed like he was more relaxed in his final season, like he decided to enjoy this year a little more and cherish the comradery. Almost every retired player says they miss the comradery more than anything once their playing days are over. It seems like Jeter went out of his way to enjoy being around his peers this year.
Last night was on the other end of the emotional spectrum. There weren't any smiles or jokes exchanged, it was raw emotion on an iconic stage. It was a side of Jeter we never got to see these last 20 years and that's part of reason it will be so memorable. We have a tendency to see athletes as invincible and Jeter has been the model of the invincible athlete throughout his career. Last night was our first and only real look behind the curtain, to the human side of Derek Jeter.
Seven questions and six answers this week, the final mailbag of the 2014 regular season. Don't worry, the mailbag continues in the offseason. This is a year 'round feature. Use the Submit A Tip box in the sidebar to send us anything throughout the week.
Dustin asks: If the Yankees prefer a long-term solution at shortstop to a free agent, what would it take to pry either Starlin Castro or Addison Russell from the Cubs?
Even though there are a ton of quality shortstops set to hit free agency this winter, I think trading for a younger, more long-term solution at the position is something the Yankees should pursue. The Diamondbacks and Cubs have a stockpile of young shortstops but Chicago's group is better, mostly because they're more high-ceiling players. I like Chris Owings a lot, but he's no Castro or Russell. Or even Javier Baez, who's been awful so far in his MLB career (51 wRC+ and 41.9 K%) and has always had very high bust potential because of his plate indiscipline.
Castro, who is still only 24, rebounded nicely from his down 2013 season to hit .292/.339/.438 (115 wRC+) with 14 homers this year. He's played in 740 of 778 possible games since making his debut — most of his missed games have come this month due to an ankle sprain — and while he's not a great defender, he isn't as bad as his reputation either. Plus he's under contract through 2019 for a total of $44M. Castro is young, he's productive, he's durable, and he's signed cheaply for another half-decade. He's someone the Yankees should be very interested in if he's made available.
Russell is just the prospect, on the other hand. A great prospect, but a prospect nonetheless. He is a riskier of the two shortstops. The price for Russell has already been established, right? Basically a Jeff Samardzija caliber pitcher. It's worth noting the Cubs balked when the Phillies asked for Russell in Cole Hamels trade talks last month, according to Gordon Wittenmyer. (Hamels' salary came into play there.) Castro should be similarly expensive. The Yankees aren't getting these guys with David Phelps and a prospect. Michael Pineda would have to be on the table and you know what? I'm not against that given his shoulder history. I'd prefer Castro to Russell ever so slightly but would be thrilled with either.
nycsportzfan asks: I was wondering if you thought we should trade Shane Greene while his value could be at his greatest this offseason? He could be almost a centerpiece for a mid-rotation guy (Matt Latos, Mike Leake, Tyson Ross, etc.), really.
Mark asks: Would you rather see the Yankees sign a big free agent starter this offseason or acquire a starter in a trade. Some of the Reds' starters could be interesting targets.
Gonna lump these two together. Greene was very good this season up until his disaster final starter earlier this week. I wouldn't be opposed to trading him at all but the Yankees can't afford to give him away either. Their 2015 rotation options are risky and they'll need the depth. I also don't think his trade value is high enough to be the centerpiece of a package for a guy like Latos or Ross either. Greene is only one year younger than Latos and two years younger than Ross, remember. We're not talking about a 22 or 23-year-old here. I'm not sure his trade value is all that high on his own. Definitely not high enough to land a real difference maker.
Four of the Reds' five starting pitchers are due to be free agents after next season — Latos, Leake, Johnny Cueto, and Alfredo Simon. They do have Homer Bailey signed long-term and Tony Cingrani under team control, but still, losing four starters is tough. Cincinnati is a medium payroll team ($114M in 2014) that already has $70M on the books for just four players in 2016 (Bailey, Joey Votto, Jay Bruce, Brandon Phillips), so re-signing all four of those starters will be impossible. Heck, re-signing just one of Latos or Cueto will be tough. Speculation is they will trade at least one of those two to clear payroll and fill other roster holes this winter and obviously either would make sense for the Yankees. Expect a lot of trade chatter about the Reds' starters this winter and expect the Bombers to be involved.
Paul asks: Say the Yankees made the playoffs, how scary would be a rotation of Masahiro Tanaka, Pineda, Brandon McCarthy and Hiroki Kuroda/Green be?
Yeah, that rotation would be pretty dynamite in a short series, at least on paper. Who knows what would happen in the actual games. I'd use Kuroda as the fourth starter and put Greene in the bullpen as a multi-inning guy. Joe Girardi would be able to lean heavily on David Robertson, Dellin Betances, and Adam Warren in a short postseason series with built in off-days, so the pitching staff could have been excellent. Too bad the Yankees couldn't hit at all this year. Thinking about what could have been with this pitching staff is a bummer.
Kevin asks: I have forever been against the idea of a 6-man rotation, however going to next year I don't think it could make much more sense. CC Sabathia, Pineda, Tanaka and Kuroda (aqssuming return) would all benefit greatly from the extra day for one reason or another. What are your thoughts and do you see the Yankees pursuing this?
There have already been reports indicating the Yankees are considering a six-man rotation for next season as way to give their starters extra rest. Tanaka (elbow), Pineda (shoulder), Phelps (elbow), Sabathia (knee), and Ivan Nova (elbow) all have injury concerns and could benefit from working in a six-man rotation. How much would the extra day of rest help keep them healthy? Who knows. It's worth noting pitchers across the league this year have actually performed slightly worst with an extra day of rest than on normal rest.
The Yankees would have to use a three-man bench to make a six-man rotation happen — nothing they've done in recent years makes me think they would go with a four-man bench and a six-man bullpen — and that's doable because players like Martin Prado provide some versatility. They'd have to come up with a similarly versatile backup infielder and have a backup catcher who could maybe play a little first base and left field. I don't love the idea of taking starts away from Tanaka and Pineda — the difference between a five-man rotation and a six-man rotation is about five starts across the 162-game season — but if it helps keep them healthy, it might be the best course of action. I don't think there's a clear right answer here. This is a very debatable topic.
Stephen asks: Now that we know how many we'll have this season, I'm curious what the percentage is for how many of Jeter's games played were "meaningless games" — those in which the Yankees were already eliminated from postseason contention. I'd bet it's probably close to 1%, right?
The Yankees were eliminated from postseason contention in Game 157 back in 2008 and in Game 158 this year, so that's nine meaningless games between those two seasons. Jeter was injured last year when the Yankees were eliminated and didn't play in any of those meaningless games. He's played 2,745 total regular season games in his career, so less than 1% have been meaningless — 0.0033% of his games have come with the Yankees mathematically eliminated from postseason contention. That is: crazy.
Update: Reader @Fgerlando points out Jorge Posada played zero meaningless games in his career. He was hurt at the end of the 2008 season and did not play.
Randy asks: Do you think Jeter will get a monument? Do you think he deserves one?
I was thinking about this yesterday and decided against including it in the thoughts post. Right now there are monuments for Babe Ruth, Lou Gehrig, Mickey Mantle, Joe DiMaggio, Miller Huggins, and George Steinbrenner in Monument Park. All of them were dedicated posthumously. If the Yankees decide to add a monument for Jeter after he retires, he'll be the first person to have one dedicated in his honor while still alive. So, really, this question is asking whether he will be worthy of a monument in 40, 50, 60 something years. My answer is yes. Jeter is the greatest Yankee since Mantle and he was at the core of their most recent dynasty. If he isn't worthy of a monument, I'm not sure how anyone else would be.