That was a good end to the road trip. The Yankees overcame the late afternoon #shadows to clobber the Red Sox on Wednesday, winning the series finale 13-8. They won five of six games on the road trip.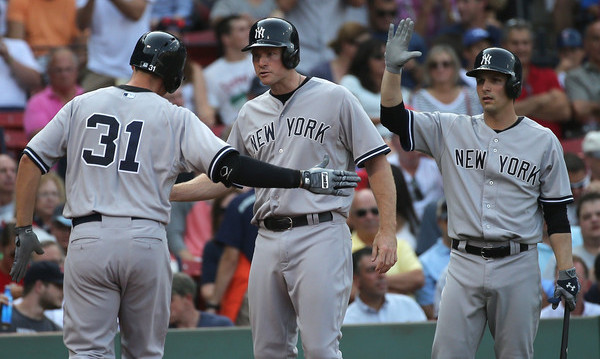 Over Early
I know no game is ever truly out of reach at Fenway Park — Joe Girardi sure doesn't think so — but the Yankees put this game to bed early with an eight-run second inning against BoSox lefty Henry Owens and the pitcher formerly known as ace reliever Ryan Cook. A whole lot happened that inning, so let's recap with an annotated play-by-play.

(1) The last few days have not been kind to Greg Bird, who's been thrust into a starting role thanks to Mark Teixeira's injury. His two-run home run off Owens was only his second extra-base hit since this two-homer game and it looked like a no-doubter off the bat, but it only landed a row or two deep in right field. Usually I get surprised and the ball carries further than I expect. This was the opposite. It didn't carry as much. Either way, Bird put a great swing on a very hittable fastball and gave his team a 2-1 lead.
(2) Is Stephen Drew the 2015 version of 2012 Raul Ibanez? That would be cool as hell. I doubt he'll come up with as many enormously clutch homers as Raul — how could he? Ibanez was unreal that year — but his bat has started to come around after lagging most of the season. Drew's second inning double was very hard hit over the right fielder's head. He's now 9-for-12 (.750) with two doubles, two homers, two walks, and one strikeout in his last four games.
(3) The Brett Gardner at-bat was the one that convinced me they were going to do a lot of damage against Owens. The young southpaw had nothing to put Gardner away. Brett flicked his wrists, fouled off a bunch of pitches, then took the walk to load the bases when nothing hittable came his way. The second time through the order, the Yankees were on everything against Owens.
(4) I don't want to complain too much about an eight-run inning, but the Yankees did run themselves into an out on Chris Young's base hit off the Green Monster. It wasn't a booming hit, it was more of a high fly ball that looked catchable at first, which is why Drew didn't get a good read and only advanced to third. Gardner was running the whole way and got caught between second and third when he finally noticed Drew was standing on the bag. They're both at fault — Drew got a bad read and Gardner failed to realize the runner ahead of him didn't advance. Joe Espada as well. The third base coach has been involved. Oh well. Didn't cost them much, thankfully.
(5) The Carlos Beltran homer was the icing on the cake. Alex Rodriguez picked up Drew and Gardner with a two-run single — it should have been a double, it kicked off the sidewall at a weird angle and away from the left fielder, but Alex isn't running well these days — that ended Owens' afternoon. In came Cook, and Beltran turned around his first pitch for an opposite field two-run homer over the Green Monster. Officially a laugher.
(6) The second inning was New York's fifth inning with at least eight runs innings this season, the most in baseball. The Marlins (!) have three and no one else has more than two. The Yankees scored at least eight runs in an inning just once in both 2013 and 2014. They came into this game with 633 runs on the season. They scored 633 runs all of last season. I know they had been struggling the last few weeks, but hooray offense.
Cruise Control
The afternoon did not start too well for Masahiro Tanaka. Mookie Betts started the game with a double high off the Green Monster — it looked like it had a chance to get out, but it fell no more than ten feet short — and David Ortiz later drove him in with a ground rule double to right. Both doubles came on mistake pitches out over the plate, the kind of pitches that should get crushed. That gave the Red Sox a quick 1-0 lead.
After the Yankees scored their eight runs in the second inning, Tanaka settled in and cruised the rest of the afternoon. He allowed two garbage time runs — the first on a Blake Swihart double and two fly balls, the other on a Xander Bogaerts solo homer — and was in the dugout when an inherited runner scored, uglifying his line. Tanaka finished the afternoon with four runs allowed on six hits and one walk in 6.1 innings. He struck out five and threw 66 of his 92 pitches for strikes. He looked better than four runs in 6.1 innings.
Considering Tanaka was starting on normal rest for only the third time this season, I was surprised Girardi sent him back out for the seventh at 82 pitches. Especially with the big lead and all the call-ups in the bullpen. They've gone to great lengths to keep Tanaka healthy this season, so I figured Girardi would get him out after six. No big deal, Tanaka threw ten more pitches and was done.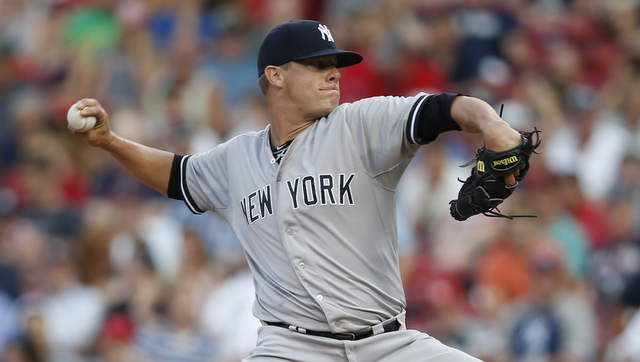 Panic Time
Welcome back to the big leagues, Andrew Bailey. He replaced Tanaka with the Yankees up 12-3, walked two batters, allowed a sacrifice fly, and then a single, then was yanked. Bailey threw 22 pitches and PitchFX says he averaged 93.2 mph with his heater, down from 94.9 mph back in 2013, his last stint in the show. That's not surprising after major shoulder surgery. Bailey looked amped up more than anything. His issue was command, not stuff. Good to get it out of his system now. Justin Wilson replaced Bailey and got the final out.
In the top of the eighth, the Yankees tacked on an insurance run when Jose Pirela beat out an infield single. Gardner doubled to start the inning and made his way to third on A-Rod's double play ball following Young's walk. Rico Noel, who replaced Beltran in right field in the seventh, was literally in the batter's box for his first big league at-bat when Girardi called him back for Pirela. Brutal. Seven-run lead against a last place team? When can the kid hit if not then?
Anyway, Bryan Mitchell came on for the eighth inning and was terrible, allowing five of six batters to reach base. That includes four singles and a walk. Girardi, who was in full blown panic mode, brought in Dellin Betances (!) with the Yankees up six runs. He got the next two outs with ease to end the inning. I'm worried Dellin's arm is going to be mush soon. He's on pace for 85 innings this year after throwing 90 last year.
Caleb Cotham started the ninth inning while Andrew Miller warmed up in the bullpen. The Yankees had a six-run lead and Miller was warming before Cotham even threw a pitch. Why not just use Miller to start the inning in that case? There's obviously no trust in Cotham. Cotham allowed back-to-back doubles, in came Miller, and he closed the door for a panicky 13-8 win. The game was never close after the second inning.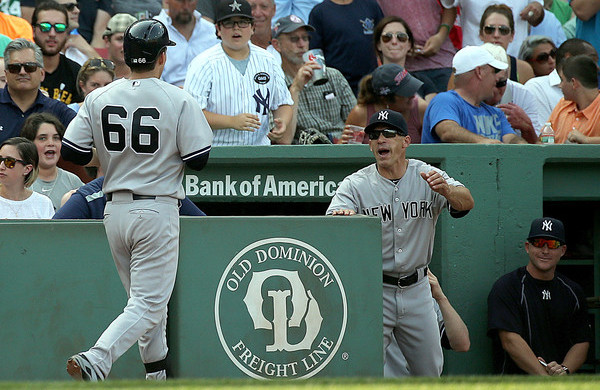 Leftovers
After the eight-run second inning, the Yankees scored three more runs in the third (Drew three-run homer), one more in the fifth (Gregorius solo homer), and another in the eighth (Pirela infield single). Everyone in the starting lineup had at least one hit and the 6-7-8-9 hitters went a combined 8-for-17 (.471) with a double, three homers, two walks, and one strikeout. All told, the Yankees scored their 13 runs thanks to 15 hits and five walks.
The non-Betances/Miller portion of the bullpen was awful. Bailey, Wilson, Mitchell, and Cotham combined to allow four runs on seven hits and two walks in 1.2 innings. They struck out no one. Of course, Wilson was the only one of those guys in the Circle of Trust™, and he faced one batter. Two kids and a reclamation project did the damage. Whatever.
And finally, congrats to Girardi for his 800th career managerial win. He is 722-544 (.570) all-time with the Yankees and ranks fifth on franchise wins list. It'll be a long time before he climbs a spot — Miller Huggins is fourth with 1,076 wins.
Box Score, WPA Graph & Standings
Here are the box score and video highlights for the game as well as the updated standings and postseason odds for the season. Also check out our Bullpen Workload and Announcer Standings pages. The Bullpen Workload page is kinda crowded now thanks to September call-ups. Here's the win probability graph:

Source: FanGraphs
Up Next
The six-game road trip is over. The Yankees have an off-day Thursday and will open a ten-game homestand Friday night, with the first of three against the Rays. Luis Severino and Jake Odorizzi is the scheduled pitching matchup. Head over to RAB Tickets if you want to catch any games on the homestand live at Yankee Stadium.