The wins don't come as easily as they once did, but the Yankees again beat the Twins on Saturday afternoon, this time by the score of 2-1. They've won five of six games against Minnesota this season and are back over .500 at 37-36. The Yankees have spent a grand total of six days over .500 in 2016.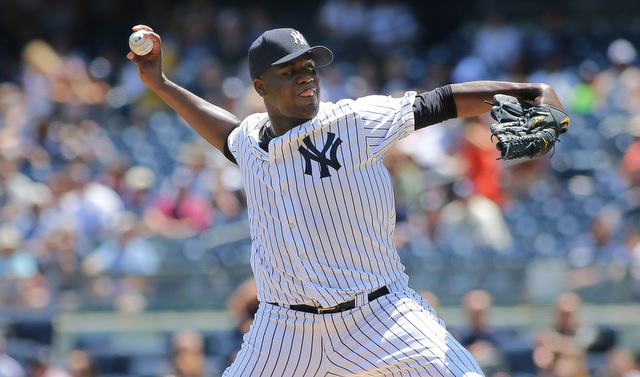 Big Mike's Big Game
By any measure, this was Michael Pineda's best start of the season. He held the Twins to one run on two hits and a walk in six innings while striking out eight. Pineda threw 94 total pitches and got 14 swings and misses, including eight whiffs on 16 swings against his slider. That is: good. The one run came on a Brian Dozier solo homer, which was nothing more than a poorly located 3-1 fastball in the second inning. Eh, it happens. Dozier has some pop.
Pineda has now allowed ten earned runs in his last five starts and 30 innings. He had a 6.92 ERA (4.67 FIP) through his first ten starts of the season, and he's since been able to lower that to a 5.51 ERA (3.88 FIP) through 15 starts. Progress! Last month there was talk about sending Pineda to the bullpen or the minors and it wasn't undeserved. He was awful. Pineda's reportedly corrected some things mechanically with the help of pitching coach Larry Rothschild, and now he's pitching much more like the Michael Pineda the Yankees hoped to see in 2016.
Two-Out Rally To Tie
The game started so well for the Yankees. Jacoby Ellsbury and Brett Gardner opened the first inning with a single and a walk, respectively, but the middle of the order couldn't drive them in. They couldn't even advance them another base. Ervin Santana settled down and retired nine straight after that, and it wasn't until the fifth inning that the Yankees were finally able to break through and tie the game 1-1.
That fifth inning rally took place with two outs, when Ellsbury, Gardner, and Carlos Beltran strung together three straight hits to score the run. Ellsbury singled in a hitter friendly 2-0, Gardner singled in a pitcher friendly 1-2 count, and Beltran singled in a hitter friendly 3-1 count. Santana made some location mistakes that inning and paid. He was still able to hold the Yankees to one run on six hits and two walks in six innings. Annoying!
Battle of the Bullpens
For a while no one wanted to win this game. After Brian McCann's leadoff single in the sixth, Mark Teixeira hit what should have been a tailor made 6-4-3 double play ball. Instead Eduardo Escobar bobbled it and everyone was safe. Big break! Starlin Castro then banged into a 5-4 double play that wasn't too far away from being a 5-4-3 triple play. It looked like it had a chance off the bat. The Yankees didn't score after Escobar's misplay anyway.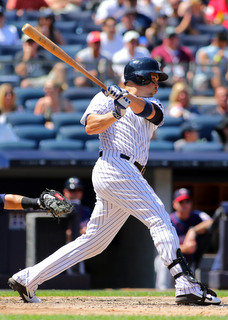 Then, in the bottom of the eighth, Alex Rodriguez led off with an infield single (!) of all things. Pinch-runner Aaron Hicks was held up by third base coach Joe Espada on McCann's single into the right field corner, though he would have scored because the throw went into second base. I understand the hold — runner at third with no out in the eighth inning of a tie game? no reason to push it — but it looked like a missed opportunity.
Teixeira followed with a strikeout and we were all waiting for the inning-ending double play to kill the rally. Castro kinda sorta obliged, hitting a chopper to Escobar for what should have been a 6-4-3 twin killing. Except Escobar misplayed the short hop and got zero outs on the play. Hicks scored to give the Yankees the 2-1 lead. The Yankees tried to blow that rally there — McCann was thrown out at the plate trying to score an insurance run on Chase Headley's sac fly later in the inning — but the Twins wouldn't let them. Minnesota Twins baseball, folks.
Leftovers
With the score tied in the late innings, Joe Girardi went to his big three relievers again, and they combined to allow one baserunner in three innings. That was Joe Mauer's two-out single against Aroldis Chapman in the ninth. Dellin Betances struck out one, Andrew Miller struck out two, and Chapman struck out one. Those guys didn't throw many pitches the last two days (Miller leads with 26 pitches), but Girardi doesn't like to use his relievers three days in a row, so it's possible none of the three will be available in the series finale Sunday. We'll see.
Teixeira went 0-for-3 with a walk and a strikeout in his first game back from the knee injury. He wasn't tested with any tough plays in the field. Gardner had three hits while Beltran and McCann had two each. Ellsbury, A-Rod, and Didi Gregorius had base hits as well. The Yankees had ten hits and all ten were singles. This was the team's first win without an extra-base hit all season. They were 0-6 in such games prior to this one.
Box Score, WPA Graph & Standings
Go to ESPN for the box score, MLB.com for the video highlights, and ESPN again for the updated standings. Also make sure you check out our Bullpen Workload and Announcer Standings pages. Here's the win probability graph:

Source: FanGraphs
Up Next
The Yankees will try to wrap up this three-game sweep Sunday afternoon. Nathan Eovaldi and Tyler Duffey are the scheduled starters. There are five games left on this homestand, the final homestand before the All-Star break, so head over to RAB Tickets if you want to catch any of those five games live.