By

Via Nick Cafardo: The Yankees are one of several teams with interest in Japanese right-hander Masahiro Tanaka. Danny Knobler recently reported the Rakuten Golden Eagles are expected to make their ace available via the posting system following this season.

Tanaka, 24, has pitched to a 2.08 ERA with a 45/9 K/BB in 52 innings across seven starts this year. Since the start of the 2010 season, he owns a 1.57 ERA with 9.1 K/9 (25.6 K%) and 2.0 BB/9 (3.1 BB%). One scout told Knobler that Tanaka has "a wipeout split-finger fastball" and "a good slider" to go with solid velocity, though it's unclear if he can remain a starter long-term. He has missed time with shoulder issues (strains and inflammation, mostly) over the years.

The Yankees have shunned the Japanese pitching market since the Kei Igawa fiasco, and Brian Cashman explained why in a recent interview with Index Universe. They're concerned about difference in pitching routines as well as the cultural adjustment. Tanaka is not Yu Darvish and frankly he's not even Daisuke Matsuzaka, but he's still someone worth keeping an eye on over the next several months. The Yankees can't ignore Japanese pitchers forever. · (47) ·
I'm not sure when exactly it happened, but at some point recently the Baseball Hall of Fame partnered with the Scout of the Year Foundation to create a free and searchable online database of old scouting reports. The data is very incomplete — it doesn't include every player and it only goes back so far — and the database itself can be slow and a bit of a pain, but those are minor nuisances compared to the wealth of information available.
Thanks to the database, we can look back at what professional talent evaluators — people who do this for a living — had to say about our favorite players once upon a time. For example, here are some bits and pieces of reports from various teams about a young high school senior from Michigan named Derek Jeter back in 1992: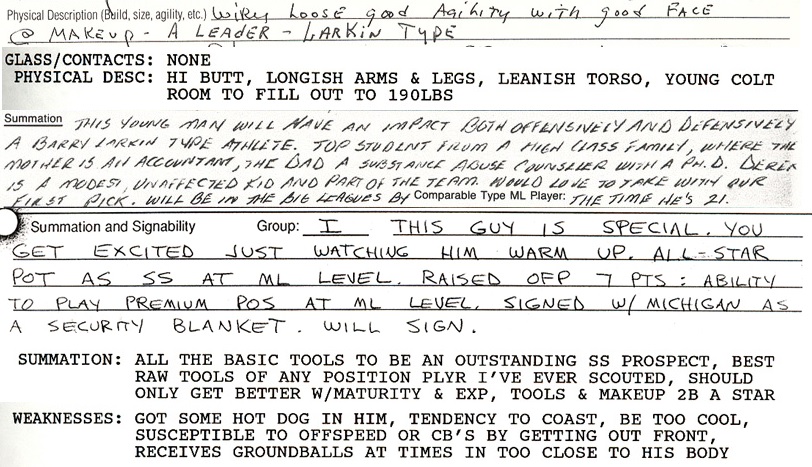 You can click every image in those post for a larger view, and I highly recommend you do just that.
Within those report snippets, future first ballot Hall of Famer Derek Jeter is described as having:
a good face
a hi butt
an impact both offensively and defensively
makeup 2b a star
some hot dog in him
Once upon a time, Jeter was a showoff. Wrap your head around that. All of the reports agreed he was a future star though, and in the end that is what was most important.
After the jump — lots of images and I don't want to cripple anyone's computer — are some opinions on Alex Rodriguez back from 1993, when he was a high school senior:
For the first time this season, the Yankees lost despite scoring first. The Orioles snapped their six-game losing streak with a tenth inning walk-off win on Wednesday night, taking the second game of the series 3-2.
Phil Rebounds
I'd call two runs in six innings a successful rebound from last week's seven-run, two-out disaster for Phil Hughes. There was nowhere he could go but up after that nightmare, really. Tuesday's start against Baltimore featured two solo homers by former Yankee Chris Dickerson — I didn't think the decision to cut him in favor of Ichiro Suzuki would look stupid this quickly, but here we are — and five strikeouts in six innings, including 70 strikes out of 102 pitches. Of the 25 men he faced, 19 saw a first pitch strike.
For the most part, this was a typical Hughes outing. Some solo homers, some jams escaped, aggressive early in the count, stuff like that. That return to normalcy is a net positive, because it showed there wasn't something seriously wrong following that last start. No underlying injury or major mechanical flaw. Phil gave the Yankees an opportunity to win; two runs in six innings from the fourth starter is plenty good enough.
Death By Line Drive
Maybe it was just me, but it sure seemed like the Yankees hit a lot of balls right at people, no? The play-by-play says there were only four line drive outs, but that only includes the infielders. There were a few hard-hit balls right at outfielders or close enough for them to make a play. Nick Markakis did make a diving catch in the seventh that may have saved a run. If nothing else, it at least saved a first and third situation.
Anyway, the Yankees scored their two runs thanks to Travis Hafner, who plated Brett Gardner with a single in the first and Vernon Wells with a single in the fourth. Gardner was on third following a double and a fly ball, Wells was on second following a double. Both of Hafner's hits were ground balls to the right side that probably would have been scooped up for outs had the Orioles employed the shift. Instead, one snuck through and the other bounced off the second baseman's glove.
Miguel Gonzalez, as he tends to do, kept the Yankees off balance and held them to just those two runs in six innings in his first start off the DL. He dominated them last year, and this was more of the same. The Bombers didn't have a single runner make it beyond first base after Hafner drove in Wells, and 21 of the final 22 men they sent to the plate made outs. When this offense is bad, man is it ugly.
Leftovers
The bottom five hitters in the lineup went a combined 1-for-19 with four strikeouts, the one being a solid David Adams single to center. Pronk was the last line of defense in the cleanup spot. Robinson Cano took an 0-for-4 and is stuck in a 13-for-60 (.217) slump. He ain't getting no record-breaking contract like that. Oh who am I kidding, yes he is.
I don't know what it is about the first base umps and Camden Yards, but they really suck there. There was the Jerry Meals episode last year, the two blown calls on Monday, and another on Tuesday. This time first base ump Paul Scrieber incorrectly ruled Jayson Nix out on a would-be infield single. Replays showed he cleared beat the relay throw, by alas. Oh well, Yankees weren't winning if they got that call anyway.
Outside of Vidal Nuno, who needed all of three pitches to serve up the walk-off solo homer to Nate McLouth, the bullpen was pretty nasty once again. Boone Logan recorded two outs, Shawn Kelley retired the only man he faced, David Robertson struck out the side — he threw nine curveballs and got seven (!!!) swings and misses — and Preston Claiborne tossed a scoreless ninth. They gave the offense a chance to re-take the lead.
Box Score, WPA Graph & Standings
MLB.com has the box score and video highlights, FanGraphs some other stats, and ESPN the updated standings. The Red Sox lost to the White Sox again, so they remain two games back in the loss column. The O's and Rays climbed to within four back. I hate that I'm keeping track of the standings in May. I guess that's a function of lowered expectations.

Source: FanGraphs
Up Next
These same two teams will wrap up this three-game series on Wednesday night. Hiroki Kuroda gets the ball against Jason Hammel in the rubber match.
By

The Yankees have outrighted Alberto Gonzalez to Triple-A. They designated the infielder for assignment after acquiring Reid Brignac over the weekend. He remains in the organization, just not as a 40-man roster player.

Gonzalez, 30, went 3-for-9 in three games with the Yankees last week. They acquired him in a minor trade with the Cubs a little less than two weeks ago to add some minor league infield depth, but they wound up calling him up right away due to Eduardo Nunez's ribcage injury. Gonzalez, who can play all three non-first base infield positions, will likely to play shortstop everyday for Triple-A Scranton. · (1) ·
Triple-A Scranton (5-1 loss to Columbus)
CF Melky Mesa: 2-5, 1 K
LF Zoilo Almonte: 2-5, 1 SB — four hits in his last nine at-bats after an 0-for-14 stretch
3B Ronnie Mustelier: 3-5, 1 R, 1 SB — 11 hits in his last 31 at-bats (.355)
RHP Chien-Ming Wang: 5.2 IP, 7 H, 1 R, 1 ER, 2 BB, 4 K, 9/2 GB/FB — 62 of 102 pitches were strikes (61%)
RHP Chase Whitley: 1.1 IP, 1 H, 1 R, 1 ER, 1 BB, 0 K, 2 WP, 2/2 GB/FB — only ten of 23 pitches were strikes (43%)
Phil Hughes didn't just have the worst start of his career last time out, he had one of the worst starts by a Yankee this century. I guess the good news is there's nowhere to go but up from a seven-run, two-out disaster like that. Hughes talked about getting on top of the ball and needing to better his fastball command these last four days, but the time for talking is over. Phil gets his shot at redemption against the division rival Orioles tonight, for a team that has won three straight against a team that has lost six straight. Here's the lineup that will face fresh off the DL Miguel Gonzalez…
And on the mound is the only Yankee to earn a win during the 2007 ALDS, right-hander Phil Hughes.
Summer's coming. It's warm and kinda humid in New York, so typical baseball weather. The game is scheduled to begin a little after 7pm ET and be seen on My9 locally and MLB Network nationally. Enjoy.
Injury Updates: Kevin Youkilis (back) had three at-bats today — I assume in a simulated game — and actually took some swings. He had been just standing in the box and tracking pitches until today … Joba Chamberlain (oblique) will pitch in a minor league game tomorrow, and the team plans on having him make two appearances before activating him off the DL … Mark Teixeira (wrist) got four more at-bats in a simulated game … Ivan Nova (triceps, back) threw several innings in a simulated game or Extended Spring Training game yesterday.
The 2013 amateur draft will be held from June 6-8 this year, and between now and then I'm going to highlight some prospects individually rather than lump them together into larger posts.
Austin Wilson | OF
Background
Wilson was a potential first round pick out of a Southern California high school in 2010, but signability concerns dropped him to the Cardinals in the 12th round. He followed through on his commitment to Stanford and has hit .314/.417/.529 with five homers in 27 games this spring while battling a bone bruise and stress reaction in his elbow. Wilson was also hindered by an oblique issue during a stint in the Cape Cod League last summer. During his first two years with the Cardinal, he produced a .296/.371/.460 line with 15 homers in 112 games.
Scouting Report
Wilson is a physical freak with a chiseled 6-foot-4, 245 lb. frame and high-end athleticism. His best tool is his right-handed power — the ball explodes off his bat and carries to all fields — but excess pre-swing movement and poor pitch recognition limits how much he can tap into it. During his three years on campus, he's struck out 115 times in 585 plate appearances (19.7%), which is way too much for the top college prospect. The athleticism gives Wilson above-average speed and a rocket arm, arguably the best outfield arm in the class, so he has more than enough tools for center field. He is expected to move to right field down the road, where he could play Gold Glove level defense. Wilson is a bit of a project but the raw ability and pure upside are outrageous. There are many, many more videos on YouTube.
Miscellany
Keith Law (subs. req'd) and Baseball America ranked Wilson as the 15th and 29th best prospect in the draft in their latest rankings, respectively. Law said the Yankees have "scouted Wilson heavily" in his latest mock draft, for what it's worth. Stanford has a reputation of turning top position player prospects into mediocre ones due to their one-size-fits-all coaching philosophy, which turns everyone into a short-swinger geared to hit the ball the other way. Wilson is not that type of player, so any team that drafts him will be banking on their development personnel's ability to unlock his potential. The Yankees have three first round picks (26th, 32nd, 33rd) and Wilson is the kind of super-high-upside prospect that is worth gambling on with extra picks.
For the first few weeks of the season, the Yankees bullpen was a bit of a mess. Specifically, the non-David Robertson and Mariano Rivera part of the bullpen was a mess. The trio of Joba Chamberlain, Boone Logan, and Shawn Kelley combined to allow 31 base-runners and 13 runs in 17.1 innings during the first 15 games of the season, so the bridge from starter to Robertson was rather adventurous for a while. It was also a problem given the team's low-caliber offense.
The middle relief issues lasted until mid-to-late-April, when Joba hit the DL and some of his bullpeners improved their performance. Over the last 30 days, the Yankees have the best bullpen ERA (2.49) and second best bullpen FIP (3.35) in the league. Their season ERA is down to 3.32 (3.47 FIP), the fifth best mark the AL. Any conversation about New York's bullpen starts with Robertson and Rivera, but the other guys have really picked up the slack of late.
One of those other guys is a new face who wasn't around for the early season struggles, right-hander Preston Claiborne. The 25-year-old was called up when Joba was placed on the DL, and he's since struck out five while walking zero in eight scoreless innings across six appearances. Joe Girardi apparently has enough faith in him that he used him in the seventh inning or later of a two or fewer run game three times in those six appearances, including three of the first four. Talk about being thrown into the fire.
"We were impressed with him in Spring Training, and we left thinking he could help us at some point this year, and he's doing that right now," said Brian Cashman about Claiborne recently. "You never know how a guy is going to act when he gets here, but he's the same guy he was in Spring Training, and he's probably gaining confidence every day."
In addition to adding Claiborne, the Yankees have benefited from Kelley settling down after a nightmarish first few weeks in pinstripes. Over his last ten appearances, the 29-year-old owns a 3.18 ERA (~0.90 FIP) (!)) and has struck out exactly half of the 44 batters he faced. He's struck out 15 of the last 21 (!) men he's faced across his last four appearances. Kelley leads all of baseball with a 43.4% strikeout rate (min. 10 IP) after coming into the year with a career 22.6% strikeout rate. He's throwing his low-80s slider more than ever before, basically half the time these days, which is the likely explanation for all the whiffs.
Thanks to all of those strikeouts, Kelley is pitching like the best-case Mark Montgomery scenario right now. We all expected Montgomery to bring his vicious slider to the show and pile up the strikeouts at some point, yet Kelley is the one doing that job right now. He isn't walking anyone either (just four unintentional walks). Kelley's homer-prone ways — five homers in 18.1 innings (2.45 HR/9 and 27.8% HR/FB) — will hold him back from being a true high-leverage option, but a reliever who can miss bats like that is a very valuable weapon in the middle innings. The ability to snuff out a rally without having to rely on the defense is huge, we've seen that from Robertson in recent years.
"I've never been on a team that has the expectations of just winning and thinking World Series as their only goal," said Kelley to Chad Jennings recently. "To have that feeling every night, even if I go in and just get some outs in a win, it feels really good to just help the club win. I'm having a lot of fun on this team … It's a fun way to win."
With Adam Warren emerging as a long-man extraordinaire, Claiborne and Kelley have stepped up to solidify the middle relief ahead of Robertson and Rivera. Logan needs to settle down and start getting lefties out — they're hitting .296/.296/.444 (.320 wOBA) against him so far — but otherwise the bullpen has fallen into place. The Yankees play an awful lot of close games these days, so having a bullpen that can consistently shut the other team down and preserve leads/keep the deficit small is a big reason why they sit atop the AL East at the moment.
For much of the spring, a groundswell of institutional support for a New York City-based Major League Soccer franchise has been growing. The primary owners were set to be Manchester City Football Club, and the team, owned by a member of Abu Dhabi's royal family, has had their eye on a piece of Flushing Meadows Corona Park in Queens. Now, the Yankees are involved as well, as a part-owners and powerful players on the New York City political scene, as they are joining with Manchester City to own part of MLS' 20th franchise.
The Yankees will own approximately a quarter of the new soccer club, and as long as a stadium can be identified in time, the team will likely begin play during the 2015 MLS season. "We proudly welcome two of the most prestigious professional global sports organizations to Major League Soccer," MLS Commissioner Don Garber said in a statement. "This is a transformational development that will elevate the league to new heights in this country. The New York area is home to more than 19 million people­, and we look forward to an intense crosstown rivalry between New York City Football Club and the New York Red Bulls that will captivate this great city."
For the Yankees and Manchester City, theirs is a marriage of political expediency as much as it is about economics. Soccer franchise ownership is hardly a high-reward investment, but the Yankees, through Legends Hospitality, already work with Manchester City. More importantly, though, the Yankees have deep-seated connections to the upper echelons of New York politics. Randy Levine and Lonn Trost will likely put their heads to see a stadium deal through during the final months of Mayor Michael Bloomberg's term.
In fact, Yankees' owner Hal Steinbrenner appointed Levine as his soccer guru in a statement this morning. "We are pleased to be associated with this major move by MLS to increase its presence in the New York market and to enhance the opportunity for New York soccer fans to enjoy high-level play in their own city. We look forward to the opportunity to work with Manchester City to create something very special for the soccer fans of New York — and to bringing another terrific team to this city for all sports fans to enjoy," said Hal Steinbrenner, managing general partner of the New York Yankees. "Randy Levine, president of the New York Yankees, will be the point person in leading the effort to launch and establish the team on behalf of the organization."
The real elephant in the room here though is the park land grab. New York City park advocates have been dismayed that MLS' attention has turned to Flushing Meadows Corona Park. Already the subject of a planned expansion by the U.S. Open, this park area serves as a gathering point for many Queens communities, and plopping down a soccer stadium in the park would further limit scarce green space. The city has offered up land that's a several miles and neighborhoods away, but the site pales in comparison with the current green expanse.
While MLS and Manchester City hope the Yanks' involvement can push this project through to the finish line, parks advocates believe the team's eventual lobbying efforts may serve as a wake-up call. "We hope this new deal once and for all puts to rest any further attempts to seize even more public parkland in Flushing Meadows Park," Geoffrey Croft, president of NYC Park Advocates, said to The Times. "The Yankees were given enough."
No matter the outcome of the stadium debate, the Yanks are poised to delve deeper into the New York City sports landscape, and it seems likely that Yankee Stadium will host a soccer team for at least its first season of existence. I wonder what the Boss would say if he were still alive.
Even before last night's come-from-behind extra-innings win over the Orioles, it was obvious the Yankees are far exceeding expectations this year. The injuries piled up during the offseason and in Spring Training, leading to a bunch of scrap heap pickups forced into everyday roles come Opening Day. Lyle Overbay? Vernon Wells? Frankie Cervelli? This guys had no business starting the season assured of regular playing time for a team with World Series aspirations.
The Yankees were widely picked to collapse completely and perhaps finish last, the kind of collapse that has been predicted every year since about 2007. Instead, they've thrived and currently sit atop the AL East with a little less than three-quarters of the season remaining. Yes, there is very long way to go, but New York has fared far better than even the most optimistic of fans could have expected. When Opening Day rolled around, I remember the mantra was "tread water until the injured guys return." Expectations were definitely lower.
Thanks to the team's better-than-expected performance, Joe Girardi has started to get some super early Manager of the Year love. My CBS colleague Dayn Perry recently dubbed him the 25% AL Manager of the Year — basically the MoY to date — for example. The Manager of the Year Award has morphed into the "Manager Of The Team Who Most Exceeds Expectations" Award in recent years, and Girardi definitely fits that bill right now. Some late-season ridiculousness — just ask 2012 Bob Melvin and 2011 Joe Maddon — would help his cause too, but I'm hoping for a less stressful finish to the season.
Looking around the rest of the league, the only other early-season AL MoY candidates are Terry Francona and John Farrell. Both the Indians and Red Sox are exceeding expectations so far, but both teams did make splashy offseason moves. Were expectations lower in Cleveland and Boston than they were in New York coming into the season? I'm not sure, but those two deserve the same kind of early MoY attention as Girardi. The next 120 or so games will sort this out, and some new candidates will inevitably emerge.
It's obvious these days that a Yankee needs to have an outrageous season to win any kind of major award, like a 2007 Alex Rodriguez season. Without that big gap in performance, the other guy always seems to get the benefit of the doubt. That might work against Girardi because the Yankees still have the largest payroll in baseball and hey, they should be able to plug their holes on short-notice. Not every team can absorb $13M of Wells' salary at a moment's notice. That mentality exists and it could come into play.
Only two Yankees managers have won the award since it was first handed out in 1983 — Joe Torre in 1996 and 1998, and Buck Showalter during the strike-shortened 1994 campaign. That's all. Girardi has already been named MoY once before, taking home the award during his lone season with the Marlins in 2006, but that shouldn't matter. I've never been an ardent Girardi supporter, but he's done one hell of a job keeping this ship afloat through the injuries. If there was ever a time a Yankees manager deserved the Manager of the Year Award, this is it.