Got a dozen questions and eleven answers in this week's mailbag. As always, send any questions or comments to RABmailbag (at) gmail (dot) com. We can't answer them all, but we'll try our best.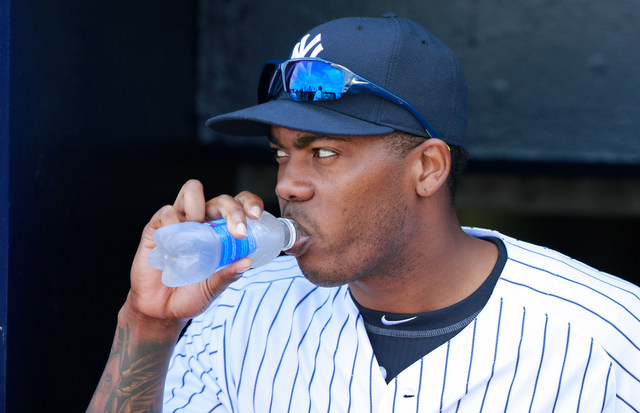 Eric asks: This will never happen but it's strangely fun to think about. If the Yankees are out of it and decide to be sellers at the deadline, who could the Yankees realistically sell off? What teams would these pieces fit? Easiest answer is Chapman who we could easily flip for a package better than what we gave up.
Yeah, Aroldis Chapman is the big one. Assuming the off-the-field stuff doesn't get in the way — it very well might — pretty much every contender out there would have room for him. The Nationals reportedly had interest even after the domestic dispute, so they're a possibility. The Cubs, Giants, White Sox, Rangers, Astros, Mets … pretty much any good team in the race in July. (The Dodgers nixed their trade for Chapman after the incident, so they might not be interested.)
Two years ago Andrew Miller was traded for Eduardo Rodriguez at the deadline, which is good framework for a Chapman trade. Instead of taking two or three prospects, the Yankees could shoot for the one high quality young player. Chapman for Joe Ross? Chapman for Phil Bickford? Chapman for Joey Gallo? Rangers GM Jon Daniels has been known to pay big for rentals at the trade deadline.
Here are the other players the Yankees could market at the trade deadline, as well as some potential landing spots:
I'm sure the Yankees could find a taker for Starlin Castro, but he seems like someone they'll keep and build around. Same with Didi Gregorius. Those two are keepers unless you get blown away with an offer. Brian McCann and Jacoby Ellsbury are a tad too pricey to be moved, I think. It would be different if they were rentals, but they still have multiple years left on their contracts.
As I said yesterday, the Yankees need to be honest with themselves and trade away players at the deadline if they're out of it. Chapman, Teixeira, and Beltran are the obvious candidates to go because their contracts are up after the season. They shouldn't stop there though. See what teams are willing to give up for Gardner and Miller again. Same with Pineda and Eovaldi. Even Betances. It doesn't hurt to listen.
Anonymous: Not a question, but you forgot one possible bad-contract trade (that will never happen because of Ell's no-trade provision + the public relations fallout). Ellsbury + prospects for Braun. If Milwaukee could get Ells playing well, they could possibly flip him to another team for even more prospects.
The money is about the same — Ellsbury ($110M) and Ryan Braun ($100M) are both under contract through 2020 — but Braun is the better player right now. He's not the perennial MVP candidate he was a few years back, but he hit .285/.356/.498 (129 wRC+) with 25 homers and 24 steals last year, and he went into yesterday's game with a 183 wRC+ in the early going this year. Even with his terrible defense, give me Braun over Ellsbury.
The Brewers aren't getting enough out of this, not unless the Yankees kick in some quality prospects. It's not just that they'd be getting the inferior player, they're also getting a player the fans have no attachment to. Brewers fans still love Braun and he helps the team sell tickets and merchandise. Ellsbury wouldn't do that. This one doesn't make sense for the Brewers. The Yankees would either have to eat a bunch of cash or kick in some good young players to make it work.
Jon asks: If Aaron Hicks doesn't end up hitting much, Could it be worth it to test that arm out as a pitcher?
It is nowhere near time to consider this. Hicks hit .256/.323/.398 (97 wRC+) with eleven homers and 13 steals in 97 big league games just last year. Plus he plays great defense. So he's gotten off to a 2-for-22 (.091) start in sporadic playing time. Big deal. If a few years down the line he continues to not hit — and I mean really not hit, like an 70 wRC+ guy — then maybe consider a move to the mound. That is a very long way away though.
Anonymous: Now that Beltre is blocking him for another 2 years, what do you think it would take to get Joey Gallo? Can you imagine how many HRs he'd hit in Yankee Stadium? Obviously this would require unloading Headley, maybe back to SD for another bad contract like Upton Jr.
Gallo is absolutely someone the Yankees should target. The Rangers could always play him at first base, so it's not like they have nowhere to stick him, but right now he's blocked at third base and even in the corner outfield. Chase Headley shouldn't stand in the way of a Gallo trade. Get him and figure the rest out later.
The 22-year-old Gallo is the best power hitting prospect in the game. It's true 80 power. He has that Giancarlo-esque "he's going to hit 40 homers no matter what park he plays in" pop. Enjoy:
Gallo is going to strike out a ton — he had a 39.5% strikeout rate in Triple-A last year, though it is down to 23.8% in the early going this year — but even if he hits .220 in the big leagues long-term, he's going to wind up hitting about 500 home runs. The power is unreal. Gallo's can also run a little and is pretty good defensively at the hot corner. Between the lefty pop and the long-term need at third base, he's an obvious fit for the Yankees.
What would it take? Well, Gallo is a top ten prospect in all of baseball, and he's MLB ready, so he won't come cheap. What about Miller for Gallo, straight up? Betances for Gallo? My trade proposal sucks. I have a hard time thinking the Rangers would be interested in a prospect for prospect trade. Those rarely happen. Otherwise I'd say trade pretty much anyone for him. Aaron Judge or Jorge Mateo and others? Sure. The "what would it take" question is always the hardest. Clearly though, Gallo's a fit for the Yankees.
Joe asks: When a player (Rumbelow) has season ending injury in the minors vs. the majors (Pinder) – what are the rules surrounding their 40 man status and benefits? Does Pinder benefit from service time accrual while Rumbelow doesn't?
Yep. You get to collect service time and MLB salary when you're on the MLB DL. Players like Nick Rumbelow and Branden Pinder sign split contracts, so they make one salary in the big leagues and a lower salary in the minors. Rumbelow got hurt in the minors, so he's stuck with his Triple-A salary — usually in the low six figures — and won't accrue service time. (He does still get the healthcare, licensing money, etc.) Pinder got hurt in the show, so he gets MLB salary and service time. Getting hurt sucks, but if you're a fringe player and you're going to blow out your elbow, you'd rather do it in the show than in the minors.
Andrew asks: What would have to happen to see Aaron Judge get called up this year?
Bobby asks: If Judge came up, would the Yankees lose a year of team control? When Sanchez' promotion was discussed, the date of his future free agency was a main part of the conversation but it hasn't been the same thus far with Aaron.
Going to lump these two together. No, the Yankees would not lose a year team of control if they called Judge up now. At this point of the season any player who is called up to the big leagues for the first time will not be able to pick up a full year of service time. The Yankees would control Judge through 2022 regardless of whether they called him up tomorrow or September 1st.
As for an actual call-up, there are only two scenarios I see. One, the Yankees do sell at the deadline and Beltran and/or Gardner are moved, and they want to give Judge an audition. Two, a September call-up. Ben Gamel and Slade Heathcott are already on the 40-man roster and are presumably first in line to be injury replacements. That's about it. I don't think the Yankees will call Judge up to try to spark their offense or something like that.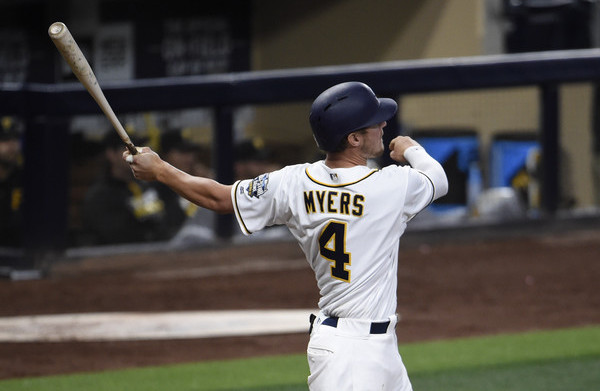 Anonymous asks: What would a trade for Wil Myers look like? Next year with Beltran and Teixeira most likely gone the Yankees will have holes at 1B and RF. Wil Myers can play both 1B and RF while playing primarily RF with Greg Bird at 1B. I know Myers has his own injury history too but this does seem like a good fit.
I do like the idea of Myers. He's healthy now — he's had a lot of wrist problems in recent years — and he's been rather productive this season. Myers is hitting .303/.333/.506 (122 wRC+) in the early going after hitting .253/.336/.427 (116 wRC+) around the wrist injury last year. The Padres are playing him at first base full-time, but he is only 25, so you could always stick him back in the outfield too. He seems like a nice fit.
Again, the "what would it take" question is the toughest. Myers has been traded twice before, once as the headliner for an ace (James Shields) and once for a big package of prospects (Joe Ross, Trea Turner, and others). The Padres are looking to add prospects and shed payroll, but Myers seems like someone they could keep and build around, right? You trade for prospects and hope they turn into Wil Myers, basically. He's pretty good, he's cheap, and he's under team control through 2019. If San Diego wants to flip this guy for prospects, say Judge and some others, I say go for it.
Deren asks: Eovaldi was only(!!) 95-96 last night with his fastball. Do you think that can be tied into his success against the rangers? Many hard throwers often come up and quickly find out that fastball velo isn't everything anymore. I believe even King Felix had to make a similar adjustment when he first arrived. He settled into 92-95 before long (With nasty movement and location). How much of last nights success was because Eovaldi wasn't trying to throw as hard as he can and focus on changing speeds, location, and movement?
I noticed this during the broadcast too, but it seems the TV gun was off. PitchFX says Eovaldi averaged 97.4 mph with his fastball Tuesday, which was his second highest average velocity in a game so far this season. His velocity was right where it normally sits (via Brooks Baseball):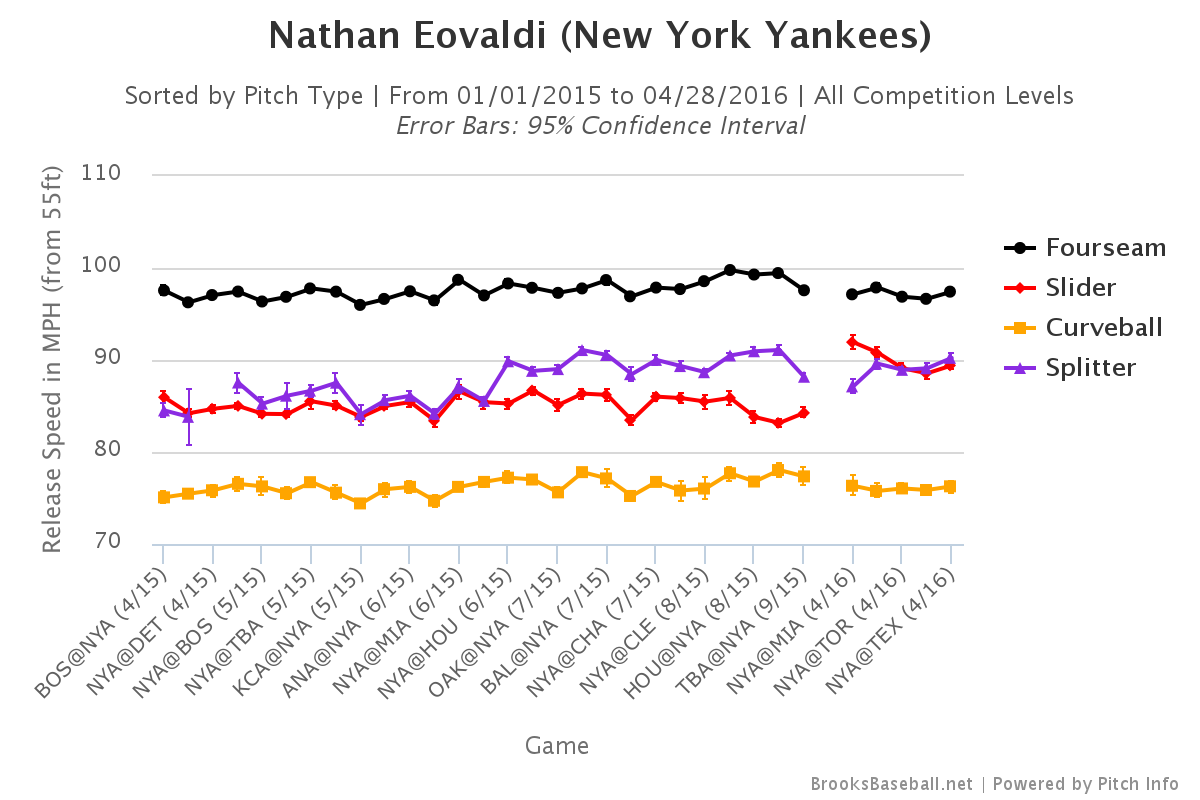 I hate to be a buzzkill, but this seems like a "the TV gun was off" thing and not a "Eovaldi took a little off and located better" thing. The PitchFX data says it was the same old Eovaldi. He was throwing hard.
David asks: With how dominant (and efficient) Betances and Miller have been until now, and assuming they stay way, does Chapman automatically assume the closers role upon his return? Or does he have to earn that spot now?
I could see Joe Girardi easing Chapman back into things at first. Maybe one or two lower leverage appearances before giving him important innings. I think their perfect world scenario is Chapman comes back and they use him to protect a four or five run lead that night, just to get his feet wet. After that, I think he's going right into the closer's role. That's fine with me. It doesn't seem to bother Betances or Miller at all and I have no reason to think it'll be an issue. Now, if Chapman comes in and blows his first save, the second-guessing will be epic.
Dan asks: Let me preface this with saying, I think the Yanks will be in contention all season (they're better than they've played in April). But, assuming the Yanks perform like they've done in April for the whole year, and that this results in a protected draft pick (currently they'd pick 7th), would the fact that they wouldn't give up first round compensation alter the Yanks approach to Free Agency next year?
It could. I still think the main factor is going to be money. The Yankees don't seem interested in handing out a big money long-term contract anytime soon. The protected pick could result in them having more interest in players who get caught up in the system and are sitting there unsigned in February, like Dexter Fowler and Yovani Gallardo this year. No one likes giving up a draft pick, but giving up a second rounder instead of your first is a much easier pill to swallow.
Noa asks: I feel like I am in the minority and I just think Aaron Judge's strikeouts will always be way too high for him to be productive. He doesn't seem to hit for enough power or even be enough a productive all-around player to justify the strikeouts. This would be bold, and I'm sure you oppose this, but could the Yankees trade him while he still has lots of prospect value and if so, what could they possibly get back for him?
That's very possible. Judge is certainly a risky prospect. He's a classic boom or bust guy and the strikeouts are definitely a red flag. As far as I'm concerned, the Yankees don't have an untouchable prospect. They could trade anyone in the system and I wouldn't be heartbroken. That doesn't mean I'd give them away, of course. The Yankees have traded away players at the peak of their prospect status before — Jesus Montero, most notably — and I wouldn't be surprised if they did it with Judge.
Baseball America had Judge at No. 76 in their annual top 100 list, which was his lowest ranking in the various lists this spring. Some other prospects in the No. 76 range who have been traded in recent years include:
Billy McKinney, No. 83 in 2015: Second piece in the Jeff Samardzija/Addison Russell trade.
Jake Marisnick, No. 79 in 2014: Second piece in the Jarred Cosart/Colin Moran trade.
Avisail Garcia, No. 74 in 2013: Main piece going to White Sox in three-team Jake Peavy/Jose Iglesias trade.
I definitely understand why some folks are skeptical of Judge's long-term potential, and like I said, I'd definitely put him on the table in a trade. He's not untouchable. The Yankees really need some fresh blood in their lineup and Judge has the most offensive potential in their system, and the guy is in Triple-A and close to MLB ready. He seems like someone worth holding on to, not a chip you cash in.